'Saand Ki Aankh' review – Casting goofs up an otherwise rousing empowerment tale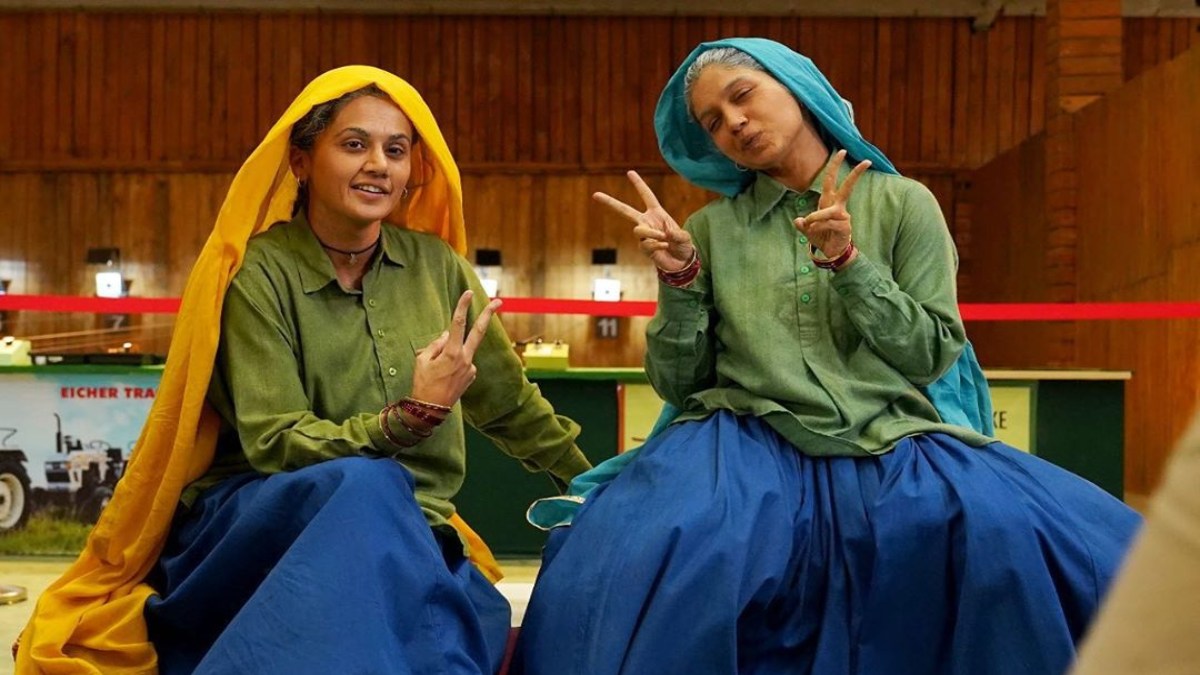 Read Time:
5 Minute, 28 Second
Pretty early in director Tushar Hiranandani's Saand Ki Aankh, there is a glaring montage that chronicles the evolution of a woman in rural Uttar Pradesh. The passage ends with a striking visual of three women in a household along with their battalion of children and grandchildren. This would make way for a versatile yet disturbing oil painting but is, in fact, the reality of the film's protagonists – Chandro and Prakashi Tomar – who literally 'shot' to fame in their sixties.
For starters, Saand Ki Aankh, which is the screen adaptation of the winning journey of the famed shooter grandmas, is women empowerment at its basic best. The writing is decidedly broad-stroked, sprinkled with spicy one-liners to be mouthed by the lead actors one after the other. The screenplay structure, therefore, is predictable as you exactly know the bumps and troughs that would become obstacles for the elderly women. To make things easier, there are extremely, extremely one-note and dimensionless parts penned for the film's elderly men – who are essentially the villains in the plot.
Of course, Saand Ki Aankh is about rebellion against patriarchy. Yet the film clears out how its leading women aren't organically rebellious by nature. Years of conditioning have led them to retire behind their ceremonial veils. The most defiant they might get would be amongst each other – over things such as choosing a veil in their choice of colour. Even there, the women are seen to sacrifice what their heart actually desires. As for the film's decisiveness to tackle patriarchy in the family (and society, at large), Saand Ki Aankh believes in rubbing the actual issue under the carpet. Whilst one cannot really alter how the real events might have transpired, the men do not get the kind of wrath they truly deserve. Hiranandani, in a nicely staged confrontation in front of the village panchayat, gives the women an opportunity for a golden outburst but the sequence ends with the ladies tricking their men for the umpteenth time. Are these quick fixes and fooling the male clan through their noses the right way to break free from shackles of male centricity? Well, Saand Ki Aankh writers might know better.
Anyhow, none of these elements actually form the real issue in this biographical film. The bizarre and unusual predicament here is that the film's easy-to-buy premise and all dollops of goodness are prematurely marred by a rather unforeseen department – the makeup and prosthetics. While I am not much of an advocate to decide whether casting young and saleable actors as septuagenarians are wise enough, Bhumi Pednekar and Taapsee Pannu simply do not look their parts. The makeup is such that it appears that their porcelain skin is afflicted by an unfortunate skin disease. It takes quite a long time in the film to get used to this situation and it's actually a boon when the women cover their faces with their veils. Both Pednekar and Pannu put their best feet forward as there is no lack of sweat from their end to make things work. Pednekar, especially, with her bouncy dialogue delivery gets punch-lines galore and makes full use of the opportunity. Pannu underplays in comparison and there is this powerful outburst of hers that is worth endless whistles and applauds.
ALSO READ: 'Mukkabaaz' review – Anurag Kashyap's ode to Bollywood's 'Good vs Evil' sagas
As stated before, Saand Ki Aankh's men are boring. The elderly ones are villainous and/or submissive. The middle-aged male protagonist (Vineet Kumar), despite some bad white paint on his goatee and beard, gets to be the generic do-gooder and benefactor. You are not aware of why he is into what he is up to. It is that sort of a part. The younger ones are the most believable as all they care for are Akshay Kumar films, women and food. With such generic counters to work around, it is near-impossible to not root for the Tomar dadis. Their logic in securing a good future for the girls in their household is one that is of paramount significance. Saand Ki Aankh piles up a string of sequences are definite to strike an emotional chord, by design. I could overhear sobs aplenty when the vile men toss around the priced medals amassed by their women. Every time Chandro and Prakashi hold their guns to ward off evil (read men), the audience burst out applauding. I also observed the elderly gentlemen next to me react exactly the way the film wants them to. Another young woman, who incidentally wore a headscarf, was particularly moved as she broke into tears while the eldest grandmother takes off her veil after ages of suppression. It is possible that I am reading a little too much between the lines but Saand Ki Aankh, from what I could perceive, is all about the reactions it collects. A different way of writing – especially the male characters and clearer background of the longstanding discrimination – might have rendered the film a far more qualitative one but at the cost of not trickling into the society's lowest common denominators.
This is exactly where we ought to ponder over the filmmaker's credentials. The writer behind some of Bollywood's massiest (often crass) comedies including the Housefull franchise, Hiranandani is one who gets the pulse of the single screen crowd. Therefore, it doesn't come as a surprise when Saand Ki Aankh plays royally to the gallery. The film proudly wears the women empowerment sash with a negligible number of layers. The Mother India reference is striking and optimally inserted and so is Chandro's penchant to learn English. The songs and dances stick out for their sheer lack of context but the Asha Bhosle number 'Aasma' is of good impact. Even as a sports film, Saand Ki Aankh operates on familiar trajectories where initial mockery turn into massive adulation – a device that is easy to spring a smile and easier to move the viewers into tears.
All said and done, despite numerous anomalies, the atmosphere, the punchlines and the golden intent let Saand Ki Aankh pass muster and become the easy pick from Bollywood for the season. The sole mood-killer here is our ability to imagine the very same story with a different and age-appropriate set of actors which could have easily salvaged what is the year's biggest casting goof-up for a film that's actually not so bad.
Rating: ★★★
Saand Ki Aankh is streaming on Zee5.