'Mard Ko Dard Nahi Hota' review – a whacky tribute to potboilers from the VHS era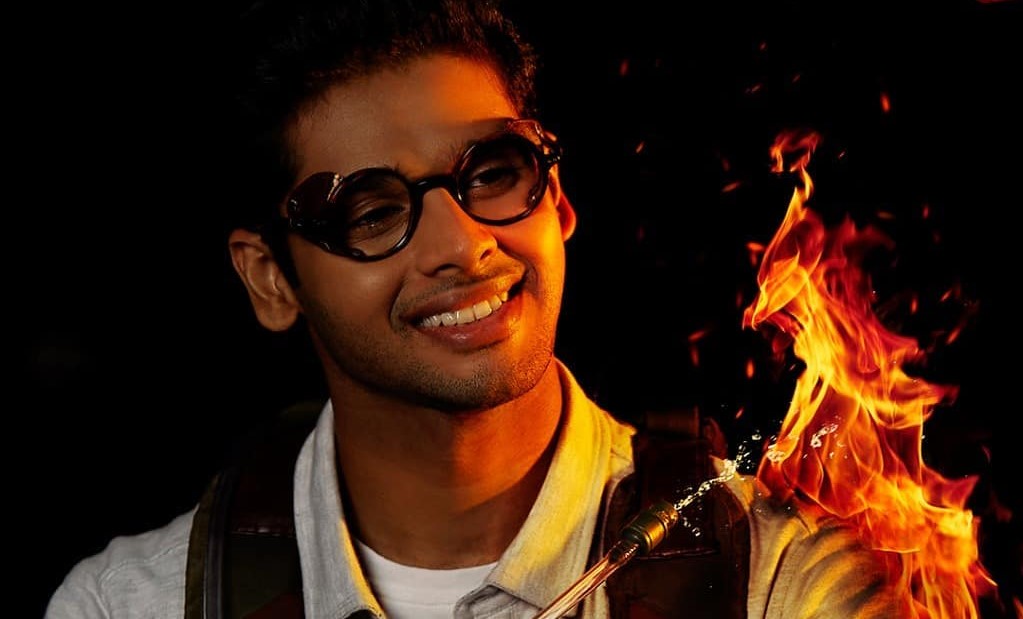 Read Time:
4 Minute, 42 Second
It is a real deal when a filmmaker turns out a bigger pop culture enthusiast than all his audience members put together. Or else nothing justifies the way Vasan Bala puts together the crackling ode to modern cinema that his latest directorial venture Mard Ko Dard Nahi Hota is. What hits you like a truck amid watching the film is nostalgia. The right kind of nostalgia, that is.
One that celebrates its irreverent spoofy tint to great effects, Mard Ko Dard Nahi Hota takes it whacky title to literal use as the leading man Surya (Abhimanyu Dassani, in an incredible debut) one who is insensitive to physical pain. Often seen clad in corduroy trousers, Surya derives his energy from nothing but water. Vasan Bala throws in a spectacular dose of Indian, American, and Chinese martial arts cinema in his story set in the VHS era. He predictably skips the 2000s – probably because the era lacked in an intrinsic identity that didn't trickle from the '90s or filter onto the 2010s. Bala's characters are real-life archetypes of a classic commercial potboiler. Besides that, they also breed actual aspirations that a character in one such film would have inculcated. Surya's father (Jimit Trivedi, well cast) is the forever skeptic protector who hides his son from the rest of the world because the lad is different. As any superhero film would have, the perfect wingman to Surya's 'powers' is his maternal grandfather (Mahesh Manjrekar, flawless). At one point, when the grandfather is mistakenly arrested by cops, Surya makes a matinee idol landing at the station – all set to fight a bunch of corrupt policemen. The father's reluctance seems slightly overdone in comparison to other elements that assimilate organically to what looks like a glowing tribute to cinema.
The leading lady Supri (Radhika Madan) gets an introduction scene, complete with an evocative, magical background song. She was our man's childhood sweetheart, you know. Fighting goons, saving people – all of it comes naturally to Supri as it does to Surya. The third wheel in the story is a differently-abled Karate master, Mani (Gulshan Devaiah, an absolute hoot) who is at loggerheads with his identical twin brother, Jimmy. A golden chain that belongs to Mani gets stolen and we are already told about Surya's vengeance for chain snatchers needing a closure. Mani, also being a childhood idol to Surya (thanks to one of those VHS tapes), things quickly come into place as the trio emerges a team. At the opposite end is the venomous Jimmy who, in the film's own admission, is a 'clichéd psychotic villain'.
ALSO READ: Sachin Kundalkar's "Aiyyaa" and myriad faces of Rani Mukerji
There are hiccups with respect to individual status quos among the trio. We are okay with what Surya shares with Supri. His equation with Mani is also somewhat justified. Yet, Bala ignores the need for a coherent connection to make Supri care deeply for Mani. Even as we want to feel and believe what happens at Supri's home, the writing stands largely compromised. Yet, the film springs instant surprises even in these subplots – particularly with the mother who hatches a plot which, in Supri's words, might give the Indian daily soaps a run for their monies. Among the peripheral players, we have a Malayali man all set to take his Sabarimala pilgrimage. He speaks with an appropriate accent and is ever ready with cheeky, indicative repartees that go – Naram Nana Patekar (chuckles) and Matunga Ke Feroz Khan.
The timeline of events in Mard Ko Dard Nahi Hota did baffle me after the show concluded. There are a lot of things that happen in the film and at different time frames. What begins as a single person's journey, the film eventually chooses to give definitions of what could have been sub-plots. It is somehow irksome to see the leading man (Surya) missing in action for a good amount of time. Yet, once the writers establish the trio, Mard Ko Dard Nahi Hota is a cakewalk. The heroine's character doesn't work as much as the makers want it to. As Surya in all his superhero-design spouts, 'Paap ko jaalake raakh kar doonga', Supri reacts if he still says the same things that he used to. The tragedienne undertone in her characterization is easily the film's weakest link while her ass-kicking side, in stark contrast, comes with a better background and adds profoundly in taking the narrative forward. Radhika Madan's performance (at many junctures) is a terrific cover-up to these not-so-negligible incongruences.
The cinematography (Jay I. Patel) is stylish and a true tribute to every Bollywood and Hollywood potboilers we have seen thus far. Several of the aerial, top and wide-angle shots are fleeting reminders of certain bona fide superhero films from the pre-2000s era. The background score sprinkled with vintage numbers is worth all the whistles and also if you love action – complete with all its slow-motion devices and stock sounds – Mard Ko Dard Nahi Hoga will be a marvelous treat. The same goes for its humour which is pleasantly direct and largely dialogue-driven. Now, who doesn't love a film that celebrates cinema as it confidently spoofs itself with remarkable flair and no regrets whatsoever! Take a bow, Vasan Bala.
Rating: ★★★★
P.S.: This film, in certain ways, reminded me of Anurag Kashyap's Mukkabaaz which wasn't as absurdist in demeanour but paid an equally glowing tribute to cinema of a certain sub-genre.
Mard Ko Dard Nahi Hota is now streaming on Netflix.