Read Time:
6 Minute, 54 Second
Malayalam cinema, of late, is known for its minimalist Indie-styled films – often premiered on OTT platforms – which end up garnering rave reviews and pats on the back from audiences from other vernacular industries. 'How do they manage it?', I am often asked. The managing bit is, perhaps, the filmmakers' making their share of adjustments to adhere to shoestring budgets by shooting in real locations, using realistic lights, or casting non-professional actors. In sharp contrast, ace filmmaker Priyadarshan's Marakkar: Arabikadalinte Simham is a rare Malayalam film canvassed on a humungous scale. 
Headlined by Mohanlal and co-starring a slew of popular stars from several film industries, Marakkar bears the burden of expectations. And what it delivers is a thoroughly entertaining spectacle that may not be accurate about the life of its subject but is a satisfying big-screen extravaganza. I was amused how I would sit through a three-hour-plus film in the times when a festival film over 90 minutes would feel tiring. This is where Priyadarshan proves his time-tested mettle as a filmmaker who would have his viewers' attention even in the absence of a coherent screenplay (Priyadarshan and Ani I V).
Marakkar chronicles the life and times of Kerala's cult historical figure Kunjali Marakkar (played by Pranav Mohanlal and Mohanlal). A brave warrior and a naval chief who strongly resists the arrival of the Portuguese in Kerala's Calicut coast, folk tales abound about the man and his superhero-like, Robinhood ways. The story which, progresses linearly, kicks off by introducing us to the turbulence faced by the local Zamorin (Nedumudi Venu) and his allies from the incoming Portuguese army. Besides setting up the socio-political scenario, we are introduced to Kunjali (Pranav) and his doting mother Khadeejumma (a graceful Suhasini Maniratnam voiced by Bhagyalakshmi). We see him romance a lissome Aisha (Kalyani Priyadarshan) until a tragedy strikes. In an instance, Kunjali loses everything he ever had. Soon the youngster, a martial artist, earns notoriety by providing for the poor by stealing from rich hoarders. 40-odd minutes into the film, Mohanlal makes his grand entry, and the film takes off to narrate a familiar story (to Keralites) with heaps of fictionalized elements thrown in for effect.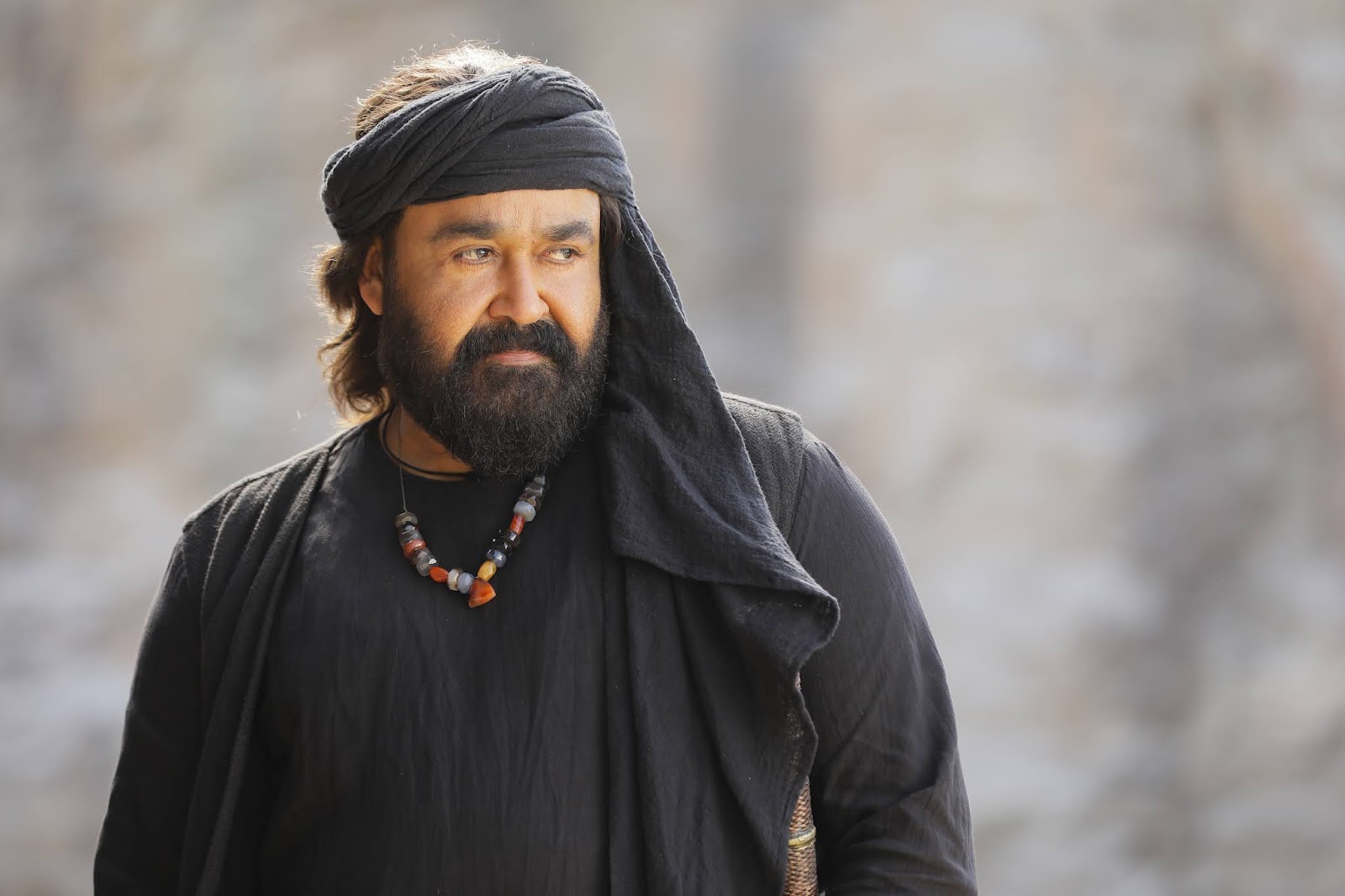 Based on actual events, Marakkar's story is designed as a giant magnum opus. If seen through the lens of commerce, the constant peppering of larger-than-life devices stands justified. We get to see hugely mounted battles by the sea. There is a forbidden love story between Marakkar's aide Chinali (Jay J. Jakkrit) and Aarcha (Keerthy Suresh), the daughter of an aristocrat, becoming a prime plot mover. That said, the miscommunications that lead to conflicts between the Marakkar clan and the Zamorins clan come across as too stagey for us to believe it is a historical film, besides being an Amar Chitra Katha-like spectacle. 
Priyadarshan's film is dense with characters. The director chooses to cast his regulars (all familiar faces) in big and small parts. The familiarity surrounding some of their previous works occasionally makes way to unintentional humor (actors Innocent, Mukesh, and Mamukkoya parody themselves). The ensemble cast distributed over a face-paced narrative often gets confusing – provided their similarly sketched characters, styling, mannerisms, and a notable lack of screen presence. I had a tough time distinguishing between Achuthan (Arjun Selvan) and Nambyathiri (Arjun Nandhakumar) even when they appeared in the same frame. The ensemble cast of known actors burdens the writers with the liability of giving them lines and the editor (M. S. Aiyyappan Nair) allows way too many reaction shots.
ALSO READ: 'Panipat' review – an impersonal yet partly bearable war epic
I didn't particularly mind the film's length though – for a fact that Marakkar unfolds like a conventionally engaging actioner with a definitive hero's journey. There are fewer slow-motion shots than you would expect from an Indian period saga. The original score (Rahul Raj) either avoids lingering for long or is amusingly absent in key sequences. Tirru's cinematography is resplendent while also being cautious to not waste screen-time by resting a couple of extra seconds on establishing shots. The DOP, anyhow, offers a series of picturesque still frames, making decent use of the highly photographable locales of Marakkar. The technique also reminded me how Priyadarshan, on a good day, can be more aesthetic than the artsiest of filmmakers.
The departments that take the cake, predictably, are VFX (Siddharth Priyadarshan) and sound design – the former being among the best I have seen in an Indian film of this genre. While Ronnie Rahapel's tunes are no patch on Priyadarshan's memorable musical legacy, I enjoyed every song and their integration in the narrative. If K S Chithra's voice adds great gravitas to the strategically placed lullaby, Pranav and Kalyani's sparkling chemistry is impossible to go unnoticed in their imaginatively choreographed (Brinda) love song. The songs filmed on Keerthy Suresh stand out for the potent drama they add to the narrative. There are exhilarating war and action sequences that stunned me with their enormity as well as the perfection in execution. The costumes (Sujith Sudhakaran, V. Sai) broadly radiate a certain sense of authenticity and so does the production design (Sabu Cyril). For sure, they are decidedly 'extra' to give Marakkar a cinematic edge which is fair.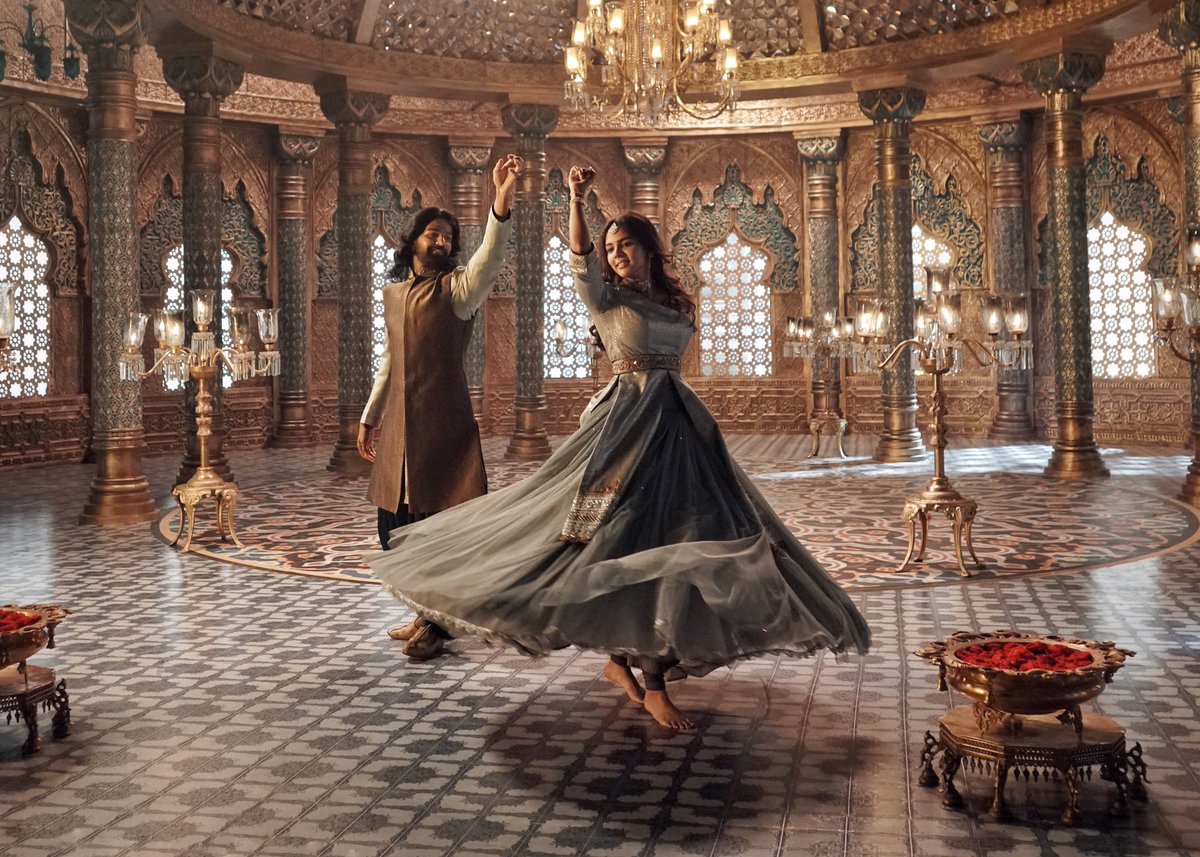 Kunjali is a character that Mohanlal would rather sleepwalk through but here the makers, much like the 2018 film Kayamkulam Kochunni, put his physicality into good use. Nedumudi Venu and Siddique get the meatiest of supporting roles and both deliver class acts. Manju Warrier gets nothing much to do, and her climactic disclosure lacks the much-needed emotional bearing. Despite mouthing almost no lines Jay J. Jakkrit lights up every frame in a significant part. Special mention to Hareesh Peradi whose nuanced turn nearly quashes seasoned artists in crucial scenes. The bigger of the stars, Suniel Shetty, Arjun Sarja, and Prabhu, get satisfactory roles although the first two are written in an overbearingly similar fashion.
Marakkar does not lack entertainment in any way, however, the writing leaves a lot to be desired. Priyadarshan tries hard to develop a vital emotional heft in the plot and succeeds only to a small extent. The bond between Khadeejumma and Kunjali feels organic but is short-lived because the story has several chapters to cover. Crammed with people and incidents and crippled by equally hurried editing (with a tendency to shift tones abruptly), Kunjali appeals to the head and seldom to the heart. The writing reeks in the classic Priyadarshan practice of lifting ideas from other sources – be it his own (the Kilukkam déjà vu scene is inappropriately placed) or others' (Troy and Gladiator to name a few). Non-speakers may not get this but the Malabar dialect used in the film pricks for its plastic nature though several degrees less than the filmmaker's atrocious 2003 film Kilichundan Mambazham.
The twist in the final chapter is stale with the warrior getting deceived by some of his allies. What happened to his superhuman intuitions? I also didn't understand how Kunjali (the Mohanlal version) lands up magically at all places – including the Viceroy's chamber. He is neither too tiny to go unnoticed nor are the agile watchmen bad at their jobs. As Marakkar closes on a predictable note, with the Portuguese mocking from the sides and our brave leading man refusing to apologize, the film instantly ups its patriotic fervor. Until then I pictured him as a man who cared for 'his people' and suddenly he delivers a prayer for the motherland. I wondered if projecting Kunjali as a local messiah was an underwhelming proposition, so they made him a freedom fighter. That said, I enjoyed the film as a fictitious fantasy story that beats the likes of Baahubali in terms of technique but is too crowded and unemotional to feel for its people. Lastly, the film also demonstrates how Priyadarshan, who is in his fifth decade as a filmmaker, still has it in him to herald an opulent period drama that might just emerge as a game-changer for Malayalam cinema.
Rating: ★★★
Watch the trailer of Marakkar: Arabikadalinte Simham here: