'Kayamkulam Kochunni' – a staid bandit drama with striking visuals and Mohanlal swagger
Read Time:
6 Minute, 48 Second
For the Indian state of Kerala, legend of the Good Samaritan thief Kayamkulam Kochunni is one that makes every heart beam. As I watched Rosshan Andrrews's film based on the famed highwayman's life, I could feel a default sense of exhilaration. In one brief moment, the lawmakers ask the village folk on who looted the street and a young boy replies with a confident heft in his speech, "It is Kayamkulam Kochunni". We can easily draw parallels between the boy's utterance and its reflection on us. Unsurprisingly, Kochunni remains a subject of great intrigue till date. A saviour to the severely oppressed lower caste denominators in the 19th century Kerala, Andrews's leading man is an all-white being.
Kochunni's adventures are widely documented in Malayalam literature (Aithihyamala being one) and have also seen a handful of television and cinema adaptations, all of which went on to augment his popularity. Despite the advancement of technology, there is only so much that one can twist around when it comes to projecting it as a biographical film as opposed to an anthology of his robberies. In a runtime close to three hours, Andrrews attempts to chronicle what could have been the life of a celebrated figure who saw a bizarre balance between fame and notoriety.
A rare, elaborate period drama in Malayalam cinema, Kayamkulam Kochunni takes no risks in its narrative structure. Right at the outset, the storytelling pattern is conventionally set with a flashback portion revealing a young Kochunni being forced to flee his impoverished home. Set in days of intense discrimination, poverty is a running thread in the film, as is the affluence of its antagonists. As Kochunni grows up to be a robust young man (Nivin Pauly), the film's screenplay (Bobby – Sanjay) further solidifies its black-and-white outline. There are two good entities – Kochunni and the needy – around whom several ancillary elements aimlessly flutter.
ALSO READ: 'Odiyan' review – when a fascinating premise becomes an endless assault to senses
There is an ensemble cast, largely filled with familiar faces, making it difficult for us to look beyond their respective off-screen persona as opposed to their heavily made-up, uncharacteristic avatars. One thing leads to another, Kochunni learns the martial art 'Kalaripayattu', falls in love with a beautiful Shudra woman, Janaki (Priya Anand) and eventually gets mugged by the upper caste aristocrats. The latter part of the film sees the young man transform into an embittered thief who is also a messiah for the poor and oppressed.
Kayamkulam Kochunni is a film that abounds with possibilities. Besides its popular title character, there is also the social fabric left to be examined. The subject also calls for a fine, realistic commentary on the role of the British. Yet, what the film gives us is a bunch of uneven subplots and a string of harried sequences. In a film of 170-minutes runtime, Kayamkulam Kochunni refuses to give the viewers a breather as it shifts segments without offering closures or perspectives. For instance, Kochunni's desire to learn 'Kalaripayattu' is treated so lightly that we see no fireworks when the man finally masters it. Mind you, the film follows a commercial cinema model and the hero's journey is arched on a shamelessly traditional foundation. The deficiency here lies in the passive fashion with which the film establishes the screenplay's prime focus – Kochunni's purpose.
Oh, there is some more about the characters and their interpretations. Pauly's Kochunni makes full use of the actor's inherent likeability which, somehow, wasn't a prerequisite in the first place. The actor strides comfortably while using his physicality but lacks severely in an authoritative presence. Andrrews's staging is also such that Kochunni often gets eclipsed within DOP Binod Pradhan's gorgeous frames, which is the last thing that anybody would have wanted.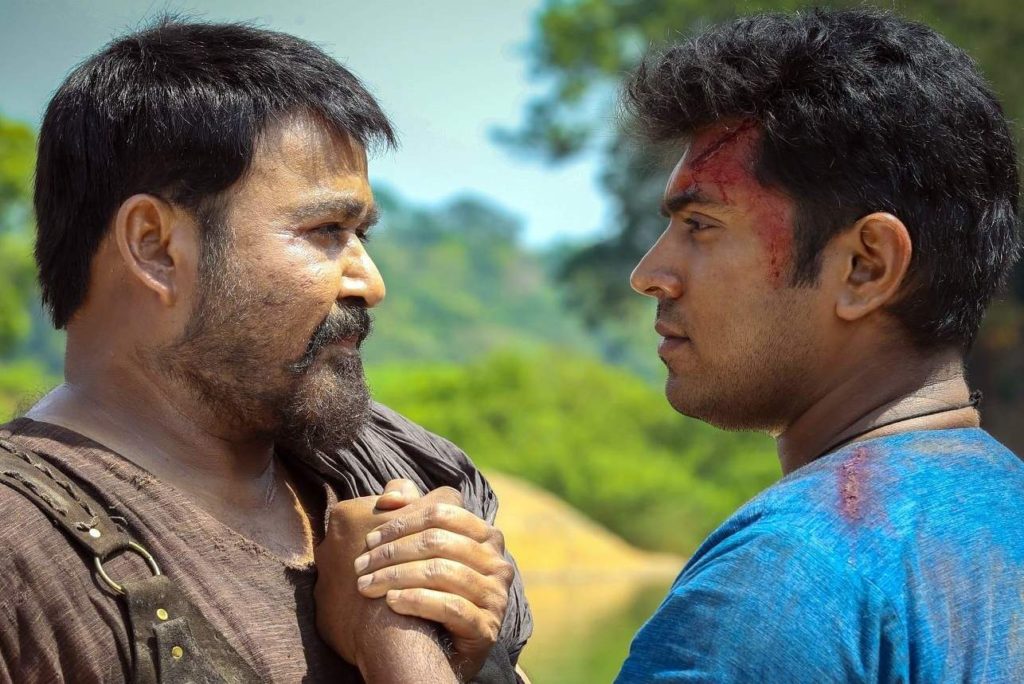 Talking about screen presence, it is precisely the area where a seasoned actor like Mohanlal (playing Ithikkara Pakki in a brief appearance) aces it, giving us what is simply the film's finest stretch. The actor, unlike Pauly, knows that he is meant to be playing to the gallery and he does so in style. Mohanal overcomes a certain corniness in his characterization with remarkable grace, even as the film forces him to break into a Bhansali-styled victory dance at one point.
Later in the film, some key players (Janaki) change colours on ridiculous pretexts. Few other ill-defined ones (Kochunni's gang) begin to develop waywardly shades which are characteristic of genre films. By letting it, Kayamkulam Kochunni offers its people zilch margin to exhibit any realistic, human shades. Even Kochunni's goody-two-shoes stance and eventual transformation to becoming a dexterous thief come to us sans vital background. His moment of cognizance is the residue of one of the aforementioned hurried, disjointed sequences where he is faulted by a group of one-dimensional upper caste elites. It is also not helpful when Kayamkulam Kochunni extracts no help from members of its subplots (one being Thangal played by Babu Antony) who could be of conscientious value in changing things for the protagonist. By the time the film chooses to reuse some of these forgotten players (Janaki, Thangal), we have already lost interest in them.
Kayamkulam Kochunni also offers brief sequences which stand out purely for their distinctive timbre. One such is a humourous scene (featuring Jude Anthany Thomas) which goes on to offer temporary respite in an otherwise visually overpowering film. There is also a fairly languid sequence where Kochunni encounters an injured Swathi Thirunal (a very effective Sudeep Menon) adding to an upcoming twist in the film. Such instances, however, are erratic in a narrative that is devoid of layers on papers and motion heavy in execution.
Stunningly mounted and coloured to near perfection, one of Kayamkulam Kochunni's high points is the cinematography (Pradhan) which delivers grandeur on a scenic platter. The only discrepancy that I felt were in a series of immediate transitions from pitch dark frames to broad daylights, bewildering my eyes in a pitch dark cinema hall. Excessive length notwithstanding, several sequences seem abrupt and the editing pattern (Sreekar Prasad) is surprisingly rushed. No, the film doesn't waste time on overt word vomit by Kochunni. Instead, it opts to chronicle many events in his life, doing justice to few.
ALSO READ: 'Njandukalude Naattil Oridavela' review – an assured directorial debut
Gopi Sunder's music and original score are atmospheric whereas the sound design is immaculate. There is also an involuntary item number by the present toast of the town, Nora Fatehi, which neither feels fresh nor is of any value to the plot. Action sequences are of sporadic impact. (There are way too many of them if you may ask.) The jungle chases are brisk and chilling. The same cannot be said about the unintentionally comical one where Kochunni sends supplies atop a pack of buffaloes, in order to feed his starving lower caste partisans. It doesn't help that the Andrrews swifts back and forth between certain odd aerial and tight medium shots.
As Kayamkulam Kochunni reaches its final segment, I had sort of become used to Nivin Pauly's staid demeanour. It didn't do much to serve the film but the visuals and secondary elements did engage me, to say the least. Also with the monumental twist towards the climax, director Andrrews does get his part right in maintaining pace and keeping his audience on tenterhooks. Pauly's performance – reminding one of those remote-controlled puppets – is at times hilarious, with all the slow-motion techniques in use.
Despite that, this neatly choreographed action sequence is one that propels Kayamkulam Kochunni from hitting levels of absolute futility. For the rest, the film employs its predictable, broad-stroked screenplay to create a period extravaganza that gets all the external trappings right, while comfortably abstaining from delving deep into its characters and the atmosphere. And then there is Mohanlal, who in a brief appearance will give an average viewer the dividend of his/her ticket price. Need I say more?
Rating: ★★ 1/2