'Helicopter Eela' review – This inane film has no choice but to crash-land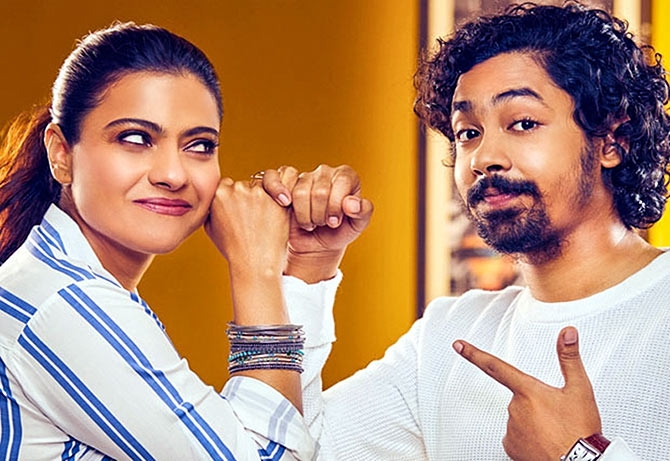 Read Time:
4 Minute, 38 Second
Helicopter Eela is a bizarre film. One with a weirdly articulated and insecure-sounding title, this Pradeep Sarkar directorial takes us through a range of unwelcome emotions – cringe, disbelief, exasperation – you name it, this film has it all. Presented as a breezy (and maybe a little loud) mother-son comedy-drama, the trailer showed us shades of a charming Bollywood musical too. The end product, however, is unimpressive, silly, and plain awkward at times (more to it later).
A project made by design, Helicopter Eela is a complete Kajol vehicle. (Even the title signals a lot, you see.) This means that the makers would get the leading lady on the sets, give her the most stylish designer wear, a costly makeup kit and let her strut like a bothersome teenager throughout. Helicopter Eela begins in the '90s, where Eela Raiturkar (Kajol) is busy recording remixes for Anu Malik, attending MTV parties, rubbing shoulders with Ila Arun, Mahesh Bhatt and the likes. The nostalgia bit, for a fact, is far from organic. At one point, Eela and her boyfriend Arun (Tota Roy Chowdhury) stop by the iconic Rhythm House. She surfs through audio tapes with the excitement and curiosity of a postmillennial making the proceedings almost spoofy. There is a love story that comes with the weirdest motion picture twist I have seen in a very long time. Result? Eela ends up a single mother who sacrifices her career to bring up her son Vivan (Riddhi Sen). The once-successful singer now runs a food parcel service from home. For those who expect cooking oil grease on her mane and face, Eela is forever caked in loads of greasepaint – be it in the bedroom, kitchen or library.
So, let's talk about the awkward moments in Helicopter Eela. How would you react to an unintentionally Oedipal film where the mother persistently longs to hear 'I Love You' from her grown-up son? Labelled a 'teenager', Vivan is a little too mature-looking and unkempt, given Eela's impeccable makeup game, hastening the visible lack of chemistry between the duo. Their chemistry emanates the wrong kind of vibe for most parts of the film. Perhaps to salvage the mishap that they foresaw, Mitesh Shah and Anand Gandhi's screenplay injects the word 'Mumma' to an approximate count of 25 per page. Kajol who earlier played this loud Punjabi mom in Kabhi Khushi Kabhie Gham uses similar devices of parenting here but in vain. With her sole intention to keep an eye on her child, Eela joins his college in a Nil Battey Sannata-like scenario. The generation gap is telling but the screenplay does little to service to project as a different being from the pack of youngsters around. She is loud, but the loudness isn't the motherly kind. She is possessive about her dabbas but Sarkar fails to establish the warmth mothers breed for this much-stereotyped container.
As the story proceeds, Helicopter Eela takes the convenient coming-of-age route, leading to (what they assumed would be) a powerful finale. None of it works since the protagonist's transformations – at no point – is convincing. Upon being offered a chance to record a dummy track, an all-excited Eela goes, "Main gaaongi, gaaongi, gaaongi, gaaongi!" From there to her choice to take the sacrifice route after her husband's exit is incoherent. Later her decision to join Vivan's college feels more like a passive impulse that fails to assert her 'helicopter' personality. Additionally, Vivan considers her a fabulous performer and there are flat debates about him needing space. Soon we see Eela setting a stage afire, as she did in her heydays.
Helicopter Eela also gets zilch support from its supporting leads. The mother-in-law (Kamini Khanna) lacks agency and is oddly distant despite the unusual occurrences in her son's family. The same goes for Padma (a perennially typecast Neha Dhupia) who rediscovers Eela's talent. Then comes the soundtrack (Amit Trivedi) which initially promises to be a hinging element in the film that is about a woman who moved from Goa to Bombay only to pursue her passion for music. All we get are uninspiring reworks of 'Ruk Ruk Ruk' (Vijay Path) and 'Manjha' (Kai Po Che!) where Kajol makes all kinds of faces in what she considers appropriate mannerisms for an Indipop star. Agree, the 'Yaadon Ki Almari' number has a fairly engaging rhythm but the same cannot be said about its usage in the narrative.
Helicopter Eela might have partially worked if it weren't an unabashed vanity project for the leading lady. She herself shows flashes of brilliance in those infrequent moments of silence which impress despite layers of makeup smeared on her face. But in all honesty, these are times when we see actors like Aamir Khan growing a potbelly and sporting extra greys as he plays dad to grown-up children. Riddhi Sen is earnest but it is unfair to expect anything when he is supposed to jam on unfortunate sounding songs that go, 'Mere Twitter par bhi trend karen meri Mumma ki parchhayi'? Groan!
In its failure to balance drama and comedy elements on papers, this Pradeep Sarkar film also cultivates inane ideas about everything – right from contemporary parenting to social media to the way youngsters talk. The outcome is a tasteless cocktail of headaches and unintentional humour which left me flabbergasted for a fact that I didn't see this coming from the maker of Parineeta.
Rating: ★ 1/2
Helicopter Eela is now streaming on Disney+ Hotstar.