How 'Parineeta' evolved in Bollywood from 1953 to 2005…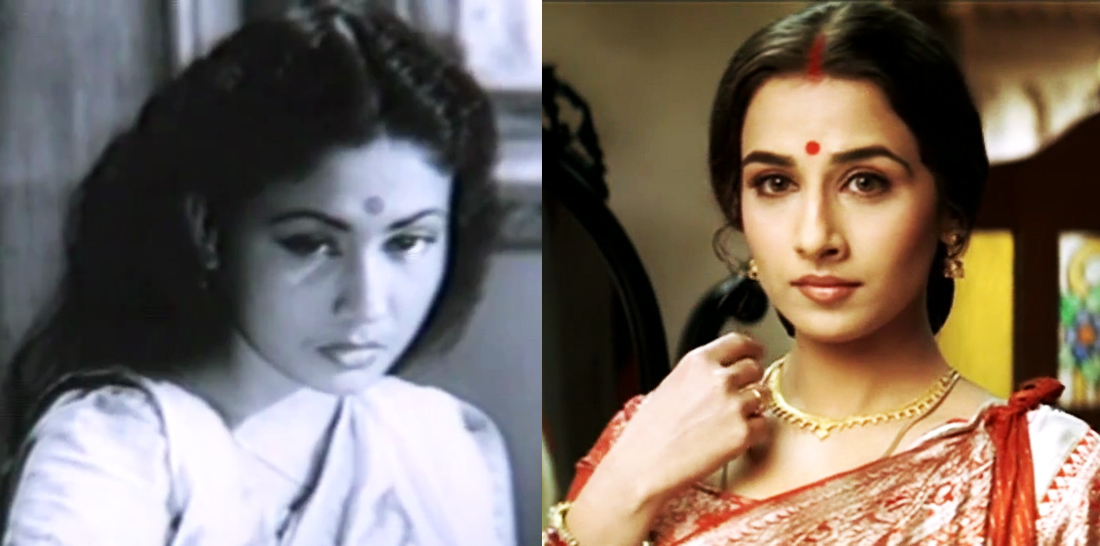 Read Time:
8 Minute, 57 Second
June 10 – Marks the anniversary of Pradeep Sarkar's sparkling directorial debut with Vinod Chopra Productions' Parineeta. With an unconventional title and a debutante female actor playing the title role, the film was a risky proposition on papers. Sarkar had his belief in place and the producers laughed all their way to the bank.
This reminds us – it wasn't the first time they told this story on celluloid. Half a century back came a lovely feature film Parineeta directed by thespian Bimal Roy. Both the films were based on the namesake literary work by Sarat Chandra Chattopadhyay. Strangely, neither of the films are cover to cover adaptations of the book. While the 1953 version remains quite close, Sarkar's version could at most be given a 'loosely inspired by' tag. With identical characters and situations, both the films were similar yet so different.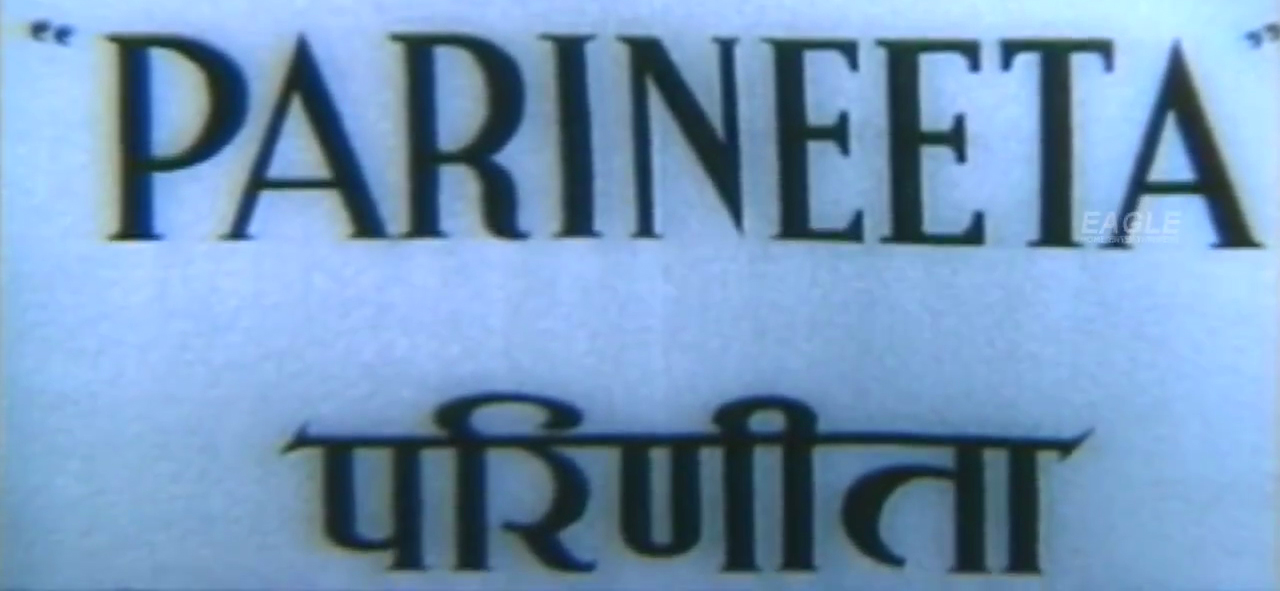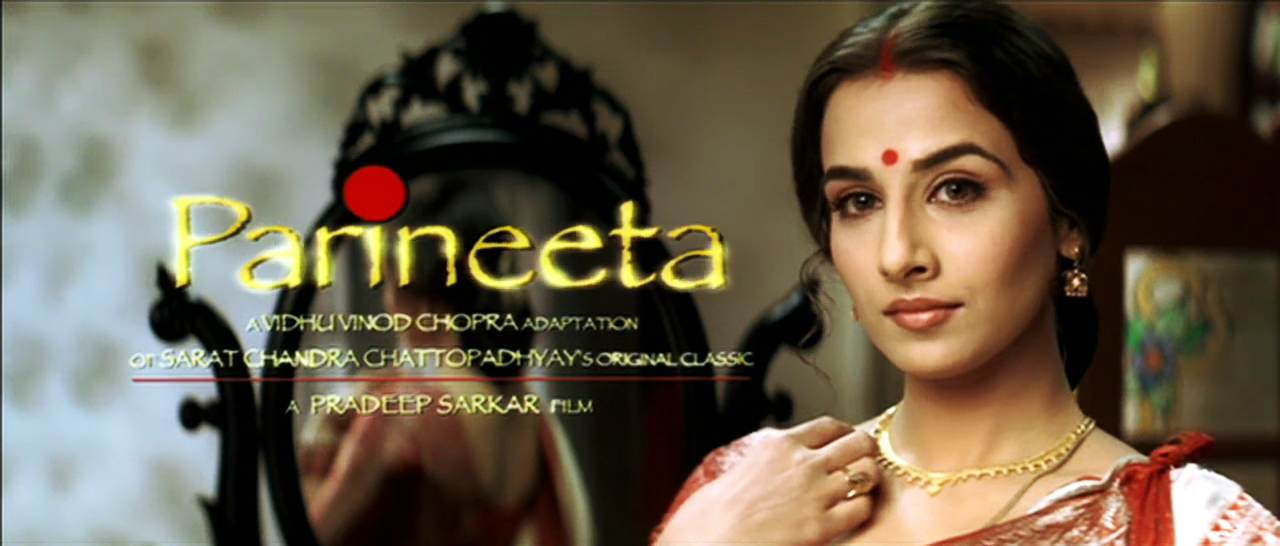 The idea of the 'ideal woman'
The title character of Parineeta is Lalita. Orphaned at an early age, she lives with her maternal uncle and family. She is gentle, vivacious and all things feminine. Both Roy and Sarkar (the very observant Bengali men) had different ideas of the perfect woman archetype. More influenced by the eras they belonged to – their lead female characters had textures slightly (or rather significantly) different from the original novella. 2005's protagonist had a European name 'Lolita'! Before you could scream 'Nabokov', please be reminded that she lived (not born) in the early 1960s when the author published his controversial novel. Sarkar's Lolita was strong and docile while Roy's Lalita was coy and docile.
Lolita is employed. She brings gifts for everyone. She has a voice that is heard in the family and the neighbourhood. One of the characters retort, "Tumhare bina toh lagta hai saara Calcutta hi jaise ruk jaayega…" and Sarkar succeeds in sketching her character accordingly. There are instances where she yearns for Shekhar's sanctions but always makes it a point to communicate her displeasure, if any. Lolita was an astute communicator and the sudden marriage changes her over. She wears sindoor, doesn't complain over Shekhar tying the knot again and she even endures a slap. Pliant, she turns.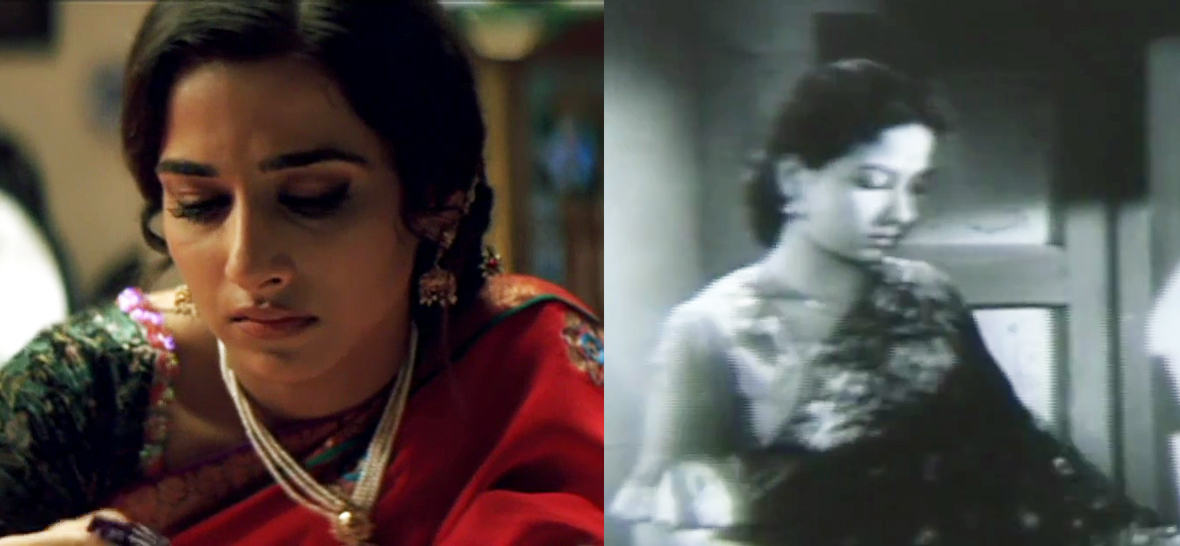 Bimal Roy's Lalita loves to study or, let's just say, read. She gets often reprimanded by elders referring to the pointlessness of it as she were to be married off soon. Yet, she isn't projected as someone who changes drastically post 'marriage'. She was always a cheerful, happy girl – who avoided confrontations. The ignorant exchange of garlands does make her touch Shekhar's feet. Still, she pretty much remains the Lalita she used to be. She too refuses to name her husband till he acknowledges.
The crux of the story is focused on how virtuous a woman Lalita/Lolita is. We are often reminded by the supporting characters that Lalita could be an asset to any family! Sample these:
In the 1953 version, Lalita's uncle goes, "Jis ghar mein jayegi woh ghar jagmaga uthega…
The maid-servant in the 2005 version remarks, "Lolita bitiya jis ghar mein jaayegi ujala kar degi…"
Social commentary or the lack of it
Though Bimal Roy's Parineeta doesn't really stand by the 'educate the girl child' idea, it throws ample light on the caste system that existed (and still does) in India. The film says it is set in 'Calcutta Years Ago'. Staying true to the novella, the social statuses of the leads Lalita, Shekhar, Giren, and their families are disclosed and discussed out in open. Our hero Shekhar Rai is taken to meet his prospective wife who – incidentally – has been named Sundari Devi thanks to her fair skin. Decked in gold jewellery, Sundari, though in awe of Shekhar, strikes no conversation. Shekhar's father Navin Rai disses Lalita's uncle Gurucharan for borrowing money from someone belonging to a lower caste and threatens to outcast him. In a very progressive move, Gurucharan approves this deal and walks off. We so love Bimal Roy and his penchant for promoting social equality so early in the days, don't we? Hell, where is the DVD of Sujata? 🙂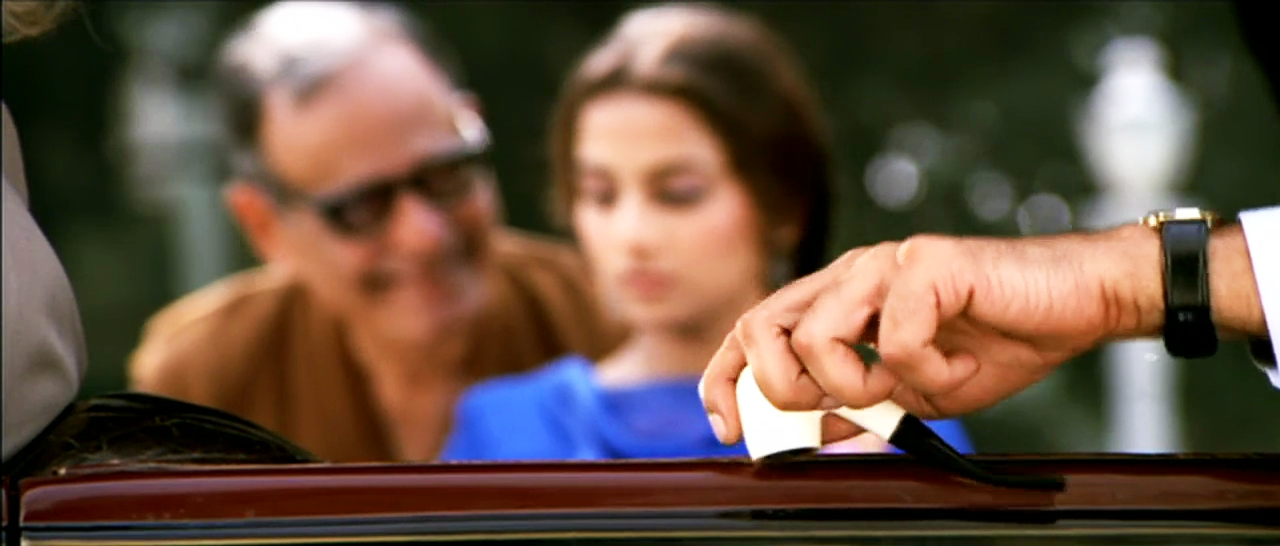 Pradeep Sarkar takes a very tame route (SURPRISINGLY) as his film makes no noise about Brahmins vs Non-Brahmins. We are told about their financial disparity but haven't we seen them enough? Hindi cinema isn't alien to greedy fathers, poor girl-rich boy love stories, and the works. The evil father here goes to the extent of slut-shaming Lolita and plays mind-games with Shekhar.
The new version also has Shekhar meeting a match set by his father. This time it is the sophisticated, convent-educated Gayatri Tantia who intends to take along an entourage as she is married off. She sports an off-shoulder dress and a choker and speaks the Englishman's lingo. Shekhar is left agape. Well… Dia Mirza, guys!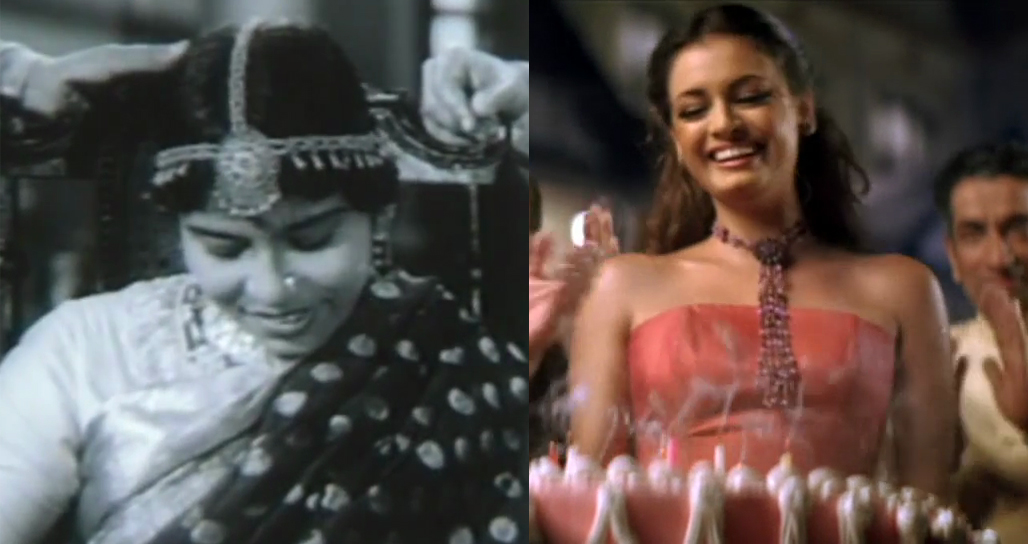 The men who mattered!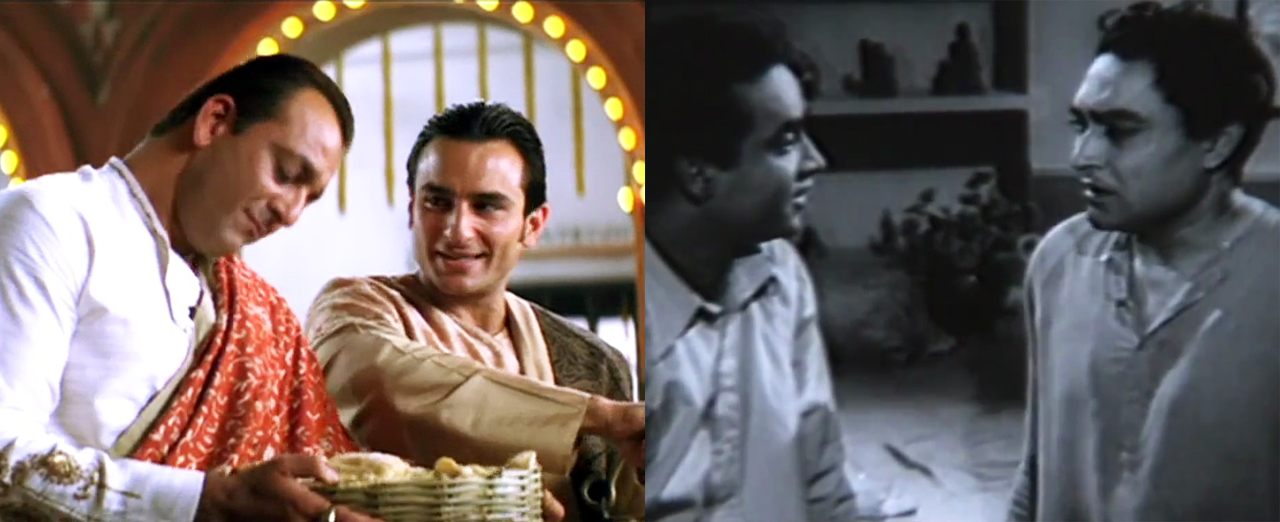 Bimal Roy's Shekhar is a basic human being. He goes to work; he is habituated with Lalita being around taking care of him. A loving person otherwise, we aren't shown his side of the love story – if there existed any. Pradeep Sarkar's Shekhar, on the other hand, is one layered, faulty person – and hence more real. His adhikaar (right) over Lolita gets established as the film progresses. Several well-knitted instants convey that his heart, too, pined for Lolita. It wasn't like his daily routine was challenged in Lalita's absence. He deeply misses her not being around and envies when her attention gets divided between him and another handsome gentleman. How do we know? The songs, the flashbacks – more on it later. The below frames would explain Shekhar's state of mind (do not miss Shekhar in the second picture too).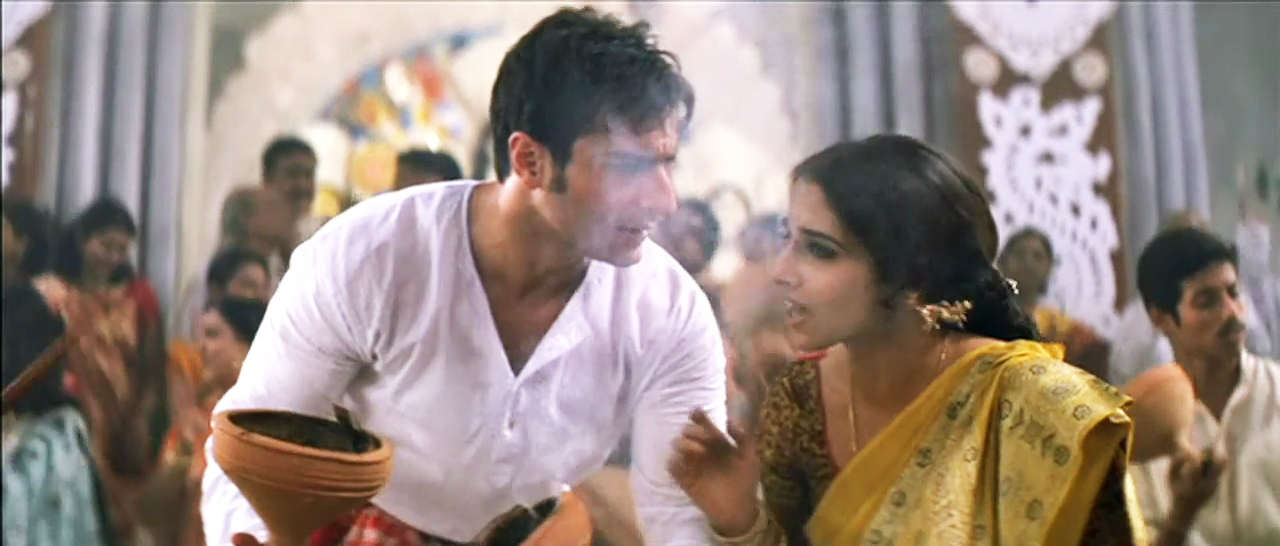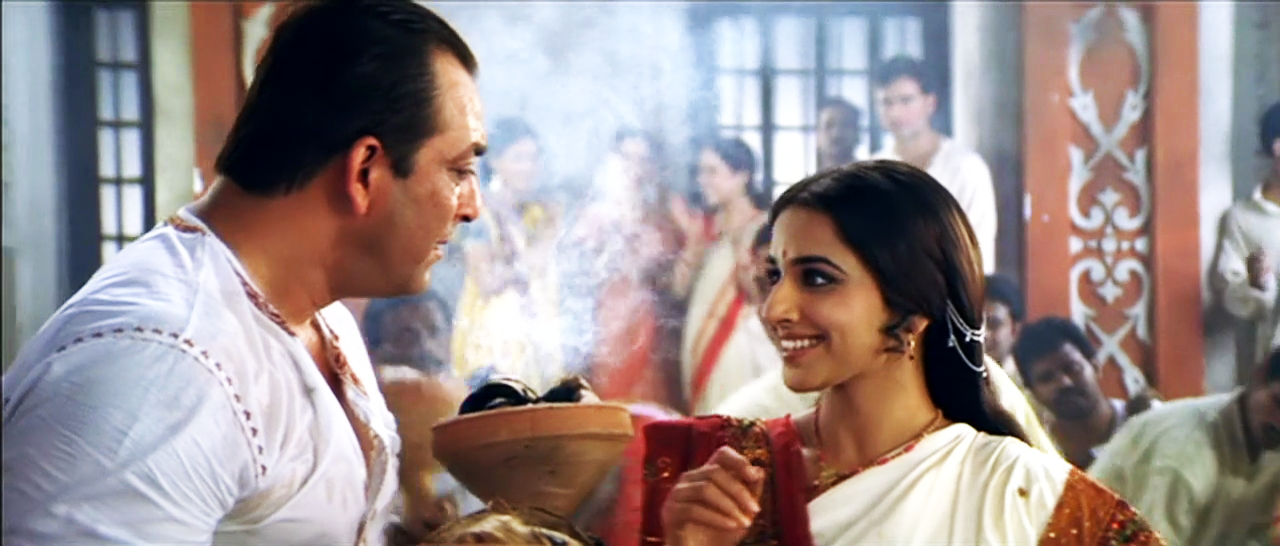 Sarkar's Girish is an aristocrat – he owns several steel plants (out of all things). Roy's Giren (Girin in the novella) is a shy, awkward youngster who finds it hard to even sit opposite Lalita and play cards. Girish, on the other hand, is a prankster who fixes the fuse and plays planchette like a pro.
The twist in the tale – the wedding
As per the book, the mahurat is that of Annakali aka Kali's dolls' wedding. Called Annu in the film, Bimal Roy retains the context. We completely buy Sarkar's decision of avoiding the same in his version – for the possible worry of convincing our audiences on the fickleness of the event.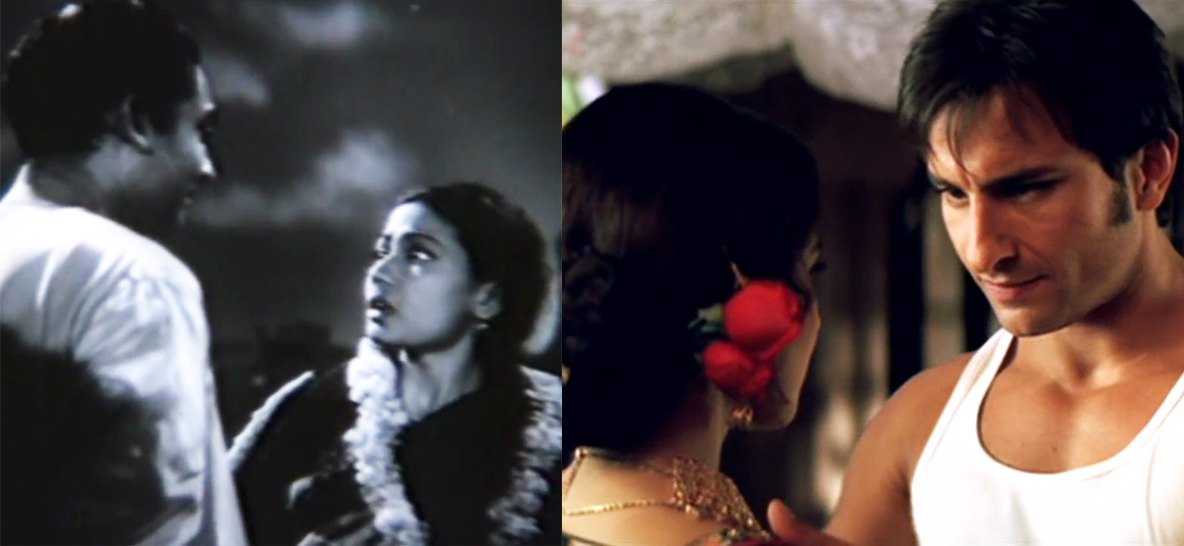 Annu is a school-going child in the former whereas her tastefully renamed counterpart (Koel) in the latter is in her early youth. Koel wore high-heels, loved cakes, nightclubs, alcohol – basically the good life. When luxury comes knocking in (say Girish), she opens the door wide open. Quite an incestuous situation to picture as per the novel and Roy's version. Nevertheless, Raima Sen's effervescence makes it work. That scene where she notes down the cake recipe? Priceless.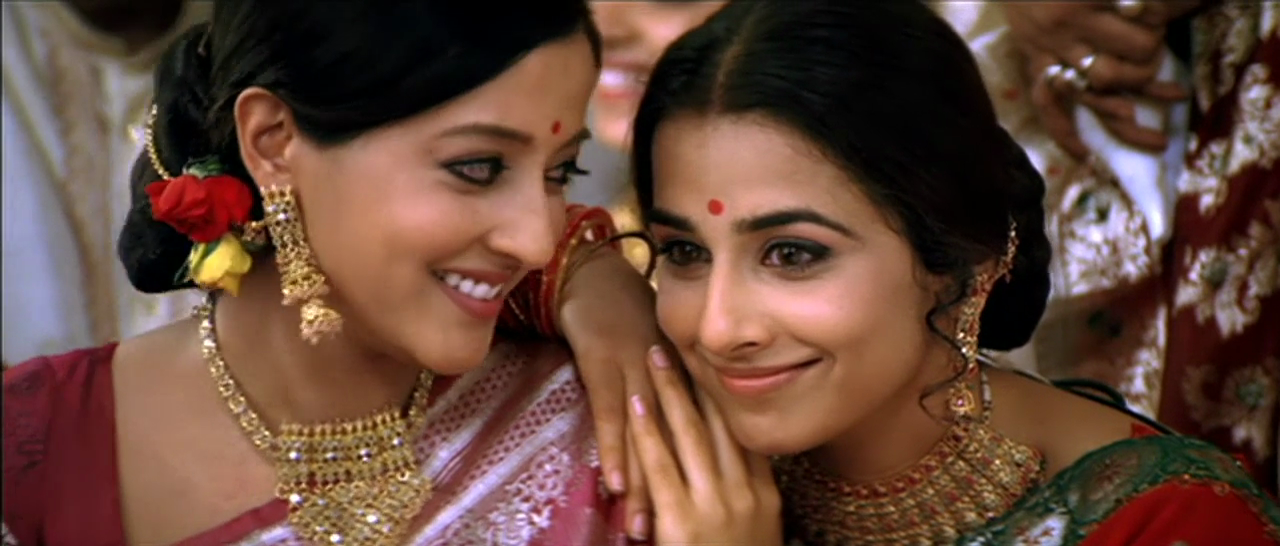 Coming back to the symbolic wedding in the story, Bimal Roy keeps it basic with the virginal heroine touching her husband's feet while Pradeep Sarkar sexes it up. To each his own, perhaps.
The sound of Bengali music
A period Indian drama that ain't a musical? Nay! Both films boast of beautiful soundtracks. The 2005 adaptation adds a twist in the tale with Shekhar being a bored businessman cum a passionate musician. He listens to Elvis, plays the piano, and often composed tunes –which were put to words by Lolita. What a remarkable tweak to the tale! The songs by Shantanu Moitra-Swanand Kirkire team are amongst the best we had in the 2000s with Chitra's melancholic Raat Hamari Toh being a personal favourite.
"Andhera… rootha hain… Andhera… aitha hain… Gumsum sa kone main baitha hain…"
Honestly, song placements aren't as tasteful in the 1953 version and few songs could've easily been done without.
Not to be missed
In (probably) the only identical scene in both versions of Parineeta, Lalita/Lolita seeks Shekhar's permission to attend a play/visit a nightclub. Upon seeing his frown, she gives the trip a miss and is shown to cry her heart out. The frames and even their outfits are similar. From watching the drag of a play in the older version to grooving with Rekha's seductive moves in the latter one, we would any day opt for the latter. 😉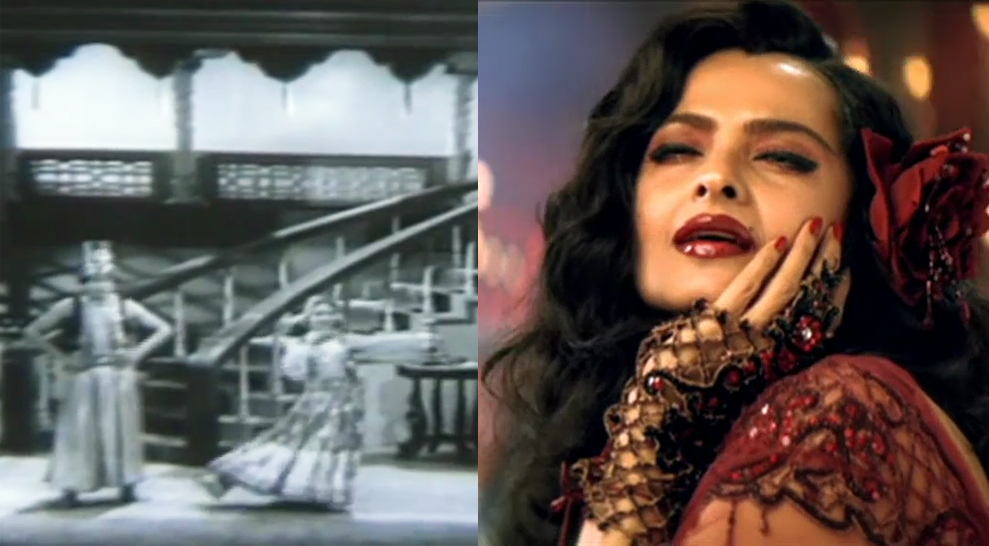 Girish marries Koel in the new one while Girin from the older version marries Lalita's other cousin Malti. It is also said that Gurucharan mortgaged their ancestral property for the eldest daughter's wedding. Both these characters are absent in the 2005-film.
While the commotion happens at home, 2005's Shekhar was busy cracking a tea-estate deal at Darjeeling while his 1953's counterpart was at Madhupur with his mother. Guess Sarat Chandra truly dished this town.
In Sarkar's Parineeta, Shekhar's mother had no voice in the family while Roy was rather empowering with her having more stakes at family decisions. While Navin Rai remains his scheming self till the very end in the former, the latter has him succumb to a heart attack.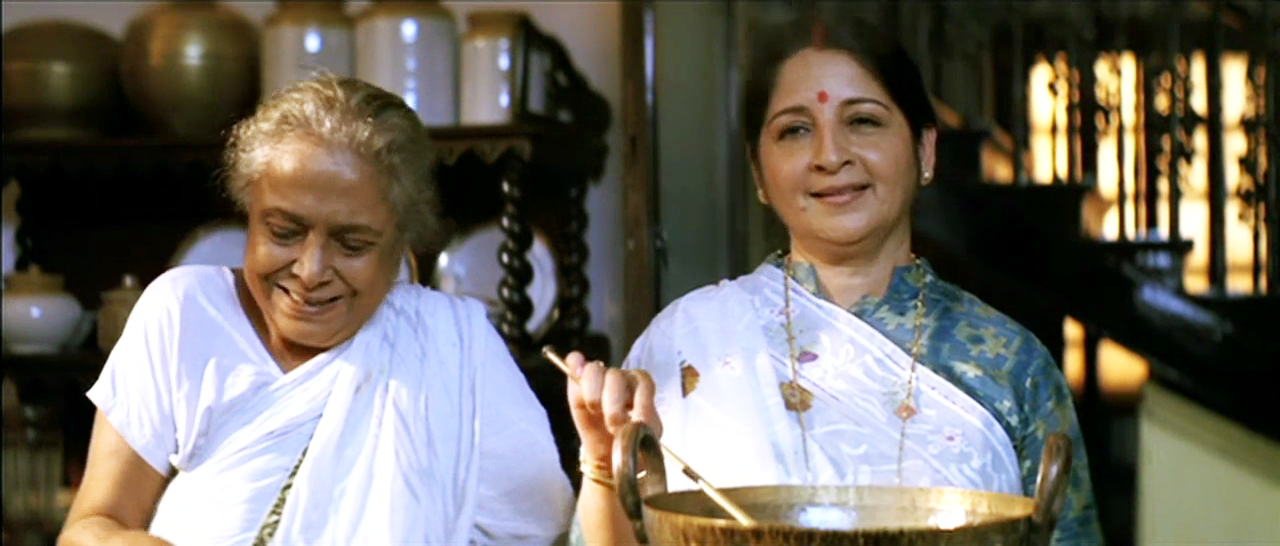 Bimal Roy keeps the penultimate union of the lovers sane, simple, and believable. We are yet to understand the rationale behind that over-dramatized wall-breaker of a climax that Pradeep Sarkar conceptualized and eventually shot.
On a closing note!
Both films are incredibly beautiful – however distinct they are. Be the innocence of Bimal Roy's characters or Pradeep Sarkar's vintage detailing – each of us has something to take home from Parineeta.
While it is a delightful sight to spot the otherwise dejected Meena Kumari burst into peals of laughter as Lalita, the recent version gifted us a gem of an actor – Vidya Balan. Ashok Kumar and Saif Ali Khan are two unlikely patrons to be in the same shoes. Yet they pull off their Shekhar acts with absolute panache. The lustrous supporting cast, the music, the background score, the editing, or the production design – both versions are major wins on all counts. Writers and directors of both films tried to contemporize the classic tale in their own unique ways and more or less succeed. And the dialogues? Even the playful ones in Sarkar's are quite telling!
"Aise aapke London mein hoti hogi shaadi…. Shaadi byah koi khel thodi hai…" "You're right! Khel thodi hai…"
P.S.: Another film, titled Sankoch – based on the same story – was released in 1976. The film starred Sulakshana Pandit, Jeetendra, and Vikram.
Parineeta (1953) can now be watched on YouTube and Eros Now.
Parineeta (2005) is now streaming on Netflix and Amazon Prime.