'Maniyarayile Ashokan' review – Simplicity powers this breezy village comedy with endearing characters
Read Time:
9 Minute, 24 Second
The most fascinating side of 2020 Onam release Maniyarayile Ashokan is the ecosystem it is centred in. Imagine a picture of Kerala countryside that you would see in tourism booklets. One such village exists in the film which is Shamsu Zayba's directorial debut. Named Valayalathadi, the film opens with an aerial view of the village which the narrator describes as 'a love child of nature and greenery'. In this beautiful and close-knit space thrives a group of simple villagers for whom it's unusual to venture out. They marry, they work and they live all their lives in that tiny slice of land in the heart of Kerala. Someone who managed to elope was Unnimaya (Anu Sithara), a stunning belle whom men of all ages lusted after. It is far from a dystopian universe but it also not a very realistic picture of modern-day Kerala. But, the filmmaker's conviction to present a '90s-tinged version of the state as the base of his story works wonderfully is setting the mood for Maniyarayile Ashokan.
The hero of the story is Ashokan (Jacob Gregory), the short and average-looking village office clerk who is an easy reject for prospective brides. Ashokan and his family are mindful of this apparent deficiency. However, unexpectedly enough the lissome Shyama (Anupama Parameswaran) falls madly in love with him. Captured in a slow-motion musical montage, we see how Shyama coyly observes him bathing in the local water lily pond. She makes Ashokan's sketches and even attempts suicide to escape marriage with a man from Dubai. Then arises the hiccup! Ashokan's horoscope discloses a piece of deadly news – his first wife wouldn't survive. Surprising us again, Shyama ends the relationship.
Heartbroken, Ashokan is now in a fix. It wouldn't be wrong to state that his lifelong dream was to get married and make a sweet, little family like his parents'. He consults astrologists for a possible solution. Things take a turn when one of them suggests a remedy – he must wholeheartedly marry a plantain tree. Initially reluctant, Ashokan slowly warms up to the idea. The superstition makes way to an obsession when he secretly finds a suitable tree bride for himself.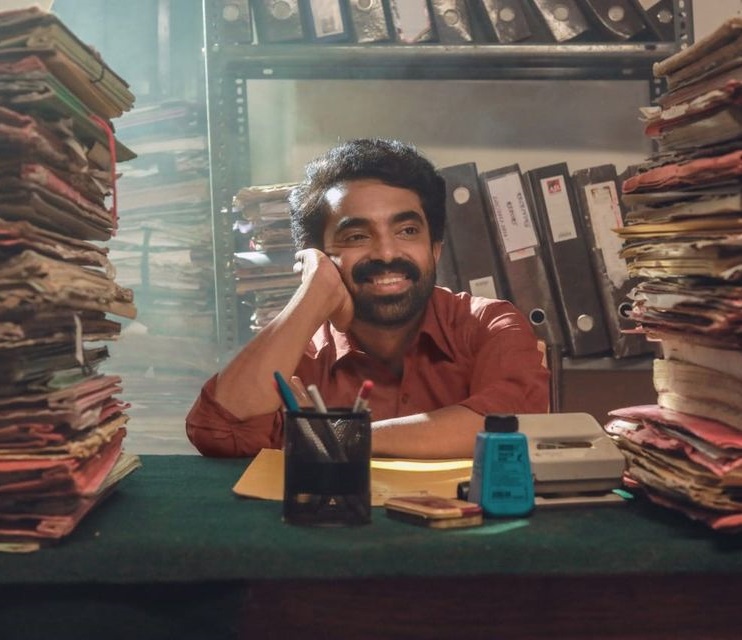 As bizarre as it might sound, the rest of Maniyarayile Ashokan is about the simple man dealing with his new-found romance. The aforementioned ecosystem as well as an unusual sentiment that a man breeds for an inanimate object immediately drives in memories of the adorable 2019 film Android Kunjappan Ver 5.5. If loneliness was the overarching theme in that film, Maniyarayile Ashokan is a commentary on belief systems. An astrologer's prophecy triggers Shyama to call off her treasured love affair. Another's forecast convinces Ashokan to fall in love with a plant which he obsessively, compulsively follows. His love for the banana tree, after a point, is not born out of an obligation. He finds joy in living that life. In some ways, the metaphor also reminded me of how godmen convince their followers of miracles. Immersed deeply in delusions, they reach a point where the process becomes their lure, not the outcome. Remember Vinayakan's track from Anwar Rasheed's Trance?
Coming back to Maniyarayile Ashokan, the atmosphere or mood as stated before is a weighty factor. The picturesque setting is known to be romantic. It is natural for young men and women to fall in love. While the gender roles are visibly different, the villagers do not seem to bother much about class and religion differences. Of course, Ashokan's horoscope becomes the reason for a major twist in the film. Then again, it is about individuals. The way Ashokan and Shyama react to the news is an outcome of years of indoctrination. Ashokan's Navy-bound cousin Arjun would have laughed at it. Closer home, his best friend Ratheesh (Krishna Sankar) would have found better ways to deal with it. Ashokan is perhaps a lot less practical. Growing up as his parents' only child, his dream was to see the day where he marries a lovely girl as per social norms. He would distribute laddoos at his workplace and then go off on a month-long vacation with his beloved.
Penned by Vineeth Krishnan, the screenplay is curious and clever. Numerous tiny elements converge so that Ashokan's charming story takes a beautiful shape. The process begins right from the opening credits where Unnimaya is introduced. Every man who desired her became prey to her father's 'ikkil kuthu' – one that leaves them with a permanent hiccup. Throughout the course of Maniyarayile Ashokan, we meet several of them, one being Ashokan's uncle. Unnimaya also becomes instrumental in bringing the banana plant all the way from far-off Masinagudi to Ashokan's family yard. Known to love the stir-fried banana stem dish, a disturbed Ashokan in a moment of rage refuses to touch it. He yells at his mother and asks her to leave him at peace. Taking a leaf from Ashokan's banana-tree-obsessed head, it is amusing (not surprising) when Ratheesh develops a liking for the twin saplings which Asokan considers to be his children. This, yet again, reiterates how a person's belief system can be orchestrated systematically with influence.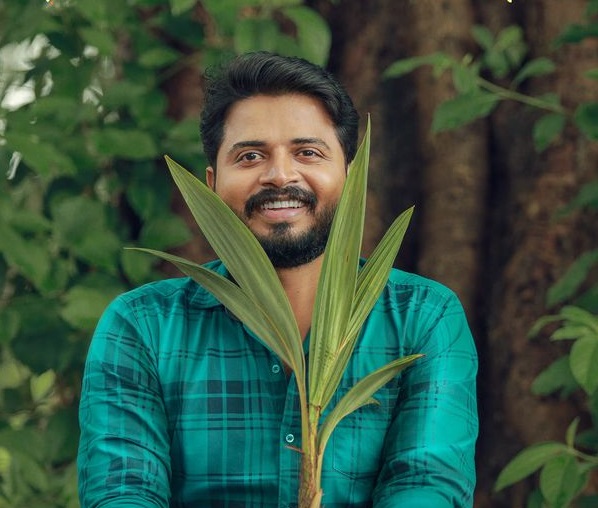 The writing, however, is not fool-proof in Maniyarayile Ashokan. There are several links that do not sit well in the scheme of things. In a disconnected passage, Ashokan is seen visiting a priest's (Indrans) banana plantation adjacent to the church's orphanage. It is a blatantly tell-tale scene which subverts the otherwise seamless flow of the film solely to drive home a simple point. Ditto for a chapter at a Mental Health Care Centre which mildly exposes the writer's hesitancy not explore a coherent twist in the tale. Additionally, there is Dulquer Salmaan who appears in a cameo. He must have been a brilliant add-on to up the film's commercial prospects but the character – including his fancy vocation and a modern-sounding name (Arjun) – stick out like a sore thumb in this otherwise earthy film.
On the technical front, Maniyarayile Ashokan is shot magnificently by Sajad Kakku. With an array of varied camera angles, motion choices, zooms, portrait shots and close-ups, the film becomes a photographic delight. The night scenes will seem him magically light up select elements in his frames. The romantic scenes project a definite fixation for shadows. Becoming the perfect companion to Kakku's frames is editor Appu N. Bhattathiri whose frame selection adds layers of beauty to the story. If his still frames are perfectly tines, the reaction shots are even better. In some of them, Ashokan is seen to exchange romantic glances with nothing but a tree! In a film that uses slow-motion to stupendous effect, this editor-DOP chemistry is a major element which helps elevate the organic drama in Shamsu Zayba's film. Sreehari K. Nair's soundtrack peppers the narrative with songs which emerge to add melody and tenderness at suitable occasions. The original score which runs throughout is a bigger factor to help us dive into the villagers' mindscapes. The production design is decidedly old school. If the tables stacked with objects such as vibrant charts, watercolour and bell alarms, the families reside in large homes, often with nalukettus. People travel in Ambassador and Fiat cars and I even spotted the scrap dealer's child playing with Winnie The Pooh by the riverside.
ALSO READ: When Alphonse Puthren's 'Premam' made history in Malayalam cinema
Leading the acting department is Jacob Gregory who is present in almost every frame after the opening credits. The actor's rendition of the simple, soft-hearted Ashokan comes with zero false notes. We smile, empathize and wholeheartedly fall in love with him. The actor's pure smile and expert use of body combined with a rare ability to meld with his surroundings work wonders in making the film what it is. Anupama Parameswaran performs an antithesis to her famous debut act in Premam. In what is easily an intentional déjà vu, the writers give the curly-haired beauty a gorgeous opening act – which, arguably, is the film's finest. Sprinkled with magical slow-motion photography, an addictive flute strain, rain, a purple polka-dotted umbrella, classroom chatter, meet-cutes on the river bridge and semiya payasam, she falls in love with Ashokan. This is almost exactly how George was drawn to Mary in Alphonse Puthren's film. Needless to say, watching the actor glide through these moments is indeed music to the eyes.
Krishna Sankar puts together a fantastic show as Ashokan's bestie and guide. Shine Tom Chacko as Shaiju is splendid yet again in a tailor-made part. If Vijayaraghavan and Sreelakshmi are extremely convincing as Ashokan's parents, Shritha Sivadas who plays Anju shines in a lovely scene that sets the background to Ashokan's love story. Anu Sithara as the enigmatic village sweetheart reminded me of Kalpana's iconic UDC from Dr. Pashupathy. Nazriya Nazim spreads sunshine in a sweet, unexpected cameo.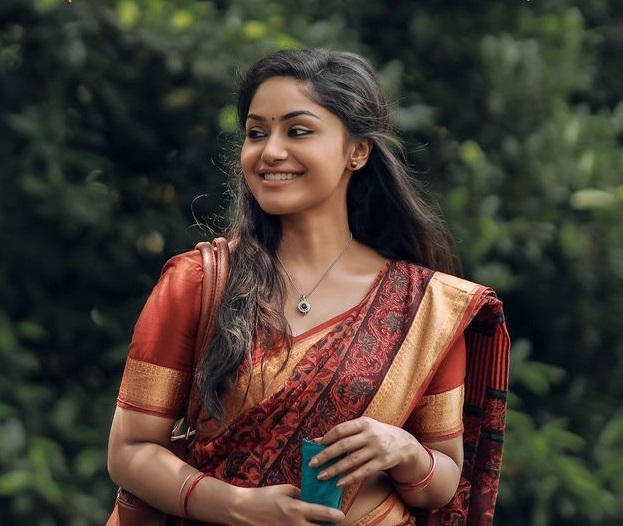 Making his full-length feature debut with Maniyarayile Ashokan, Shamsu Zayba gets his craft on point. Of course, there is visible unrest to show it all off in a 90-minutes long feature but the maker's ability in staging key scenes and creating drama out of the mundane situations is unquestionable. As the film informs right in the beginning, Maniyarayile Ashokan is fundamentally a fairy tale. Zayba tiptoes lovingly through this safe template to deliver a film that keeps you smiling all along.
As a parting note, I must add how the filmmaker is keenly observant of the marriage culture in rural Kerala. By placing great value to conventional family setups, he sells the concept to even the most dismissive of viewers. For instance, Ashokan's newly married cousin Ajayan (Sunny Wayne) pokes him with a line, "inganeyokke nadannal mathiyo?" (roughly translates to "You need to get a life, man"). Ajayan bids goodbye while promising to meet up again at Ashokan's wedding revealing how important a system is it to the local community. A happily-married Ratheesh at another point states why marriages are important, "We need someone to stand with us through the ups and downs of life,". He often gets questioned, "Ranimolkku vishesham vallom undoda?" (translates to "any 'good news' from your wife Rani?"). Those who are familiar with such a setup would tell you how timely and commonplace are these statements. Ashokan is also fond of Shaiju's estranged little son which asserts his desire to have a family for himself. In a key scene, Anju signs off with a sharp declaration, "Ashokettan kettunna kutti bhagyavathiya" (translates to "the girl you marry will be lucky to have you") which becomes the validation Ashokan ever looked for. He reacts to it with a bright smile and a glint of positivity in his eyes. Well, with the sentiment being extremely popular in Kerala (and India, as a whole), I can totally imagine family audience lapping up this endearing village story. Delightfully Malayali in its soul, Maniyarayile Ashokan is a sumptuous Onam spread from Netflix, Dulquer Salmaan and Jacob Gregory. Go and savour it, pronto!