'Sadak 2' review – Mahesh Bhatt's comeback film is an embarrassing road trip to the '90s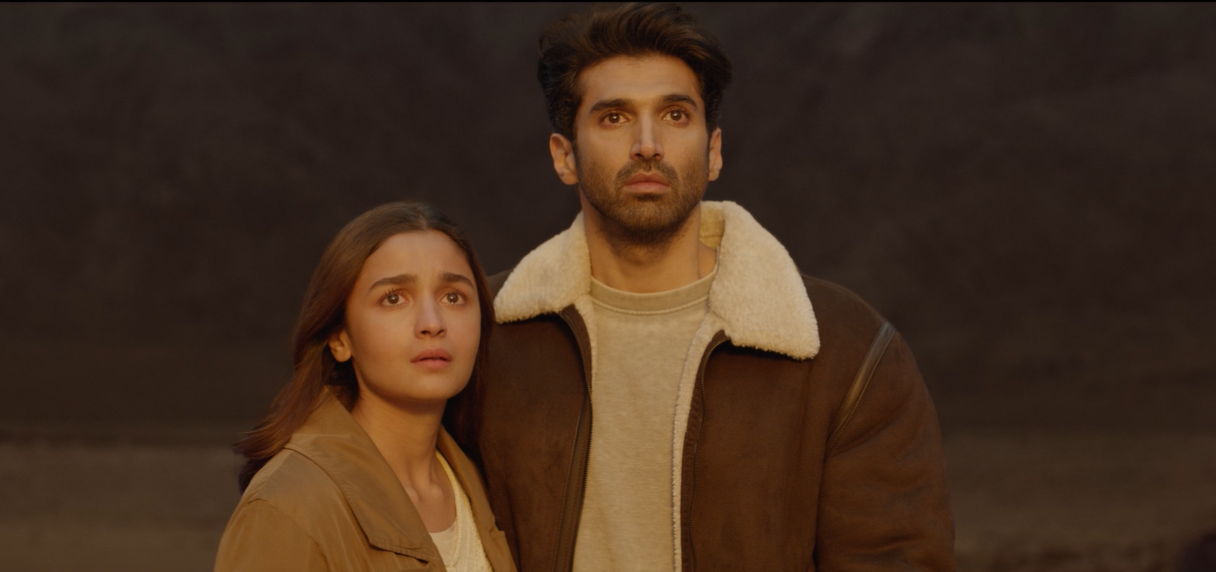 Read Time:
5 Minute, 4 Second
Mahesh Bhatt is back on the director's chair. Back in 1999, when he announced to hang his boots, I never thought this day would come. Such was his conviction. As he minted remakes after remakes, the fatigue was evident in his later years' work. 21 years later, he reunites with the leading man of his last film (Kartoos) in a sequel to his biggest commercial hit, Sadak. Not a film to particularly merit a second edition, I remember how Sadak's sinister and politically incorrect transgender villain Maharani (Sadashiv Amrapurkar) gave me chills back in the day. She was infinitely more interesting than its boring leads (Sanjay Dutt, Pooja Bhatt). In the sequel, titled Sadak 2, Dutt and Ms Bhatt are back – one in flesh and blood, the other in framed photographs. Also back is the cinema of the '90s – a decade I am no fan of aside from its incredible legacy of music.
What must have reignited the fire in Mahesh Bhatt to make movies again?
A superstar daughter, easy availability of talent and resources apart from boredom, I presume. Because Mr Bhatt designs Sadak 2 if he would have approached it in winter 1999. His sensibilities in no way have evolved with times.
Sadak 2 is that film where everyone gives a five-minute speech at gunpoint.
Sadak 2 is that film where shots are fired to hit only the bad men.
Sadak 2 is that film with lip-sync songs where the faces change, the voice doesn't.
Sadak 2 is that film where the hero repeats a smart line, for no rhyme or reason.
Sadak 2 is that film where revenge is taken with a religious deity as a witness.
Sadak 2 is that film where a voice from heaven awakens the near-dead.
I can go on…
Coming to its story, Mahesh Bhatt's film opens with the weirdest context-setting scene I have witnessed for the longest time in an Indian film. Minutes later, we get a glint of hope when Sadak's Ravi Kishore (Sanjay Dutt) appears. He is now grieving his wife Pooja's (Pooja Bhatt) death. Still suicidal, he has grown older and heavier. He attempts suicide by hanging, only to have the fan fall off the ceiling hook. Amid his eerie conversations with his deceased wife, Ravi gets a visitor – a young girl named Aarya (Alia Bhatt). A successor to a massive empire, she wishes to travel to Mount Kailash to fulfil a wish which makes zero sense as does the film in entirety. Aarya is a strange girl who attempts suicide when a random taxi driver refuses a trip. Girl, ever heard of Ola Outstation?
Later we learn that her family is blinded by an evil godman named Gyan Prakash (Makarand Deshpande) and a hunt is on to snatch the immense wealth she is about to inherit. Wait, this is not even '90s but the '70s! Joining the duo on this drive is Vishal (Aditya Roy Kapur) who steps out of the Central Jail as if it were his uncle's home in Pali Hill, Bandra. He even keeps a pet owl who is easily a signal to the caged bird in Sadak. Named Kumbhkaran, the bird exists to perform a full-fledged action scene later in the film. *LOL*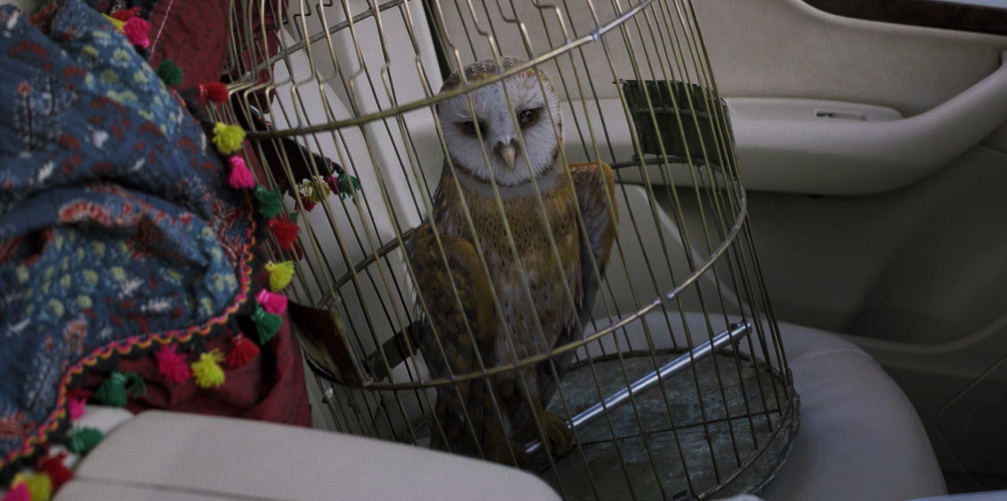 The narrative of Sadak 2 is topsy-turvy but seldom exciting. Every character with dialogues (Roy Kapur gets about ten) seem to have emerged from a Hindi Sahitya Sammelan. Their everyday lingo is filled with endless rhymes, puns and alliterations.
Sample: "Baap ho to aap jaisa, baap lafz ki maayne badal di aap…" If the baap-aap rhyme might give you ulcers, Bhatt pulls off massive nostalgia with the '90s stock dialogue, "Meri baat sune bagair tu marr nahi sakta!"
The twists and turns in Sadak 2 would make the worst of Abbas-Mustan films look like Godardian classics. The good guys turn bad (and vice versa) with no apparent reason. It's not even funny when the Maharani-like villain whom Aarya tries to expose throughout the film fizzles off within a minute or two. In another bizarre turn of events, the actual villain who emerges in the last act has no clue why he is after Aarya's life.
Staying true to the Bhatt tradition, Sadak 2 comes with a bunch of melodious songs which land up and playout for good five-minute durations amid heightened tension. Sandeep Chowta's original score does nothing to elevate the drama on papers. Cinematography by Jay I. Patel is pretty decent but the theatre-like production design and shoddy editing make his otherwise decent frames look appalling.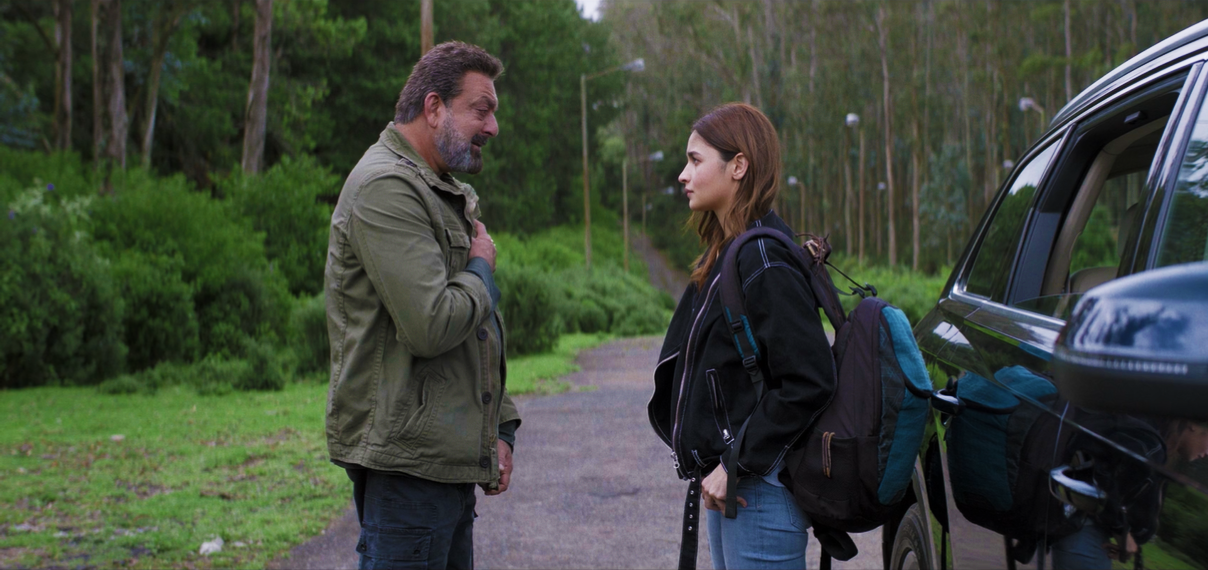 On the acting front, there is the Kalank trio repeating the very same fiasco. Sanjay Dutt tries his best to salvage this agonizing film and he succeeds to a good extent. There is a rhythm that he manages as Ravi that even the silliest of dialogues sound like music when he utters them. Alia Bhatt goes all babe in the woods – both on and off-screen. I'm certain she was emotionally blackmailed into signing this film. Aditya Roy Kapur does his staple job – to show up, smile, sing, look hot, take drugs and chill. Jisshu Sengupta plays smoothly to the gallery in a part that has nothing going in his favour. If veterans like Gulshan Grover and Makarand Deshpande are wasted like the bullets in their guns, Pooja Bhatt's presence is akin to an irritating wife who dials up every 30 minutes during a crucial client meeting.
As Sadak 2 ended, I realized how the best moments in the film were actually montages from the prequel. The scene where Ravi meets Pooja for the first time in the middle of the road made me smile – as it did back then. The songs were melodious but I would have enjoyed them better as a '90s-styled Indipop album. Is there anything in Mahesh Bhatt's film that is remotely contemporary? Oh, he makes Alia Bhatt cry all the way to the climax. Thanks, but no thanks!
Rating: ★ 1/2