Read Time:
8 Minute, 23 Second
Remember the times when trains in Hindi cinema ran in slow motion? The times when characters spoke only in slogans or quotable quotes. The era where grandeur existed only to showcase the producers' bank balance. Think of heavy artifice and a filmmaking approach that Sanjay Leela Bhansali would have pursued on an ill-fated day. Think of Gadar, Devdas or even Kabhi Alvida Naa Kehna. Director Abhishek Varman's Kalank mishmashes them all and serves a mixture that would have been of relevance a decade and a half back. Storytelling in cinema clearly evolved as the makers of this film were on their deep creative slumbers.
Let's start with a note on the storytelling format. Varman seems to love flashbacks manlig-halsa.se. Minutes into Kalank, it starts switching back-and-forth between decades. Varman's screenplay does not give us a chance to decipher the goings-on or absorb the atmosphere of one period at a time. In a story that is essentially based on a romantic liaison between a mason Zafar (Varun Dhawan) and a rich, married maiden Roop (Alia Bhatt), Kalank also offers a lot of backstories – similar to some of the good (and bad) yesteryear Indian films. Kalank touches issues like extramarital affairs, legitimacy of parenthood, critical illnesses, communal violence amid Indo-Pak partition, the advent of industries, press freedom, women empowerment, poverty, marriages of convenience and so on. Strangely though, it is the central love story that gets the most amount of screen space while being the least convincing of all.
Forming one edge of the love story, Roop is the classic, intense Alia Bhatt placed in the '40s era. Roop is suggested to enter an alliance of matrimony with an already-married Dev Chaudhry (Aditya Roy Kapur) for reasons more primeval than fossils perhaps. Post-marriage, without any rhyme or reason, Roop feels the need to learn classical music from a retired courtesan Bahaar Begum (Madhuri Dixit). The lady keeps singing the same song, the sound waves of which defies science and reaches Roop's mansion which is at least a mile away. Now, Kalank also contains certain threads that connect the family to Zafar and Bahaar Begum which the film pretends to be of explosive nature but those are details which even a passive viewer would predict approaching from a distance.
Talking about Roop and Zafar's love story, it is one that makes sure to milk all Hindi cinema clichés. The weirdest of all is a brief sequence where Zafar takes Roop to a bull-fighting arena in the pretext of accustoming her to his 'ilaka'. No, this isn't a 'Mitwa' where Shah Rukh Khan invites Rani Mukerji to watch a match of soccer. Completely out of context and fuelled by terrible VFX and haphazard editing, the passage is way too embarrassing for a film that is not collectively that abysmal. Shibani Bathija's story throws in countless references to her own film Kabhi Alvida Naa Kehna making us wonder if there was an overlap between the two as both were (reportedly) ideated in the same period. Also, given how the contexts are similar, the absence of a 'Mitwa' is badly amiss in establishing the lovers' growing fondness for each other.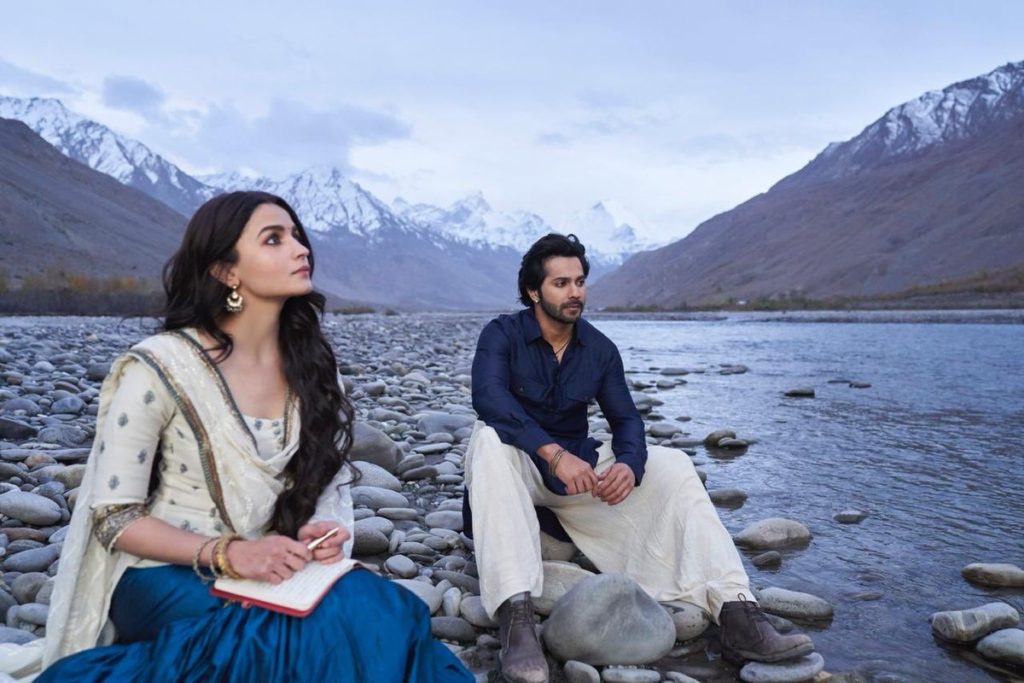 Germinating from a universe that an average Hindi film viewer might associate Sanjay Leela Bhansali with, Kalank throws shade on his style of filmmaking but with a lesser understanding of screenplay design and ancillary elements like production design, costume and cinematography. For instance, Roop is introduced in a manner similar to Nandini's (Aishwarya Rai Bachchan) in Hum Dil De Chuke Sanam. Besides that, Kalank's romantic track crusades similar trajectories as the film despite a notable absence of what they call 'moments'. In another example, there is an extended scene that appears without any notice where Dev and Zafar meet during Eid celebrations. They do not know each other but they drink, share self-help book assistance on each other's life issues and eventually go dancing with a lissome Kriti Sanon on the streets of Hira Mandi. Bahaar Begum wears outfits with enormous trails whilst her mansion is located in a bustling marketplace with zilch space to stroll around without stepping on each other's feet. There is also a scene between Dev and Roop that is a direct lift from the conversation Bhuvan Chaudhry had with his newly-wedded wife Paro in Devdas. However, in Bhansali's defence, all I could see were possibilities that he might have explored irrespective of their ultimate impacts as opposed to Kalank which only believes in using motifs to beautify its surroundings. A masterful writer would have put the Ramayana references to greater use rather than having them hang around the screen creating bright, resplendent visuals. The bigger area of concern here, anyhow, is that all of these unoriginal influences – including the non-Bhansali ones – are purely subliminal. Nothing else explains why a rich heiress would casually walk into a courtesan's residence in a notorious area to do an impromptu kathak jig.
Amitabh Bhattacharya's lyrics and Pritam's original score are colossal disappointments with only 'Ghar More Pardesiya' capable of generating some interest. I am sure Varman's writing has an active role in making it difficult for the composer-lyricist duo to deliver. Because Kalank is often this serious film that chronicles real, brutal people whose rights have been majorly sabotaged by religious bias, industrialization and other issues of the era. At other times, Kalank thrives in a world where an elder courtesan performs an elaborate dance number to express her grief. (Though I could not stop noticing the rather nonchalant background dancers who smiled away t0 glory as Bahaar Begum got into her 'Tabaah Ho Gaye' mode.) These character hemispheres/themes are way too far apart and Varman's screenplay knows no middle road where elements such as the soundtrack, cinematography and production design can possibly converge. DOP Binod Pradhan also faces the very same conflict. Some scenes are overly lit, bearing resemblance to certain fantasy fares (read Baahubali) and there are others which are way too plain and would have fitted well in a grim political thriller set in that era. Even in terms of the atmospherics that it offers, Kalank's tendency to be dramatic often overpowers logic. To pinpoint one, there is this bizarrely staged scene where Zafar is walking towards a rioting mob. Heavy wind is blowing which is powerful enough to land up newspapers on his face. Metres ahead, we see a crowd of colour coordinated Muslim men violently burning things and there is no sign of apparent wind.
Editor Shweta Venkat Prakash's frames feel too repetitive, particularly in over-the-shoulder shots. They all look the same and the treatment is jarring in the presence of heavy dialogues that are spoken and also re-spoken for reasons best known to the makers. Hussain Dalal does pen some choicest Urdu lines but a lot of them are way too hollow if we examine beyond the exotica that the language offers.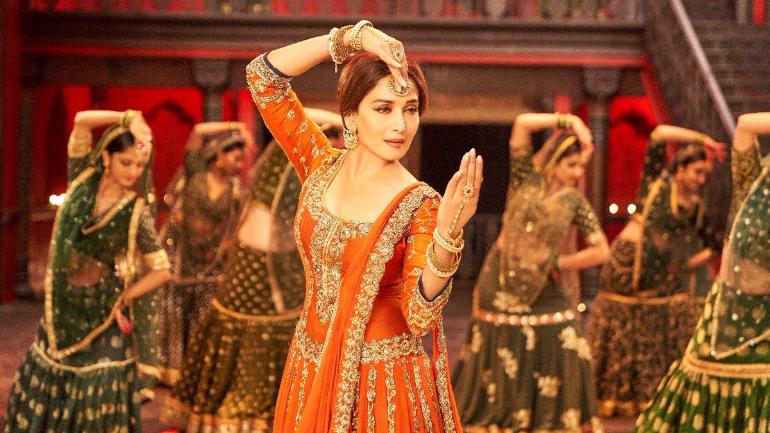 Performances are neat overall with Dhawan, Bhatt and Kapur walking away with the maximum screen-time. Sanjay Dutt, in a special appearance, is the only cast member who balances the era's organic dramatic qualities with a contemporary twist. Sonakshi Sinha in a small yet significant role gets to reprise her Lootera act and she does it quite well. Madhuri Dixit looks stunning but her character design fails her big-time. Bahaar Begum feels distant with all the theatrical lines that she gets to utter. That said, it is high time that our filmmakers look beyond the template of a dancing, graceful, attractive middle-aged woman when it comes to visualizing films with Dixit in it. Aditya Roy Kapur is well-cast and he delivers for most parts except few that involve extreme close-ups. Kunal Kemmu in a supporting role is one-note and does not work beyond his styling and makeup. Varun Dhawan is chiefly his contemporary self and is effective sporadically. He engulfs himself with the physicality of Zafar very well but not so much with the character's soul. In the weakest character of the enterprise, Bhatt's is a little better performance than Dhawan's in ideal terms. Throughout its runtime, Kalank doesn't give us a reason on what magnetic force attracts Roop to Zafar, Bahaar Begum and other components around. With Roop being the sole thread that intersects these two dissimilar parties, her character not working is the film's biggest drawback.
Apart from that, Kalank also projects somewhat damaging politics if we look at it through the prism of hate culture that is prevalent in today's times. The Hindu characters in the film are alarmingly sanitized whereas the Muslim ones are violent and unrelenting. Kalank looks at 'Love Jihaad' without naming it in a pronounced fashion. The climax of the film is a major downer in this respect.
Indeed, Kalank is an entertaining fare if we subtract each of the aforementioned anomalies. The actors look great and there are very few portions that are boring in an ideal sense. What one simply cannot overlook are the film's primitive devices. The melodrama quotient can give Kabhi Khushi Kabhie Gham and Gadar a run for their monies. The VFX will make us applaud Krrish 3 in silence. The Urdu dialogue-baazi sends us back to the '70s potboilers in which the lines were (at least) pronounced with flair. Damn, they didn't even spare Dilwale Dulhania Le Jayenge in the climax sequence at the train station. Come to think of it, the scene is neither a reference nor a mandatory narrative ploy. It is clearly a subconscious habit which exposes our screenwriters and their basest tendencies to sell mediocrity like it's nobody else's business. I would say Abhishek Varman should have rather stuck to the frothy, everyday-ness of 2 States rather than hijacking somebody else's dream project which, anyway, was decades too late.