Read Time:
4 Minute, 31 Second
"Aao hum sab pehen le aaine… Saare dekhenge apna hi chehra
Sabko saare haseen lagenge yahan…
Hai nahin jo dikhai deta hai… Aaine par chhapa hua chehra
Tarjuma aaine ka theek nahin"
Remembered these lines by Gulzar saab as Kapoor and Sons, directed by Shakun Batra proceeded through its complicated moments. We also see a couple of high voltage moments with a mirror in the frame. Hmmm….
In this deftly executed film, everyone has a lie, a veil they've held for long. They all have been struggling with their inner demons, with no success whatsoever. All of them have their perspectives in place but no one spares a moment to sit back and understand the other.  This can clearly be seen in a short but cleverly written scene involving a plumber at home.
Remember the delightful Ek Main Aur Ekk Tu that featured Imran Khan and Kareena Kapoor? Best remembered for its progressive climax and overall non-judgmental stance, that film marked Shakun Batra's debut. In his second outing, he experiments with a genre that Dharma Productions excels at – family drama. The outcome is overwhelming as he adds a tinge of realism to the filmy idea of a dysfunctional family.
What we expected to be essentially a love triangle, the film surprises us with a layered, subtext-filled story (courtesy Shakun Batra and Ayesha Devitre Dhillon). The lighter moments pale in comparison to the tense ones, surprisingly. The extended sequence prior to the pre-climax proves that this complex tale is safe in Batra's hands. While the leads have well-fleshed out characters, Batra lets his supporting cast shine too. Even the plumber, the Nepali household help and the bodybuilder have us in splits.
On the flip side, we have the entire Coonoor converse in Hindi (even the hospital nurses!) Why this location in the first place? Also, the brothers, their exotic career choices and the cities they live in (one is supposed to be struggling) are straight out of vintage novels. We aren't told how they were as children. Plus, the whole perfect-son-runner-up-son angle sounds semi-stale on this date. They could also have spared us tiny (yet confusing) elements like Alia Bhatt's phone calls to someone displaying her elation or embarrassment. Sorry, I didn't get it!
Cinematographer Jeffery F. Bierman doesn't over-glamourize the lush locales but the way he has shot Coonoor is incredible. Sarada Ramaseshan's production design is noteworthy. Music by a long list of composers is not worth the effort. The score (OST and background music) doesn't make any impact, unlike the director's debut flick. Even the emotional tracks fail to connect. Probably the decision to use multiple composers (quite a lot of them, in fact) played spoilsport. Editing (Shivkumar V. Panicker) aids the DOP in a way that the heightened drama contained in the screenplay comes beautifully alive.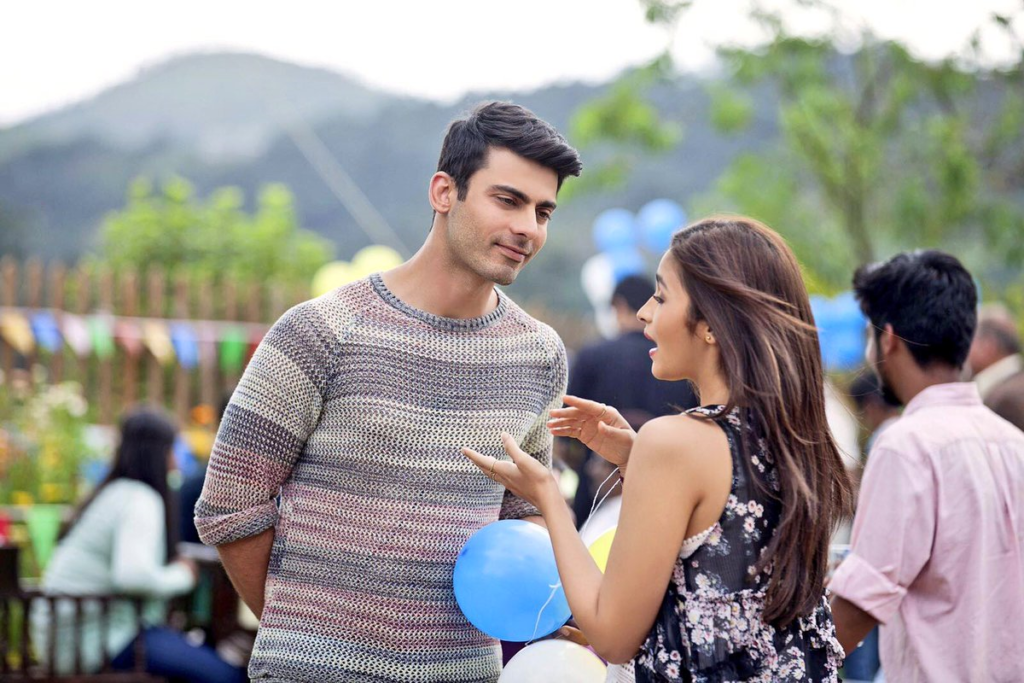 Fawad Khan is splendid in the most complex role of the enterprise. Although the twist around his character comes as no surprise (those subtle hints are enough), the actor owns his part completely. His moments of confession with his mother and brother (in separate conversations) prove his incredible range. Plus, it doesn't hurt that he is a true dreamboat. The host of swooning women in the theatre would agree, I'm sure. Also, I'm thinking twice before saying this but Sidharth Malhotra does a very good job. He carries himself with confidence while being pitted opposite proven performers. There's one brilliant scene where he tells his love interest on what will be written on the tombstone. Hmmm. Rajat Kapoor is excellent and proves his versatility yet again. Ratna Pathak Shah is effective but don't you think she should come out of this hysterical mom template Bollywood has set for her? We want to see her fun as she did in Sarabhai vs Sarabhai. The film could've easily avoided a leading lady but Alia Bhatt ensures that she does her best. Despite bad make-up, Rishi Kapoor as the cheerful grandpa, smitten by Mandakini, is immensely likeable. His video conversation with his grandchildren towards the climax is heartfelt (although reminiscent of Sheeba Chadda's conversation with the leads in last year's Dum Laga Ke Haisha).
Even today we don't mind catching a glimpse of Kabhi Khushi Kabhie Gham or Kal Ho Naa Ho as they play for the nth time on Sony TV. In Shakun Batra's Kapoor and Sons, we don't have a pooja-ki-thali wielding mother awaiting her Rahul who just alighted a chopper. We have a mom who is practical and embittered. The dad in this film doesn't crow about parampara but raises apprehensions on his son's career decisions. In short, Kapoor and Sons is the writer-director Shakun Batra's victory to have churned out something moving and unconventional within commercial boundaries. Our biggie production houses seem to have found their maverick young storytellers. If Yashraj Films discovered Maneesh Sharma and Sharat Karariya, Dharma Productions have Shakun Batra under their wings.  Let's have more such brave, spirited and empathetic filmmakers running Hindi cinema in days to come.
Rating: ★★★ 1/2
P.S.: I had a tough time imagining Sidharth Malhotra as a writer but somehow he convinces us! Wait, we still don't know what kind of books these brothers wrote. Okay, whatever!
Image Courtesy: Dharma Productions