'Bro Daddy' review – Mohanlal shines in Prithviraj's glossy family comedy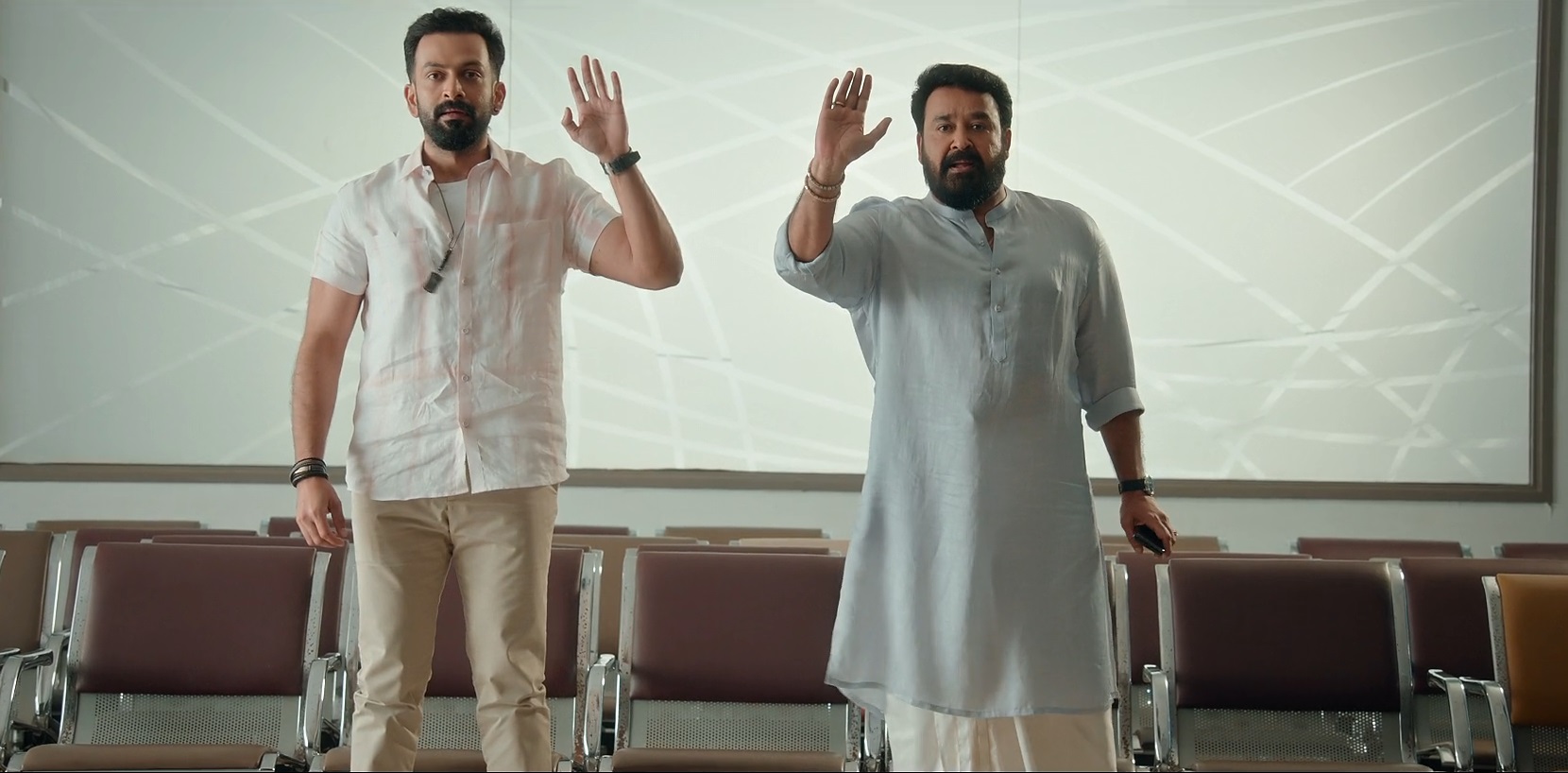 Read Time:
4 Minute, 56 Second
Prithviraj Sukumaran's second directorial Bro Daddy opens with a comic strip series. Rather innocently, it signals why its accomplished leads (Mohanlal and Meena) agreed to play parents to a grown man of marriageable age (Prithviraj). The star-studded cast might just give an extra edge to the film, which is a rare comedy in the era of OTT streaming channels. With Malayalam cinema increasingly finding interest amid non-native viewers, Bro Daddy, a family comedy, is conceived rather as a traditional fare with dashes of progressive ideas in the screenplay.
Set in Kochi, the film is about John Kattadi (Mohanlal), a rich businessman who lives a happy life with his wife Annamma (Meena) and their only son Eesho (Prithviraj). While there is major inconsistency regarding Eesho's screen age, he seems to be in his late twenties, working at an advertising MNC in Bangalore. Running a local ad agency is Kurian (Lalu Alex), John's best friend, who has named his daughter Anna (Kalyani Priyadarshan) after his school crush – who is now married to John. It's all fun and games until Kurian's wife Elsy (Kaniha) and Annamma show interest in an alliance between their children. Soon, Anna and Eesho, who have been secretly living together for years, land in a major soup, and so do Eesho's parents in a similar twist. The rest of Bro Daddy is about how two gargantuan screwups intertwine, with Kurian turning into its prime plot mover.
The screenplay (Bibin Maliekal, N. Sreejith) of Prithviraj's film is decidedly light-hearted. It follows the temperament of several of Bollywood's recent comedies, however, set in an affluent backdrop. Mohanlal and Meena themselves have appeared as Christian parents (Drishyam, Drishyam 2, Munthirivallikal Thalirkkumbol) although in more rooted setups. Bro Daddy's frames bounce off the screens with vibrant colors with significant wealth on display. The turnaround of events, though nowhere simplistic, appears easily resolvable right from the beginning. Although the immediate premise might remind you of Pavithram, Badhaai Ho, and Salaam Namaste among others, the layer of taboo and shock are minimized, thanks to its educated characters and evolved mindsets. That said, Prithviraj ensures that the film sustains our interest through a series of humorous moments peppered with fun dialogues.
The humor in Bro Daddy is neither of the laugh-out-loud variety nor does it germinate from a slice-of-life template. The writing, the staging, as well as the acting are distinctly larger-than-life. The actors perform with full knowledge that they are in a large production wherein you do not let yourself go. The makeup is immaculate, and the costumes (including boxers and dhotis) are sharp, bright, and straight out of a designer's closet. The production design (Mohandas) – right from the furniture to the food on the table – flaunts a definitive cinematic verve. While it's all easy on the eyes, the dressy setting makes it harder for us to relate to its characters' fears. The music (Deepak Dev) is forgettable whereas the DOP (Abinandhan Ramanujam) does a swell job with the lively frames and a bunch of angular movements and compositions that are unusual for the family-comedy subgenre.
Mohanlal is a joy to watch as John Kattadi – a loving family man and entrepreneur. However, the screenplay limits him from having the kind of fun he might have had while filming some of his iconic comedies. His time-tested camaraderie with Meena is one of the film's major highlights. The latter fills up the screen with her radiant presence. Prithviraj is surprisingly miscast as Eesho. While his styling is faultless, the actor and Mohanlal (despite decent chemistry) look more like brothers. The twist involving him and Kalyani (who is pleasant) does not contribute to substantial shock value due to the former's mature appearance. If reimagined the situation with Shane Nigam in his place, Bro Daddy would exude an altogether different texture.
Lalu Alex, who gets typecast for the umpteenth time, is still a treat to watch. I am glad the filmmakers didn't go for Renji Panicker, his new-gen 'rival' in this specific category of jovial, evolved dads. Kaniha is notable, too, but it made me wonder if she is too young to play Lalu Alex's wife – as Prithviraj is too old to play Mohanlal and Meena's son. If Mallika Sukumaran is crackling in a brief cameo, Jagadish and Unni Mukundan lend able support in short appearances. Soubin Shahir emerges as the sole annoying player in the cast, which is strangely due to the actor straining himself as opposed to his existence on papers.
ALSO READ: 'Bheeshma Parvam' review – Amal Neerad's Mammootty starrer is a scintillating crime saga
Bro Daddy, much like the advertisement John Kattadi makes for his steel bar enterprise, may not be a cutting-edge proponent of anything but it fulfills a need – to offer frothy entertainment without mixing the screenplay with the infamous toxic elements of yesteryear dramas. The film runs for close to three hours, which is too long for what it wants to say. The latter half, especially, is caked with unnecessary sequences that could have been way shorter or even fully done away with. Writing-wise, I couldn't digest how the onus falls solely on Eesho after the pre-climactic brawl. Plus, several characters (at some point in the film) plead to be heard at least once, only to be dismissed by the listener – which is a dated screenwriting device.
That said, Prithviraj Sukumaran's film would still impress the discerning OTT audience as it sportingly embraces its somewhat bold twists, not without adding a prominent stroke of big film grandiose. Highlighted by Mohanlal-Meena's chemistry, energetic performances, and a reasonably engaging storyline, Bro Daddy makes for an effortless home-viewing although it breaks no new ground – neither for Malayalam cinema nor for the comedy genre.
Rating: ★★★
Bro Daddy premiered on Disney+ Hotstar.