Read Time:
7 Minute, 10 Second
The biggest challenge for cinephiles in Mumbai, on this date, is to lower their standards when it comes to characterizing a film as good or bad. After a week-long Mumbai Film Festival, a mainstream Bollywood film would be a much-needed coming-to-terms exercise. By the way, Karan Johar's latest Ae Dil Hai Mushkil is nowhere close to being labelled bad cinema. It takes you on a grand, nostalgic trip on how a generation 'grew up' loving the brand called Karan Johar. The film shows us how the director has come of age in terms of sensibilities but, deep within, is still the same person who served us a bunch of fond memories. Being one of the very rare Indian films sold on the director's star power, does Ae Dil Hai Mushkil work? Hell, yeah!
In the land of arranged marriages and stalk-the-fu*k-out-till-she-agrees love stories, Karan explores a phenomenon that almost every person (even if you happen to be Aishwarya Rai Bachchan) must have experienced and wondered – the friend zone. So, Ayan (Ranbir Kapoor) loves Alizeh (Anushka Sharma). She doesn't. Had it been Johar from his debutant days, he would have gifted the hero a box of designer wear and a makeover from London's expensive salons and, voila, the girl agrees because 'pyaar dosti hai'.
Ae Dil Hai Mushkil tackles all sides of what we call 'love-like friendships'. Definition of their relation is clearly different for Ayan and Alizeh. For him, consummation is love. For her, their mere state of being is. We should owe it to Karan Johar for making their status quo feel easy and relatable. The mandatory light moments are organic after a long time in a Johar flick. Kabhi Khushi Kabhie Gham, perhaps, was the last. The humour safely derives inspiration from yesteryear classics and given the maniacal (yet elite) film watchers they are, first day viewers chuckle and gracefully so.
The issue arises when the writer in Johar gets a bit carried away having milked nostalgia to manipulative proportions. The second half veers out of homage territory and begins to eerily remind us of some of the most prominent films from past. The first in the troop being Karan's finest feature film till-date – Kabhi Alvida Naa Kehna (KANK) – which had met with differentiating opinions upon release. Much like KANK, there is a dinner table scene where the three leads converse. This time in the most polished language ever in a Karan Johar film. This leads to two individual confrontations and a melancholic song. Reminiscent to the awkward Rani Mukerji – Preity Zinta pre-climax brush in the former, Ae Dil Hai Mushkil has one between Ayan and Ali (Fawad Khan). If only the writing had the same power on papers. At this juncture erupts the volcano of déjà vu – Tamasha, Ek Main Aur Ekk Tu, Chandni, Kal Ho Naa Ho, Katti Batti, Rockstar and many more.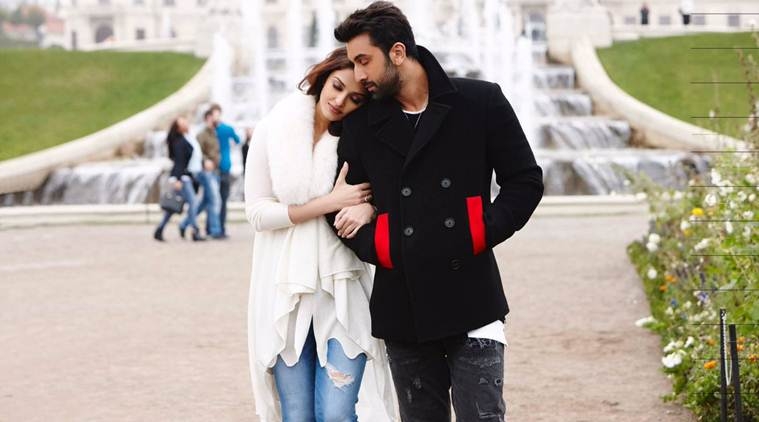 Besides a clear lack of freshness in the latter half, what impresses is Karan's resolve. His message is clear-cut that one must not compromise in matters of heart. There is no Hum Dil De Chuke Sanam-like realizations in Ae Dil Hai Mushkil yet the finale comes off as too convenient, too unoriginal. In a heavily verbose film as this, would a meaningful exchange of words have sufficed? Maybe. Or maybe not.
Talking about the film and its chattiness, Ae Dil Hai Mushkil is unabashedly poised in its lingo (courtesy Johar and Niranjan Iyengar). For a film that starts off as a witty romp of two Londoners, Ae Dil Hai Mushkil stumbles upon a linguistic metamorphosis once the third leg in the story – Saba (Rai Bachchan) – makes her entry. Saba introduces herself as a shayra (a female poet) and an unaware Ayan greets, "Hi Shayra". Later, he makes a hilarious poke whether these flowery lines were rehearsed by any chance. Claps!
Ae Dil Hai Mushkil also abounds in 'fancy' people pursuing fancier professions. Saba, is an Urdu poetess in a city that matches her in exotica – Vienna. She is aware of her mediocre work but is, nevertheless, a work of art in motion. With spotless makeup and smouldering oeuvre, Saba could well be an imaginary character in the best of world cinema. Think about it! In Johar's next venture, I would love my favourite Rani Mukerji as an Odissi tutor in Venezuela. Ae Dil Hai Mushkil takes another safe runway that is done to death by other directors but a first for Johar. The lack of explanation on our super-rich protagonists' invisible benefactors. Ae Dil Hai Mushkil is clearly not about loving your parents, alright.
Karan Johar is one filmmaker who (generally) knows his technicians. Yet it is alarming how Ae Dil Hai Mushkil is one of his weakest films on that front. For a cinematographer as accomplished as Anil Mehta, Karan's frames RARELY move out of close-ups. Of course, the actors are expressive but the environment around them remain grossly untapped, which is sheer disservice to the proficient lensman who had done a great job with metaphors in KANK. As the evocative title track ends, one would expect the camera to remain focused on the abandoned microphone for few more seconds but NO! Karan's characters are waiting in line to explode with terrific facial expressions. Costumes and the "looks" of the leads are enviable all through – which becomes the film's biggest disability in convincing us of the contrived last reel. How about a tinge of realism showing a slightly frail Anushka Sharma? Not in a Karan Johar weepie!
Music by Pritam, however, is beautifully utilized. If 'Tumhi Dekho Naa' was the soul of KANK, 'Channa Mereya' serves the purpose in Ae Dil Hai Mushkil. Despite odd placements in the first half, their tunefulness add character to the proceedings. For a soundtrack that is unusually high on melody for this day and age, one wonders if the brief was to deliver an uncanny tribute to great melodies from pre-2000s. No surprises, the composer-lyricist duo delivers the finest commercial Hindi film album of 2016. Pritam's background score is even more resonating. Special mention to Shilpa Rao's haunting rendition of 'Aaj Jaane Ki Zid Naa Karo'. Production design and editing are natural by Johar standards but, as suggested earlier, the film could have been a lot different in terms of visual interpretation of Ayan and Alizeh's feelings.
As is the case in all Karan Johar films, performances are akin to a sumptuous dinner at a plush South Bombay eatery – scrumptious to look at with the flavours just right. The writer-director smudges perfect shades to actors who look picture perfect despite their intense air. Anushka Sharma is tremendous as Alizeh. So much so that you DEEPLY miss her when she is off the screen. Though reminiscent of her firebrand act in uncountable films, this one should sit pretty on top. Ranbir Kapoor is flawless as the complex (and complexed) Ayan. There is not one single wrong note where he falters. Kapoor is a treat all through, especially in the scene post 'Channa Mereya' – which is bound to melt all hearts. Aishwarya Rai Bachchan pitches in a poised, restrained performance that is clearly her post-sabbatical best. A big roar in comic portions is Lisa Haydon in her bimbette avatar. Somebody put this girl in a trippy all-girls comedy, please. Fawad Khan suffers a case of dimensionless characterization. Much ado about nothing or shall we just wait for the 'Deleted Scenes' to come out? A neat cameo by the much-loved Shah Rukh Khan is infinitely more meaningful in comparison. "Hamari kahaani badal gayi, khauff nahi badla" articulates the King Khan convincing all parties concerned. Luck by Chance, anyone?
Overall, Karan Johar's Ae Dil Hai Mushkil is one film that clicks predominantly due to the filmmaker's tenacity on what he is trying to say. Karan Johar tells us friend-zoning someone is not a crime but not knowing one's mind is. Although not the director's best work, it is hard not to notice the beautiful soul that lies beneath stunning designer apparel, plush bars and quaint European cities. This familiar tale of limitless love, this Karan Johar melodrama has its filminess intact with the viewers echoing Ayan's confession, "Aaj mujhe lag raha hai… main apne film film ka hero hoon!"
Rating: ★★★
P.S.: Did anyone notice the lead girls and their veiled ethnicity? Was it Lahore or Lucknow? Karan Johar will answer this some day, hopefully.