'Panga' review – Endearing characters spice up a sportswoman's comeback story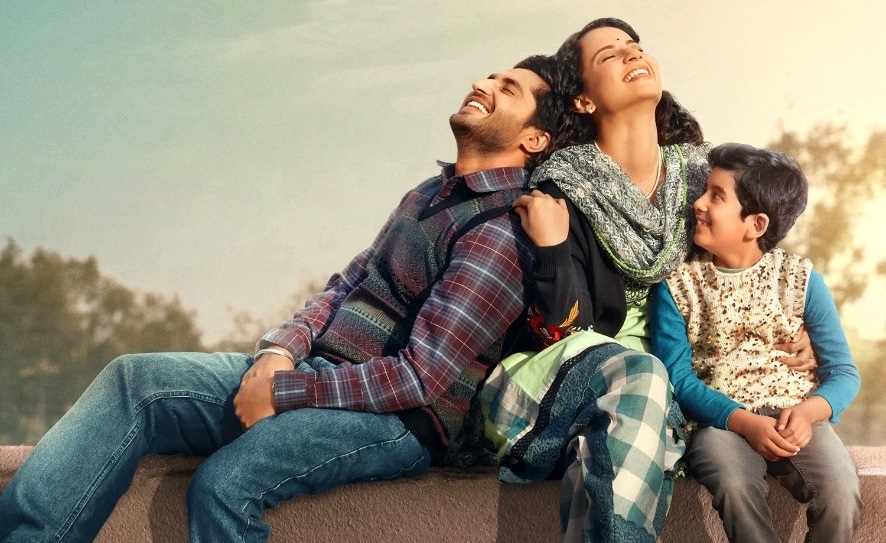 The biggest win from Ashwiny Iyer Tiwari's Panga is Adi, the school-going son of ex-National Kabaddi team captain Jaya (Kangana Ranaut) and her diabetic-sweet husband Prashant (Jassie Gill). Played with tremendous flair by the winsome Yagya Bhasin, the young actor makes us wish how the film was entirely visualized through his innocent eyes. The reason being that there is so much truth in the way he questions his mother for not showing up at his Sports Day where him bagging the Third Prize was a confirmed feat. He observes that his mother's mundane railway ticketing job is 'not important'. Not only does the young Bhasin steal the show completely in that scene but it also acts as the tipping point for Jaya to attempt a comeback to a sport that used to be her lifeline – Kabaddi.
Iyer Tiwari wants her film to be about a middle-class woman's identity crisis. Jaya is breezing through what is the society-set norm for an ideal woman and wife. She lives a vegetative life with her unrealistically nice husband and a smart yet rather tantrum-free kid. The struggle, as we see, is internal. Jaya repeats twice in the film on how three things – Prashant, Adi and Kabaddi – bring her immense happiness. Prashant echoes the same at various junctures. All what she needs is a push – a reality check to discover what was missing in her life. Panga explores it with notable lightness wherein a woman's role in the family, workplace and society at large remains finitely exposed. Kangana Ranaut's performance is an asset and the actor is only fine-tuning her craft with each passing release. I was astounded at the way Jaya reacts to some of her son's zealous reflexes or her husband's rare jitters. It could be the vibe of a set of uninhibited actors sharing tremendous chemistry with each other but Ranaut, with her incessantly agile act, shape-shifts completely from what she was in her recent films.
Panga follows the regular sports-comeback-drama route. There is zilch element of surprise anywhere and even the twists and crucial plot devices are so orchestrated that we notice them coming from a distance. However, unlike last week's Chhapaak, it is a blessing that Iyer Tiwari chooses a linear storytelling pattern (for most parts) to narrate a straight-forward story. Posing as a hindrance is a series of throaty, unexciting songs by Shankar-Ehsaan-Loy, a lot of which are strangely rendered by men (especially Shankar Mahadevan) when the film is about a woman's coming-of-age. That aside, Panga is simple, heart-felt and makes the point that it wants to, despite minor hiccups.
ALSO READ: 'Saand Ki Aankh' review – Casting goofs up an otherwise rousing empowerment tale
The prime disconnect occurred to me with the film's absence of obstacles. Certainly, it is the filmmaker's prerogative to keep the conflict entirely within her protagonist's psyche instead of distributing it to external agencies. Having said that, Panga fails to fully establish the internal war that she fights within. Jaya delivers a premature baby and cut to the next scene, she is a quiet wife living a routine life with her family. Talking about her life partner, Jassie Gill's Prashant is another component in the screenplay which prevents us from identifying entirely with Jaya's mindscape. Supportive and infinitely adaptable at every point in their relationship, Prashant's character was perhaps Iyer Tiwari's way to outline the perfect husband prototype with tiny dashes of patriarchal upbringing sprinkled here and there. Gill, with his disarming smile and presence, makes this under-nuanced yet over-enthusiastically written part come wonderfully alive. He gets a half-a-scene to establish a mild alteration with Jaya but that too gets over in a matter of minutes. Talking further about Jaya's lackadaisical ways and the lack of a counter point of view that would clog her ascend, Panga picks pace towards the finale when Jaya slightly locks horns with her team's captain Smita. That episode, too, emerges without much of a rationale and ends too conveniently for us to be able to take it seriously.
All complaints aside, Panga still makes for a riveting watch. For once, the film does not bear the burden of being a biopic. It is about a woman rediscovering her dream. Panga is fiction and the filmmaker with her penchant for unequivocal positivity immerses the film in a bucket of saccharine, filled with characters that are way too nice to be real. If Richa Chadha's marvelously realized Meenu is the best friend that we all desire in life, Neena Gupta is ace as the mother who comes sans an iota of artifice. The domestic air surrounding the latter is such that we tend to crave for the laddoos that she stacks up in her daughter's kitchen.
Be it with the atmosphere of Bhopal, the next-door-housewife who readily babysits a sick Adi or the homey vibe of the characters' living spaces, Iyer Tiwari explores numerous sides of the systematic middle-class life in small town India. The sports drama aspect of Panga, in comparison, gets very few shades to work on. Furthermore, the film makes it exceedingly clear on where it's headed – leaving room for no surprises whatsoever. The film does end on a high note as expected but I somewhere cringed a little when Panga switches its patriotic button on for no reason. The little Adi is quizzed twice in the film, "If you were to choose between watching your mother play or witnessing India's victory, what would you?" Well, isn't that too political and contaminated a question to be asked to a seven-year-old who, in all his goodness, wants his mother to fulfill her dream? The question somehow is never answered in the film. As if it didn't deserve one in the first place.