Got a career goal you are pretty serious about? Shove them up your enterprising nostrils, demand writers Sri Rao, Anuvab Pal and Nitya Mehra, because love takes the world around. To be fair, Baar Baar Dekho boasts of a promising first half. We have our artist heroine propose her guy in all confidence. The guy who happens to be a passionate mathematician sheepishly agrees, begins to wear a permanently exasperated face and we wonder – does he even love her? We even tend to partially approve of Katrina Kaif's I-just-swallowed-a-boiled-aubergine Hindi diction. We get a handful of melodious songs and photography of high order (one of the year's best, courtesy Ravi K. Chandran). As the time travel episodes lazily unfold, you really don't know what is coming your way. There is intrigue and loads of it. The film only takes for an intermission to go south, never to really get back to sanity. Unfortunately, this isn't the dreaded curse of the second half. We realize the folly lies in the writers' archaic world view – on getting married, on Indian families' notion of 'settling down'.
In what initially seems like a science fiction romance, Baar Baar Dekho is essentially a quest for all stakeholders. The lead Jai Varma (Sidharth Malhotra) is looking for ways to mend his broken life and we, the audience, crave for threads that knit loose ends together. A ridiculous climactic twist (reminiscent of Ram Gopal Varma's hideous Mr. Ya Miss) throws all rationality out of the window and makes us question Jai's integrity. The writers remind us of that regressive line by relatives – "If you don't want to die a miserable, lonely death – GET MARRIED." Unlike today's evolved urban youth, this is an 'eye opener' for Jai and he rushes to fiancee Diya Kapoor aka DK (Kaif). How more selfish can one be?
Our protagonist soon paints the town red in fervour of having 'realized' his 'mistake'. The makers, at the same time, are abysmally confused on what actually the film's ultimate message ought to be. We are told, "One shouldn't live in the future, but the present. Live every moment." What a massive paradox? It is that very lonely, sad death in future that Jai is running away from. Another one goes, "Beauty lies in relishing small things. Not chasing big dreams." Funnily enough, the film ends with a big fat Punjabi wedding with Jai (possibly) accepting a huge-ass house that could well be his (ahem!) dowry. Because "settling down" is a big deal for a man, right?
The loud and clear message of Baar Baar Dekho is that work is secondary, family comes first. Nitya Mehra in one of her smarter scenes (unknowingly) makes it clear on why Jai aspired for great heights in his career. As a professor, he taught a bunch of airhead, leery young women. For a guy who could tell you the square root of 5847 in a matter of few seconds, this truly didn't make the cut. Diya, on the other hand, is churning out exhibitions one after other. She seems financially and emotionally stable, and is more or less a happy person. Yet when Jai raises a simple question, "It's always been about your wishes. When was the last time we did something that I loved to?", she storms off. Being the unbelievably self-centered person she is, Diya also gives him an ultimatum. She refuses to even acknowledge his dreams. Eternal love anyone? Come to think of it, Jai is a Vedic mathematician whose research paper impresses the head of Mathematics at the University of Cambridge. All of it could have made sense, had there been a credible culmination like the producers' own Zindagi Naa Milegi Dobara. Alas…
One tends to contemplate how Nitya Mehra should have taken a leaf or two from Mani Ratnam's book on how to make a romantic fairy tale that didn't really cringe. Mani Ratnam's lead in OK Kanmani faced a similar dilemma and the solution to it was practical, liberal. We pined for the lovers to unite as they also made their individuals dreams come true. But no, Nitya Mehra and her writers refuse to rise above shallow surfaces, thus sadly stuck in the staid neighbourhood aunty mould.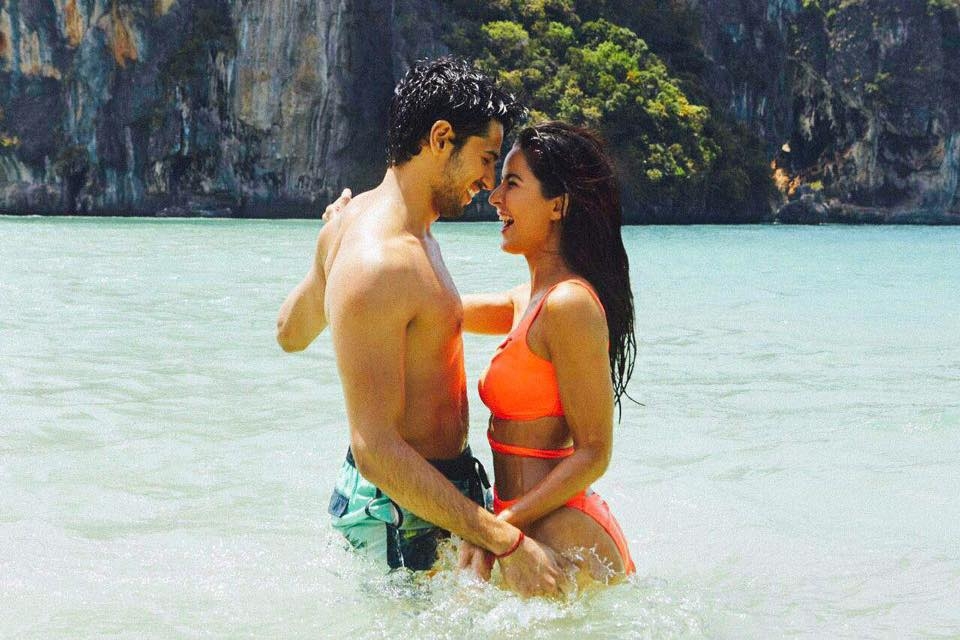 Music by a bevy of composers is easy on ears, Nachde Ne Saare and Teri Khair Mangdi being the picks of the lot. Loud instrumentation mars the otherwise hummable Sau Aasman. Editing is loose especially in the second hour. The production design team succeed to a great extent but not completely there. Picture this – in 2046, everything from cars to crematoriums have transformed to their super-modern counterparts. The good, old eyeglasses from 2016 remain the way they are. Ouch!
Performances don't offer much help either. Not very famous for his histrionic abilities, Sidharth Malhotra puts in an able effort. Hogging almost every frame, he manages to make an impression. If only the hackneyed script did him any good. Katrina Kaif, who looks picture perfect, makes a middling attempt to emote – which in itself is a creditable feat for the director. Ram Kapoor, Rajit Kapoor, and Sarika feature in thankless roles that do no justice to their skills. Taaha Shah Badusha is good in a small part. Sayani Gupta is wasted. In fact, the side-track involving her husband is least developed and thus completely forced in the narrative.
As the film concludes, one wonders why it is titled Baar Baar Dekho! Is it the filmmakers' optimism on the paying public or just plain lack of thinking? Coming from a producer like Karan Johar whose directorial ventures clearly asked us to demarcate dosti from mohabbat, this film makes us doubt his sensibilities. Earlier this year, Dharma Productions gave us the wonderfully progressive Kapoor and Sons that the nation stood up and took notice of. Let's not get into co-production house Excel Entertainment and their proven credentials in this genre. Nitya Mehra's Baar Baar Dekho not only fails each of them but also deems science fiction genre a huge joke. This film could have been a lot better had it reached a balmy end after the second 2032 episode, probably giving Jai's penchant for numbers a role in his travel across the years. But no, thinking out of the box is not quite a Bollywood rom-com thing. They would rather waste some resources, mindfully so!
Rating: ★★