'Rajnigandha': About a Fragrance That Smells Like Love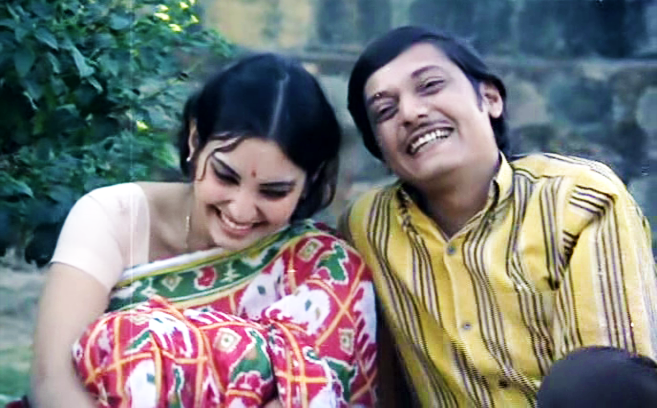 Read Time:
7 Minute, 12 Second
"Adhikaar ye jabse saajan ka har dhadkan par maana maine
Main jabse unke saath bandhi, ye bhed tabhi jaana maine
Kitna sukh hai bandhan mein…'
Rajnigandha phool tumhare bikhre yunhi jeevan mein…"
Writes lyricist Yogesh for Basu Chatterjee's Rajnigandha. The words roughly translate to:
"Since I've given him every right over my heartbeats,
Since I've become attached to him,
I have figured out this secret:
How much bliss lies in togetherness!"
In 1974, it is the love-struck mind of a young, educated woman being meditative. She is perfectly in sync with the idea of conceding to her partner, though not in a submissive, self-debasing fashion. Rajnigandha's protagonist Deepa (Vidya Sinha) finds joy in this surrender like many a woman would in the Indian sub-continent.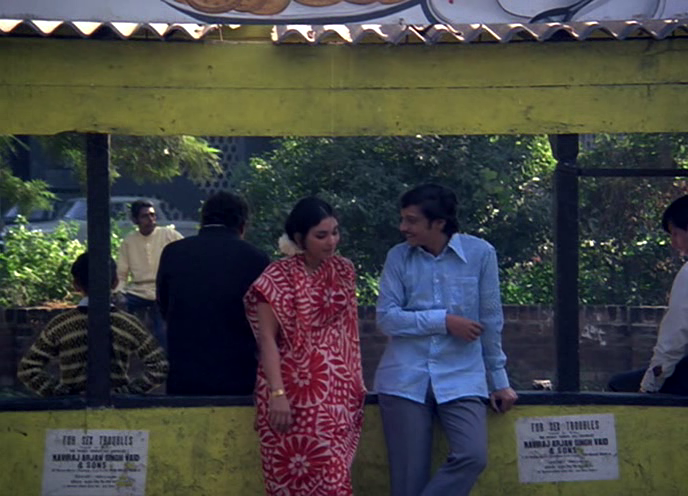 Titled Rajnigandha (a variety of tuberose), Basu Chatterjee's film has the flower becoming an active metaphor. The tuberose bouquets that Sanjay (Amol Palekar) brings regularly for his lover is symbolic to the idea of permanence. Tuberoses are white, scented flowers that Deepa closely associates with Sanjay's presence. She sings:
"May these tuberoses that you gave me,
Spread their fragrance in my life
Just like love for my sweetheart
Blooms in my besotted heart…"
The obvious flower allegory aside, Rajnigandha is also fine proof of Basu Chatterjee's impeccable mettle as a storyteller. A case in point is the film's opening scene. Deepa falls asleep in a vacant train compartment. Upon waking up, she is unsure where it is headed. She de-boards the train, only to see a volley of people waving at her. The train disappears and uncertainty clouds her mind. Was it the right decision to get off the train? It is not difficult to observe how this small passage deconstructs the premise of Rajnigandha. Mind you, this is no spoiler that prevents you from enjoying the film. Chatterjee's masterful writing is such that the suspense is maintained until the last running minute of the film.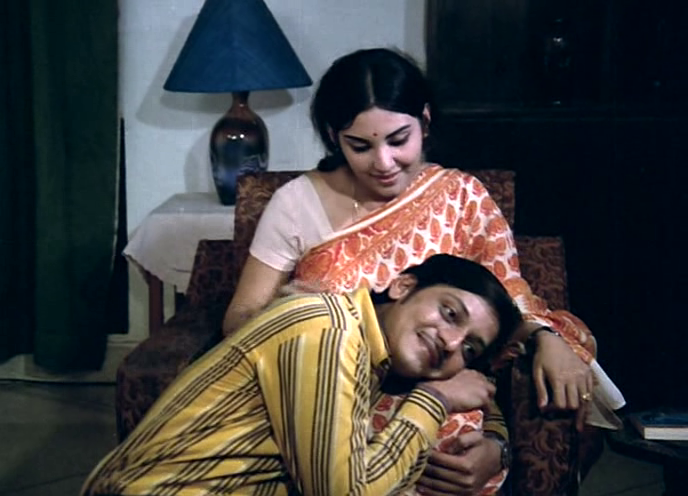 To give a glimpse of its plot, Rajnigandha is all about Deepa (Sinha), a Psychology post-graduate from an upper-middle-class family in Delhi. She is in love with the talkative Sanjay (Palekar), a joyous and often forgetful fellow working in a local corporation. Sanjay is loving but is notably full of himself – much to Deepa's dismay. Their relationship has reached a point where Sanjay doesn't feel the need to execute clichés that lovers indulge in. He is practical and often rants about a certain Ranganathan who is a threat to his upcoming promotion. Deepa, on the other hand, wants her lover to be more tender, more attentive. However, everything falls into place when Sanjay regularly arrives at her place – albeit late – with a bouquet of his favourite tuberoses.
The twist in the tale comes when Deepa gets an interview call from Bombay's Wadia College for a lecturer's post. She is in two minds. Bombay is far and it is also where her ex-flame Naveen (Dinesh Thakur) resides. Sanjay, on the other hand, is sarcastic about Naveen's existence. He has immense trust in Deepa and is happy for she travelling solo for the interview. He even contemplates getting a transfer to the head office in Bombay so that the couple can start afresh after getting married. Predictably enough, Deepa stumbles upon Naveen in the city and her mind begins to deflect between two shores – Sanjay and Naveen.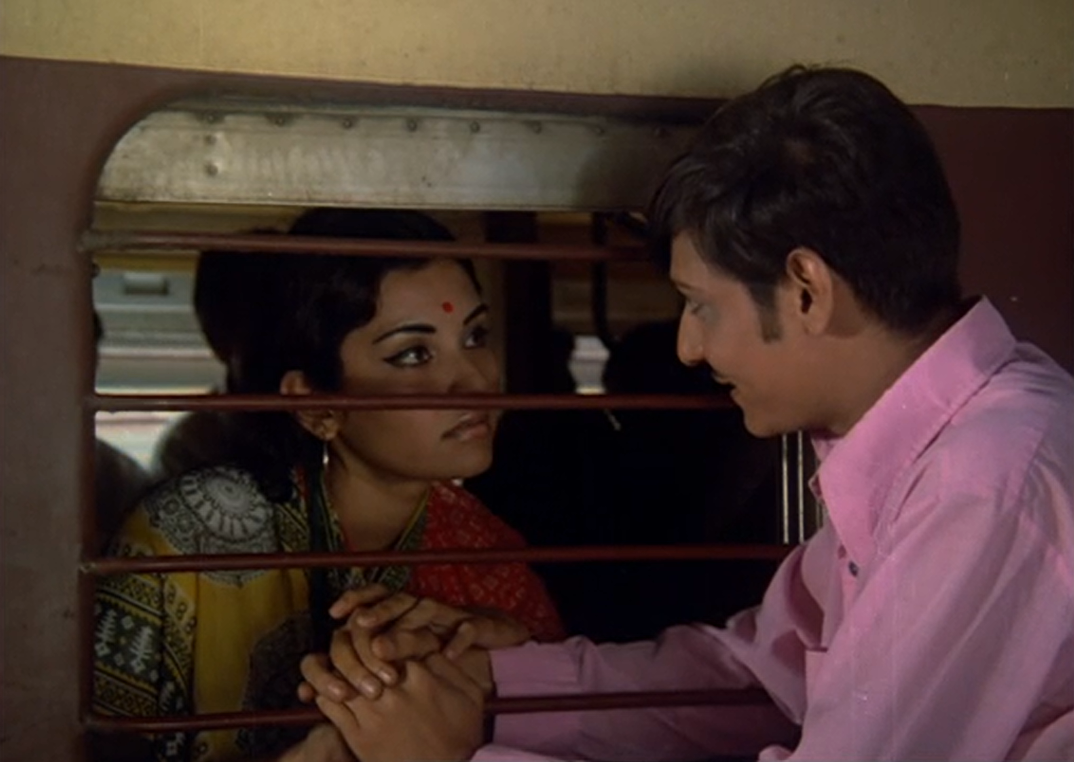 Rajnigandha is all about Deepa's ambiguous mind. It is in the Naveen chapter that we see Basu Chatterjee freezing frames to let Deepa's mind speak aloud. Residues of her first love emerge in a sporadic fashion. While Naveen does not actively show a romantic inclination towards her, he is overtly considerate. He not only takes her around Bombay but also makes sure to use his contacts to recommend her for the job. Throughout this episode, Chatterjee sprinkles frames of Sanjay – always smiling and holding a bunch of tuberoses. Suddenly, Rajnigandha charters a narrative where the girl gets to choose between two men – one is characteristically good-natured and attractive whereas the other is cheerful and a symbol of permanence.
Basu Chatterjee throws a bunch of questions on us through Rajnigandha. Can a person be equally in love with two people? Is marriage an act of comfort or of love? If we analyze, Deepa still harbours feelings for Naveen. Her interest in Sanjay stands equally undeterred. Struggling to address this conflict in her head, Deepa wants the men in her life to be unaware of each other. She keeps Naveen oblivious to her engagement with Sanjay. She wouldn't want to write to Sanjay about Naveen receiving her at the train station. It is neither fully about the possibility she sees in Naveen nor about the safety net that Sanjay is. Deepa's heart is in a fix owing to conventions and societal norms which piously heralds monogamous relationships. Deepa's friend Ira (Ranjita Thakur) at one point says, "I have only gotten married, I never fell in love," This is in sharp contrast to Deepa who is lucky enough to find love twice.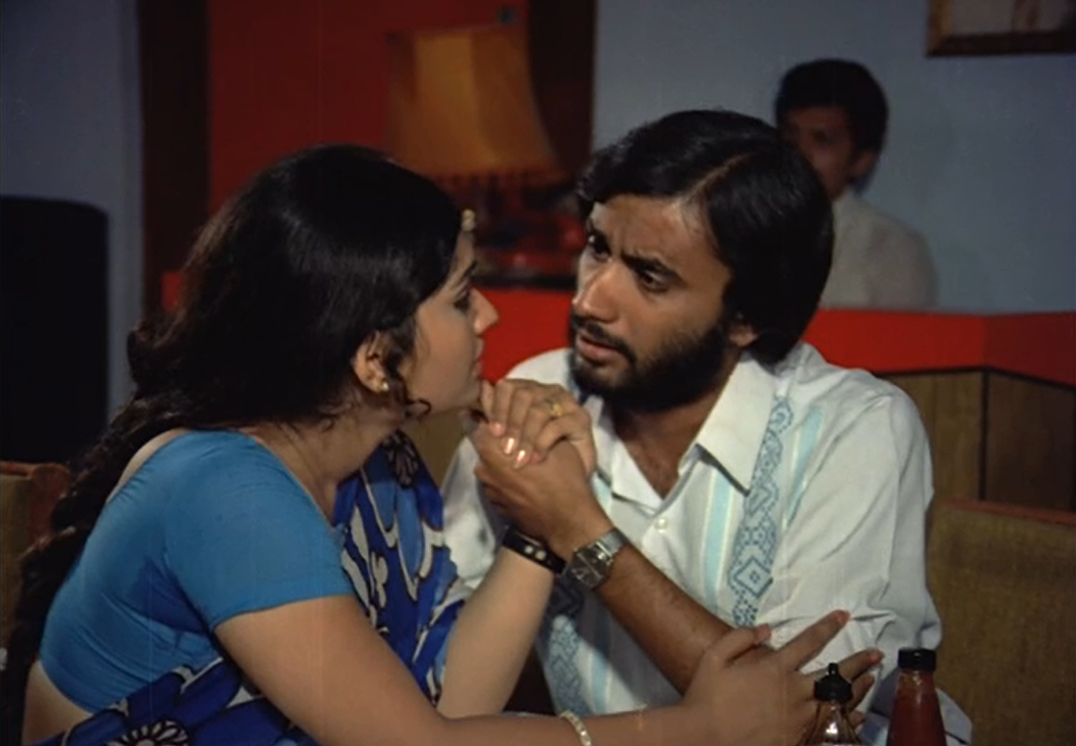 Simplicity is a trademark Basu Chatterjee element. Rajnigandha, that way, is an incessantly simple film but is far cry from being simplistic. The filmmaker writes his screenplay in the most straightforward fashion with every worry, every flutter in Deepa's heart underlined precisely. One of the major amplifying factors in the narrative are the songs penned by Yogesh and set to tunes by Salil Chowdhury. Describing the protagonist's dilemma in an utterly relatable fashion, they are highly instrumental in driving home a point. One of them goes,
"In the way, in the way
In the way of life
The flowers that bloom a smile
Which flower do I steal,
And decorate my heart with?"
The iconic Mukesh number 'Kai Baar Yunhi Dekha Hai' duly mentions 'mann ki seema rekha' – the boundaries set by the heart. When in Mumbai, Deepa maintains such boundaries with Naveen. She is reluctant to hold his hand while de-boarding a boat. She feels sexual tension when her saree touches his hands as they share a taxi. That said, this sexual tension could all be a figment of imagination in Deepa's chaotic mind. She is convinced that there is no love as intense as first love.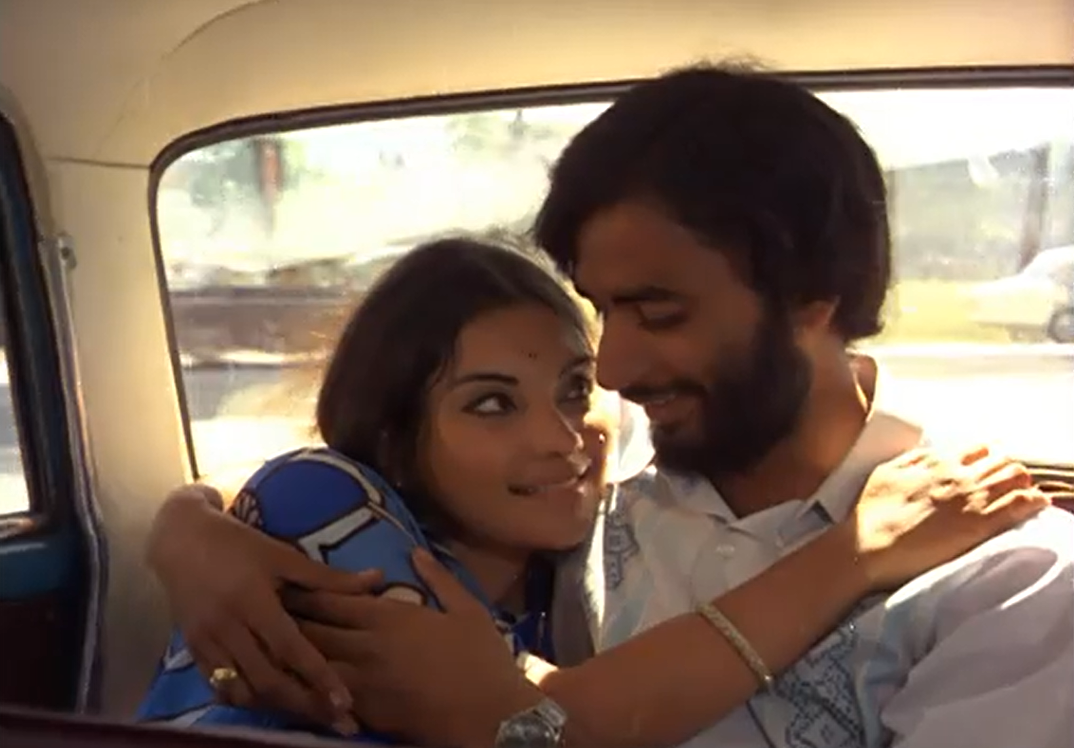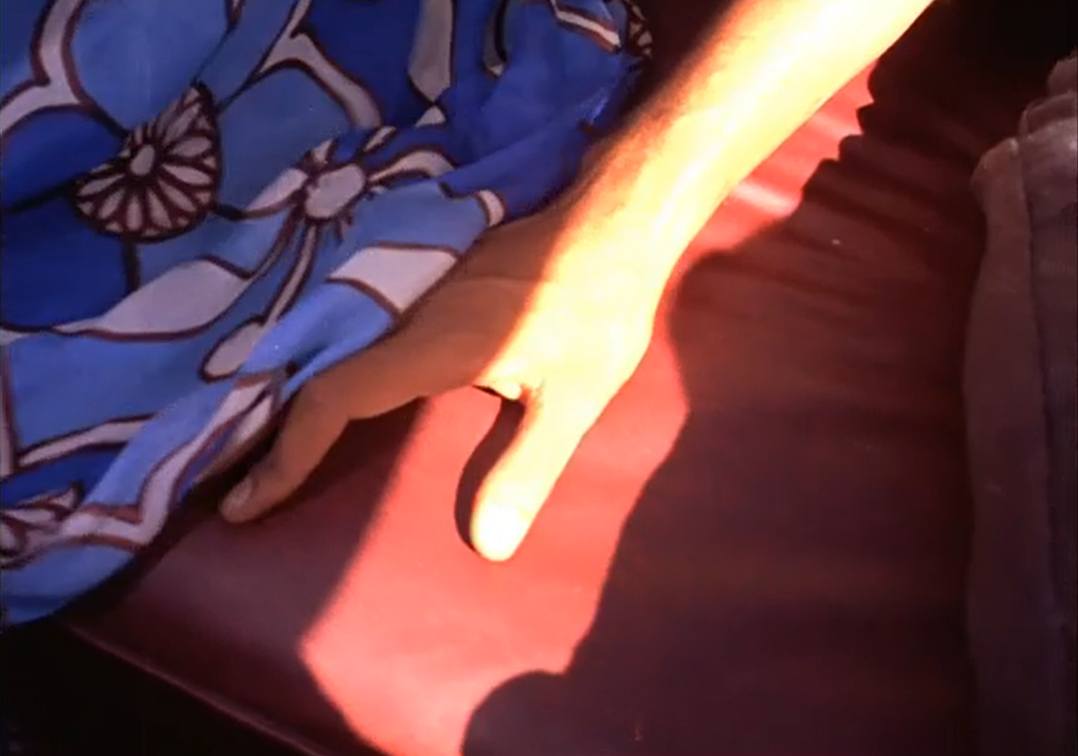 Deepa soon finishes her interview and returns to Delhi. She deeply misses Naveen but not Sanjay who is away for work in Calcutta. It could possibly be about the fascinating new world in Bombay that she got introduced to – of parties, art, liberal ideas and endless activity. She picks up an inland letter card to write to him but is unable to, as the vase filled with Sanjay's tuberoses lie facing her. She turns her back to it, with her body languidly wavering in joy, and pens the letter.
As Rajnigandha races towards its finale, Basu Chatterjee makes sure that both the leading men are on an even keel. It is up to Deepa to decide the direction of her moral compass. And decide she does, in the final minute of the film's run-time.
The singular question that remains in my mind is whether Deepa associated her lovers with their fragrances. If her rendezvouses and memories of Sanjay are always highlighted with him holding a bouquet of tuberoses, there is no mention of how the chain-smoking Naveen had smelled. The flowers did play a part in making Sanjay her zone of comfort whereas it was Naveen who was the actual love of her life. Even though the film does not explicitly say it aloud, Deepa's sexual affinity for the men in her life is an angle that needs to be focused on. There is passion in the way she hugs Sanjay. The fragrance of his tuberoses intoxicated her. Her constant gaze on Naveen is also an aspect that the film duly addresses. She fantasizes about being in his arms. Yet, there is no physical element like the 'rajnigandha' flowers to manifest the dapper young man's presence in her life. For sure, it is one way to look at the film which makes you curious with every repeat watch.
Basu Chatterjee's writing and filmmaking allow you to interpret Rajnigandha in numerous ways – which is exactly why it remains infinitely exciting and easily one of the greatest feature films in India's cinema history.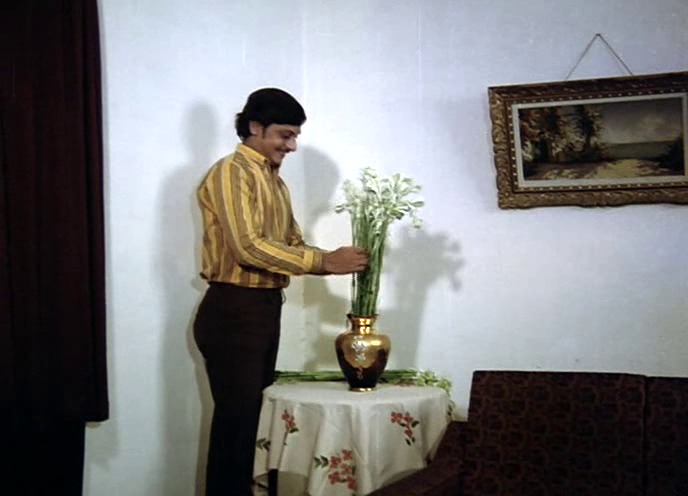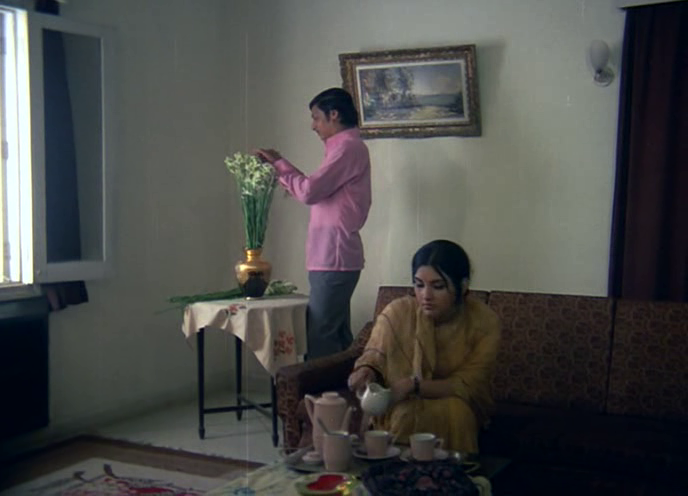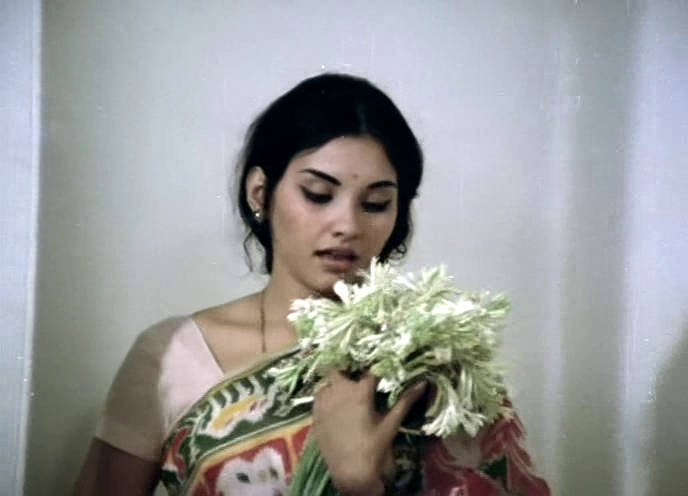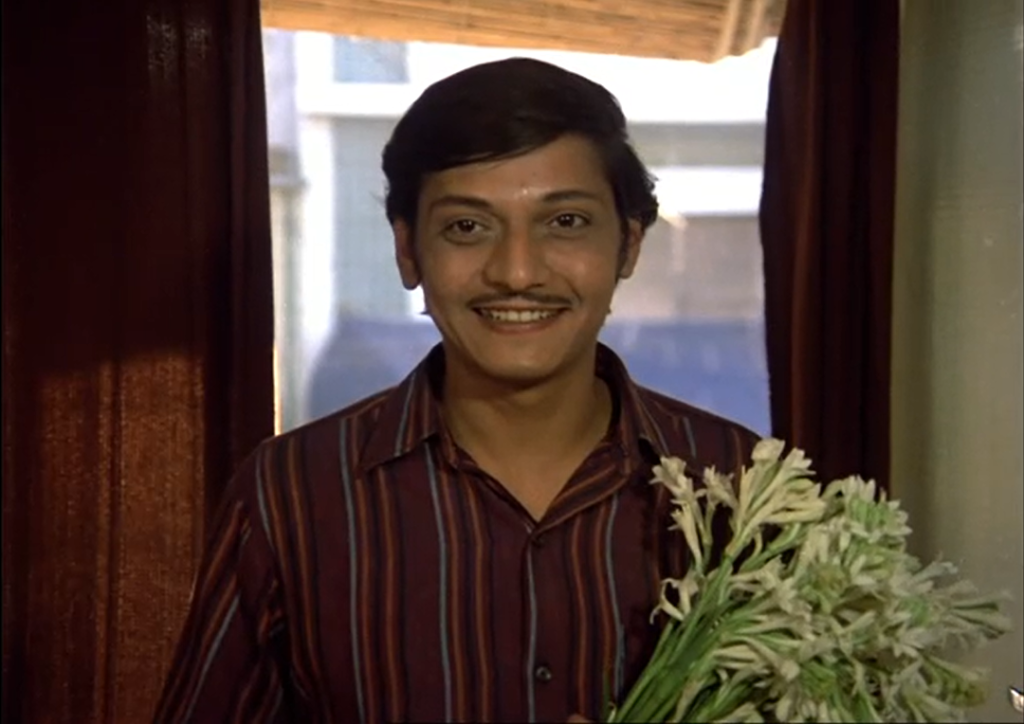 Based on the short story "Yahi Sach Hai" by noted Hindi writer Mannu Bhandari, Basu Chatterjee's Rajnigandha is now streaming on Disney+ Hotstar.
ALSO READ: 'Ijaazat': Sensitivity, Empathy, and Gulzar's Lyrical Storytelling