'Qala' review – Melody and envy blend in Anvita Dutt's splendid period palette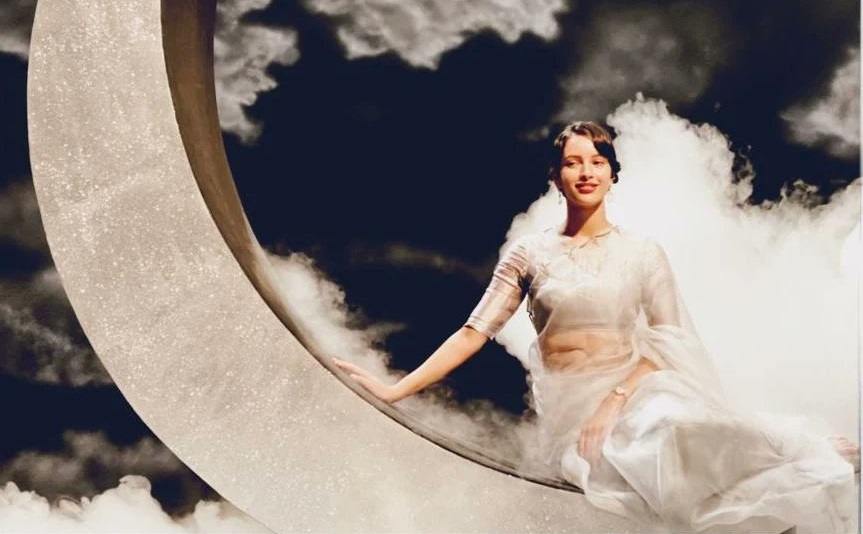 Read Time:
4 Minute, 23 Second
It thrills me to bits when music emerges villain in a complex relationship drama. Although not exactly the stereotypical gun-wielding, plan-plotting antagonist, music – in films like Anvita Dutt's Qala – is the cause of all the torments. Painted on a similar canvas, Ingmar Bergman's Autumn Sonata spoke of an unloving mother and a wounded daughter ruing in the miseries caused by the music. Dutt's characters operate in a different world. Their dynamics and goals are different. Their conflict began the moment the daughter was born. Yet, the prime hysteria-causing agent in their story is nothing but shimmering, melodious music.
Qala welcomes us into a hypnotic world set in pre-Independence India. It's the period when Jaddan Bai rose to fame as a recording artist, breaking few conventions – especially for the men around. It's the time when The Gramophone Company in Calcutta's Jessore Road was the ultimate stop for musicians. As the film kicks off, Urmila (Swastika Mukherjee) is grooming her gentle daughter Qala (Triptii Dimri) to rewrite the grammar of a patriarchal world through music. "She's got to become an 'Ustad', not a 'Bai'", says the determined woman. In comes Jagan (Babil Khan), a stranger whose sonorous voice mesmerizes a packed auditorium in a whiff. It's only natural how Urmila – a true connoisseur of music and a mother who subconsciously misses her unborn son – chooses to handhold him to stardom. She quietly conceals her disappointment over Qala's mediocrity. The young girl finds it hard to make sense of the contradictory turnaround of events in her otherwise feminist household.
Anvita Dutt picturizes the politics in the new, altered family setup with brutal honesty. The setting is dressy. Even though not Bhansali-dressy, Qala ticks every check box of a modern Bollywood period saga. The emotions, however, tear the tapestry of aesthetics to hit you right in the gut. Jagan is dead. Urmila is inconsolable. Qala is a musical sensation.
Dutt's film attempts to study the complexities of the human mind. It examines how plaudits from a galaxy of fans would never equal the validation you crave from a loved one. Narrated in intermittent flashbacks, the non-linearity works in delving into Qala's distraught mind. While beautifully written, Dutt's artistry as a filmmaker (which I loved in Bulbbul) comes alive in the way she rarely pre-designs the twists. I see how the filmmaker is trying to carve an interesting sub-genre for herself. We get several metaphors – whether it's Qala being compared to a cuckoo, the telling lullaby that is heard periodically, or the way she clouds her mind with images of snow.
Qala is also a quiet critique of society's male-centricity. It's easy for men, we are told. If a woman gets to climb the ladders of success, there are prices to be paid. Interestingly enough, Dutt's film surrounds itself with enterprising female characters. While we know only of Qala, the others – be it Urmila or Naseeban – have it all. The photographer is a woman and so is the secretary. They are empathetic, sensitive people. The men are either victims, benefactors or fallen angels. Rightfully so because Qala isn't about them. Not even Jagan whose presence is constantly felt through its two-hour-long run-time.
It only helps that Triptii Dimri essays Qala in a manner that it's impossible to despise her actions. The shades of grey are conspicuous and, still, you wish the doe-eyed daughter of an imposing diva to win her mother over. Babil Khan, who makes his film debut, has an expressive face and a sound screen presence. Swastika Mukherjee's trademark magnetism breaks through the external trappings of ornate jewels and outfits. Varun Grover, rightfully named Majrooh, makes a mark as a kind, supportive lyricist. I chuckled hard when he spoke about the doomed second antara in a song. Amit Sial who plays a music mogul is equally impressive in a brief yet crucial part.
In a film where music causes all the furore, it's a relief how Dutt forges the right partnership with the composer (Amit Trivedi) and the lyricists (Varun Grover, Kausar Munir,  Swanand Kirkire and Amitabh Bhattacharya). If the song performances land you straight to the era of Noor Jehan and Zohrabai Ambalewali, the original score (Sagar Desai) elevates the film's somber mood with great beauty. Vocalist Sireesha Bhagavatula enchants with her innocent yet fierce rendition of two shimmering melodies 'Ghode Pe Sawaar' and 'Phero Na Najariya'. That said, the sound design is inconsistent in the way it blends the music with other elements in the score.
Qala, in so many ways, is a celebration of womanhood. Be it in their achievements or their dalliances with life (or men), the women hold the fort in the film. Anvita Dutt's film is not exactly the happiest of stories, yet it isn't about man-eaters. Flawed, fiery and astonishingly real, the women of Qala make and break in their realms of fame and on their own terms. In turn, we get a film that – although not devastating enough – tugs at all the right chords.
Rating: ★★★ 1/2