Read Time:
6 Minute, 42 Second
Father-daughter tales are surefire sell-outs. Feminism is not, at least in the context of Indian commercial cinema. Sports dramas often find takers, if sprinkled with a decent dose of patriotism. Abundant with all the ingredients above, Nitesh Tiwari's Dangal is the real life story of Mahavir Singh Phogat and his wrestler daughters Geeta and Babita.
Dangal makes me wonder how I overlooked the filmmaker in Tiwari, who gave us two interesting films Chillar Party and Bhootnath Returns back in the day. Also the co-writer, Tiwari's capable execution of the film is worth taking a shine to.  With a regular commercial filmmaker, Dangal's emotional moments could have turned manipulative and thus sluggish. Yes, the 2 hours 45 minutes runtime is indeed excruciating. Having said that, the film doesn't take your attention away by any means. Given the fact that wrestling isn't a mainstream sport, the writers make sure to let us absorb fine details without hesitation. We root for the father-daughter first, the women in Geeta-Babita later and the much-overused patriotism angle comes last. This hierarchy of priorities make us ignore the script's minor loose ends and unabashedly simplistic approach.
Coming back to feminism, Bollywood has almost mastered the art of getting it wrong. Set in a rural Haryanvi backdrop, the film tones down substantially on the verbal floweriness in the way men treat women in non-urban belts. Also, with the mildly done production design and the writers' lack of enthusiasm in addressing anything beyond wrestling after a juncture, gender equality remains a silent undercurrent – which unknowing becomes the beauty of it. We are spared of reference-laden speeches on how women are born to be better than men et al. There is an odd moment at a wedding where the child bride points out to Geeta and Babita how blessed are they to have a gem of a father. This doesn't really make sense if we think through it but the pre-climactic conversation does.
This also makes us wonder about the relatively underdeveloped angle of the mother (Sakshi Tanwar). One who is shown to be a hands on yet matter-of-fact mother in the first half, Tanwar's contribution to the plot gets relegated to watching TV in the latter. How prominent was the actual Mrs. Phogat's role in the winning players' career? Didn't they ever confide in her during times of struggle or during Geeta's cold war phase with her 'Pappa'? Or was it just a case of overlooking her presence just so that Khan could hog all limelight?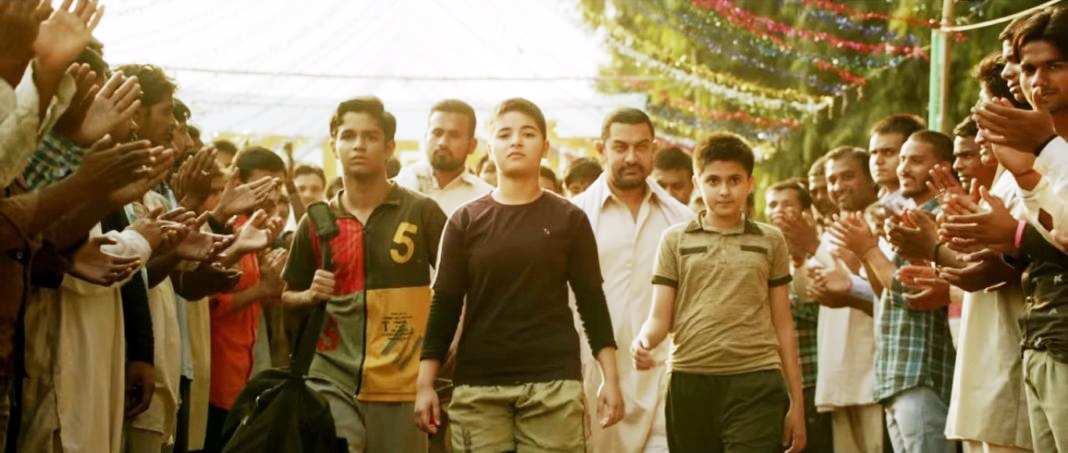 The narrative pattern is simple and unadventurous. You have a generic narration and a slow trajectory of character development. Despite some decent humour, the story stagnates in the first half – only to pick up when Geeta wins her first ­dangal. From there till the lull phase in Geeta's international career, the film runs a smooth ride and is full of independently arresting 'moments'. There is one where Geeta calls up her father after multiple failures in international tournaments. Helped by no dialogue and edited exceptionally well, the scene has the actors emote beautifully and is easily the film's wow moment.
Considerable amount of time is invested in showing wrestling matches as they are. A win or lose situation for the viewers, an edited version of the same could have been a little less emphatic for the archetypal Indian masses who love to be spoon-fed, especially if patriotism is one of the ingredients. Having said that, all conflict and the rousing National Anthem moment in the finale will move you to bits. The question that remains is, how less melodramatic could it have been? Also notable is the underlined heroic characteristics Phogat's character is vested with. Although there's hardly any on-your-face heroic moments barring the opening fight, the importance to prove Phogat's instincts right looms large over the film's noble soul. In some way or other, Phogat's character sketch is (unfortunately) that of the usual know-all Aamir Khan. Why can't Khan be imperfect for a change? He was so in Talaash and that is precisely what made the film soulful.
Nevertheless, Dangal is a technically slick product as most departments deliver top-notch work. Cinematographer Setu does a swell job with his earthy Indian frames that luckily isn't badly colour corrected as most so-called rural films. Music by Pritam and Amitabh Bhattacharya blends well with the moody chronicle of events. Though none of them are in the commercial mould, Haanikarak Bapu stands out as the pick of the lot.
Now to the performances! It is amazing to see a star as big as Aamir Khan internalize Mahavir Singh Bhogat's soul and pitch in a performance that moves the hell out of you. Khan sinks his teeth to this unlikely part and delivers his finest performance in years. We see Phogat age Khan sheds all insecurities and body complexes to look every bit of an old, emotional man with a vision.
Sakshi Tanwar is proficient as the supportive mother. How we wish her character had a little more meat. Fatima Sana Shaikh as Geeta Phogat does an okay job while her younger counterpart Zaira Wasim is easily a better performer. Sanya Malhotra lends fantastic support and often it is her reactions that derive great beauty out of otherwise semi-cryptic situations. Suhani Bhatnagar as the younger Babita is disarmingly cute and a stickler with hilarious expressions. As the narrator Omkar, Aparshakti Khurrana is one terrific actor. Natural and witty to the core, we wish to see more of this super-talented performer. The young actor who plays his childhood does a stellar job too. Last but not the least, the ever-efficient Girish Kulkarni as the bitter coach does what he is supposed to, but the lack of layers in this strangely villainous character makes it tasteless rather køb viagra. Some of its peripheral characters call for a strong déjà vu to similar films. The narrator-cum-sidekick nephew calls for an immediate reminiscence to Sultan's Man Friday, Govind. If Sultan had a Kukreja Pressure Cooker basking in his glory, the local chicken seller takes all advantage of Geeta-Babita's wins. The coach and his weird ways have been seen and done with in umpteen films. One wonders why they didn't add a corruption angle to it, given the focus was on 2010's Delhi Commonwealth Games.
ALSO READ: "Talaash": An Intense Noir-Mystery That Addresses Grief With Compassion
To sign off, what impresses us the most in Dangal is its confident selfishness. This is a sports film which doesn't have it as a mere catalyst. The characters do not use the medium as one to fulfill personal desires (Sultan), save a community (Lagaan) or mixes way too many messages (Mary Kom). Right from the opening credits, we see wrestling in its grittiest form and Phogat's hunger to earn a medal for the nation. Dangal also puts spotlight on India and its intensely patriarchal social setup. Forever awaiting a son, Phogat is nearly a joke in his village. In a tiny scene in the first half, you see a random man approach Phogat with sweets as he's celebrating the birth of a son. The wry smile on his face and Phogat's regretful reaction proves why the nation needs a reality check on the way it looks at women.
Dangal is one film that lets you sit back, clap, roar and celebrate. We also cry buckets through the tense, emotional moments but isn't this exactly what commercial cinema is supposed to do? You could be celebrating a father's victory, a woman proving gender stereotypes wrong and last but not the least, a nation that derives immense pride from a gold-winning feat. Not a bad deal at all, Nitesh Tiwari and Aamir Khan.
Rating: ★★★★
Dangal is now streaming on Netflix.