Read Time:
8 Minute, 12 Second
2019, unfortunately, was not the best of years for female actors. If some films failed to explore their possibilities by basic mistakes such as wrong casting, there were others which refused to let their female artists soar beyond levels of ordinariness.
Here's the list of the finest and the more relevant screen turns by female actors in the year gone by, ranked in reverse order:
10. Taapsee Pannu (Badla) & Kriti Sanon (Panipat)
Fear is something that Taapsee Pannu expresses with great beauty in films. It could even be the mild fear of facing the court of law in Mulk. In director Sujoy Ghosh's nail-biting thriller Badla, Pannu's Naina is a woman entangled in a complex murder accusation. Fear looms large in this tensely staged plot wherein it assigns Pannu with a physically and emotionally taxing part which she aces with her quintessential spunk and spontaneous reflexes in place.
Kriti Sanon in Panipat gets a finely etched character which, in similar war epic films, would never have had the luck to flaunt as many shades. Playing the doting to wife to protagonist Sadashiv Rao Bhau (Arjun Kapoor), Sanon is also a medical practitioner and a solid support system to her husband and his army. If there is one scene where she truly hits it out of the park, it is the one where she goes to strike an alliance with the queen of a Muslim kingdom, Sakina Begum (Zeenat Aman). Her redolent eyes coupled with effective dialogue delivery, Sanon delivers her career-best performance in Ashutosh Gowariker's otherwise middling period drama.
9. Vidya Balan (Mission Mangal)
They say it is difficult to create original roles for leading in their 40s. In Jagan Shakti's multi-starrer Mission Mangal, the central character, interestingly, in a regular office-going woman named Tara. A regular mother dabbling with what appears to a strenuous occupation, Tara on papers comes sans myriad shades. However, there's a reason why such parts ought to be entrusted to performers such as Vidya Balan. The actor adds such vibrant colours to her seemingly dreary part that she successfully insulates several of the film's inadequacies with her spirited smile and unbridled energy.
8. Radhika Madan (Mard Ko Dard Nahi Hota)
A young girl who fights her fights. And she does so without trumpeting it to the world. Radhika Madan's Supri is one firecracker of a girl. She speaks her mind with as much conviction as she lands a punch on a truant's face. She falls in love too, with complete authority in her love story. There is a lot to admire in this lovingly penned character which is a wonderful ode to womanhood in present-day India. Then comes Madan's interpretation of the part – quirky and bang on, in every single frame.
7. Alia Bhatt (Gully Boy)
They say it's easy to portray the everyday loud heroine. Then again, there is an Alia Bhatt way of doing things, isn't it? The package comes with a (by now) mandatory breakdown/confrontation scene while even Gully Boy contains – deliberately or otherwise. That aside, Bhatt is unrecognizable as Safeena who cuss words pack in the same thunder as her slaps. Her colourful language complements the male lead's (Ranveer Singh) reticence and makes her a good enough anchor to him but not without a strong background for herself.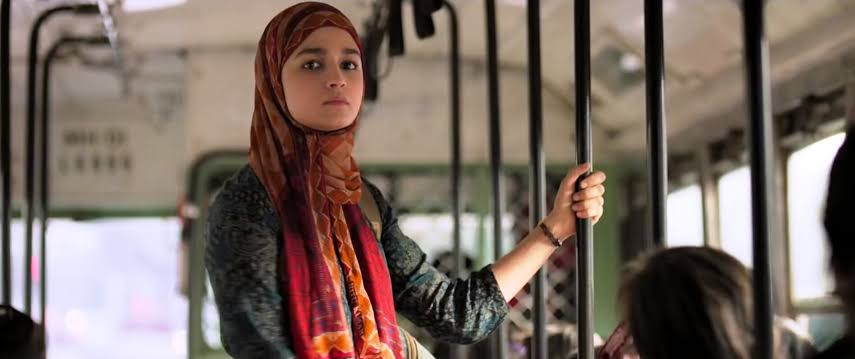 6. Priyanka Chopra (The Sky is Pink)
Hollywood's India represent, Priyanka Chopra is back after a brief hiatus in Shonali Ghosh's The Sky Is Pink. And what a comeback, may I ask? No, this isn't a resurfacing of the most glamourous kinds – something that you associate the off-screen version of Chopra with. In Ghosh's film, the actor plays a long-suffering mom to a 15-year-old girl whose unusual ailment is what changed her world around. Chopra's portrayal of Aditi gleams with empathy and the actor's sparkling eyes convey a lot that ordinary actors couldn't have managed with spoken words. Bravo!
5. Bhumi Pednekar (Sonchiriya)
Bollywood's go-to-girl for films set in the Hindi heartlands, Bhumi Pednekar does one more of the genre in Sonchiriya. Set in the Emergency Period, the film sees the actor gliding smoothly into the complex part of Indumati Tomar – the suppressed yet brave woman who flees from the clutches of a lecherous man in her family. The final segment, needless to add, is a quiet celebration of womanhood and Pednekar is extraordinary in the film, frame by frame.
4. Kangana Ranaut (Judgementall Hai Kya)
Meet an actor who is impossible to make sense of for everything that says or does off-screen. That's probably because Kangana Ranaut was made for the silver screen. Kangana Ranaut is sensational as Bobby from the first frame till the last. There is not a single false note as far as her interpretation of the part is concerned. This might not be the toughest of characters that she has come across, especially considering her expertise in nailing such trippy roles. That said, Ranaut's conviction turns Bobby into an incessantly intriguing being even as we compare her to Woh Lamhe's Sana or Fashion's Shonali.
3. Sanya Malhotra (Photograph)
Sanya Malhotra's Miloni is magic. And it lies precisely in her silences and unsaid motives. She keeps a blank face but has the power to penetrate your hearts. I didn't quite expect an impact of this magnitude from Malhotra who, somehow, is known for her perky presence and that delectably husky voice of hers which she often puts to remarkable use. Operating solely on expressions, the actor lends equal amounts of grace and enigma to her mellow part. The finale, in particular, makes us craving for more of Miloni. Now, that's a mega victory for the actor who is barely five films old.
2. Rani Mukerji (Mardaani 2)
Films like Mardaani 2 are essentially the need of the hour. Feminist cinema that belongs to the commercial sphere, driven solely by female protagonists. Gopi Puthran's film – which is a sequel to the 2014 film Mardaani ­– brings to us a powerful heroine who smashes multiple stereotypes as far as women in Hindi cinema are concerned.
When Mukerji set out to play the much-admired cop Shivani Shivaji Roy for the second time, my curiosity was about the approach that she will be taking this time around. How different will the intelligent, compassionate cop be in the second edition? Not to anyone's surprise, Shivani in Mardaani 2 remains as sharp as ever but the writer adds newer shades to her. Shivani is visibly less casual and more alert because she lives far away from her family. She holds a higher rank and is seen in the uniform in a good number of scenes. She is vulnerable but expresses a little less than she did in the prequel. A notable moment is when Shivani, distraught by a custody death in her police station, calls her husband up from the bathroom. Unable to share her dilemma with him, she remains there, venting her exasperation to herself. In another instance, Shivani is with the forensic expert who shows her the brutalities committed by a criminal on a victim. Strong on the exterior, Shivani exits the room, heaves a sigh and tears flow down her cheeks. Simple Rani Mukerji things, I say.
Mardaani 2 does portray a woman in a position of power unleashing her ferocious (and intelligent) side. However, it seldom portrays women as those who need help. The film ends in a thunderous fashion where Shivani roars like a tigress a triumph for a woman in Hindi cinema. Luckily enough for everyone concerned, Rani Mukerji, at no point, trivializes the job of a cop by making Shivani a female version of Simmba, Singham or Chulbul Pandey (Dabangg). Clearly, we need more officers like her – in cinema and in real life.
1. Rasika Dugal (Hamid)
You might think that a film titled Hamid might simply be around the lead whose name happens to be Hamid. However, director Aijaz Khan's Kashmir-set film is equally about Hamid's mother Ishrat, played with immaculate beauty by Rasika Dugal.
A wife and a mother living a distraught life in the politically tense Kashmir, Ishrat's prime agenda in life is to find her missing husband, Rehmat (Sumit Kaul). That draining process coupled with domestic duties makes her ignore her son Hamid's needs. Affection is not something that comes easily to Ishrat in these trying times. The woman's challenge is to come to terms with the fact that her missing husband is never going to return and her futile endeavours must stop- at least for her child's sake.
What makes the part enormously difficult for Rasika Dugal is the fact that it offers her no bouncing board to reflect her emotions onto. Ishrat is alone in her misery and she refuses to share it with her innocent son who, too, is dealing with it in his own ways. It is as if she is destined to suffer, all by herself. Towards the finale, we see Dugal's character coming to terms with her family's fate. It is an unbelievably moving passage which contains the power to make even the stone-hearted shed a tear or two. Be it in the way Dugal sobs or be in the way she interacts with her son; Dugal's is easily the most powerful act by any female actor in 2019. The final frame where she takes a ride on the canoe designed by her husband and son is one that is bound to warm the cockles of your heart.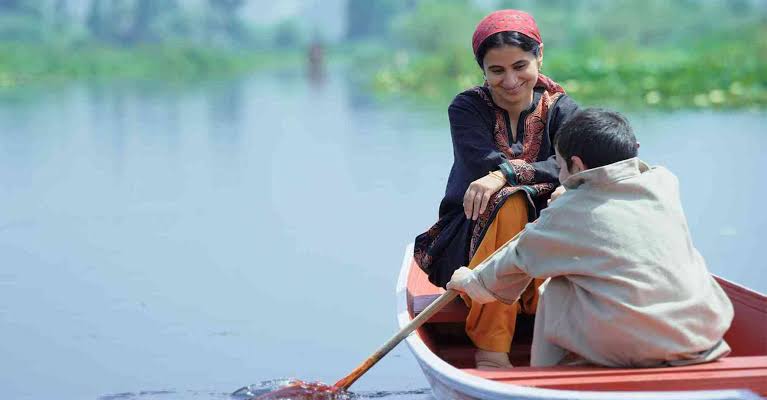 P.S: The list considers actors in only those films which found a formal theatrical release in India.