Read Time:
3 Minute, 36 Second
Mattel's breakthrough doll Barbie™ is a product that changed the landscape for many. For the toy company, it was a gold-standard idea that would propel them to a lifetime of relevancy. For children – especially little girls – it was a window to imagine and dream freely. In Greta Gerwig's film Barbie, we enter a world called Barbie Land run by many efficient Barbies. At the centrestage is the stereotypical Barbie played Greta Gerwig who, at one point, begins to have existential thoughts and the world instantly changes around her. The solution? Barbie must go to the real world and find out the person who owns her.
Gerwig designs Barbie Land as a vibrant, unique sphere. All the important positions are held by Barbies – whether it's the supreme court judge, the lawyer, or a Pulitzer Prize-winning author. "I know," is a very common quip of each Barbie upon receiving a compliment that she duly merits. So, where does this leave his favorite male companion, Ken? A squad of Kens thrives around their respective Barbies to do all kinds of jobs, woo them, and spend quality time if and when the Barbies wish. Ryan Gosling plays the romantic interest to Robbie who he readily accompanies on her adventure to the real world.
Gerwig's campy, colorful world is a feminist fantasy and this isn't just about the aesthetics. When Barbie lands up in the real world – which, of course, can't get any snazzier than Los Angeles, much to her dismay, the world is run by men with almost no agency over women – even in a corporate like Mattel that makes plastic dolls for female children. On a parallel front, a stroke of thunder hits Ken who no longer wishes to sashay around the woman he loves. He gets a taste of the power his gender wields in the real world.
Ken wishes to transport the taste of male supremacy to Barbie Land. Barbie needs answers to her existential crises. Where do we go from here?
For a film that would easily have been a superficial manifestation of the doll's famed physical perfection, Barbie is anything but that. In her live-action romp, Gerwig imagines wildly feminist ideas which hit patriarchy in the gut – with humor, sarcasm, and loads of sass. Barbie does not spare anyone or anything – the male ego, the female servitude, the crazy stereotypes, or the very guilt of being a woman achiever.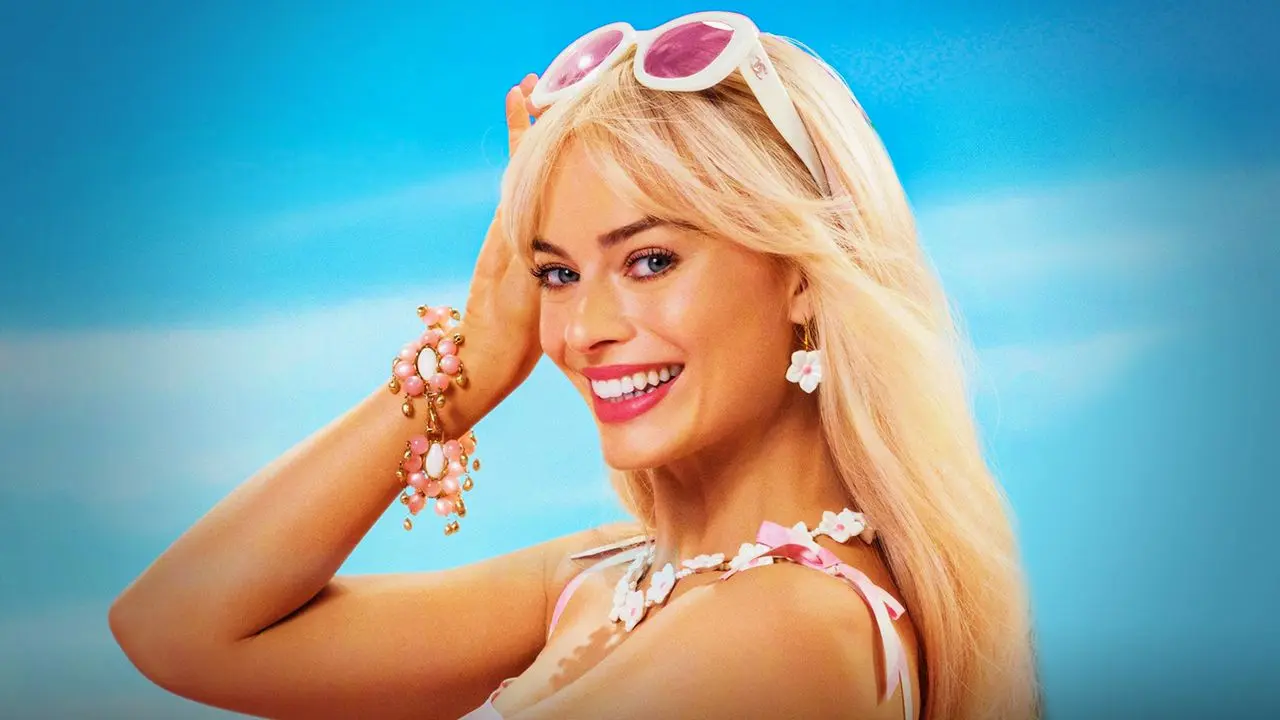 Provided the viewer isn't a textbook misogynist with a natural aversion to powerful women (and all things womanly), Gerwig's film is a feast to the eyes as it is to your inquisitive mind. Splashed with frames that scream all shades of neons and pinks, Barbie is bound to threaten many a man who is conditioned to not associate with pinks and pastels.
The soundtrack and the original score (Mark Ronson and Andrew Wyatt) which is a mainstay of Gerwig's glam fare is highly functional but it also lacks a crackling original chartbuster to hum as you leave the cinema. The refurbished version of the famed Aqua number 'Barbie World' just about passes muster.
Margot Robbie as the stereotypical Barbie is a true doll incarnate – playing to the gallery with glorious glee. Ryan Gosling's Ken is a hoot and a half as he bravely exposes the fidgetiness of his gender when threatened by womankind. The supporting cast – consisting of many big names such as America Ferrera, Kate McKinnon, Michael Cera, Ariana Greenblatt, Simu Liu, Issa Rae, Kingsley Ben-Adir, John Cena, and Will Ferrell – is unanimously marvelous as they evoke surprise and nostalgia to equal measures.
In a cinema industry (and a world, at large) that eulogizes male-centricity and lionizes misogyny, Greta Gerwig's film might hit many raw male nerves. It takes a certain level of wisdom to understand why the film is written and made the way it is. Barbie isn't anti-man. If it is anything at all, it is anti a system that demands women to live on crumbs dropped by the male gentry. Go, join the bandwagon that's already propelling Greta Gerwig's bold, empathetic, and hugely creative film into box office greatness. The women of the world deserve every bit of the film's resounding global success.
Rating: ★★★★