I have always thought of writer-directors who base their debut films on autobiographic themes. For sure, watching one's life – or a chapter from it – unfold on screen might prove cathartic. Then again, cinema lets a viewer make an impression in a short time. Unlike literature, one may not need to frantically surf through pages even if it's for academic purposes. Resultantly, as insecure filmmakers frequently (and somewhat aptly) put it, everyone's a critic today. Coming back to the opening thought about filmmakers,  I doubt if it's healthy to etch a personal story in one's maiden outing. Not many would interpret your grief the way you endured them. This way, a stream of negative words towards it may leave an unhealable wound. Director R Balki's Chup: Revenge of the Artist weaves this thought around a bizarre story about a psychopath who murders film critics.
As his track record goes, Balki gets his hook right yet again. There hasn't been a Bollywood film this year with a quirkier one-line brief. Why would anyone want to kill film critics? For starters, they do not wield the kind of power the film assumes they do. 
Chup is about a serial killer (Dulquer Salman; let us call him Danny) who is out to murder critics he believes do not know their jobs. A florist by the side, he falls in love with a young journalist named Nila (Shreya Dhanwanthary). At the other end of the matrix is a senior cop named Arvind Mathur (Sunny Deol) who wants to nab the killer. Once the three prime characters are established, Chup throws the spotlight on Danny, the film's prime anchor.
Danny is an eccentric Bandra boy who lives by himself in a quaint Christian home. He talks to himself, and he grows tulips in Mumbai's sweltering heat. He makes paper bouquets (read Kaagaz Ke Phool) on Guru Dutt's birth anniversary. He owns a successful flower business but prefers to ride a bicycle. He enjoys vada pav and chai with a ghoulish smile. In short, Danny is a pile of eccentricities and, therefore, a neat archetype to develop a serial killer drama.
The issue is when Balki and his team of writers (Raja Sen, Rishi Virmani) get confused about the man's intentions. There's a background of domestic violence and relentless abuse left to be explored, but Balki's film runs on an entirely different tangent. Secondly, the excessive references to Guru Dutt and Kaagaz Ke Phool land the film nowhere. What was Danny's real issue, if I may ask? Whether it was the film's critical failure or his own life experiences, I honestly couldn't decipher. Also, why kill contemporary film critics for either of the reasons? Why not the viewers who spread not-so-favorable word-of-mouth or didn't show up at all?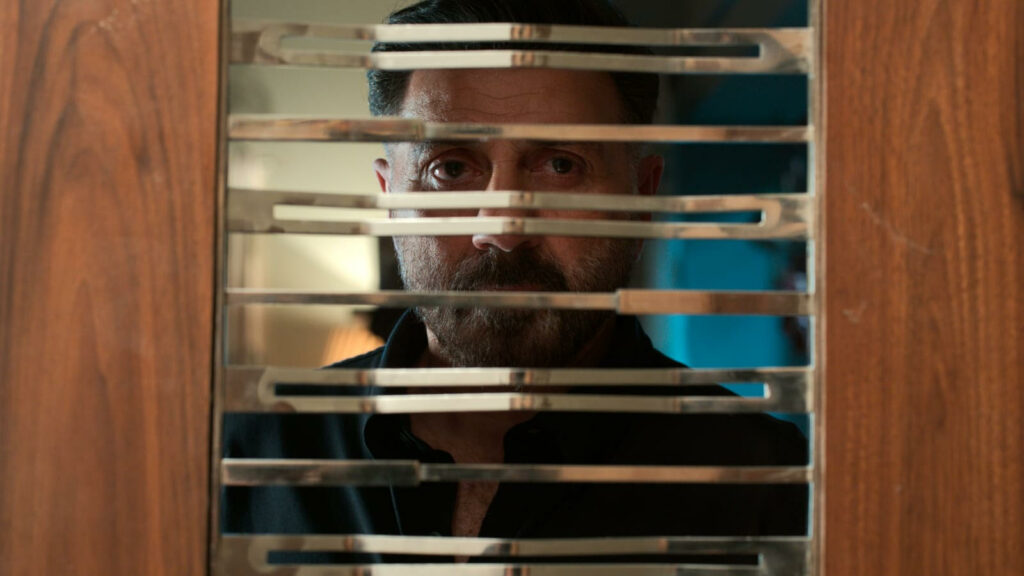 Although Danny's characterization failed to fancy me, Nila's ambitious cinephile-turned-journo persona left a twinkle in my eyes. I sported a wide grin when her visually impaired mother (Saranya Ponvannan) spoke proudly about her first film review. Their bond radiates warmth even though I see no reason why the mother had to be blind. The same goes for the 'Woody Allen is Innocent' poster that is hung in Nila's apartment. It might be the filmmaker's politics on display but it, sadly, does not resonate with the character in any manner. Nila's meet-cute with Danny, too, feels organic despite their odd conversations. Balki interlaces the triple narratives quite well – Danny's killings, Nila's emotions, and Arvind's investigation.
It is also puzzling to observe why the filmmaker sets the story in Mumbai – a bustling metropolis where you wouldn't walk ten meters without stepping on somebody else's foot. Danny, amid this chaos, finds an empty stadium to murder a man with the floodlights on. Some logic?
Although mind-numbingly gory, the first half contains enough meat to build intrigue. However, Chup dials down the excitement once Zenobia (Pooja Bhatt, who sports hairstyles oblivious of the concept of continuity) enters the scene. The film slows down, and the investigation turns dull. Chup picks up towards the finale, but the initial momentum never returns. Balki assumes that he cracked what goes behind critiquing films, but that is hardly the case. 
It's also hilarious to observe how the writing contradicts itself. First up, there is Amitabh Bachchan who appears out of nowhere to preach why film criticism is important. "A film review is a personal opinion," says Nila to Danny at a crucial juncture. I smiled in agreement assuming how Sen, co-writer and former film critic, might have coined the line. In the same stretch, Danny questions why a film critic does not know that a Bollywood film is remade from a Mongolian comedy. Now, this is a film producer's idea of the vocation. The fact, however, remains that one can choose to not watch Mother India, Mughal-e-Azam, Pyaasa, Sholay, and Kaagaz Ke Phool and still be a bona fide Hindi film critic.
ALSO READ: 'Kurup' review – Dulquer Salmaan shines in an ultra-glam fugitive drama
Salvaging the questionable writing for most parts are the actors who score in Chup. Dulquer Salmaan's rapturous laugh and striking screen presence make Danny's wrath come alive. If Shreya Dhanwantary is refreshing in a part that feels tailor-made for her, Sunny Deol makes a decent comeback as the senior investigator. When he yelled 'bastard' in his characteristic style, a flurry of memories from the (dubious) '90s came back rushing. That said, Pooja Bhatt's poorly styled Zenobia is an unnecessary prop in Chup. Rajeev Ravindranathan gives a decent account of himself whereas Saranya Ponvannan lights up the screen with her sunshine-like aura.
Speaking of light and lighting, Chup seems reluctant to use any to brighten up its frames. Plus, Vishal Sinha's color palette is staggeringly dull. The dim-lit sets do not heighten the somber mood, but rather render the proceedings boring. For instance, the DOP seems to have a thing for mood lighting. As a result, the frames resemble a theatre play wherein the actors stand underneath spotlights aside from dim table lamps placed in disparate corners. Given a better cinematographer, the scenes staged in Nila and Danny's respective residences could have tremendously enhanced the story. Although easy on the ears, the usage of Kaagaz Ke Phool's soundtrack in the original score feels silly as the Guru Dutt classic has nearly nothing to do with Balki's film. In a parallel universe, there might exist a serial killer saga where a scorned lover is out to slay the founders of popular dating apps. Who is up for it?
Rating: ★★ 1/2