Read Time:
6 Minute, 14 Second
"There's nothing as unnatural as one man taking another's life," blares the hero more than once in B. Unnikrishnan's magnum opus Villain. Before you could dissect his words here, we are quickly reminded of how the film has its shaky foundation on a foolscap sheet of philosophical one-liners. A commercial masala vehicle headlined by Mohanlal, Villain is an ensemble cast thriller that gloriously misses the bus.
For once, the writer-director Unnikrishnan wastes no time in context setting and character construction. Seconds into the film, we are shown a crime scene where three murders take place. Unless you are someone who incidentally landed up in the wrong hall, there's no chance in hell that you wouldn't guess the culprits right then. Fair enough as the film in itself doesn't want to be a whodunit genre piece. In that case, what ideally should excite us in this predictable investigation drama are the crime intents and the method of chasing the culprits. Unnikrishnan's hackneyed writing loses the plot on both bits. Before we get there, we ought to discuss the big guy in the film – the hero or the villain – both of which the film wants to attribute him as.
The man in question is Dr Mathew Manjooran IPS (Mohanlal) who is currently reeling from a personal tragedy and is taking a voluntary retirement from the police force. His very first scene – set in a junkyard – is structured so that it paints a clear picture of how disturbed he is. Known to be extremely efficient and intuitive, Mathew is also pretty agile for his age and physicality. The 'City Task Force' set up by him nails even the biggest of drug barons with considerable ease. Mathew's daily lingo is far from colloquial. He has his share of punchlines to spout – though not of the Savari Giri Giri variety – but from Shakespeare, Sigmund Freud and the likes. Call it a writing fallacy but Mathew's perceptions are sharp to an extent that the investigation proceeds exactly how an average audience member would expect it to. For a crime centred around a multi-speciality hospital, the way he ascertains his guesses will give even the best of astrologers a run for their bucks.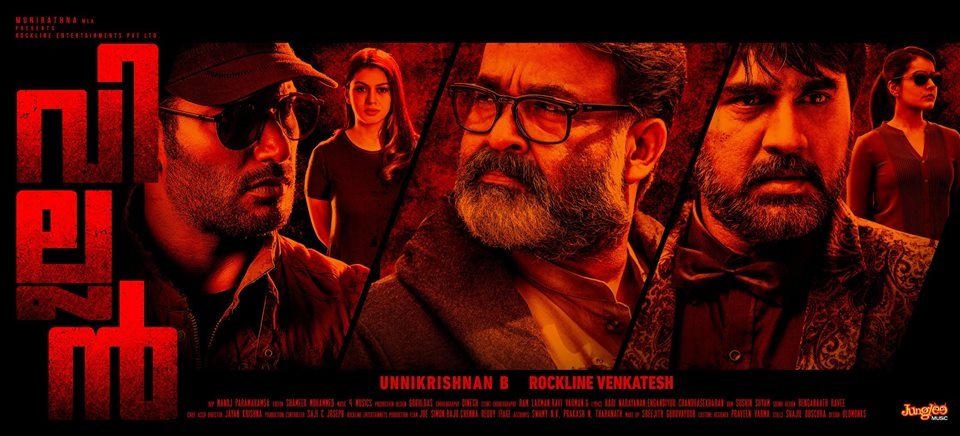 Coming to the antagonist, he is one with some sort of a noble agenda. What we await is a solid plot point that will justify his intent somewhere. Later we are told how the man breeds severe detest for corruption in the realm of medical science for the fact that it was the cause of his parent's death. This crucial scene – despite all the dramatics – is laughable and ineffectual. Picture this – a frustrated man in the middle of a medical college, setting himself on fire with a jar of kerosene as hundreds of students and faculty look on. And the only schema here is to make a point to the admission committee. We aren't exactly told how affluent this Tamil family was. For a fact, his son struts around in the nicest of clothes and lives in a fancy apartment. The young man also finds an eye candy of a girlfriend – who is also a similar soul facing mass ostracism. At the cost of objectifying her, I would want to know which medical college campus in Kerala would shun someone as stunning as Hansika Motwani. There is also a laugh-out-loud frame featuring the two – presumably after sex – wherein their faces reflect a universe-full of guilt. Oh, boy!
Villain offers no cat-and-mouse game between the leads either. It doesn't want to pin either party as black or white. Everyone is grey, declares Mathew at one point of time. On the onset, the topics of discussion are corruption, drug abuse and incongruities in the medical industry. We are taken to rave parties with African bouncers (because you know what!) and later to trauma wards where investigations are compromised for vested interests. Soon the film begins to irresponsibly address things as disparate as deadly diseases, psychiatry, euthanasia, social welfare, education and sexual violence – giving us no option but to ponder over the serial killer's actual objective(s).
ALSO READ: 'Odiyan' review – when a fascinating premise becomes an endless assault to senses
This reminds me about how Villain also offers a parallel track of Mathew's past. His wife Dr Neelima (Manju Warrier) is the archetypal do-gooder heroine. In a textbook character that is commonplace in Tamil and Telugu film industries, Neelima's (and her daughter's) syrupiness is of such levels that we, for sure, know that there's something tragic awaiting her. We also get a diabetic Yesudas number shot in isolated, scenic hills with no human being in sight – reiterating how Neelima isn't made for the world of mortals. Having said that, I didn't particularly mind Warrier's charitable doctor-wife act although most of her lines were borderline cringe-worthy. However, the glitch arises when Villain makes needless narrative shifts to this zone of the story – leaving many of the present occurrences in a lurch. This also reminds me of the abysmal state of Villain's supporting cast. One of them is a cop – the brief to whom is to act so suspicious that even the door opener in the auditorium would get the hint. There's Mathew's boss (Siddique) who gives a medical bait to get his retired subordinate in action. Typical much? We also get a cardboard villain – clad in satin and silk – and often seated in cushioned thrones and surrounded by goons in true '80s fashion. The only respite in the ensemble is a spirited woman cop, Harshitha (note the extra 'H') Chopra. Only if the screenplay had spared her of the woman-are-weak-so-they-do-things shaming as Mathew makes a gratuitous comment on her personal life. Nevertheless, Raashi Khanna lends a good amount of sweat and energy to make this part come alive.
Vishal gets a grand total of zero dialogues until the film reaches its finale. This is particularly annoying as the man and his life is an open book for the most part of the film. Hansika Motwani looks clueless throughout and her flabbergasted expressions in the climax will match no one else's but the viewers'. Plus, in true Tamil cinema style, she gets one sensuous club number to gyrate to – making us wonder if there exists the concept of front-benchers in contemporary Kerala anymore. Now to the mainstay and the biggest selling point of Villain, Mohanlal doesn't disappoint one bit. Be it his dialogue delivery or those understated expressions, it is his presence that makes this utterly predictable film somewhat bearable. On analyzing further, one wonders about the stiffness in his gait. What happened to the veteran actor's famously fluid body language? This is something that I sorely miss in his recent films, including the family drama Munthirivallikal Thalirkkumbol .
On a closing note, I wouldn't deny that Villain is moderately entertaining. At the same time, it doesn't demand us to exercise our brains either. The film shamelessly contradicts its own core message by twisting the hero's deeds and not the villain's. Unnikrishnan unsuccessfully tries to layer the Jupiter-sized plot holes in his writing with continuously ineffective dialoguebaazi. Toward the finale, the villain yells at the hero, "Cut the crap, Mr Mathew," and I couldn't agree more!
Rating: ★★