"Sonu Ke Titu Ki Sweety" contains unexplored eroticism and a ruthless dose of misogyny!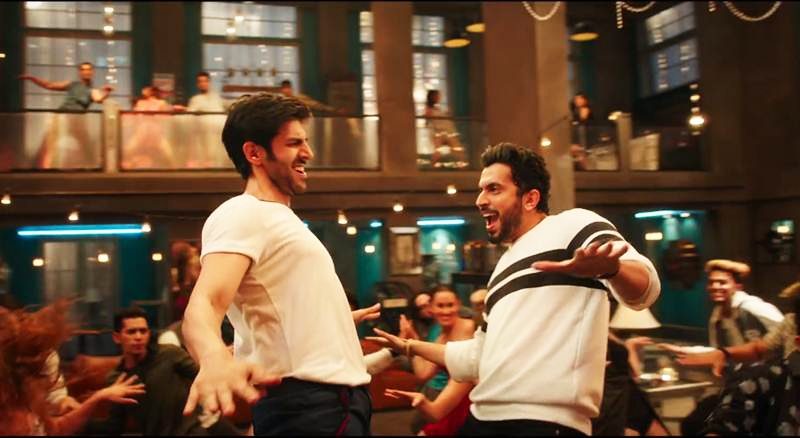 Read Time:
5 Minute, 4 Second
There is something deeply sexual about this peculiar Bollywood sub-genre of male bonding. No, they are not in the Amar Akbar Anthony and Dil Chahta Hai zone of bromance. Let's just term the dudes 'three-buttons-down-bros'. Normally seen with buffed up, gym-sculpted torsos, these men wear loose pastel shade shirts with exactly three buttons undone. There's a generous sight of their shaved cleavage and a clearly intended undercurrent of homoeroticism. The trend, perhaps, emerged with Dostana back in 2008. Student of the Year followed suit in 2012 and now we get one that beats them all – Luv Ranjan's Sonu Ke Titu Ki Sweety.
If this sub-genre is to centre seriously around a pair of bi-curious men, you would want to embrace the plot just for the novelty factor – even if the core material treads on nothing but humour. However, our 'three-buttons-down-bros' are in constant denial of their sexuality. In Sonu Ke Titu Ki Sweety, childhood best friends (Kartik Aaryan, Sunny Singh) have done everything together except one thing. And to make it more uncomfortable, these men state this very fact time and again. It is as if one of them had the inkling to go further but didn't do so since bro-code is what rules their world. This strange, unexplained undercurrent of sexuality renders Sonu Ke Titu Ki Sweety an infinitely odd film. No, this is no Call Me By Your Name but every time Sonu stares at Titu, the film emits a bizarre sort of sexual tension.
Let's keep the adjective 'bizarre' aside for a while. Hindi film lovers, by now, are aware of Luv Ranjan's cinematic universe and the way women exist in it. They are all the same –gold diggers, eternal nags and every other female cliché on the planet unless they happen to be mothers. To a certain extent, we shall see this as a writer's ploy to elicit humour keeping one gender as a bait. The issue, nonetheless, is when the film refuses to treat its women as human beings but are considered equivalent to an epidemic. It is as if Sweety (Nushrat Bharucha) is a shape-shifting serpent on a revenge spree who will gain catharsis only upon marrying Titu (Singh). For the smitten groom, Sonu (Aaryan) is the self-appointed guardian angel. The women in question – also – do not offer justifications for their scheming ways. "I am cunning and I have my agenda. Do whatever you want to," This is all our leading lady mutters and our hero's best friend's world comes crashing down.
Sonu Ke Titu Ki Sweety is also a scathing celebration of patriarchy and male privilege. When Titu announces his desire to get married, a dejected Sonu quips in, "I know that you have needs too. I will 'get' them fulfilled." No, he isn't referring to serving himself on a platter – which, interestingly, could have broken several backs at the Censor Board and also of the desi moral police. The men in question are referring to their casual romps and a necessary exchange of fluids because those well-oiled cleavages shining through their undone shirts exist for no other joy. Women in Sonu Ke Titu Ki Sweety are either unabashed sex objects or conniving opportunists. The leading lady is explicitly demanded of an explanation for her independent choices including possible sexual liaisons. For once, it is the helluva confidence of the writers that we should wow at for their ability conjure up something as disturbing as this and, shockingly enough, sell it in the name of humour.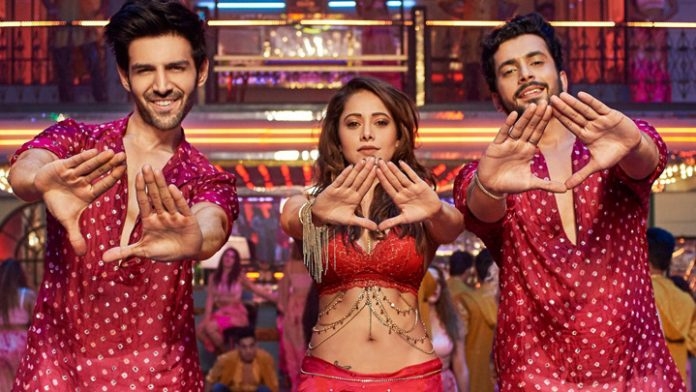 Men in the film are no lesser douches. The male leads keep mentioning about their primary school days quietly reminding us of how their collective intelligence quotient tiptoes the film's own shoestring thread of a so-called bromance. The film scales insane heights of stupidity as the finale plays out. It also doesn't help that the leading man Kartik Aaryan is immeasurably annoying and his short episode with the male household help has to be another disturbing representation of class divides. Sunny Singh, on the other hand, has a natural charm and possesses sparkling screen presence despite a thankless, unnuanced part. There's also the cuss-spewing family patriarch Alok Nath (cast only for shock value) and his 'Man Friday' Virendra Saxena who represent a mature version of a similar bromance (sans an air of sexual tension, probably owing to their age). It looks as if the other members of the family have come to terms with their bond as well. Well, it's a parallel universe, I wanted to ascertain myself throughout.
Shot almost wholly in extreme and mid-level close-up shots, the camera – at rare instances – pans out to panoramic long and aerial shots. This needless scheme sort of gives us an idea of how the characters and their utter torsos are all that we see for most parts of the film. Unless, of course, there are songs that have women shimmying with their svelte bods and, oh, there's another number fully dedicated to their booties. Essentially Luv Ranjan's male characters, old or young, are those who would press the boobs of a mannequin in a clothing store and later complain how real women use their bodies to tantalize the opposite sex. Quite predictably, women can be hated but their body parts can't be set free as they contain the power to fulfil the "needs" of a man.
Sonu Ke Titu Ki Sweety, simply put, is the most utterly contemptuous mainstream Hindi feature film to be out in years. It teases the audience with an obvious undertone of bisexuality but chooses to remain cleverly in its morality closet. The film is also nonchalantly classist, ageist and is divisive in its very design. And to nobody's surprise, a country plagued with reckless molestation, rape threats, zero dignity of labour and thousand other vices will celebrate this godawful film as a comedic triumph. Amen, to our collective sense of humour.
Rating: ★