Read Time:
6 Minute, 7 Second
Indian cinema is devoid of equivalents to what they call westerns in Hollywood. Bandits are a thing of the past and our filmmakers do not feel the need to capture their fascinating stories that contain great political and social relevance. One such rare feature film set in the Chambal ravines, Abhishek Chaubey's Sonchiriya tells us that there are ways to look at dacoits. We have seen them decorating roles of great valour in poems. We have also heard of them as brutal assassins who pose severe threats to society, especially affecting the wealthy. This way, there's a sky's difference between the two definitions – baaghi (rebels) and daaku (dacoit).
Set in the emergency period, Sonchiriya does not glamourize the bandits. It also avoids assigning halos to the officers who are on the prowl. Rather it offers perspectives and answers on several what's and why's – seen through the lens of caste supremacy, illiteracy, deep-rooted patriarchy, superstitions, and enormous socio-economic gaps – each of which contributes in making the occupants of the barren heartlands who they are.
Sonchiriya begins with the introduction of a rebel gang led by Daku Man Singh alias 'Dadda' (Manoj Bajpayee) and his close associates: Lakhan Singh (Sushant Singh Rajput) and Vakil Singh (Ranvir Shorey). In the opening shot, their way is blocked by a dead snake – something that is considered a bad omen. A couple of chants later, the men march ahead, with a few of the gang members believing how the curse will stay on. As if to prove them right, severe casualties happen as the troop attempts to loot a rich goldsmith's home. A vicious gun chase and few deaths follow, leaving the gang to flee the scene. They are soon joined by a woman-on-the-run – Indumati (Bhumi Pednekar). Meanwhile, the rebels continue to be chased by a group of policemen led by Inspector Gujjar (Ashutosh Rana).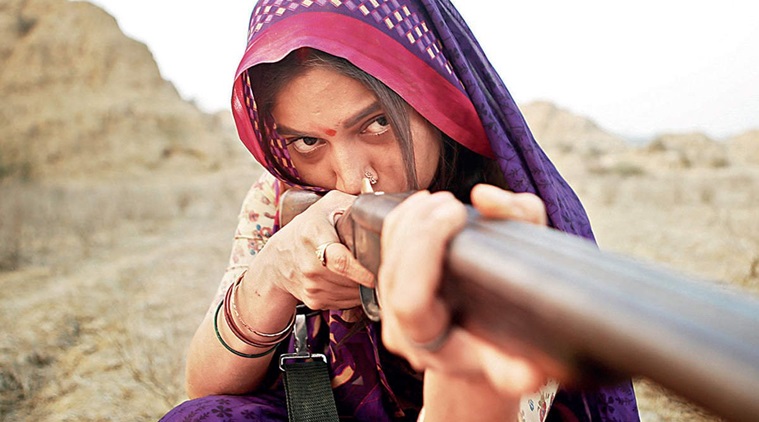 From the exteriors, Sonchiriya offers a difficult matrix to empathize with. The rebels are not actively labelled with heroic images. They are (at least in the film) not seen to loot the rich and feed the poor. For them, violence is a way of life bound by their principles of dharma. They have their own sets of rights and wrongs. Even as you look at the environment, every commoner – be it a housewife or a peasant – holds the gun. For some, it is to protect their family honour and for others, it is a basic survival kit.
The most captivating characters in Sonchiriya ­– surprisingly – are its women. Bhumi Pednekar's Indumati is a distressing victim of patriarchy who breaks free from the shackles of abuse as she witnesses a little girl being violated by a family member. Her reflexive action might seem a little too gutsy for the era and the caste she belongs to. Yet the film justifies every bit of her audacity as it marches towards the finale. Pednekar, in particular, is stellar as the rural woman who wields the gun and the ghoonghat with equal panache. Khushiya plays Sonchiriya who is the film's conscience and is a metaphor for deliverance. She is named after the majestic Indian bustard which is aloof to the levels of being considered extinct or fictional. The third and the last significant woman character is Phuliya, a female bandit on the lines of Phoolan Devi. At one point she tells Indumati, "Woman is another caste altogether. Different from all. Beneath all," Phuliya has got a back story too – one that manages to disconcert you in a matter of few seconds, sans details and explanations.
Talking about backstories, Daddu and Lakhan Singh too have one in common. The reason behind their sightings of a five-year old girl who could well be the anchor to their conscience. This detail – narrated in a flashback – easily is the film's most gruesome passage. Ferociously violent, one must also hand it to Chaubey for keeping it in the implied zone. Its closing shot where the armed dacoits and the local public lock horns with the camera transitioning to the girl staring from a casement is unsettling, to say the least.
ALSO READ: 'Article 15' review – a crowd-pleaser with a heart of gold
Largely plot-driven, Sonchiriya also manages to examine individual truths of its characters – all seeking freedom for themselves, the definition of which differs significantly for each. Beneath all, the characters cultivate the innate human tendency to protect their ilk or the ones they feel emotionally close to. A good case in point is Lakhan's tenderness towards Sonchiriya which Indumati chooses to acknowledge, "There are good people amongst bandits too," The statement is not one of a surprise coming from a woman who has been oppressed by so-called honourable men, endlessly for years.
Shot in real locations, DOP Anuj Rakesh Dhawan captures the barrenness of Chambal valley to utmost precision with the unique angles, swift movements, and striking colour schemes adding to the impact. The effect is further amplified by the editor's (Meghana Sen) deft choice of frames. They may not have the actors in the best of their physical appearances but they add a great deal of value in making the proceedings feel authentic as well as engaging. Sound mixing and design is another area where Sonchiriya scores big as it balances all fury with intermittent deafening silences. Vishal Bhardwaj-Varun Grover's title song that appears at a crucial juncture works in illustrating the film's tender heart underneath its rugged skin. Acting is flawless throughout with Rajput, Rana, Bajpayee, Pednekar, Shorey, and others adding a great deal of originality to their difficult parts – those with sparse reference points in cinema.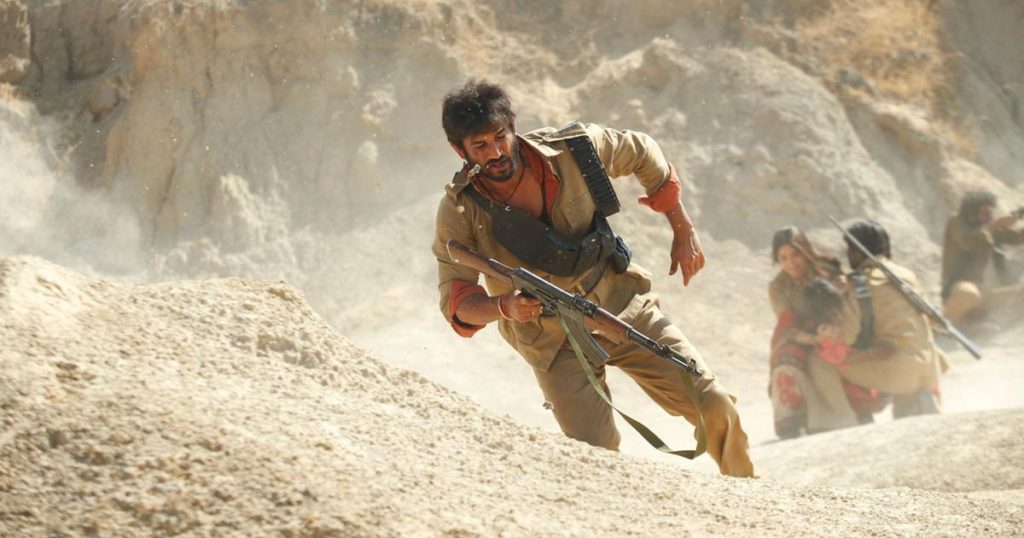 The screenplay (Sudeep Sharma, Abhishek Chaubey) is decidedly understated and it is in the story's lack of exposition that its inhabitants bloom to completion. One does wish that the key conflict between Lakhan and Vakil saw a better resolution. However, as the film closes with each character attaining personal catharses, this anomaly stands nullified. The final reels retain all of Abhishek Chaubey's classic quirks. They are violent, fast-paced, and stylish in equal measure. The conventional culmination to Indumati's story is one that we see approaching from a distance but the punch lies in the manner that it exposes patriarchy with absolute clarity. Despite being a film set in the '70s, Chaubey's dramatic yet thunderous execution of the scene underlines how the family's status quo holds significance even in present-day India.
Chaubey employs the usage of Bundelkhandi dialect in his dialogues which might arise as a hiccup if the film is screened sans subtitles to a wide spectrum of viewers. Even though it isn't hard to decipher the contextual meanings, the original essence and some of its low-key dark humour would go under-appreciated with the language becoming a possible barrier, especially in the urban sectors.
As the film closes, Chaubey makes it easy for us to empathize with every character in Sonchiriya for a fact that their worlds are not essentially black or white. With the final jolt just before the end credits, the film fiercely reasserts its philosophy, "The snake preys on the mice. And the snake is preyed upon by the vulture. That is how God has set the law of nature," 
Rating: ★★★★