'Santhoshathinte Onnam Rahasyam' review – a chatty, inventive take on relationships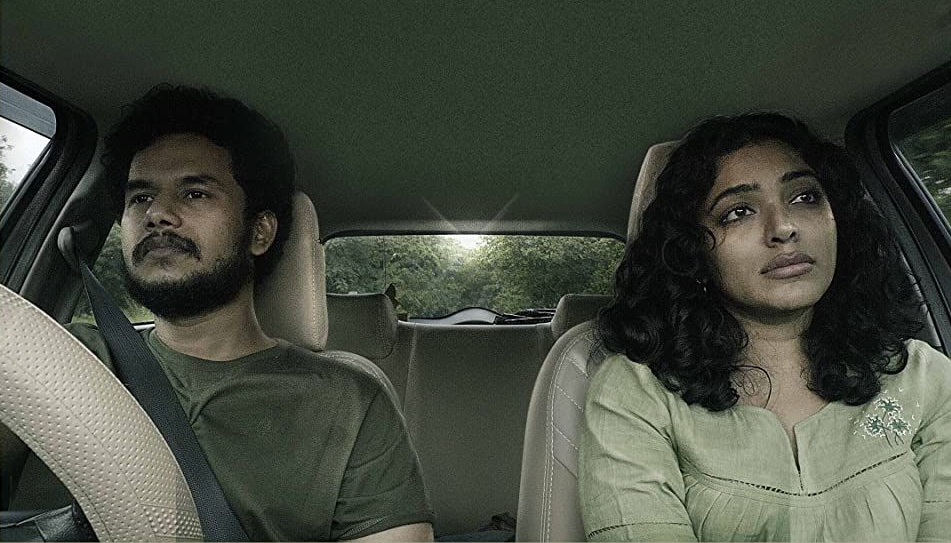 Read Time:
3 Minute, 33 Second
Director Don Palathara's Santhoshathinte Onnam Rahasyam is a film set entirely in a car. No, the vehicle does not become an imposing prop that offers extra dramatic possibilities (not even an allegory) at any point. Palathara's film, clearly, is no commercial potboiler belonging to the ilk of Titanic, Air Force One, and Murder on The Orient Express. The novelty is the fact that there aren't any cuts – or they have skillfully constructed the frames so as to not give the technique away.
Santhoshathinte Onnam Rahasyam is all about a live-in couple Maria (Rima Kallingal) and Jithin (Jitin Puthenchery) who are on their way to get a pregnancy test done. Their differences – pertaining to gender, occupation, financial standing, responsibilities, and friendships – get highlighted through a long, bitter conversation they engage in throughout. There are intermittent halts that are perhaps staged to release the actors out of their exhaustion even though they do not appear so.
Given its prime limitation of space, Santhoshathinte Onnam Rahasyam has no choice but to be a chatty fare. It reminds us of the 'shabdarekha' (audio movie) concept that once existed in the Malayalam cinema wherein an audio version of films made its way to the market soon after their theatrical release. In Palathara's film, nearly nothing happens aside from the couple and their constant bickering. For a brief while, Maria and Jithin get a co-passenger – a woman (Neeraja Rajendran) whom the former meets at the clinic and offers a lift. Palathara might have constructed the character so as to point a parallel towards a different generation but the decision isn't fully convincing. For a fact, the film's basic construct does not require an external entity to propel shock when an unmarried woman is suspected to be pregnant. Maria, in the initial moments itself, sets the tone on how her family and society would take to it.
ALSO READ: 'C U Soon' review – Mahesh Narayanan's film is a modern filmmaking marvel
However, Santhoshathinte Onnam Rahasyam throws in maha-interesting phone cameos to break away from the monotony. One is an experimental filmmaker (played by Palathara himself) whom Maria interviews en route. Part-hilarious, part-referential to a clan of emerging new filmmakers, the chapter will have you grinning from ear to ear. Jithin's solo moments in the car have their share of appeal as it contributes to fine-tuning his psyche.
Don Palathara also utilizes silences in ways that a couple in a tumultuous phase would connect to. There are two sets of these – one after a major showdown and another in a different mood after the final revelation. Both portray different mindscapes of Maria and Jithin but the emotions are translated wonderfully through the actor's expressions alone.
Given the template and in the absence of elaborate set pieces, the film is entirely shouldered by the two actors. Rima Kallingal and Jitin Puthenchery appear to be superb team players. Jitin puts in an uninhibited act and we wouldn't realize that he is directed or instructed upon. Rima, too, gets the pitch of her character just right – be it in the way she is as a professional or the way she reacts as the tensed, complaining girlfriend. I didn't exactly notice a big chemistry spark between the two. They come across as unalike individuals which, perhaps, works in favor of the film. I, as a matter of fact, did not root for Maria, Jitin, or them as a couple. This way, Palathara successfully designs a setup that generates abundant suspense, negligible mush, and is still a film centered on a romantic relationship. Smart.
Santhoshathinte Onnam Rahasyam succeeds expectedly in nailing an experiment. There is a messaging connected to communication in modern relationships which is subtle and the whole thing culminates beautifully. While it does not possess the luxury of having an array of locations as seen in similar cinema experiments such as the Dogme 95, this solitary car journey sans cuts would undoubtedly ensure that you are not bored until the last running minute. There is also a love song in Sithara Krishnakumar's eclectic voice which forms the delicious cherry on the cake.
Rating: ★★★ 1/2
Santhoshathinte Onnam Rahasyam is streaming on Nee Stream and Mubi India.