'Redoubtable' review – a stylish retro piece that Godardians will lap up instantly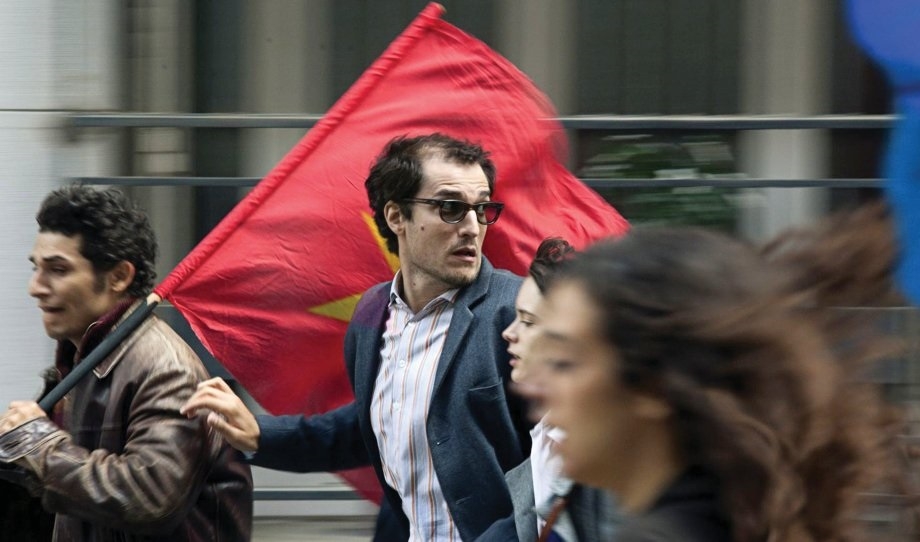 Read Time:
3 Minute, 37 Second
Michel Hazanavicius's Redoubtable is manna from heaven for Jean-Luc Godard fanboys. Be it the lead character Godard's somewhat toxic rebellion or his own erroneous ideas about a Marxist society, the film spectacle the transitional years in the veteran filmmaker's life. Set amidst the New Wave Movement that took place in France in the late '60s, Redoubtable is also a portrait of Godard's dwindling equation with then-wife Anne Wiazemsky.
For a film that takes off as an intimate romance between Godard and Wiazemsky, Redoubtable contains some of the most classily picturized lovemaking scenes in recent film history. Soon, using several classic Godard motifs, the film shifts contours and takes up a more political tone.
"In this student movement, I just like the movement. Not students" confesses Godard (Louis Garrel) to his wife (Stacy Martin) as he walks out of a volatile forum. Godard hated the idea of being the older man in a room. In another striking moment, Godard engages in a verbal brawl with an elderly person at an eatery where the latter accuses him of his young blood. His agitation is nearly an attempt to do justice to the so-called 'young blood' that was just referred to by the opponent. "I hate it when I am the old one," rues Godard in a later scene. Was becoming old and being irrelevant to the youth his biggest fear? Perhaps.
For one who heralded Marxist values, Godard still believed that actors were dumb and it was the director who captained a film set. Later we are shown a film location where his crew disapproves of his views as a director. In a volatile meeting set in the name of democracy, Godard is expected to succumb. He isn't entirely happy but soon realizes how this is all that he has been fighting for. Even during the protests, Godard is shown to reject any commendations on his iconic work. He claims to have left behind his legacy of Breathless and Contempt. Somewhere deep down he himself realize how his audience (and even the potential ones) considered cinema as an escapist medium. We wonder if the importance given to him was for his craft or just the fact that he was a popular face.
ALSO READ: 'Bohemian Rhapsody' review – Rami Malek triumphant lead salvages a dramatic biopic
Predominantly a picture of Godard's deep relation with Wiazemsky, the film quietly underlines the ironies of his life. Daughter of a celebrated conservationist writer, the very premise of dating Wiazemsky looks like an attempt to 'fit in'. It is particularly effective when another character chides Godard for his inability to understand the working class. "You talk about them but you don't know them,". Known for his quirky, modern cinema that established new standards in the industry, the sudden critical lambast was not something he took lightly to. Further, when Wiazemsky decides to pursue acting, you witness the director Hazanavicius carefully mirror Godard's veiled resentment.
Essentially a Parisian film, Redoubtable comes with a jazzy score that abounds in sax and accordions. Although Hazanavicius consciously attempts to pay homage by using several Godard-ian devices like jump-cuts and a series of graffiti (among others), Redoubtable doesn't delve deep enough in this trough. Extremely conversational like many of Godard's work, the film offers chatter that is well-constructed for most parts. The actors converse and the viewers receive the message but sans any food for thought. An anomaly originating probably from the film's biopic-like template, you also feel as if the maker was a wee bit concerned about how the iconic director would react to his screen version. If at all Redoubtable lacks in anything, it is a personal touch. Hazanavicius' Godard is charming, goofy, desirable, confused, and also very distant. From the rest of the film's characters as well as the viewers. In comparison, Wiazemsky's outline on papers comes off as more objective, more neutral in her emotions. Not taking away anything from the film's immense viewability, original humour, and fascinating performances, one wishes that Redoubtable flourished with more metaphors such as Godard's frequently destroyed tinted glasses.
Rating: ★★★ 1/2
Redoubtable is now streaming on Netflix.
The film was screened at the 19th MAMI Mumbai Film Festival held from 12 to 18 October 2017.