'Mission Mangal' review – a simplistic science film that is also obsessively religious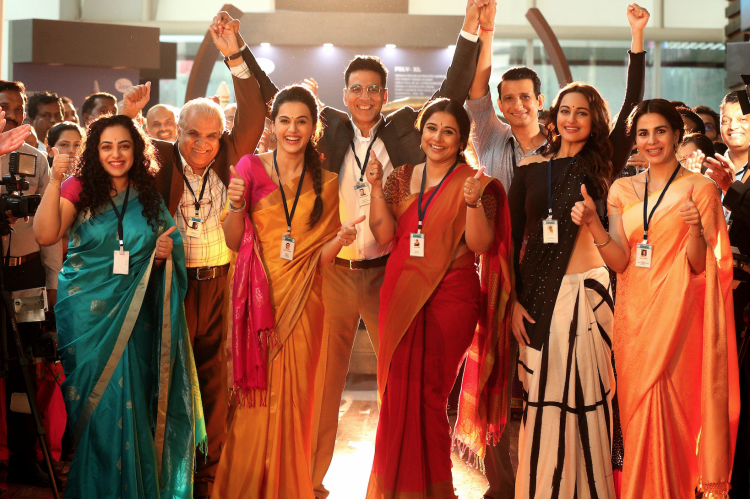 Read Time:
6 Minute, 24 Second
"101 se shuru karna chahiye tha…", rues a Hindu priest present during the launch of ISRO's ambitious rocket GSLV Mk-III: Fat Boy. Not to anyone's surprise, the launch fails and the team receives massive wrath from the authorities for all the budget that went waste. No, this is not the only instance where director Jagan Shakti's ambitious science feature Mission Mangal gets strangely interested in religious motifs. On another occasion, we are at Project Director Tara Shinde's (Vidya Balan) home. A staunchly religious woman, her day begins with an elaborate pooja. At one point, she tells her son, "There is a power beyond science." Her son, on the other hand, is a musician who – inspired by his idol A R Rahman – is 'caught' by his father for reading the Quran. The father's reaction is perhaps that of a regular Hindu householder but the mother (Balan), who seems relatively progressive, turns out even more patronizing with advice as generic as, "You need to find your own path," A Muslim team member in the team, Neha Siddiqui (Kirti Kulhari) is unable to find a house due to her religion but is willingly provided accommodation by her elderly Brahmin colleague Ananth Iyengar (H. G. Dattatreya). Among other things, the latter's Tirupati darshan is cut-short by the mission's sudden re-emergence. The clumsy Parameshwar Naidu (Sharman Joshi) is a devout bachelor whose 'mangal dosh' is restricting his marital prospects but is put on a mission involving the very same planet.
While we are unsure of why most of Mission Mangal's people flaunt certain obvious religious/conservative tints, it is obvious that the film also wants to present independent character studies. If we look at it, there is little that the writer (R. Balki) can do with the material at hand. There is a difficult mission, limited budgets, a perseverant team and a villain equivalent (Dalip Tahil at his hammy best) to complete the circle. Now, this is boring from the word go despite all scientific jargon and word vomit thrown in. This is where the film decides to take full advantage of its leading man (Akshay Kumar plays Rakesh Dhawan, the Mission Director). He is present in the team only so as to deliver a series of resounding speeches to his dismissive superiors. He empowers the pregnant woman (Nithya Menen) in the team to let go off her maternity leave. He urges the oldest team member to be young at heart. The moment the Propulsion Control personnel Eka (Sonakshi Sinha) blurts out the word 'impossible', he bitterly snaps and demands her to leave. He even makes an imaginary (and cringeworthy) mock phone call to the late APJ Abdul Kalam so as to persuade the authorities around for approvals. So, yes, Mission Mangal is that film. It wears a "perseverance and hard work pays" quote on its forehead with a leading man – whose middle-name is 'desh' -becoming the team's jarring loudspeaker.
Balan, who strangely appeared to be in the Tumhari Sulu zone in the theatrical trailer, does way better. At home, she has an irritated husband Sunil (Sanjay Kapoor with his newfound acting skills) and two young children who are in the regular teenager phase of discovering and experimenting with things. The chapter works intermittently but it wasn't really a pleasant sight to see the couple attempt a semi-Baghban on their daughter who takes the 'risk' of going to a club. This pointedly conflicts with Tara's iteration, "I know my daughter." That said, I didn't quite mind Kapoor's impromptu gig on his own '90s chartbuster 'Ankhiyan Milao Kabhi' that culminates the club scene, quickly converting him into a good parent and a husband. Well!
The film conflicts us further when the ambitious, NASA-dreaming Eka Gandhi (Sinha) is shown to idolize Kalpana Chawla but is also a fashionista who orders the man in her bed to leave soon so that the maid doesn't get startled seeing a different guy, every time. This independent woman 'represent' in the team, who is also a compulsive smoker, happens to be an orphan who was given her surname as a token to Mahatma Gandhi. Somewhere, all of it doesn't ring well as the girl enthusiastically flaunts her bright lips, jumpsuits and Satya Paul Saree collection. Nithya Menen's Varsha Pillai – who gets a needless dig each on her weight and surname by the main leads – is the satellite design personnel. The film finds it important to tell us that her efficiency at work also trickles down to her living space, which is immaculately compact. She has problems conceiving a baby and is, therefore, facing mother-in-law issues. If the Program Automony in-charge Neha (Kulhari) has got a straying ex-husband for the film to avenge, the Navigation and Communication specialist Krithika (Pannu) goes incommunicado until her army officer husband pours a drop of nationalistic potion into her head. Krithika also attempts to learn driving in lieu of becoming independent. I am sure, taking one more car out in Bangalore's numbing traffic is the wisest idea for independent individuals to invest in.
Much like this review, Mission Mangal is seldom about its core mission. Or rather it is clueless about how to fictionalize the rigorous process and later Bollywood-ize it. In the bargain, the film ends up making the entire scheme look insanely simplistic. The scientists observe things as layman as cooking puris, an anti-plastic procession and – wait for it – a pillow cover with yachts on it to come out with revolutionary, cost-cutting ideas. Talking about costs, the crore references fly mid-air as if there is no concept of confidentiality in the enterprise anywhere. With a wayward understanding that the film will be consumed by people of all ages and awareness levels, Mission Mangal does its messaging through school-level terminology wherein the country's top scientists appear stupid throughout. In comparison, I could only think about how the electricity generation chapter in Swades was infinitely more thrilling.
In short, Mission Mangal's narrative follows a humdrum trajectory. The team fails. They are reprimanded by everyone concerned. There's a big idea later which gets rejected instantly. The leading man delivers a speech and bags a go-ahead. The project is soon aborted due to budget constraints. Another speech saves the day. This process goes in a loop. What is left is a bunch of ineffective characters (save for Vidya's Tara) parading in crisp formals and sarees, doing things which are dull and unexciting. Kumar, basically, is his usual self with just the makeup and styling altered to fit in the scientist mould. Balan tries hard and is also quite good but there is little that she can do when the screenplay demands her to serve cake to her uninspired colleagues with a line such as, "Happy Birthday to the scientist in you!" Let's not talk about the cocky antagonist (Tahil) who should rather be a permanent fixture in a desi Bard theatre troupe rather than having anything to do with ISRO.
Mission Mangal, to add to its wounds, wants to be a massive women empowerment exercise. What the film unknowingly asserts is that the mission still needed a male counterpart (Kumar as Dhawan) to be its sounding board, to take the bullets fired by the officials, media and government. And women? Much like meek housewives rolling round rotis in their kitchens, the ones out here construct satellites at work. Empowered much? I presume.
Rating: ★★
P.S.: The Mangalyaan satellite does take off and this time around, the countdown began from 101 as prescribed by the pandit.