Madhushree – Forever 'shahad, shahad'…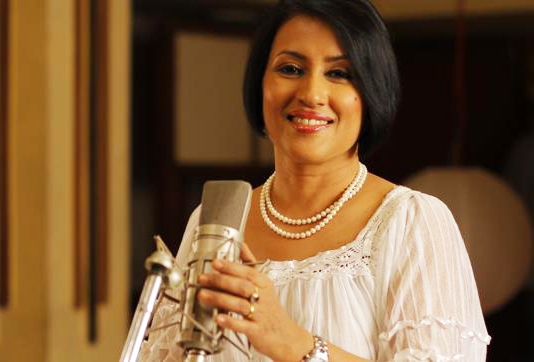 Read Time:
7 Minute, 11 Second
When Rani Mukerji sizzled in Yuva's semi-erotic 'Kabhi Neem Neem', not many of us missed the saccharine tinged voice that gave playback to her. Today, let us talk about one of my favourite singers – Sujata Bhattacharya – known by her stage name Madhushree. A regular in AR Rahman soundtracks, Madhushree celebrates her birthday today! Here is an assemblage of songs that prove her eclectic range behind the microphone:
Mohabbat Zindagi Hai (Moksha)
In the year of 2001, I brought home the soundtrack of Rajesh Roshan-composed Moksha. The only reason being the presence of my then favourite Manisha Koirala. The album pleasantly surprised me with a bunch of fresh melodies with one song standing out. Featuring a voice that was neither Swarnalatha nor Alka Yagnik but a refreshing blend of both struck an instant chord in 'Mohabbat Zindagi Hai'. Though not a big fan of the experimental instrumentation there, the voice credited as Madhushree left me mesmerized and it still does. Over to you!
Naina Milaike (Saathiya)
This was a film and a specific 'moment' that changed things around for me. If there is one thing that would come close to matching Rani Mukerji's radiance in this song, it is Madhushree and Sadhana Sargam's vocals.
"Sudbudh khoyi hosh udaaye… Choomantar kardeni… Humka choke chuwaike…"
Well said, Gulzar saab!
Na Shiqwa Hota (Tehzeeb)
In a film with one of the protagonists playing a ghazal singer, maestro AR Rahman knew whom to trust. Fresh as a morning dew, Madhushree brought vivid expressions to Javed Akhtar's lyrics which spoke about loss and repentance. Incidentally, she was credited as Sujata Bhattacharya there. Identity crisis much?
Tumhe Aaj Maine Jo Dekha (Kuch Naa Kaho)
Extremely melodious with a strong classical base, 'Tumhe Aaj Maine Jo Dekha' isn't a tune Shankar-Ehsaan-Loy should have wasted on a club number. Madhushree returns as 'Sujata' and sounds exotic as always. Giving her company is Shankar Mahadevan whose rendition of the sargam hooks were innovative.
The video has the baffling sight of Eijaaz Khan showing disinterest in LBD-clad Aishwarya Rai. Whatever!
Pal Pal Hai Bhaari (Swades)
"Gin Payehga Unke Gun Koi Kya
Itne Shabd Hi Kahan Hain?
Pahunchega Us Shikhar Pe Kaun Bhala, Mere Ramji Jahan Hain!"
Crooned Madhushree in an engaging Ramlila number from Ashutosh Gowarikar's Swades featuring Gayatri Joshi and Shah Rukh Khan. Together with the composer (AR Rahman), lyricist (Javed Akhtar) and co-singers (Vijay Prakash, Ashutosh Gowarikar), Madhushree gives the song a balance of not sounding too religious but providing ample support to the film's narrative.
To Madhushree's exclusive credit, aalaps in the beginning and middle portions are fantastic.
Kabhi Neem Neem (Yuva)
"Hum huma… huma hum huma… huma hum huma…
Hum hum hum hum hum…"
Composed by AR Rahman and written by Mehboob, this is probably the singer's tour de force number. With the sultry Rani Mukerji blazing the screen, true justice has been paid to Madhushree's vocals. One question remains, "Why didn't she win all the awards that year?"
I am also fond of the Tamil version featuring Meera Jasmine. In the song titled 'Sanda Kozhi', then-rookie Madhushree's pronunciation of the word 'Kozhi' is rather cute.

https://www.youtube.com/watch?v=kCW-EV0rv-I
Tum Mujhe Bas Yunhi (Aetbaar)
In case you missed it, Sujata returned to the inlay cards! Jokes apart, this is one song that had me hooked the moment promos were on air. Rajesh Roshan's composition and overall music production has a certain eeriness to it. Plus, Nazir Faraaz's lyrics form perfect foil to Kumar Sanu and Madhushree's voices. Despite finding its place in a juveline film with even weirder performers on screen, this is one of my favourite songs!
Hum Hain Iss Pal Yahaan (Kisna)
Not an easy song by any standards, observe Madhushree scale difficult notes with exemplary ease. One song that has surpassed the mediocre film that it was a part of, AR Rahman's composition is one of his finest works.
Tu Bin Bataaye (Rang De Basanti)
If you haven't cried onto this song, then you pretty much wouldn't cry for another love song. For once, 'Tu Bin Bataye' is no ordinary romantic song. Prasoon Joshi's telling convey a lot more than meet-cute shenanigans. Sample this:
"Meethi lagi, chakh ke dekhi abhi
Mishri ki dali, zindagi ho chali…"
Clearly, Madhushree's vocals are in no hurry either. They flow like waves in a silent river. In short, THANK YOU, A R Rahman.
Vaaji Vaaji (Sivaji)
Thalaiva song da! A mermaid-like Shriya Saran lipsyncing for Madhushree with superstar Rajinikanth onscreen. Tamilians had their chartbuster recipe by default. I have all rights to overlook minor pronunciation glitches there.
My favourite shot from the song: 4:53 to 5:02. Perfection!

Ek Meetha Marz (Welcome To Sajjanpur)
By crooning for Amrita Rao in Welcome to Sajjanpur, Madhushree did something unimaginably personal for me – to sing for three of my favourite female actors. While my other favourite KS Chithra couldn't, Madhushree fulfilled that little fantasy for me. To give her due credit, Ek Meetha Marz is one of the sweetest songs to be picturized on Rao. Shantanu Moitra's composition is simple and Swanand Kirkire's lyrics straightforward mushy. One song I can listen any day, any hour.
Piya Laagi Laganiya (Lagan Lagi)
From Madhushree's debut album composed by spouse Robby Badal, Piya Laagi Laganiya is a treat for lovers of Indian classical music. Unable to pick a favourite from the album, the jukebox is up there on YouTube. Hear them to be mesmerized.
 Marudaani (Sakkarakatti)
Being a Rani Mukerji fanboy, I had wished this one to be the theme song of one of her films 😉 Jokes apart, I remember how big a rage was this AR Rahman track around its release. Adding to the impact was Madhushree's perfect diction. Practice and perfection, eh!
https://www.youtube.com/watch?v=ZkHJT-wLyVg
Sau Janam (What's Your Raashee?)
In a film that had Priyanka Chopra acting out of every single nerves and zodiac signs, Madhushree formed the voice of Chandrika, the Pisces girl. Seemingly straight out of Balaji soaps, Chandrika was one bizarre chick! However, we love Sohail Sen's decision to cast Madhushree opposite the king of mush, Udit Narayan. And the result is this…
Nau Meri (Kashmakash)
As opposed to the massy Vaaji Vaaji, you will get to hear a very different Hariharan-Madhushree combination here. Poetic beyond measures, this Gulzar number is soulful from the word go.
Yaavum Poithana (Aadhi Bhagavan)
Sounding mature than usual, Yaavum Poithaana has a superb base melody and excellent re-recording. Hear it to be believe it.
Un Pere Theriyathu (Engeyum Eppodhum)
This peppy, situational number too founds its popularity around its release. Pronunciation is, yet again, commendable from Madhushree's end and so are the emotions. It only helped that the film turned out to be exceptional.
Tum Bhi Ek Baar Mujhe (Kuch Pal)
Madhushree's private album Kuch Pal had a bunch of interesting songs and the one that still lingers is Tum Bhi Ek Baar Mujhe. Listen to this one, you will be especially impressed with the piano notes and Madhushree's high octave rendition. A well-produced song, to say the least.
https://www.youtube.com/watch?v=hRHNjzNcoHw
Bawra Na Ban (Bawra Na Ban)
Trust Madhushree's composer husband Bobby Badal to create a smooth jugal bandi of jazz and Indian classical. Be the free-spirited rendition, lyrics or fabulous composition, this is Madhushree's finest song in recent past.
Honorary mention: Mahi Ve (Kal Ho Naa Ho), Sadiyaan (Lakeer), Minnat Kare (Paheli), Sharminda Hoon (Ekk Deewana Tha)
Here is wishing the super-talented Madhushree a wonderful birthday and many more melodies to go!