"Kesari" is a dishonest, stilted film that does no justice to the historic Battle of Saragarhi!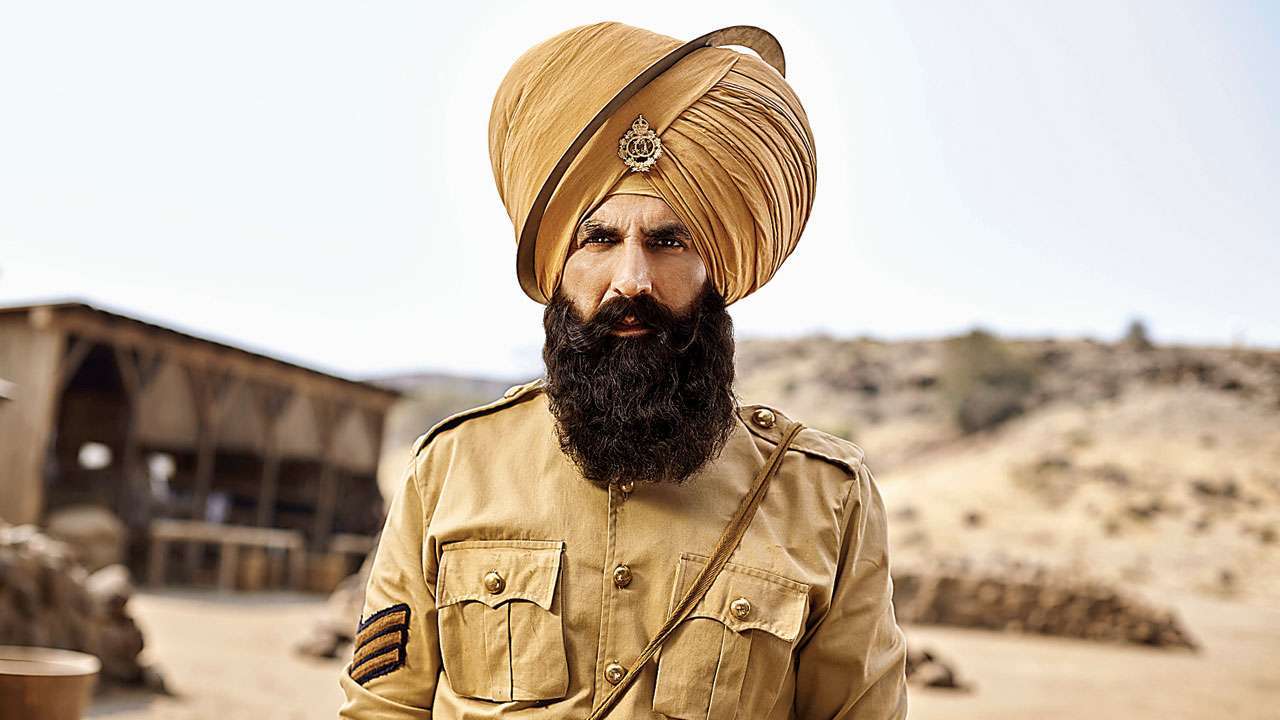 Read Time:
5 Minute, 32 Second
Gone are the days when Akshay Kumar did mindless yet extremely lovable comedies like Hera Pheri and Garam Masala. On today's date, an Akshay Kumar film, irrespective of their designated genres, gets processed through several standard filters – of jingoism wrapped in the garb of nationalistic fervour, of manipulative screenwriting tuned to elicit cheap hoots, of hammering a social message, of faux inclusiveness and, in Kesari's case, the emerging trend of #historyporn as the millennial lingo goes. Directed by Anurag Singh, Kumar's latest Kesari which tells the tale of the ferocious battle of Saragarhi is no different. To think of it, the approach would have been passable if they were successful in exploring one original side of the less-talked-about battle. Sadly, this ensemble cast film is as generic as this review would possibly end up like.
Now, for a template-based film as this, all we need to analyze are the catalysts. In Kesari, you get the Pathans and the British troops painted in the broadest of shades. In his introductory sequence, our leading man Ishar Singh (Akshay Kumar), a devout Sikh, is seen to save a Pathani woman from a group of tormentors in a scene staged like an amateur play. With the opponents clad in Pathani salwars and clichéd beards that scream of their religious identity, the film proves its xenophobic and Islamophobic tints right away. Kesari, for a fact, comfortably ignores the reason behind the Battle of Saragarhi. While the 21 Sikh soldiers displayed great valour in their own capacities, neither were they doing a cause to protect their motherland nor did the Pathans arrive at the historic location without a reason. The clever colonialists that they were, the British – very well-equipped in ammunition and armed forces – had the audacity to extend their horizons to the Pashtun territories, as history goes. The film blatantly projects the comparatively unarmed fighters from the enemy clan – possibly civilians protecting their kingdom – in a listless one-note fashion. Add to it, the usual masala of protecting a woman's modesty and other religious and cultural supremacy tactics, you get a box office winner but not a film that is factually or morally a fair proposition.
There's more to the film and its manipulative design. Kesari's British characters, predictably, behave like who else but the 'Bollywood British' – a clique that mandates a Wikipedia page and an Oxford definition already. The Pathans are half evil and half comical – the latter owing to some poor acting whereas the British (in absolutely unnecessary scenes) are seen to make mock-worthy comments on India. Unlike something as organic as the charming little scene in Namastey London, this Akshay Kumar film's way of proving the Indian supremacy over the rest of the societies comes out as tasteless and heavily compromised.
Having read a little about the brave battle that the film chronicles, I was mostly interested to know how the makers would mount the premise. How would they land up the characters at the ill-fated fort? How would their back stories connect to the larger picture? How would the collective morals of the soldiers be like? And true to the kind of filmmaking that it heralds, Kesari breeds zero interest in its characters who were real people with defined characteristics. The story follows the predictable arc where a strict supervisor is transferred to manage an unruly troop who, before emerging heroes, was a difficult bunch that the person in question tames in style. Blah!
Ishar Singh also gets a flashback story where he hallucinates about his dead wife Jeevani (a luminous Parineeti Chopra, wasted to powers of infinity) appears for no good. We see the customary romantic song and two-three pointless scenes which, in traditional single screen parlance, are loo breaks for the hoi polloi køb viagra.
Towards the midpoint of Kesari, the war portions begin to take shape and so does the film's tendency to deliver cheap thrills. In an unintentionally hilarious scene, our man Ishar Singh ties a binocular to his rifle and eliminates an opponent. To an unassuming, inattentive viewer, this move (amplified by heavy background score and smart editing, I must say) comes out as an extremely clever one and there erupts thunderous applause. Yes, Kesari is one such film. This method is further amplified in the last act where Ishar Singh, armed with a single sword, attacks a troop of fighters (possibly hundred plus in number) – one by one. The Pathans, well-aware of Bollywood's dubious action parampara, take turns to get killed. All that they didn't do is to stand in a queue – which, on second thoughts, should have been the case provided that they represented a well-trained army. Duh!
The slightly comforting bit is that Kesari isn't as taxing a watch as some of Kumar's recent nationalist sagas including the hideous Toilet – Ek Prem Katha. It rather makes tiny attempts at spreading some faux goodness, at least for namesake. In a catalytic sequence, we see Ishar and his troop help the Pathan community build a village. In a very convenient move, all we get to see among local residents are the weaklings – an old woman and a group of children. Peace and harmony are very much in the air but the film, in its own naivety, reveals the real picture of the clan and its living conditions. Why couldn't the makers be objective on the reason why adult men of the same impoverished ilk would decide to fight this war?
Kesari is equipped with a bunch of extremely well-written and tuneful songs which find no cause in a shoddily written film as this. The heart-wrenching climactic number, in particular, deserved a place in a much better film. The original score (Raju Singh) is old-fashioned yet is somewhat functional. Anshul Chobey's cinematography ticks all the standard checkpoints, eventually passing muster. There is not a single performance that stands out even though the film attempts to insert drama via some of its colourless characters. Rather than fine-tuning his characters and plot design, director Anurag Singh is more interested in justifying the title of the film with where the soldiers echo the importance of them wearing a saffron-coloured turban. It would have still been justifiable if the title translated to the Punjabi meaning of the word (lion), which isn't the case. Wait, is there any historical evidence behind the men wearing a turban of the colour besides the fact that India has a general election approaching in no time? Surrogate advertising can't get any more sly, can it?
Rating: ★★