'Free Solo' review – a breathtaking spectacle that is vertigo-inducing and also great fun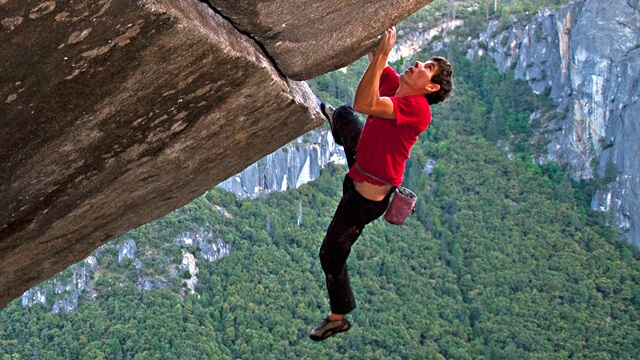 Read Time:
3 Minute, 0 Second
As Free Solo unfolded slowly through its gripping and vertigo-inducing frames, I could constantly think of how it held material for a full-length dramatic feature film. If we excuse the area of its subject conquering the majestic El Capitan in Yosemite National Park, here is one story with unending possibilities – complete with family and romantic angles as well as multiple instances that could have contributed to the completion of a magical hero's journey.
Fascinatingly enough, filmmakers and adept rock climbers Jimmy Chin and Elizabeth Chai Vasarhelyi (both of Meru fame) take the documentary route where the entire purpose of the film gave me massive jitters. The film – in all its audacity – is an endeavor to chronicle Alex Honnold's ambitious adventure – one to be performed sans ropes and other necessary gear. Now with someone of significant fear of heights, Free Solo gave me butterflies in my belly, let alone stomach lines that went, "The worst possible scenario is that one of us would do something that would kill him."
The film also takes us through its subject's (Alex) background – a seemingly fragmented family and self-esteem issues developed in childhood. I must add that these aren't portions that look very exciting given the format of the film. However, it is appreciable that the makers attempt to align Alex's mind space comprehensively rather than simply using him as a bait to generate unearthly thrills. The same can be said about Alex's interactions with his doctor post an MRI scan where they discuss in detail the peculiarities of his brain (the amygdala, to be precise) – providing us more dope on how the man's unconventional identity got designed.
ALSO READ: 'Science Fair' review – an insightful journey with some of the brightest young minds
As someone who is almost in a relationship with his van, it is a little baffling when the 33-year-old Alex is shown to fall in love with Sanni McCandless – who is a rather animated and interesting person as opposed to his detached ways. Their interactions in Free Solo do not fully look organic – possibly because Alex might have been uncomfortable with someone filming the same. McCandless, on her part, plays it out like a pro which is (at times) a con in comparison to his awkward disposition. What adds value via their dynamic in the film is the intrigue that it generates on how the relationship will impact Alex's ambition. It is particularly impressive to see him clear it out to her about what matters the most to him. Brutal, yet somewhere so gorgeously realistic.
Free Solo does defy death but not without taking the viewers through a cartwheel of adrenaline. It, predictably, isn't the film that exhilarates you throughout. The intense final climb is one that deliberates you to marvel – not only at Alex but also the camera crew who manages to capture some mind-boggling visuals. The climb, in itself, has its share of surprises and maneuvers attempting to keep the audience alive despite what leads to a predictable ending. Free Solo's daring techniques and the novel shot-taking style overpowers instances where the narrative slows down for reasons that cannot be undone – for the protagonist, is a little boring (if one must admit), and his personal liaisons which cannot be ignored while adding layers to the plot. Another aspect is that we seldom see films that are so physically exerting even to a viewer. Therefore, this amazing story of passion and grit filmed for the celluloid by an impeccable crew is worthy of several plaudits.
Rating: ★★★★