'Bala' review – Amar Kaushik's film sparks a conversation about self-esteem and beauty standards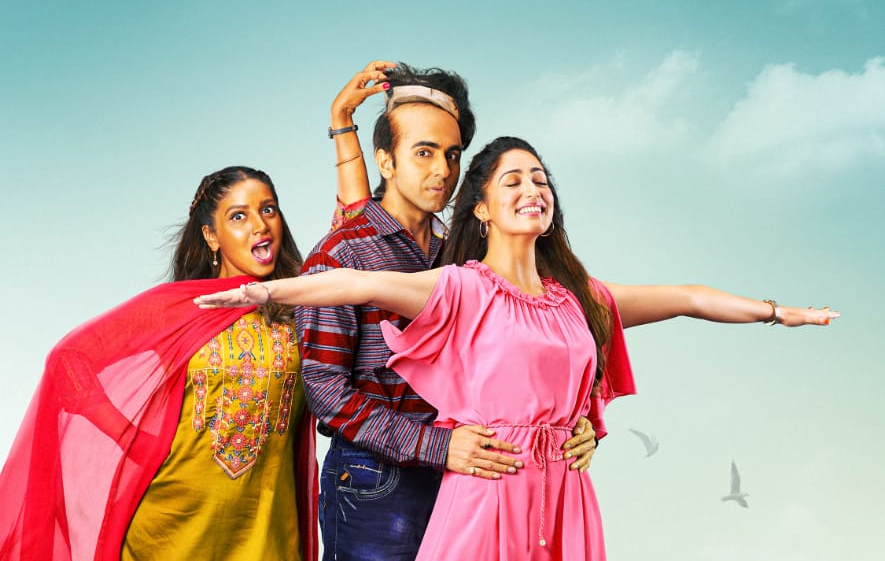 There is something about Hindi filmdom's fixation for syrupy small-town-based cinema with a golden (sometimes idealist) message. The genre is a surefire sellout but not all makers possess the ability to structure them right. That said, the poster boy of this very school of cinema, Ayushmann Khurrana has somehow mastered the art of acing this dicey template. His latest film Bala directed by Amar Kaushik chooses to look a little beyond the societal repercussions faced by a balding young man. It talks about a fairness cream salesman in Kanpur called Bala (Khurrana) and his journey to accept himself the way he is.
Set fleetingly in Lucknow as well, Bala is about its titular character dabbling with an unexpected bout of premature balding. Forming one of the best things in the film, the initial reels (written by Niren Bhatt) gives us a fine picture of Bala's growing up years. Bala as a child, perhaps, was just a train journey to Mumbai away from a plum film offer. At least he perceived himself that way in his head. Through him, we are reminded how there is possibly a Bala within each one of us. The film acknowledges how we are conditioned to look down upon something that is offbeat – sometimes explicitly, otherwise quietly. Predictably enough, Bala's bald head immediately becomes a downgrade for him. It affects him professionally and is a huge blow to his self-esteem. In an instant, he stops being the "hero" that he used to be in school. For a man who was incidentally named after his flowing hair, life humiliates him in the most ironic of ways.
The film's first notable twist is when Bala's father (Saurabh Shukla, effective) comes up with a magical solution – a well-fitting wig. Not to anyone's surprise, it works wonders to the youngster's confidence levels and overall psyche leading him to woo Pari (Yami Gautam), a model and a star on TikTok (nice brand integration there). Bala has finally arrived having floored this celestially beautiful girl whose timeline gave him wide smiles and wild fantasies. This quickly gets serious with only one aspect remaining hidden from the unassuming girl – the truth about Bala's hairless head. The rest of Kaushik's film deals with the leading man exiting this web of complexities, following up to a goody-goody finale smeared with a clean message.
Come to think of it, the premise is more or less the same as Dum Laga Ke Haisha which incidentally starred Khurrana and Bhumi Pednekar (who plays Latika in Bala). While Khurrana's Prem Prakash had no physically manifested insecurity, his self-worth issue was equally deep, if not more. Bhumi's Sandhya was overweight and unapologetic. Latika who has suffered all her life with people judging her dark skin tone has finally made peace with it. Educated and successful, she is confident in her skin and wants everyone to be so. The trajectory of both films have the leading man being shown the light to self-discovery by a woman in his life.
While the process seemed more organic and subtext-filled in Dum Laga Ke Haisha, one must not entirely dismiss Bala's broad-stroked ways. In fact, it is a pleasure to see him go through a chain of emotions – with some exposing his own misgivings. The sentimental chapter involving a school reunion is bound to be the audiences' favourite. Bala coming to terms with Latika's reality is also a gradual process which leads to an interesting twist in the end. Luckily enough, Bala does not dive into a certain '90s level mediocrity thanks to Latika's firm character design. As for her, she steals some of the film's best lines. My favourite is the one where she questions Lord Krishna for setting the wrong precedence. Never mind Bala modifying the said statement in a later scene with a tame explanation designed to please the desi crowd. It is even better when Latika takes a dig on Uttar Pradesh's administration. The angle with Bhumi's aunt (Seema Pahwa, a delight as always) and an airbrushed Instagram account are smartly integrated to lay down certain crucial plot points.
As far as the central character goes, Bala is the antithesis to Dum Laga Ke Haisha's Prem Prakash. His extroversion lets the film flourish easily unlike last week's Ujda Chaman. Bala is vocal about his displeasure. To blatantly compare the two films, the contrast can easily be seen in conversations that the leads have with hair transplant experts. We feel more invested in Bala's worries even though there is a great deal of exposition involved to induce humour. By harping less on Bala's desire to get married and even lesser on those who poke fun of him, the film sheds layers of obviousness which usually plagues similar films.
The humour in Bala is also spot-on even though it is a little loud and direct. I do not remember a single funny scene that misses the beat despite the film not being an out-and-out comedy. Dheerendra Kumar Gautam's outburst, for example, is so wonderfully staged that it complete catches you unawares. Even the actor not-so-quietly reminds the likes of Kartik Aaryan on how to crack a monologue in style. The minuscule scene where Bala and his friends do a gig on Amitabh Bachchan's dialogues is yet another terrific moment. Additionally, let's just be thankful that Kaushik's integration of dance routine is a lot more spontaneous than the way it was in his debut film. The pacing feels more in tune to the story even though the backdrop feels far less atmospheric. The cinematography (Anuj Rakesh Dhawan), functioning more on realistic tangents, is in tandem with the frames chosen by the editor (Hemanti Sarkar). The recurring montages where Bala tries on several remedies are neatly shot and cut even though the technique is age-old.
On the flip-side, Bala does get a little jarring in the last act. The courtroom proceedings remind us of vintage Bollywood and that too not in a good way. Jumping to it from a mellow reunion sequence only adds to the woes. Eventually, the preachiness quotient gets on the higher side despite noble intentions. Lastly, I am genuinely fatigued by Khurrana's so-called moving climactic speeches. Be it with the shivers, the twitch in the eyelids or smile-weep-smile-weep cartwheels, this exercise is tiring today after so many similar films. However, the actor does a swell job at mimicking a handful of Bollywood superstars, especially Shah Rukh Khan.
Now to the most finely-etched character in the film, Yami Gautam's phenomenally performed Pari is truly a representative of legions of Indian women. Her superficiality does not emerge from a vacuum which is duly expressed in what is the film's finest scene. Looking good ("achcha dikhna") is a big deal for the young girl and the TikTok videos mean serious business to her. At no point does the film or Yami let Pari appear to be a lesser, shallow being. A kind soul herself, Pari's love for Bala is certainly not one that will be judged. Bhumi Pednekar's dark-skinned lawyer act is very good even though it is a legitimate argument on why the casting team could not recruit a dusky girl for the part. On second thoughts, I cannot think of single commercially viable artiste in Hindi cinema today who would fit this specific bill without caking layers of tan makeup. Whose is at blame here?
Director Amar Kaushik in his second directorial outing maintains a visual and vocal pattern similar to debut film Stree. The issue of early balding feels real and the integrated humour despite its homegrown tinge is easily relatable. Its formulaic tendencies are satisfactory even though I wondered if there was a way to reduce the decibel levels in various parts. There is also a layer of magic that is seriously amiss in several crucial scenes – the one where Latika apologizes to Bala, to cite an example. Then again, I realize how it less of Kaushik's fault and more about the makers' decision to design a saleable Ayushmann Khurrana film. Before a sense of tastelessness sets in, I would really want the very same ingredients to be used to cook up an entirely different menu. Is that too much to ask for?
Rating: ★★★ 1/2