"Thugs of Hindostan"… A cinematic blunder of top order which is several decades too late!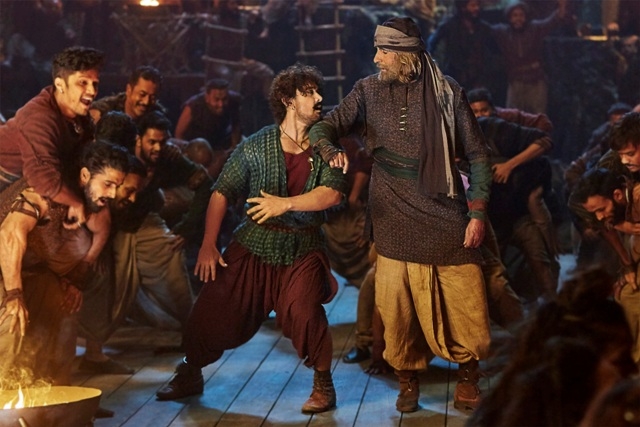 Two of India's biggest actor-stars, a wide release timed around the nation's biggest festival and the numero uno production house in the industry to shell out unlimited bucks. Director Vijay Krishna Acharya's Thugs of Hindostan gets almost everything on the platter. Except that the film fails to evaluate the times that we live in and also its jaded formula which is late by several decades.
Well, for starters, avid film watchers are no strangers to cinema that is mediocre or bad. After all, films that are marginally satisfying are far and few between even if we keep our expectations to a bare minimum. Then again, bad films, too, come with their own unique possibilities. Some are so bad that they are absolutely riotous if watched with a group of friends over a drinking game. Then there are the exasperatingly appalling specimens where you simply want to the show end. You groan, snooze and do everything possible to endure what you have purchased tickets for. Unfortunately – and quite unsurprisingly going by filmmaker's dubious track record – it is the latter category that filmmaker Vijay Krishna Acharya's Thugs of Hindostan fits into. It is overlong, self-conscious and almost incontestably meritless besides a bunch of technicians (music, production design, costumes) attempting a monstrous task to make some sense.
Set in the 18th and 19th century India, Thugs of Hindustan is about a princely state which (as per the maps) is somewhere in the land-locked present-day Madhya Pradesh. Bizarrely so, the city has easy access to the ocean with pirate ships making twirls akin to the leading lady in her saucy item numbers. Essentially a revenge drama, the film involves a runaway princess Zafira (Fatima Sana Shaikh, a complete non-actor) avenging the death of her family. Aiding her is the very stiff Khudabaksh Jahazi (Amitabh Bachchan) who – along with Zafira – gets almost no dialogue for a long time into the film. And when Khudabaksh finally speaks, Bachchan pretends as if he is the narrator of the film rather than an active component. His body-double performs eye-popping stunts but it is barely convincing to see the aged and heavy-on-prosthetics actor play out a parody version of what could have been of thunderous impact in his Shehenshah days.
Enter Firangi Mallah (Aamir Khan) whose double-crossing skills can give Bollywood's Race series a run for its money. It is just that after a point, we stop caring for what he is up to next. Khan's visceral energy shows signs of over-exertion and the character ends up a bad residue from several of his erstwhile films, including PK. It also doesn't help that the actor is given numerous lines with no heroic punch to talk about.
Acharya, who also pens the screenplay of the film, should have known that the costume drama genre of cinema is not very easy to ace for the Indian audience of today. Despite dwindling standards of their actual content, there are Indian filmmakers like SS Rajamouli and Sanjay Leela Bhansali who excel at getting the basics of the genre right. The former lends his stories a delectable Amar Chitra Katha aura while the latter sticks to a classic, historical template. In stark contrast to both potentials, Thugs of Hindostan ends up becoming an odd spoof of itself. We see commanders from the East India Company conversing with each other in British Hindi. There is a warrior princess who is nothing but a sorry picture of nervous energy despite her adept skills at archery and gymnast-like flexibility. Talking about the spoof bit, the film does play it out delightfully as the 'Suraiyya' dance number ends. The coquettish dancer that she is, Suraiyya (Katrina Kaif) doesn't stop performing as a (comical) fight ensues in the background. Now, this would have been a thorough hoot in a totally different film – one that didn't take itself seriously.
Shamefully enough for the cast members with sufficient screen space, it is clear that only Katrina Kaif was given a proper brief on how her character would pan out eventually. In her super-minuscule part of a catalyst with complete agency in her sphere of work, Kaif expectedly comes out unscathed with two robust dance numbers and a couple of inconsequential scenes. She doesn't flex too many acting muscles which she isn't required to either. Suraiyya, an exotic dancer to the British troops, is of Islamic origins and Kaif does a near-swell job in concealing her usual Englishwoman demeanour. This in no way is enough to salvage the rest of the film and its lifeless peripheral players – which includes the likes of Mohammed Zeeshan Ayyub and Ila Arun.
In strictly objective terms, Thugs of Hindostan might not be the ghastliest kind of cinema you would see coming from the Indian film industry. It is more about a golden opportunity lost and also in the filmmaker's belief that he will pull off an '80s-styled drama in days of Netflix and cutting-edge technology. The visual effects are among the tackiest you would see in any film of our times. The less said the better about the ear-bursting background score (John Stewart Eduri) and the dizziness-inducing camera angles (DOP: Manush Nandan). Even if we excuse the film of all its technical anomalies, I would have loved the film as an irreverent spoof on India's struggle for freedom. For the rest, there is no chance in hell that a premise as hackneyed as Thugs of Hindostan could find takers in this day and age.
Rating: ★★