Ribhu Dasgupta's Te3n – One instance where the genre turns out to be a film's liability. At times, an endearingly honest story of an old man dealing with a loss that he was responsible for, the film's dramatic scenes do strike a chord. Right when the writers (Suresh Nair, Bijesh Jayarajan and Ritesh Shah) pull up their socks and try give the film a whodunit touch, Te3n nosedives.
A suspense thriller, for every cinegoer, is a personal target. That's when our 'detective' minds get activated and putting pointers together and guessing the culprit right is a thrill in itself. The moment one of them retorts "See, I'd told you." – the impact has gone down the drain. Hence, it is the trickiest of genres for writers to knit. Indian suspense thrillers seem to be taking two convenient routes – One to introduce a whole lot of characters (each of them shady in their own way) and conveniently find the culprit in one of them. There are films that went one step ahead and cracked suspense out of absolutely inconsequential and uninteresting characters (36 China Town, anyone?) The other way, perhaps, is to have few characters and make the audience an active part of the investigation, and towards the final few (very few) minutes, the suspense will be revealed (on the lines of Kahaani). Te3n takes a middle path. Part emotional drama and part suspense thriller, we are given a lot of information – none of which end up being of use. The writers take the audience for a ride, which could have been okay if their culmination was kickass – which sadly isn't the case.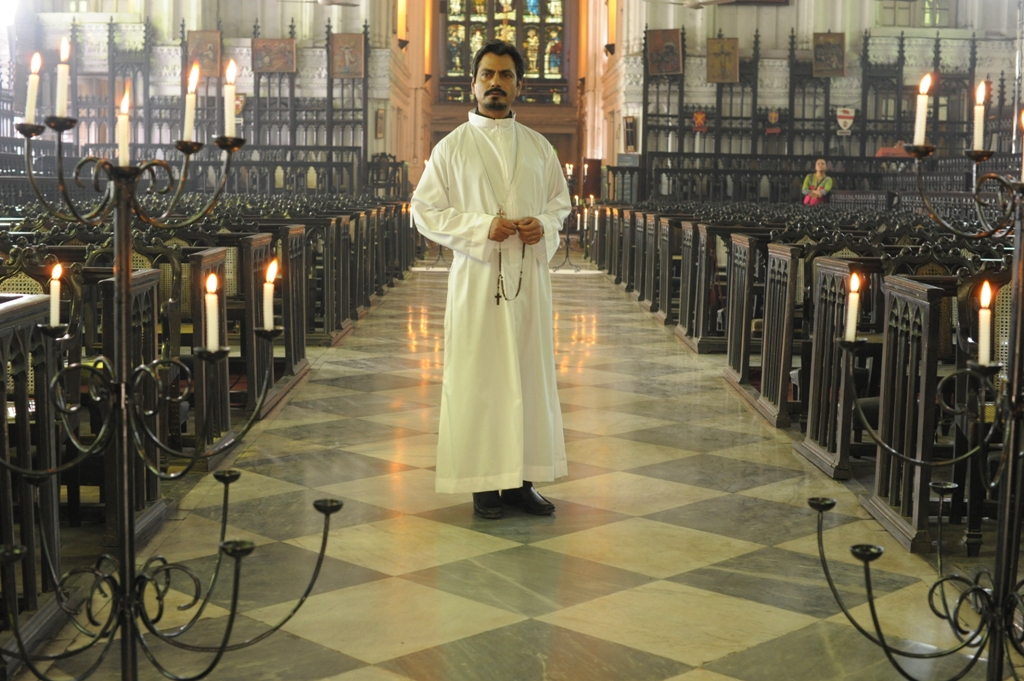 Te3n isn't a bad film by any measures. The first half, in particular, is arresting despite its lethargic pace. With the interval point serving us a fantastic twist, we await a nail-biting ride ahead. The second half gets pedestrian with every passing frame. We are introduced to the irrelevant characters (Prakash Belawadi, in a thankless role) in eeriest possible way. While the climax makes zilch impact, what annoys us the most is when we realize that the parallel tracks (one of Amitabh and other of Vidya-Nawaz) actually ran at different timelines. No meaner way to betray the audience!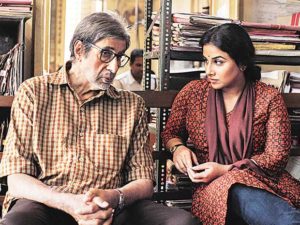 Clinton Cerejo's songs, though soulful, pops up at the most irrelevant of places. Tushar Kanti Ray's cinematography is one of the film's high points as it projects the grim, dark side of Kolkata. Tanmoy Chakraborty's production design, too, is very much worth a mention. What takes the cake and the whole bakery is Shajith Koyeri's terrific sound design. This is a film with sound playing a very significant role and Koyeri scores and how. One wonders why Vidya Balan is billed with a 'guest appearance' tag as she is there from the start till end. Sadly, she doesn't fit the police officer's garb and her dialogue delivery is way too polished. Funnily though, her approach is more or less the same as Bobby Jasoos where she played a private detective. Amitabh Bachchan plays his part in the most clinical fashion ever and hence severely underwhelming. Sabyasachi Chakrabarty is decent in his half-baked part. Padmavati Rao is impressive in her small role. Yet, the one who outshines everyone is Nawazuddin Siddique as the cop turned the pastor – the only character in the film that we root for.
As you walk out of the auditorium, you would wish Ribhu Dasgupta to attempt a sentimental human drama as his next venture. Suspense thriller? Not really. And what called for that weirdly written title? If it is about 3 people looking for a kidnapper, let's just conclude that the film's climax is the only thing as uncreative.