Read Time:
6 Minute, 34 Second
Every year I craft a customary picture collage for Rani Mukerji on her birthday. The collage indeed looks good, makes me feel on top of the world and all that. 😉 But they never really served a big-time purpose other than being circulated within my circle and other admirers of Rani. The other day I was watching some of her song videos on YouTube (though I have all the DVDs, I prefer this medium for those priceless comments!). One factor I noticed was the lyrics in these songs… they made me smile, as much as Rani's expressions and eyes did. Those words didn't seem to be manufactured for just another actress. Therefore, on her birthday, I decided to compile a list of songs that are essentially odes to her beauty, style and aura!
Right now, I'm guilty that my favourite film song of all time couldn't be featured as it doesn't really fit the bill here. But here's is a list of 12.
"Uski ghani zulfon mein kiski taqdeer hai
Uski haseen aankhon mein kiski tasveer hai
Aata nahin mujhko yaaken par kahin woh main to nahi?"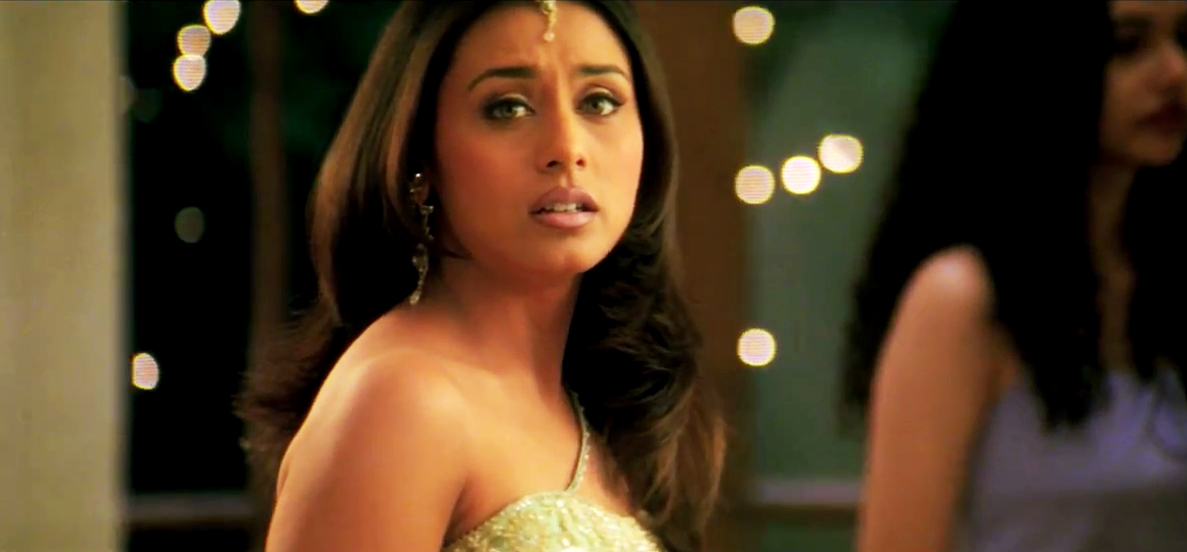 We really should worry if calling her 'saanwali' is inappropriate, but Rani Mukerji wouldn't have looked as gorgeous, if not for her wheatish skin tone. Udit Narayan's romantic voice coupled with Rahul Sharma–Anand Bakshi team's music and lyrics, this song calls for great recall value. The song also had Uday Chopra wooing her in style. Someone should play this at Chopras' dinner table someday. 😉
 "Tumhe pata to hoga… tumhi pe main fida hoon
Tumhe hai jab se chaha… hawaon mein udta hoon"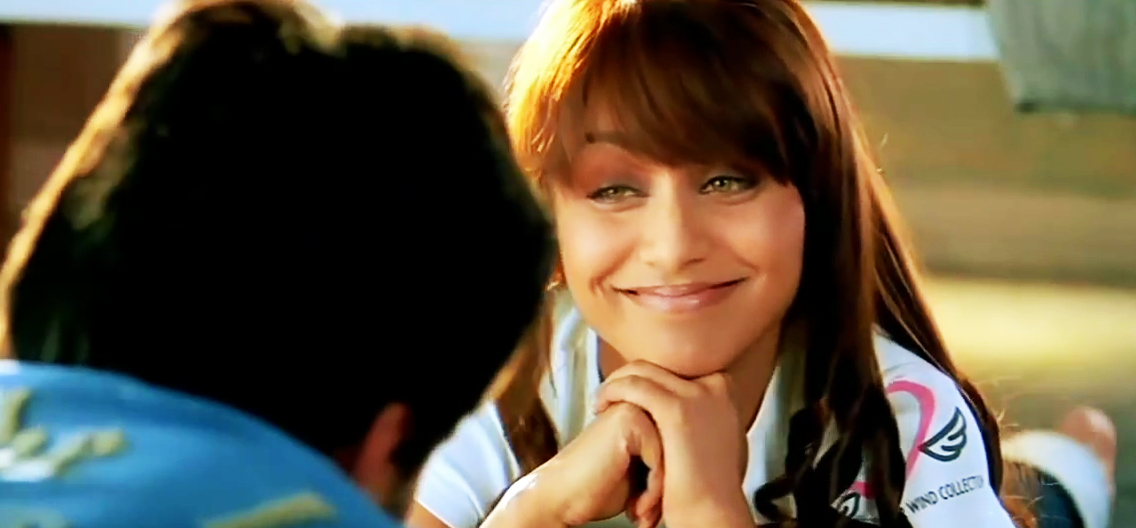 This song made the word 'Shona' popular – which is supposed to be a Bengali term of endearment. Boy, Rani Mukerji stands for every bit of Javed saab's words. Sensational chemistry with Saif Ali Khan did help in great amounts.
"Dekhne walon ne kya kya nahi dekha hoga
Mera daawa hai ke tujhsa nahin dekha hoga"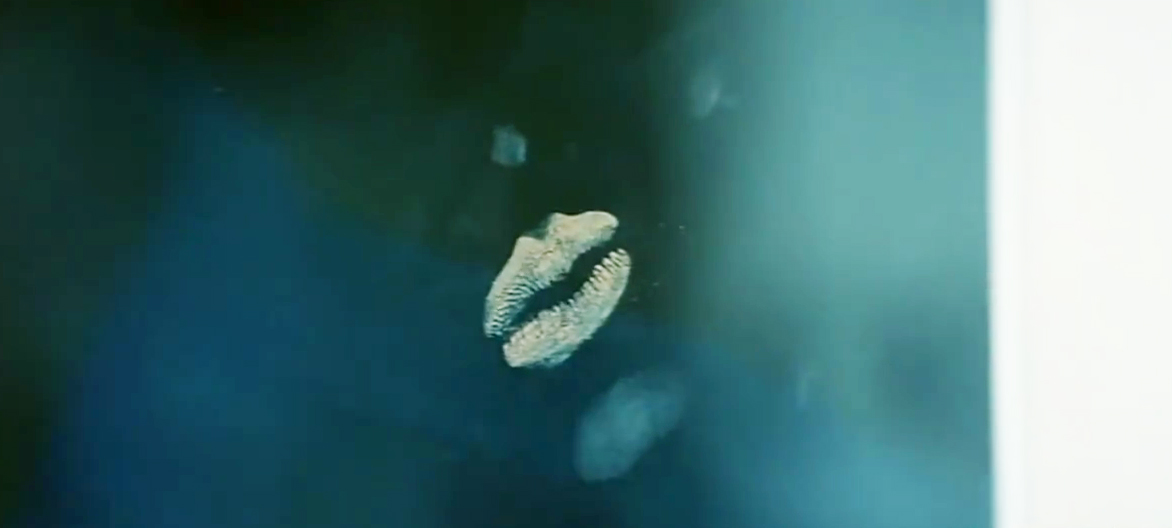 Delving big-time into God creating humans and them making wishes to marry another – complexity of this magnitude is an everyday business in India, I assume. By the way, the song clearly refers to Salman Khan's character to be a creepy stalker. Sample this:
"Jis tarah maine teri raah taki hai barso 
Yun kisi ne tera rasta nahi dekha hoga" :O
I'm sure the writer didn't really mean it. But yeah, that was it. Also, it is a lovely tune by Anu Malik.
"Milne se darta hai dil
Iqraar ho na jaaye
Na milo humse zyada
Kahin pyaar ho na jaaye"
Such flattery but, why were they dancing all over if this is all they wanted to convey? Bollywood, I say. Anu Malik delivers what he does best – melody. Sameer's lyrics gave way to another Rani Mukerji film Kahin Pyaar Na Ho Jaaye. I must say, it was a tough task getting a solo frame of Rani Mukerji in this one. They wasted almost a minute showing Bobby Deol running. We know he is the 'Badal' out here, but whatever.
"Taaza gire patte ki tarha, sabz-e-laan par lete hue
Saat rang hain bahaaron ke ek ada mein lapete hue
Saawan bhaadon saare tumse…."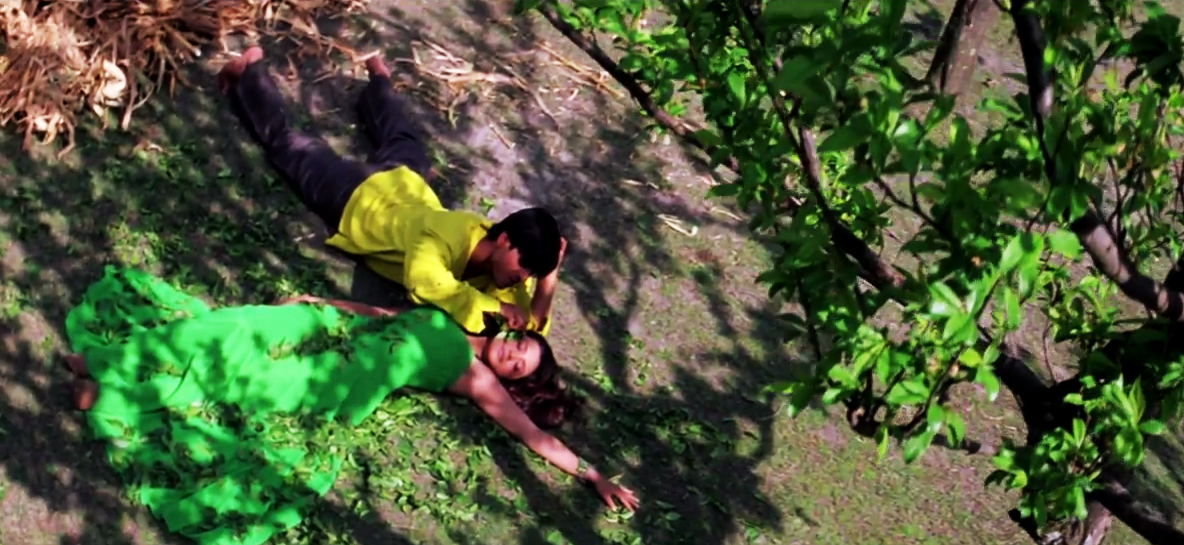 * Gulzar saab, take one massive bow *
Sonu Nigam's gorgeous voice and AR Rahman's evergreen melody – few things that Rani fans will take to their graves. Did Gulzar saab ever write a film song as sublimely romantic, post this one? As a follower myself, I DOUBT.
Tauba (Chalte Chalte)
"Jism damakta jaado jaado
Zulf ghaneri khushboo khushboo!"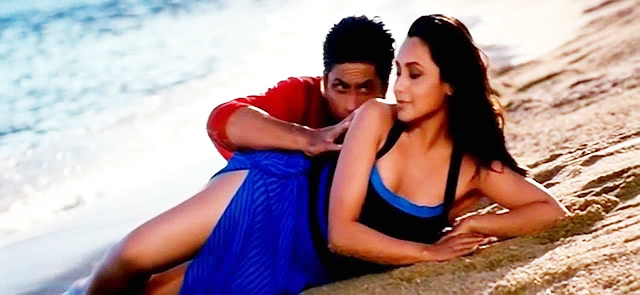 OOOOH THAT JISM! 😀 For starters, no one romances Rani as Shahrukh Khan does. Their chemistry is real yet super-sexy. Chalte Chalte had Rani at her smoking best and their bittersweet camaraderie won us over. For this song, Javed saab truly knew what he was writing and it went on to be a rage!
Mitwa (Kabhi Alvida Naa Kehna)
"Haan yeh wohi hain… Haan yeh wohi hain..
Tu ek pyaasa, aur yeh nadi hain
Kaahe nahi, isko tu… khulke bataye
Jo hai ankahee… jo hai ansuni
Woh baat kya hai bata…."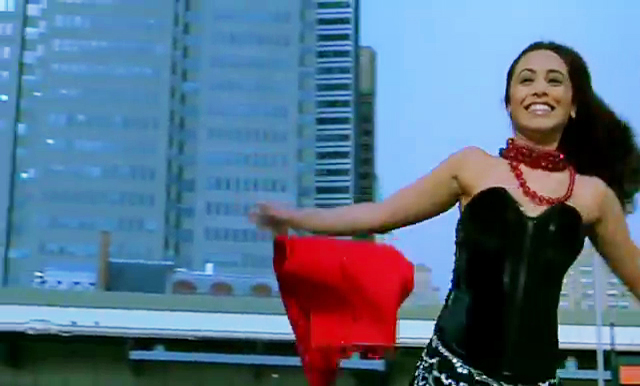 PLAYED ON THE RADIO TILL YESTERDAY! There was a time when the word 'Mitwa' reminded us of the song from Lagaan and Chandni but not anymore. Sung in the third person, this romantic ballad by Shafqat Amanat Ali is high on energy and has Shankar-Ehsaan-Loy at their best. Javed Akhtar's words weave magic on screen with Rani at her dreamy best. We didn't see a reason why Shahrukh Khan shouldn't cheat on his wife there 😉
"Aankhon se tune ye kya keh diya
Dil ye deewana dhadakne laga
Tanhai mein hum mile is tarah
Baarish mein shola bhadakne laga"
Sameer was perhaps amongst the first people to identify the mystique of Rani's brandy eyes. Give her no dialogue to mouth or songs to sing, her eloquent eyes will do all the talking. This, incidentally, was also the first song thing she shot for Ghulam and had a tough time looking into Aamir's eyes. Well, well….
"Doston jhoothi mooti doosron ka naam leke
Phir meri baatein karna
Yaara, raat ye din karna…"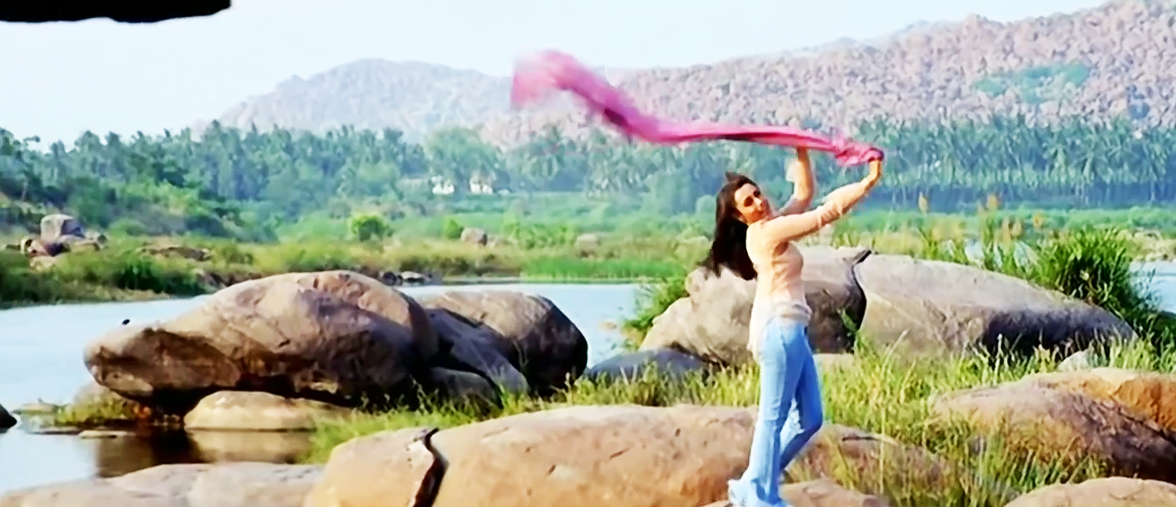 I am conveniently breaking the theme here. Guilty as charged! Because I do something quite similar to this (and unapologetically so) – intersperse conversations with random Rani references! Only to be reprimanded saying – "Jab dekho Rani Rani". Okay then! And oh… thank you AR Rahman, Sadhana Sargam, and Gulzar saab, for this track.
Badla mahina, to naya mausam kaha usse…
Sur naya naya , nayi nayi si taal ho gayi..
Teri ek nazar se zindagi nihaal ho gayi…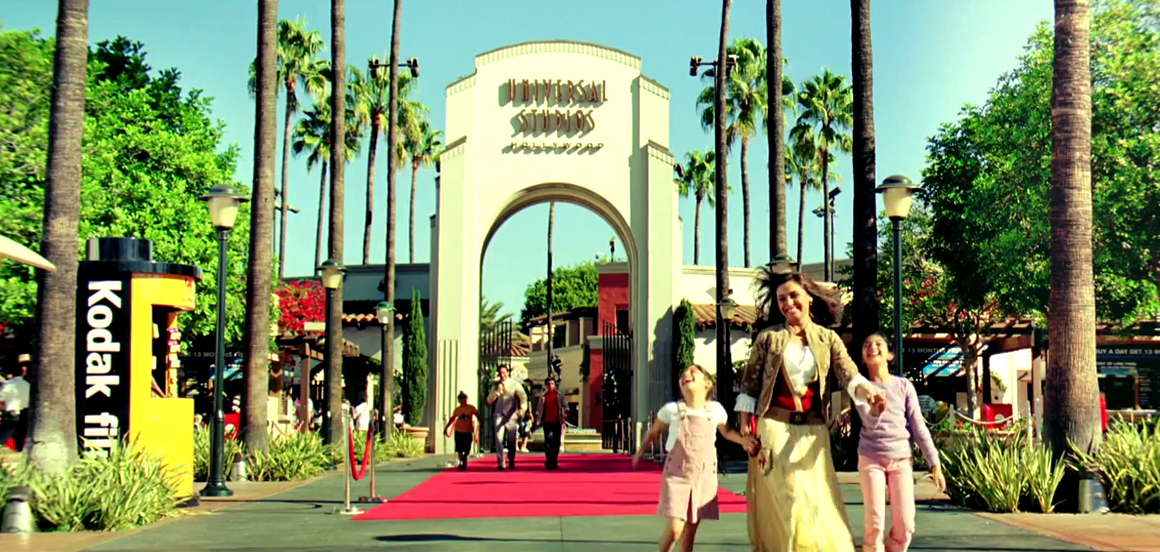 Yet another song about her gaze/presence! Prasoon Joshi's lyrics go all the way to describe how her 'nazar' made all the difference to the world around them. Given the context of the film, this song is a fitting tribute to her character, albeit romantic.
"Yeh Hawaayein… zulfon mein teri
Gum ho jaaye…
Choome nigahon se chehra tera
Honthon se choo le phir daaman mera"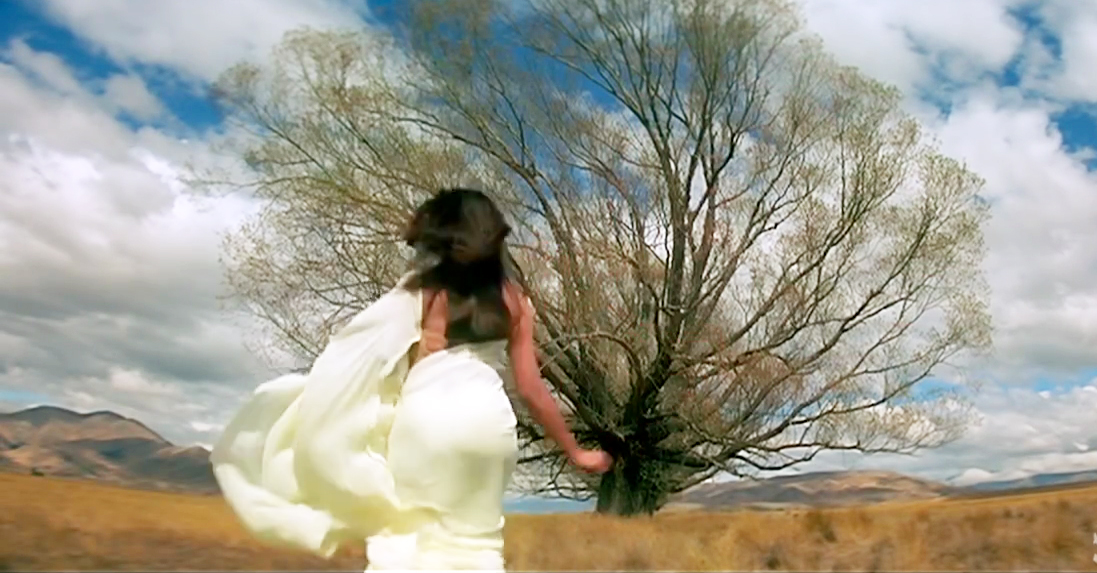 Rani and her luscious hair! I wish those shampoo manufacturers could afford her for ads. A quintessential Bollywood love ditty, this one is perhaps the only recurring memory from that apology of a film – Bas Itna Sa Khwab Hai. The melody by the late Aadesh Shrivastava is easy on the ears. Shyam Raj's lyrics go all out describing her ethereal beauty. I like, I like!
"Tum paas aaye
Yun muskuraye…
Tum ne na janee kya
Sapne dikhaye..
Ab to mera dil..
Jaage na sota hai…
Kya karun haaye, kuch kuch hota hai"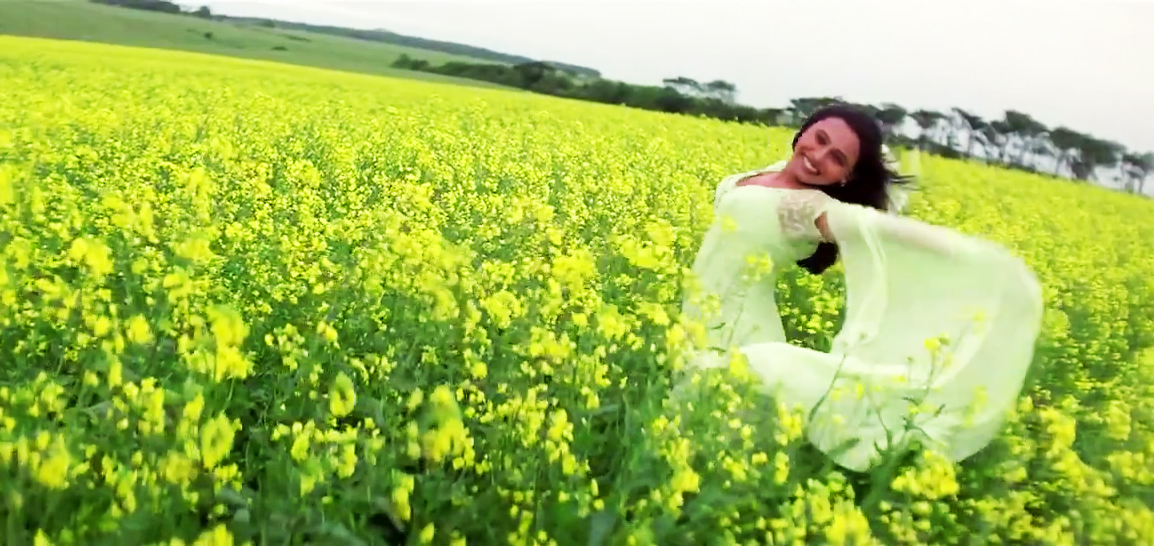 This one is for the history books. That Rani Mukerji song which was hummed by every Hindi film lover at some point. Of course, there was Kajol in the song, but the lyrics were about Rani and Shahrukh. Alka Yagnik took home a National Award for this one. Neat.
SO… that was it!
Wait, if you think Rani was one woman who made men sing, woo and throw all kinds of pick-up lines at her, YOU ARE WRONG. Rani Mukerji starred in one full-blown film (Aiyyaa) that celebrated the female gaze for 2 and half hours. She even did a song-dance routine based on Piya ki mahek among other things. 😮 (one must read the comments there!)
Oh, wait, even that film had a song sequence that fits the bill here. How nicely they reused Tumko dekha to ye khayal aayaa….. in a dream sequence. Ah, chuck it… let's stick to loving Rani Mukerji. She's totally worth it.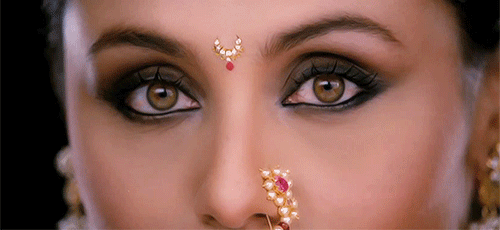 Happy Birthday Rani :*