'Destroyer' review – Nicole Kidman anchors a slow-burn thriller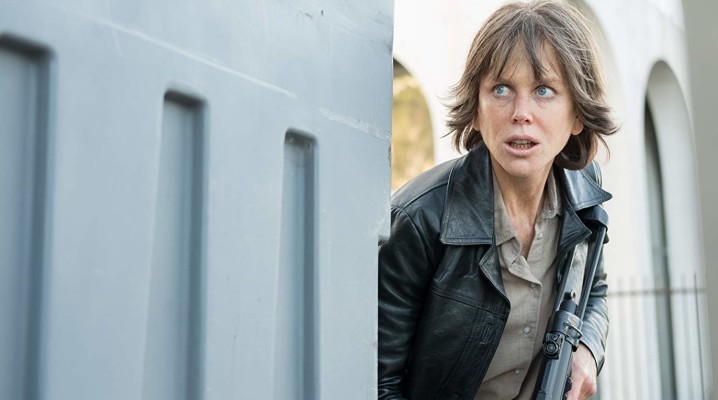 There is an isolated scene towards the end of Destroyer where the protagonist Erin (Nicole Kidman) has a heart-to-heart chat with her belligerent daughter, Shelby. One might end up questioning the existence of the entire subplot which serves no justice to its secondary elements but one aspect strikes hard – the writers assign power to its lead who happens to be a woman. By power, I mean, physical power. Shelby states how safe she felt in her mother's company during an adverse situation as she realized that she had the power to safeguard her. In the age where we are yet to get rid of male saviours and testosterone overdose in crime thrillers, here comes a neat piece. Needless to add, Destroyer is helmed by a team of two fantastic women – the director Karyn Kasuma and the DOP Julie Kirkwood.
Not everything is fool-proof in this gritty downtown thriller. Given her mettle at her craft, it is not much of a challenge is to envision the uber-glam Kidman in the muted zone that Charlize Thereon from Monster perhaps belonged to. So much so that it's not very odd when one of the characters tells Erin, "You look terrible," because we tend to agree despite knowing that he is referring to the otherwise celestially beautiful Kidman.
ALSO READ: 'Mardaani 2' review – Rani Mukerji's thriller plays royally to the gallery
The problem arises when Kasuma attempts to incorporate flashbacks in the film. The narrative is so needlessly convoluted that at some point, it becomes a little too hard to make sense of the proceedings. Destroyer is a film that needs you to take a mental break for a few minutes, do some math, and figure out who is who and what is what. The editing (Plummy Tucker) is problematic with the narrative's uneven speed patterns. From moments that keep you on absolute tenterhooks, Destroyer soon nosedives to lethargy in portions that refuse to move or contribute much to the larger picture.
That said, Kasuma's film is also a fine example of feminism done right. You get a heroine (not a female hero) who kills, cusses, and throws swashbuckling attitude like there's no tomorrow. She is strong, ferocious, and also has a human, vulnerable side to her. Kidman's performance as the fierce Erin has to be amongst 2018's very best. Destroyer also boasts of an empathetic performance by Sebastian Stan who plays Chris, Erin's love interest during their days as undercover cops. With respect to him, the only thing that slightly mars the impact is his unannounced appearances in the film's jarring non-linear storytelling format.
Destroyer also abounds in sequences that thrill you to bits. Take, for instance, the one where Erin breaks into DiFranco's (Bradley Whitford) home. The events that unfold there – including a smart taunt at the man's teenaged son – are sure to keep you on the edge of your seats. Ditto for the nerve-wracking scene where Erin forfends a bank robbery and chases the Petra (Tatiana Maslany) in style, only to beat her to a pulp. I was totally dishing the badass woman detective and also her commanding female opponent whose major worry was how Silas (Toby Kebbell) isn't bedding her anymore. Well, the film does not really pass the Bechdel Test – which isn't much of a deal in presence of such savage women on the prowl.
As Destroyer ends on a conventional note, disentangling several knots in the screenplay, one can't help admire how the film displays sheer honesty in what it wants to say. Anchored by an ever-reliable and supremely versatile Kidman, the film restates Kasuma as a director who knows her goods.
Rating: ★★★