'Bunty Aur Babli 2' review – Rani Mukerji's campy Babli adds flavor to a routine con caper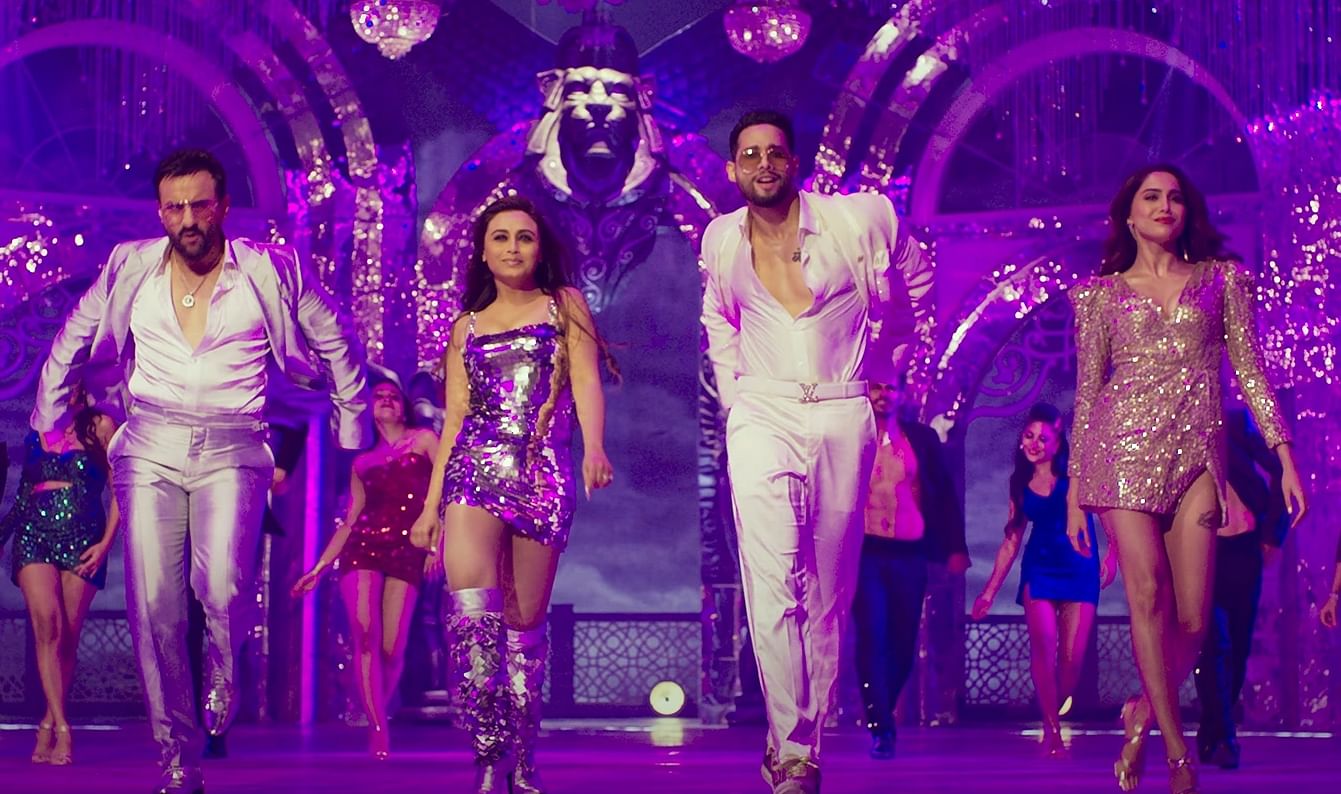 Bunty Aur Babli 2 is a harmless film. It offends no one. It makes some jokes – some land, some do not. It has a zany lead couple. It talks about politics, education, inflation, and unemployment in the sanest of ways. It is not boring, not even during its awful songs. It is agreeable and nice. The question is whether 'nice' would ever be the word to describe Bunty Aur Babli, its predecessor. Shaad Ali's 2005 film written by Jaideep Sahni had spunk. It was also an original in so many ways. Beneath its earthy texture lay a profound story of two dreamers from India's Uttar Pradesh who conned their way into our hearts with no substantial motive behind their acts. Bunty and Babli had great fun, and so did we.
For the unannounced, Bunty Aur Babli was never an out-and-out con film, although we saw the protagonists Rakesh (Abhishek Bachchan) and Vimmi (Rani Mukerji) accidentally discovering its perks. It was not visualized as a comic caper either. Bunty and Babli were organically humourous, especially the latter if we observe the world through her naive, Bollywood-tinted shades. Many a time, I felt Vimmi agreed to do several of those cons jobs only so she would wear designer clothes, shoes and snazzy wigs – much like a Bollywood heroine. Rakesh merely plays along to make big money and, in the process, falls in love with her. Directed by Varun V. Sharma, Bunty Aur Babli 2 burdens Bunty (Saif Ali Khan replaces Bachchan) and Babli with the weight of humor and an unexciting scenario of competition.
Now, to pull off a comedy film, the screenplay should have situations that elicit laughs. Crackling dialogues would be the secondary must-have followed by able actors with comic timing. Sharma's method is the opposite as he gives paramount importance to the actors and works around their skills to come up with a series of con jobs (some of which are fun, I must add). If Bunty Aur Babli charted a graph of their growth for the two small-towners from North India to becoming parents, Bunty Aur Babli 2 presents a younger couple – Kunal (Siddhant Chaturvedi) and Sonia (Sharvari) – that scams people using the iconic Bunty-Babli 'brand'. The duo gets no story. They do not grow a bit from where they start. The original Bunty and Babli, anyway, were not expected to evolve any further but the talented youngsters stand wasted in the absence of any scope to perform beyond their 'fancy-dress' heists.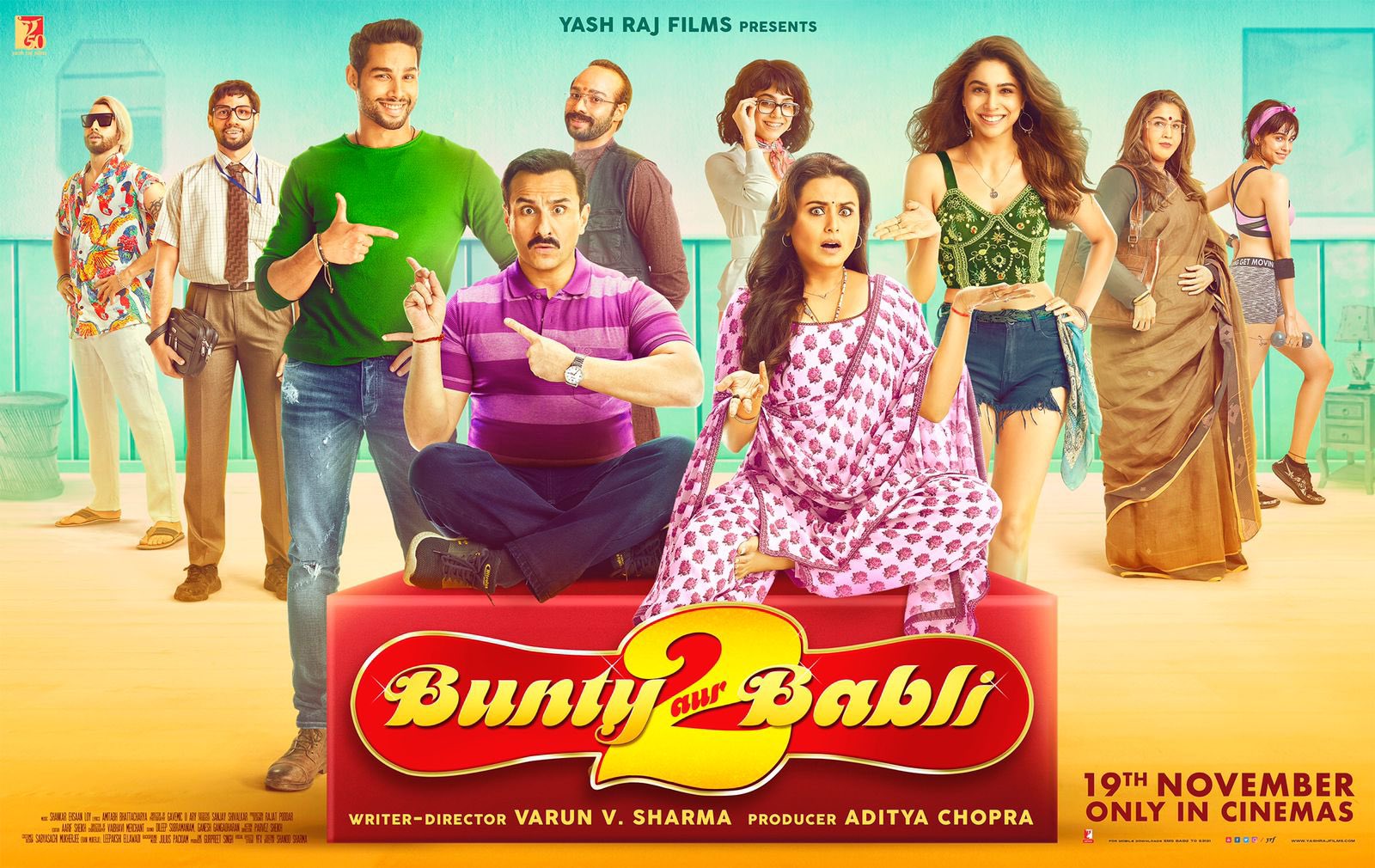 The dialogues – almost entirely lack originality – but the actors spice it up with perky delivery and expressions. Particularly when Vimmi drives in nostalgia with the way she is with her husband ('Oyeeee Rakeshhhh' and more), you realize what the film could have been if it were in smarter hands.
Bunty Aur Babli was a fairly serious film, despite all the fun that was had. Rakesh and Vimmi were lovably selfish. They were no Robinhoods even though they sweetly helped a few. Bunty Aur Babli 2, on the other hand, takes benevolence to preachy proportions. Kunal and Sonia even get a speech where they narrate why they began conning people. Groan. It gets its seriousness bang on when the Vimmi questions Rakesh whether he is bored of her, and the man reciprocates in an equally moving manner. The actors perform the brief scene without losing the essence of who they were playing – two masterful tricksters who are soulmates. The conversation belongs in their intimate universe whilst the chemistry that reflects in their eyes is time-tested. Can someone cast Mukerji and Khan in a mature relationship drama, please?
Bunty Aur Babli 2 also lacks a prime ingredient to pass itself off as a full-blown commercial entertainer – music. Shankar-Ehsaan-Loy's soundtrack is shamefully bad as it surpasses the likes of Rock on 2 and Game with songs that are counter-productive. Lyrics by Amitabh Bhattacharya – without a flicker of doubt – is the worst in his respectable career so far. Maybe the brief was such for him, but the definitive lack of melody from S-E-L's end would break your hearts – especially if you reminisce how mesmerizing was the OST of Bunty Aur Babli. The cinematography (Gavemic U Ary) and the production design (Rajat Poddar) lack an essential lived-in quality as the makers treat the film as an over-the-top thriller-comedy. The editing (Aarif Sheikh) makes sure that the sequences are tightly knit without too many dull moments (I mean it), but there is only so much he would do with such bleak events unfolding on paper.
ALSO READ: 'Hum Tum': Kunal Kohli's Magical Romance Ages Like Exquisite Wine
The ensemble cast manages to magically enliven some of Sharma's supremely dull characters. Babli, the least boring of them all, is a mega hoot, thanks to Mukerji. She spices up the film with a thorough understanding of her part – Babli is kitschy, campy, naive, jealous, devoted, and kind. The actor is fire even in the minutest of moments (observe her when she tastes free alcohol by the poolside). A million expressions flash through her face as she pulls off garish Sabyasachi costumes (they do not match Aki Narula's iconic pieces) and shares extraordinary chemistry with Khan. As the new Bunty, Khan tries hard in the first half and the strain is visible. In the latter half, he discovers a way to interpret it his way, and the film instantly gets better. Maybe it was the fake belly that made him uncomfortable. It was never even a Bunty thing to flaunt, let alone a Saif Ali Khan thing. The newcomers are fair performers but, as leads with enough screentime, they get no scope. Moreover, they are eclipsed entirely while sharing frames with their senior counterparts. Pankaj Tripathi does a neat job, but the actor has certainly seen better days and screenplays. The supporting cast, filled with experienced artists, does exceedingly well – especially Brijendra Kala whose innate goofiness is what the film lacks in totality.
I appreciate Bunty Aur Babli 2 for havings its intent (to address a handful of social issues) firmly in place. But remember, Bunty Aur Babli managed it without hammering the message into our heads. Among other things, it effectively addressed sexual harassment in a work sphere with the woman taking a solid stand (Mukerji herself did the opposite in her 2007 film Laaga Chunari Mein Daag, proving how a film is as good as its creators). 
Varun V. Sharma's film originates from opportunity, and it is crystal clear in the way it struggles to surprise us. Yash Raj Films, and their fine roster of artistes, should wake up and smell the coffee to place their bets on original films like Bunty Aur Babli, Dhoom, or Mardaani, instead of milking the fun out of them with many mundane sequels.
Rating: ★★ 1/2