'Bulbbul' review – a feminist period piece which blooms like a magical fable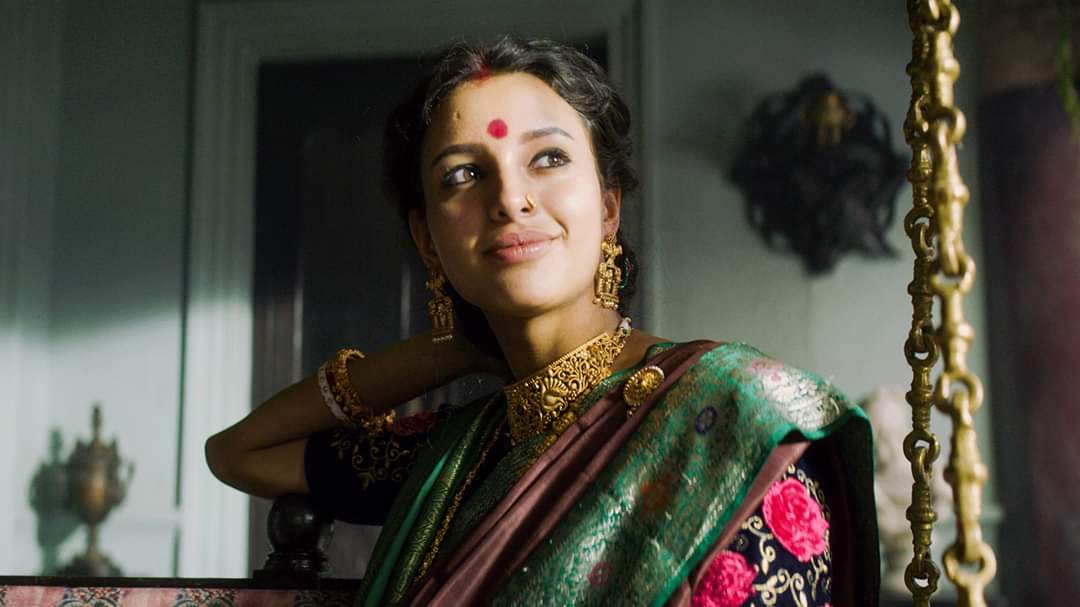 A scene in Anvita Dutt's magnificent debut Bulbbul has its leading lady crying next to the fireplace. One that drove in the memory of Elio sobbing his heart out in Call Me By Your Name, she is crying over losing the love of her life. Both Bulbbul and Elio have tasted forbidden love which they can't save for themselves. The societal constructs coupled with their own refusal to cross certain boundaries make them sob endlessly. We do not know where Elio's story is headed. But Bulbbul's journey did not end there.
Set in 1881 Bengal Presidency, Bulbbul takes us to the era of British Raj, zamindari, child marriages and ghost stories. The film's universe amusingly merges the minimalism of Lootera and the friendship in Devdas onto the domestic politics of Chokher Bali. When child-bride Bulbbul bonds with her same-aged brother-in-law Satya, we calmly enter her innocent mind and play along. We perceive how she is less excited when her husband summons her but is overjoyed to be playing with Satya. On the way to her marital home, Bulbbul is displeased when her sister-in-law Binodini (Paoli Dam) breaks the news – Satya is her devar, not husband.
For the era that it belongs to, Bulbbul is a film that becomes a truthful gender study. The men – Indranil, Mahendra, Satya, Master Dinkar, Dr. Sudip – all of them are aware of the power that their gender bestows to them. Mahendra, who is Indranil's mentally unstable brother, is subliminally aware of his privilege. Even Satya, who is educated and modern has his opinions on a woman's abilities. Curious about a series of deaths that take place in his village, the law grad is convinced only a man would commit such heinous crimes. At another instance, we see him exercise his authority to put a straying Bulbbul into place. "You are all the same," sighs his least surprised bhabhi. A relatively subservient Dr. Sudip (Parambrata Chattopadhyay), too, is somewhere cognizant of the law of the land.
Bulbbul is even better when it analyzes its two women – Bulbbul and Binodini – and their rapport. Possessing a sharp likeness to Rituparno Ghosh's Chokher Bali, these are women who know when and where to pull their strings so as to stay relevant in the power structure. Binodini (who shares her name and characteristics with Aishwarya Rai's character in Ghosh's film) tiptoes carefully as she uses the fragile family to her advantage. She is never openly disapproving of Bulbbul's friendship with Satya. Yet, we hear her humming the old Baul song 'Kalankini Radha' – one that labels Radha ill-reputed even though her lover Krishna is equally a part of their escapades. Having said that, Binodini is no antagonist in Bulbbul's story. Both women are unloved to the same degree. Both feed off crumbs thrown by the dominant men in their life, Satya included. It is only fair that Binodini knows her way out in the complex maze their existence is. She is ruthless as she exposes what might be an illicit relationship between Indranil's wife and brother. In a scene staged exactly like one in Chokher Bali, Anvita Dutt gives us a garden picnic complete with perceptive glances and uncomfortable revelations.
Talking about glances, it is also to be noted how Bulbbul and Satya's interactions are underscored by those. When Satya returns home after a gap of five years, she sees his bhabhi. Exchanging a couple of knowing looks are enough for them to bridge the gap caused by years. That is their way of acknowledging the forbidden fruit. In an eerie household where every member cultivates an agenda, they better be silent. Satya's gender advantage might still let him go scot-free. Bulbbul would be ostracized and left to begging on the streets if she were to be penalized for adultery. In an earlier key sequence, we observe how Bulbbul is more inclined to complete the story they write together. Satya would rather relish the Englishman's life in London, to where he is being sent by his brother.
People dynamics apart, Bulbbul is a fable germinating from a belief that witches exist. The mythical creature called 'chudail' that is common in Indian folklore is what plagues the protagonists' village. Unable to garner evidence, the cases are often written off by cops. Could she be for real? Do the women in the story (Bulbbul and Binodini) have any hand in the recurring crimes? Bulbbul, for sure, is intrigued by the idea. For a fact, the first story she listens to from Satya is about a witch. Two decades later, they laugh over it. "Din mein soti hai, raat ko nikalti hai," smiles Bulbbul and nods Satya in nostalgia.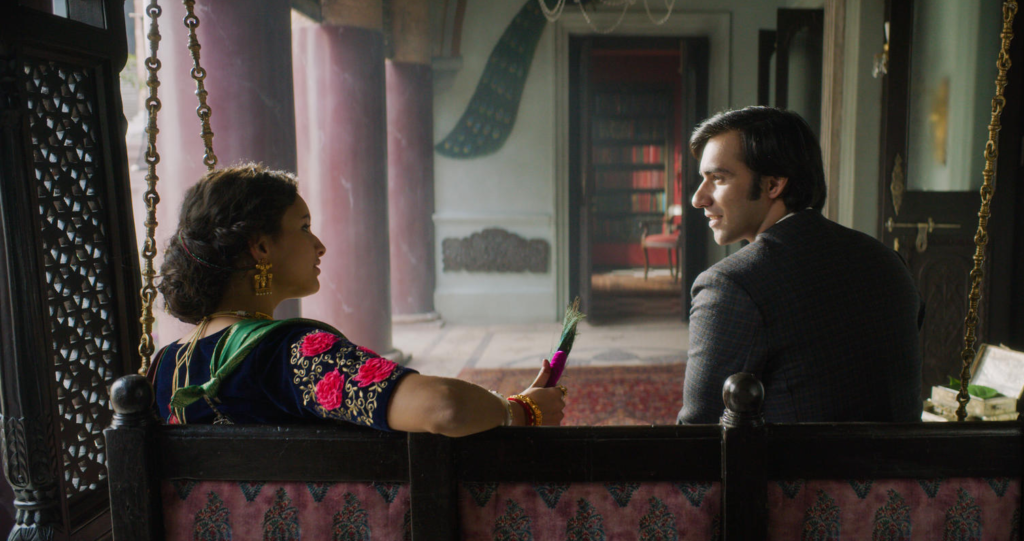 Narrated through non-linear flashbacks, Anvita Dutt crafts Bulbbul in a way that the suspense factor stays put till until the very last frame. Predictable, it might be to some but the writer-director allows her characters to simmer and develop slowly, hauntingly. You wouldn't know what Bulbbul, Satya, Mahendra, Binodini and Indranil's fate would be. As the film discerningly drives us to the final reveal, we are reminded of subtle hints we might have missed in the course of Bulbbul.
Dipped in a definite sense of eeriness, the cinematography is one of Dutt's film's mainstays. The lights stay dim and cloudy even in the calmer moments. The DOP employs circular tracking at various crucial points to give a fine picture of the surroundings as the characters undergo shock and turmoil. The aerial establishing shots, yet again, are marvellously composed. There are telling instances where we spot Bulbbul near her window and the full moon shines bright amid clouds. The red tint encompassing the screens as and when the witch makes an appearance lends freshness to the film's supernatural side. I couldn't stop equating the shade to that of the vermilion worn by thakurains in the film. Adding a layer of mystique to the enterprise is Amit Trivedi's original score. Interspersed with several surreal pieces, the composer uses violin strains in some of the most violent passages in Bulbbul. We silently become victims of a horrendous crime. The music is helpful in the sense that it plays to us from the victim's point of view. It is melancholy to the sufferer whereas it is a privilege to the oppressor.
As for the actors, Bulbbul is a difficult setup to make sense of. Tripti Dimri allows Bulbbul to experience a range of emotions. From naïve to nonchalant, the girl's transformation isn't meteoric but measured. Dimri is fantastic, in every scene, with every glance and each twitch of her eyebrow adding a layer or two in translating Dutt's fascinating tale on screen. Giving her company is Paoli Dam's conniving Binodini who is a bag of surprises. She could commit crimes with her sharp tongue. It's a performance that stays and haunts, long after the film is over. Binodini's privileges and social status change during the course of Bulbbul, not her hunger for power. Satya is an essential catalyst, a cog in the wheel of a chariot driven by women. Avinash Tiwary enacts the part with marked maturity. We know, for a fact, that Satya is never meant to cross limits. And Tiwary's interpretation keeps us intrigued. His wry smiles and generally jealous disposition generate abundant curiosity. Parambrata Chattopadhyay's Dr. Sudip is the closest we get to see a rational human being in Bulbbul. He pitches in a natural, balanced show, especially towards the final reel. Last but not the least, Rahul Bose puts his intensity to excellent use as he brings to life two men with strong yet disparate traits. As always, it is through expressions and eloquent gazes that he communicates his twin characters' power, restlessness and insecurity.
Clearly, Anvita Dutt's debut film is an angry one. It wracks our nerves; it makes us deeply disturbed. Bulbbul is haunting and thought-provoking in a wholesome sense. When Binodini tells Bulbbul, "big mansions have big secrets," we wholly buy the point because they thrive in a man's world. A thakurain's life is not to be swapped the thakur. Their way of life is to relish the privilege the life offers while playing the power game with dexterity. It is normal to feel sinful if she commits adultery whereas the natural demand is to be forgiving in occasions of abuse. This way, Bulbbul becomes representative of every woman who would succumb to daily exploitation. It is about every woman who hides her wounds under the customary pretext, "I had fallen off the stairs," Bulbbul makes us think and heave a deep sigh – thereby making it an immersive cinematic experience.
Bulbbul is streaming on Netflix.