'Saathiya': A Bollywood Romance That Brims With Middle-Class Energy
Read Time:
9 Minute, 1 Second
Saathiya. A film that marked the debut of director Shaad Ali is a remake, as we all know. A prototype of the much-admired subgenre called 'The Mani Ratnam Romance', the film is unlike umpteen misled Tamil features by somewhat clueless filmmakers who repeatedly failed in emulating this winning formula. This formula is almost a potion, as far as the Tamil film industry is concerned, since Mani Ratnam operates in his own idiosyncratic ways by weaving passionate romances amid complex threads of nationalism, domesticity, family conflicts et al. Then again, Alaipayuthey was amongst the simplest of them all. It was nearly a vacation feature for the filmmaker who had just freed himself from taxing projects like Dil Se… and Iruvar. In the story of two carefree love birds painting the town red, the film confidently flashed the veteran's practised precision in character development allowing the audience to feel involved in this simple yet studied universe.
Then came Saathiya. Though not at the cost of nullifying Mani Ratnam's magnificent oeuvre, I couldn't resist noticing how Shaad Ali improved his mentor's much-loved Tamil romance Alaipayuthey – be it in casting or the delectable dose of local flavour. Guess why?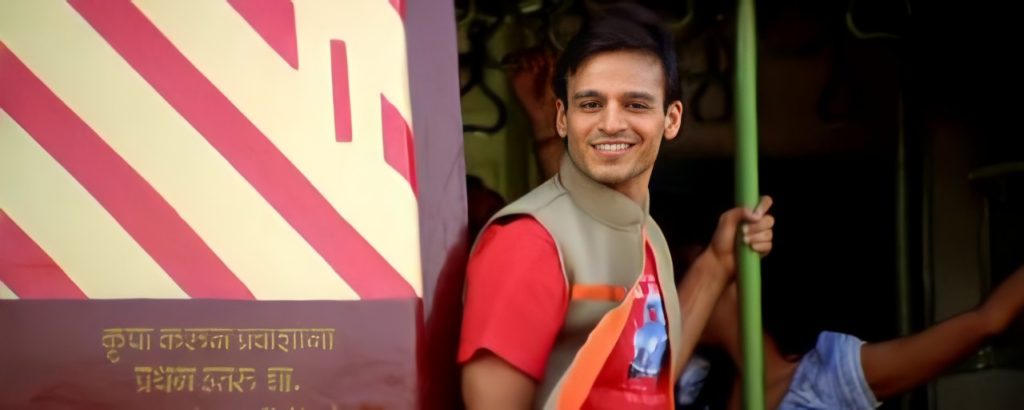 "Chalka, Chalka Re… Kalsi Ka Paani…"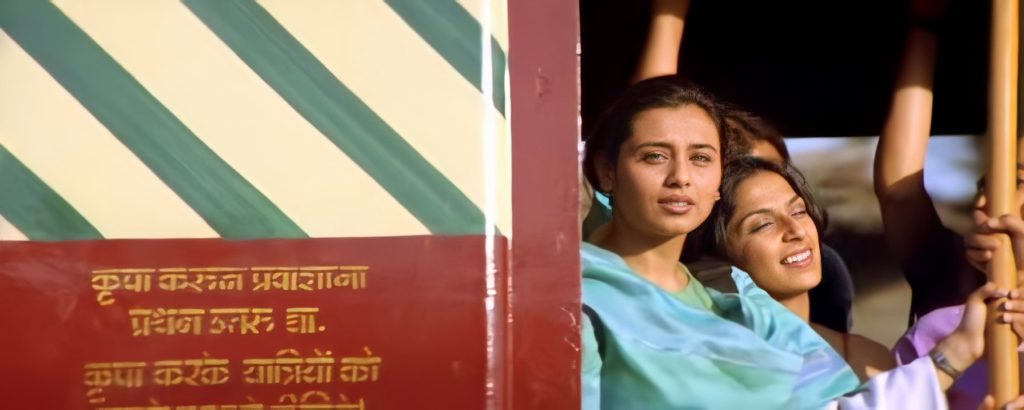 "Mangalyam Tantunaanaena Mama Jeevana Haetunaa…"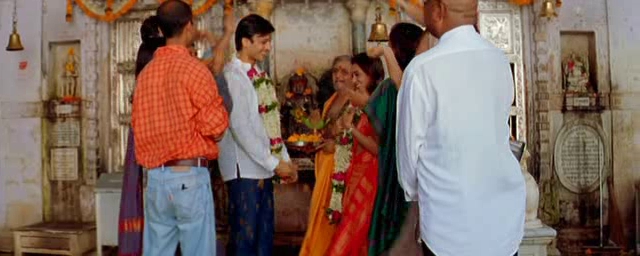 "Kanttae Badhnami Shubakae Tvam Jeeva Sharadam Shatam"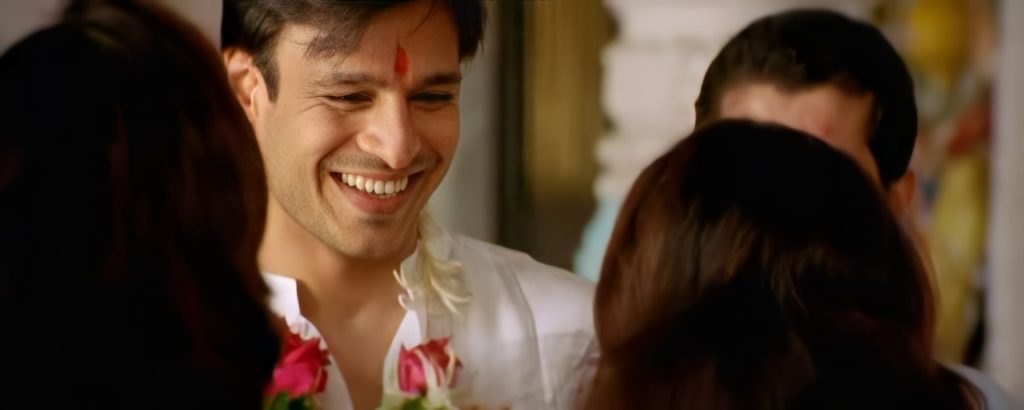 "O Humdum…"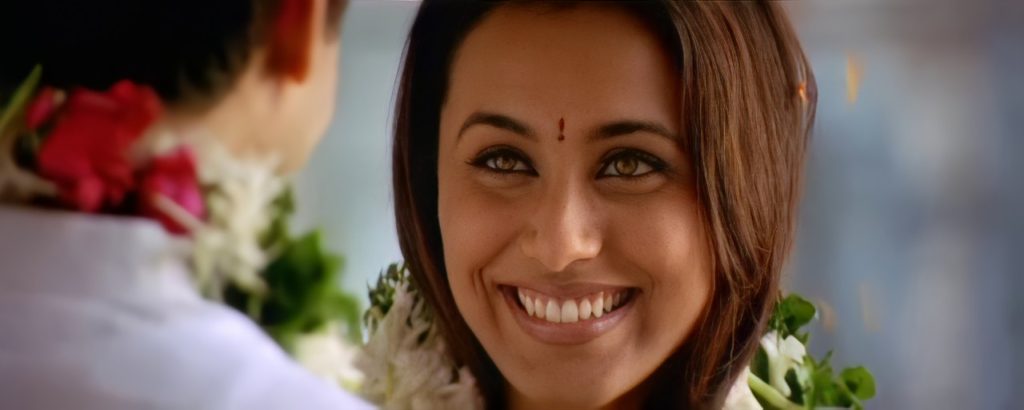 Having been a Mani Ratnam aficionado, Alaipayuthey was a release weekend watch for me. The film had me relishing the flavor of the veteran's tried-and-tested rules of falling in love. Although it didn't rank amongst his best works, the film did feature a taut screenplay with ample scope for the lead pair to explore their camaraderie – if at all the actors could mirror the possibilities on paper. What I starkly took away was how the lead heroine (Shalini) lacked the spark and mystique of what one would associate with the quintessential Mani Ratnam heroine – which, for fanboys, is an idea first and an individual later. The milieu was extremely lived-in but the dialogues screamed for a stealthier identity. When the remake came out a couple of years later, I wasn't organically thrilled – for the fact that it wasn't directed by Mani Ratnam. Soon the word-of-mouth trickled in, forcing me to buy a ticket over the third weekend. Minutes into the flick, I realized it was more or less a scene-by-scene copy of the original if we exclude the locations and scene compositions. No complaints whatsoever as the plot was suitably re-packaged for the Hindi-speaking audience, with a unique dash of Gulzar-esque edginess. Yet, I wasn't ready for what they had in store. By the time the song 'Chalka Chalka Re' ended, I had discovered a new synonym for effervescence, a new face for simplicity, and a pair of eyes that epitomized sizzle. Yes, Rani Mukerji had arrived. To dazzle the filmdom. It is not as if she hadn't existed in the industry before. She simply deserved Saathiya. As much as the film deserved her.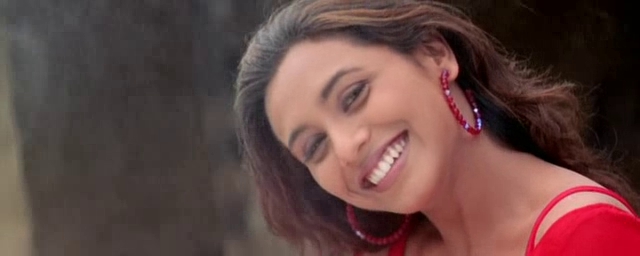 "Saundhi si hansi teri, khilti rahein milti rahein…"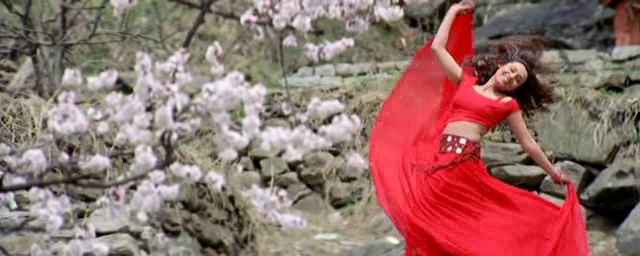 Spontaneous to the hilt, Rani was real to an extent that was rather unseen amongst mainstream Bollywood heroines of that period. She fluttered those eyelids and spoke a million words. She delivered lines like how we would hear our female friends utter. Rani magically adapted to the middle-class girl garb and instantly stole millions of hearts. The film celebrated the spirited, young career woman who is bold enough to break the barriers of her conservative middle-class upbringing and spread wings to what she absolutely believes in. Indeed, the feminist in you must be happy to spot the female lead's name appearing first in the opening credits; surpassing her male counterpart.
Coming to the film, Saathiya stems from Shaad Ali's understanding that he shouldn't deviate much from his mentor's formula while making the film his own. Especially with a story like this – with pan Indian appeal – the young director, in able mentorship of Mani Ratnam and Gulzar, fine-tunes the screenplay to the Mumbai backdrop. Complete with the hustle-bustle of Bombay locals, BMC buses, and the city's spirit to accept and acclimatize, Saathiya is different, and (arguably) a better version of Alaipayuthey.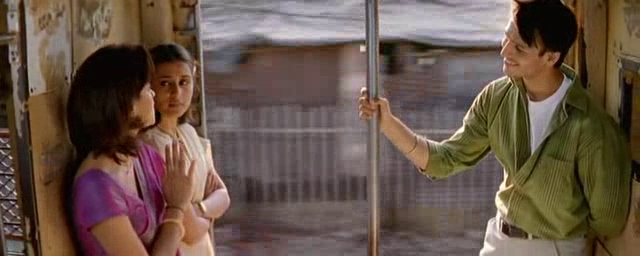 "I love you means, I love you!"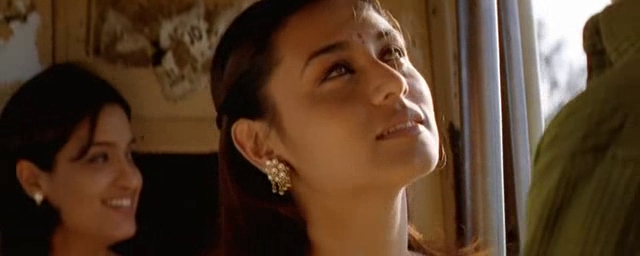 "Means what?"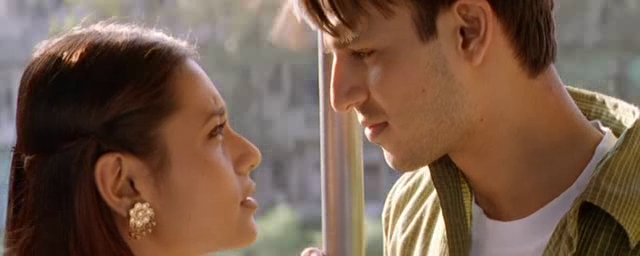 Strictly speaking for the Bollywood cinema-goers, Saathiya reopened another subgenre that had gone defunct long back. The film projects a life-like universe within which a set of characters thrive who would otherwise have been a part of Hrishikesh Mukherjee of Basu Chatterji films. Unlike these makers, Saathiya doesn't glam up real people and real issues (if we excuse songs that unevenly blend the Yash Chopra and Mani Ratnam schools of picturization). This fact clearly renders Saathiya relevant in the period that it appeared.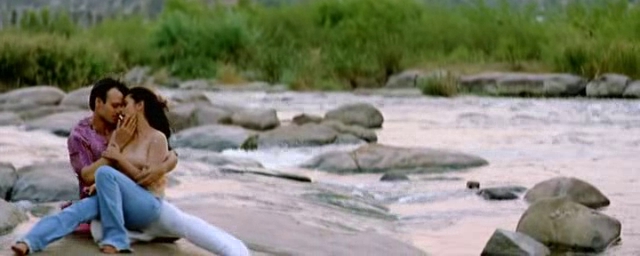 "Tujh bina pagli ye purvai, aake meri chunari mein bhar gayi…"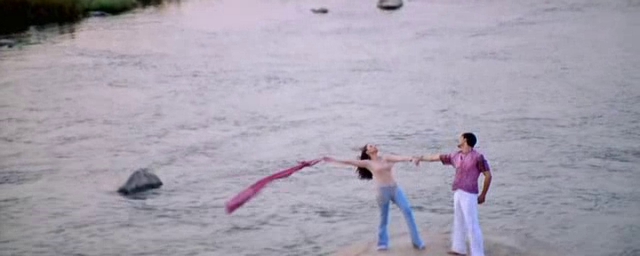 "Maddham maddham teri geeli hasi…"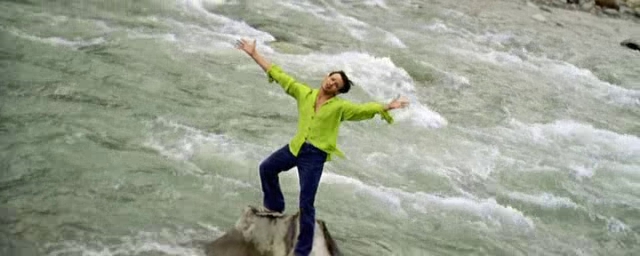 "Bhanwre tumko sab chhedenge, phoolon mein mat jaana…"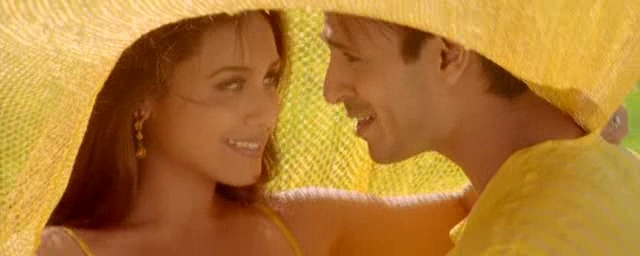 "Kabhi neele aasman pe, chalo ghoomne chalen hum…"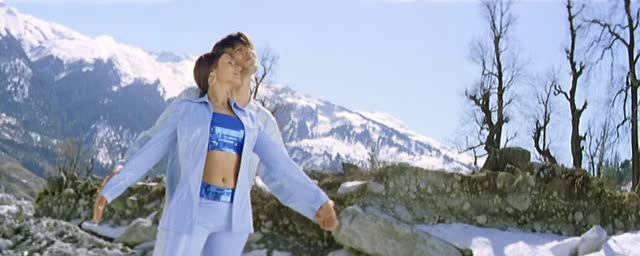 The film is rooted in a similar earthy backdrop but the characters do not breed extraordinary dreams. There are no messiahs and gargantuan twists in the tale, reminding us of some of Gulzar's own works from yesteryears. We see a middle-class family functioning as one in the real world. Suhani, along with her banker sister Dina (Sandhya Mridul), takes the same auto-rickshaw that his father (Sharat Saxena) arrives in after finishing what looks like a night duty at work. This is a common universe where the girls would even have a status quo with the rickshaw-wallah, just as they do with the local grocery store owner, Jeevan (Virendra Saxena).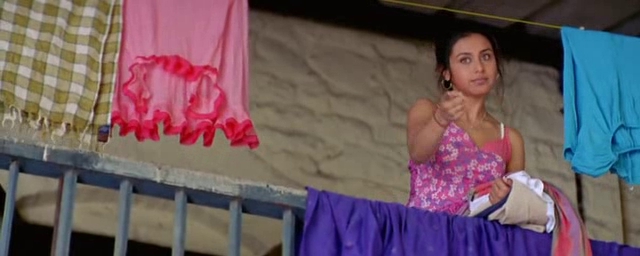 Living happily in their modest abode, the Sharma family is proud – for all the right reasons. Their goodwill is built on a palpable foundation of a strong value system within which the daughters are treated as queens and are taught gender equality. This tiny family is not chasing a creamy layer of affluence but of greater social relevance. The unit also sees the mother (Tanuja) having an equal say in the rules of the house, as opposed to Aditya's (Vivek Oberoi) household which is autonomously ruled by the rich patriarch, Om (Satish Shah).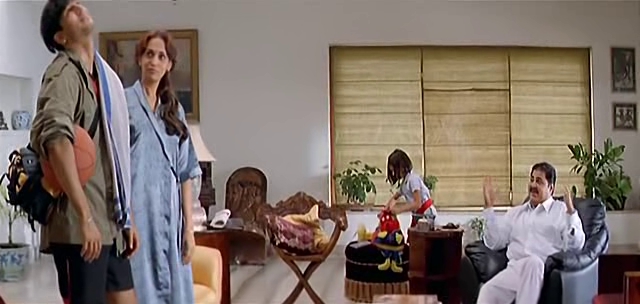 "Kisi zulfonwali ke saath… dono sulag rahe the"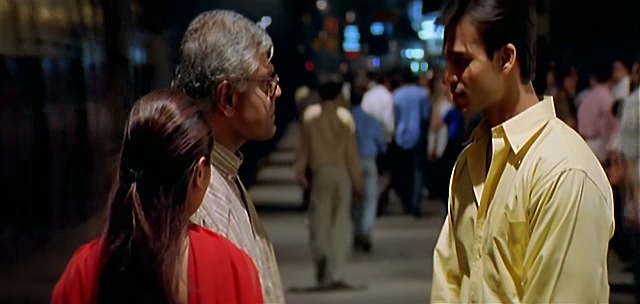 Saathiya also dissects the late '90s and early 2000 trends wherein a group of youngsters turns entrepreneurs post the advent of computers. The era is transformational as is the cinema that Mani Ratnam and team conceptualize.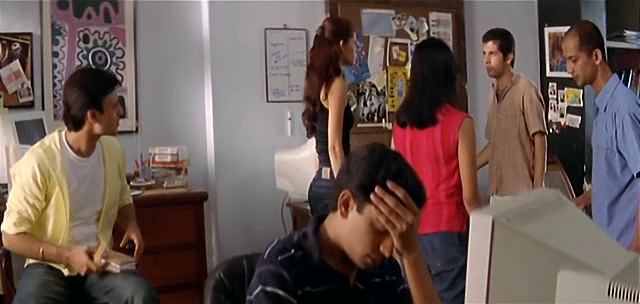 I remember how the flashback format hadn't worked much for me in the initial days. When I look back today, I feel it couldn't have been any different. On one end there is Aditya's anxiety and on the other, we witness changing contours of an erstwhile passionate romance. Interestingly enough, the actors do not take their acting bits too seriously. Their expressions and vocal intonations reek of the familiarity of the world that we live in. In moments where it could have been ineffective from a cinematic purview, the makers successfully alleviate the drama with some thumping background score (AR Rahman) and atmospheric sound design (Robert Taylor). Then comes Rahman's scintillating score that catches on right from the opening credits ('O Humdum Suniyo Re') till the finale number ('Saathiya'). The title track by Sonu Nigam is a musical and lyrical marvel which will forever be remembered as a true ode to love! So much so that the usage of colours in the lyrics is so seamless and indirect unlike its counterpart in Tamil (no vernacular offences intended). Not to forget Rani and her shimmering presence which personifies every single word penned by the wordsmith. Sample anyone?
"Taaza gire patte ki tarah, sabz-e-laan part lete hue…
Saat rang hain bahaaron ke, ek ada mein lapete hue…"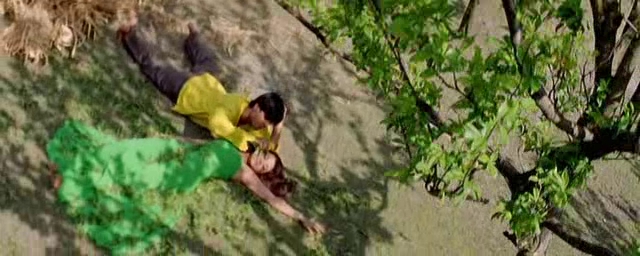 If you were brought up in a middle-class family, chances are high that you would have a supportive sibling (like Dina) around. One who is aware of her family's strengths as well as inadequacies, hers is the firm shoulder that Suhani leans on. Dina is courageous, progressive, and communicative. She also believes in looking at Suhani's story objectively, even though her personal dreams are yet to be fulfilled. Empathetic, bold, and yet so simple at heart, Dina's resilience has to be one of the most overlooked elements in Saathiya.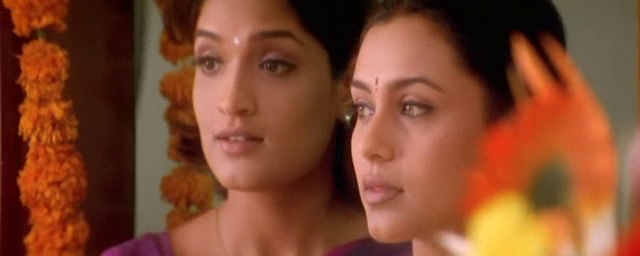 "Suhana safar aur yeh mausam haseen…"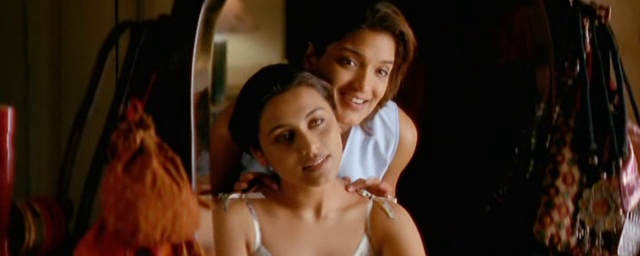 One also ought to notice the young vigour that Saathiya brings in. No, this is neither Kuch Kuch Hota Hai's Archie Comic-like template nor does it mirror Dil Chahta Hai's overtly urbane, affluent take on relations. It is shown how Suhani and Aditya's friends take the local trains as well. Aditya meets a couple of them (including Shanoo Sharma in a fleeting cameo) at the Marine Lines station quite often. The gang gatecrashes at their home as they have no other place for their no-alcohol pizza 'party'. The conversations make it evident that their friends are going through their share of crises and parental approval in relationships was still relevant in their orbits of thought. Calling them middle-class is one thing but one should rather look at them as everyday independent urban youngsters, whose ways haven't changed a bit even as we stand in 2017.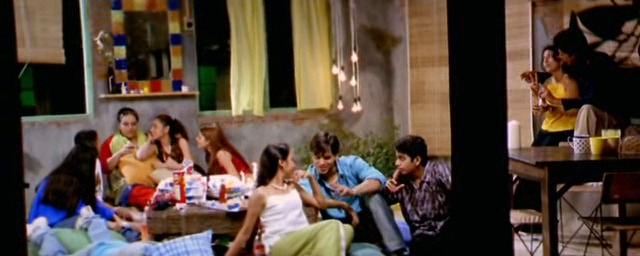 Oh, how can we forget the icing on the cake? Vivek Oberoi's Aditya is not an attempt to recreate the magic that Madhavan had spun in the original. Oberoi, to his credit, makes full of use of natural man-child appeal. He lends Aditya a playful zest while also being immensely vulnerable. Aditya is immature, and needy, and lives each day as it comes. The lesson that he learns towards the finale hits us in the gut. It is as if he represents each of us – those who do not value life, which comes embedded with certain eccentricities. Oberoi is phenomenal as the anxious, agitated young man who falls madly in love, at very first sight. Brownie points to his puppy-dog eyes that speak volumes, in a performance that is the actor's subtlest turn to date.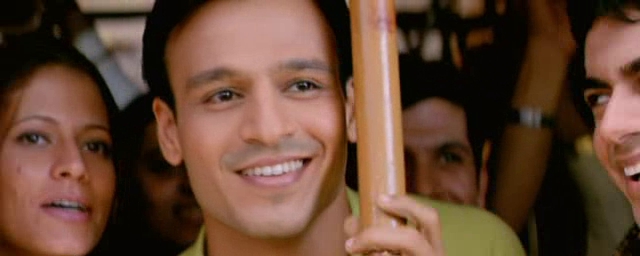 On behalf of many that would agree, I would love to thank Mani Ratnam and Shaadi Ali for also letting Saathiya shine in its unabashed Mumbai-ness. Besides, of course, making the world wake up to the powerhouse performer that Rani Mukerji turned out to be. Those few seconds in the song 'Naina Milaike' where she gets up and does a small gig makes me go "Subhan Allah" – every single time. That infectious smile was imprinted in my mind on the first watch and it warms me up even today.
Talk about timeless beauty!
Saathiya is streaming on Amazon Prime Video.