The '2008 Noida double murder case' is something that every informed Indian and has an opinion or two about. But how many, in actuality, care about the sensitivity of the issue before dissecting it? Come to think of it, the teenage victim's private parts were discussed in detail by the godawful Indian media, which was infinitely cruel to the innocent soul. Plus, it is our film industry's norm to churn out films on such sensational issues. Will Meghna Gulzar and team do justice to the deceased? Well, Meghna is not exactly known to be a great film-maker but she definitely knows what sensitivity is all about. There was remarkable eye for detail and simplicity in the way her previous films were etched out (particularly Just Married). Talvar written by Vishal Bharadwaj moves notches forward with its deft, pacy writing. Oh yes, Meghna does deliver the goods… like never before.
To be very honest, the script is quite harmonized towards the parents of the teenage victim. Although the film claims to explore each angle of the tale, the parents' version of the possible crime is scrapped off in a jiffy, quite early in the film, smeared with adequate doses of sympathy. After all, cinema is all about impressions, right? We also see a semi-comical pan-chewing cop, a possible murderer who spreads around baseless rumours, lengthy scenario re-creations sequences to prove that the parents couldn't possibly have committed the crime and several others.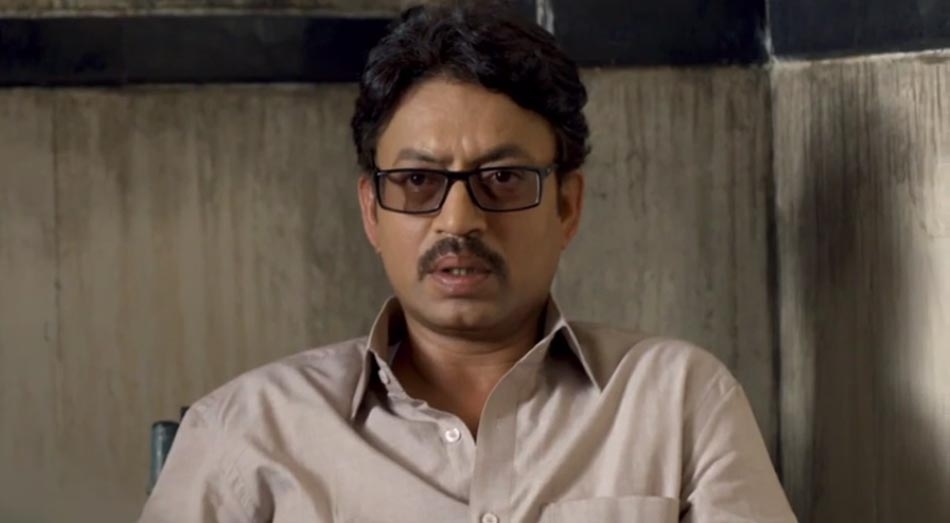 Unlike the 'Jessica Lall Murder Case', this one, interestingly, doesn't involve the angles of power and politics. Who will turn up to protect domestic helps and security guards from Nepal and Bihar border villages? Who could, possibly, frame an ordinary dentist couple? An influential politician whose RCT session was extra-painful? I doubt. But as every sensible human being who followed this case would ask, "Why would a liberal, well-educated couple in NCR do something drastic as murdering their child, even if their daughter ended up doing something drastically wrong? Honour killing, what?" The film sensibly addresses that side of the tale. There was constant scrutiny over the hour of murder mentioned by the father to the priest as he performed the deceased girl's last rights and him being unable to recognize his domestic help's decomposing body. The film explores an angle of, perhaps, common sense that several parties refused to see. Certainly there are some cinematic elements thrown in with one of the investigating officer turning 'gaddaar' and another arriving at the crime scene with his truant kid. Quite buy-able, as this isn't exactly a documentary.
The film boasts of some extraordinary camerawork. Come to think of it, we have different sequences shot from multiple perspectives (the Rashomon Effect, as they say) and angles. To the DOP Pankaj Kumar proves his brilliance yet again, after Ship of Theseus. Slick editing (A. Sreekar Prasad) and rather realistic production design elevate the impact further. Vishal Bharadwaj's music, somehow, is underwhelming especially with Gulzar saab's pen at helm of words.
Coming to the actors, Irrfan Khan has essentially evolved to be the thinking man's superstar. Yes, his character is that of a true-blue hero who will be loved, come what may. But the actor has it in him to stay afar from looking an emotionally manipulative investigator. Prakash Belawadi shines in a small yet significant part while the (usually) effervescent Konkona Sen Sharma is restraint personified. Neeraj Kabi shows yet another facet of his, post the brilliant revelation that Detective Byomkesh Bakshi was. Sumit Gulati is excellent as the prime suspect. The surprise package in this gory tale is the rather casual divorce proceedings of Khan and his wife (Tabu) and some of their intermittent light moments. And those of Ijaazat references! Every Gulzar fan is going to flash a wide grin at those.
Within a run-time of 2 hours and 10 odd minutes, the film conveys nothing but what the common man has heard of or read about the twin murders. Seemingly, there's no fabrication of facts except, perhaps, the initial sequence where the housemaid asks the victim's mother to throw the keys from the balcony while it was always reported to be the other way.
What impressed me the most in Talvar? Well, the way they justified the film's title. There's also this riveting discussion between two parties in the CDI (Central Department of Investigation, if you know what they mean) which itself is worth the ticket price and more. What I didn't like? The hassled young couple who sat next to me, accompanied by their sneezing-coughing toddler! Cinema enthusiasts in India, I tell you.
All said and done, Vishal Bharadwaj and gang should monopolize the occasion of Gandhi Jayanti and come up with quality cinema like this one and "Haider". We, the audience, will be more than happy to witness those Blingy Singh's being Bang Bang-ed by the hoi polloi.
Rating: ★★★★