Director Vikas Bahl's Super 30 begins on a pleasant note. We observe the endearing Vijay Varma (of Gully Boy fame) making a speech in Hindi on an international stage. A packed crowd – glued to their headphones are enthralled with the way he narrates what could possibly be his life story. Deem it to Varma's immensely affable demeanour or the film's own intent to throw light on a child's 'Right to Education' in a third world nation like India, the stretch is one that keeps us hooked. It is only when the character randomly vrooms into a massive flashback that we realize that the film is hardly about him. Super 30 chronicles the revolutionary mission designed by mathematician-turned-teacher Anand Kumar to empower less privileged yet supremely gifted children to secure admissions at India's top engineering institutes – the IITs.
Predictably enough, poverty is the central motif in the film that is set in Patna, a city in Northern India where the rich-versus-poor gap and corruption are shown to be wider than the metros. One that begins in the mid-'90s, the film's main lead Anand Kumar (Hrithik Roshan) is the son of a lower middle-class mailman. It is the routine filmy, happy family which is optimistic up to the levels of being delusional. Be it the family's kitchen banter or Kumar's fleeting liaison with his ladylove (Mrunal Thakur), almost every aspect is coated with an extra layer of sugar in the film's first act. The romance exists for namesake as the leading man does not seem invested in it in the first place. The family too has predictable small-town issues that are exaggerated further in a commercial cinema template. Dwindling finances, rejected loans, emergency hospital trips on a bicycle, university call letters becoming raw papad wraps – Vikas Bahl milks all chords of melodrama in a matter of 154 minutes. So much so that we wonder if he were the same filmmaker who could pack his debut film Queen with oodles of understated energy when the propensity to go overboard was enormous.
However, it is in the second act that Super 30 picks up a little. In a brief encounter, Kumar stumbles upon Lallan Singh (Aditya Srivastava) – founder of 'Excellence Coaching Academy' in Patna who is also the flag-bearer of what in popular parlance is the education mafia. Bearing easily the most Bihari name ever, Lallan is indeed a stock character but there is a certain commotion that the character's arrival brings to the proceedings. Clad in crisp outfits, the man has also been somewhat of a math genius until he gets bitten by the money bug – a disposition that he is the least apologetic about. Lallan's template villain act works as long as Anand Kumar gleefully plays along. Before we could discuss aspects such as resignation, notice period and the likes, Super 30 lethargically treads to its penny drop moment – the one where Kumar miraculously decides to defy norms and single-handedly spearhead the revolution that he eventually goes on to accomplish. The writer, too, did not assess the power that this key moment was meant to contain. Super 30 contentedly plays it lazy and lets the leading man take control of the scene. One with very few reaction shots, the scene is dominated by the actor's close-ups and mid-shots interspersed within a fleeting chat that he has with a poor, diligent child. And before we realize, Anand begins to shun the capitalistic setup that he relished with great glee until a few minutes back. Not that a film cannot take its well-expected turn but how about canvassing a trajectory – a character's spontaneous change of heart?
The rest of Super 30 is spent in over-analyzing the popular belief that Hrithik Roshan is a commercial actor and how a film of his ought to be subservient to his fans in the gallery. As a result, we witness a faulty yet well-meaning first half making way for a ghastly third and fourth acts. They not only rob the film off its noble intent but also enters a territory that is far-fetched and unintentionally comical. The least we would expect from a film of this genre is to see make a mockery of its children and their deficiencies. Super 30 does that in the form of an embarrassment of a song called 'Basanti No Dance'. The film also turns them into some kind of super-kids who steal, race, skate, row and do all kinds of stunts to reach Kumar's centre which is supposed to be providing free training. The finale sees the kids turn into more aggressive and science-driven versions of the ones in Nanny McPhee for reasons best known to the makers. Plus, there is a thoughtful scene that takes place between Kumar and a privileged yet passionate child (Ali Haji) where the latter questions if it were his fault to have born rich. Before Kumar's lame repartee even registers, we tend to think of the teenager's thought process. He might easily have gotten into a well-to-do foreign university but here is a seemingly industrious chap who is mighty excited to be tutored by the Math prodigy Kumar himself and pass the test in a legitimate fashion. I did not see a single reason to doubt his intentions.
Here arises the need to discuss Super 30's unthinkably dubious screenplay where the twists and turns couldn't have turned any more predictable. This transcends further to areas such as cinematography and dialogues where, say, a slow-motion shot or a punchline can be seen coming from a distance. You can easily start a drinking game on the number of times the listless 'Raja ka beta Raja nahi banega…' is repeated in the film for no apparent reason. I see the direction from where Roshans might have derived the nepotism angle from but Super 30 is more about fighting the mafia, which it intermittently forgets.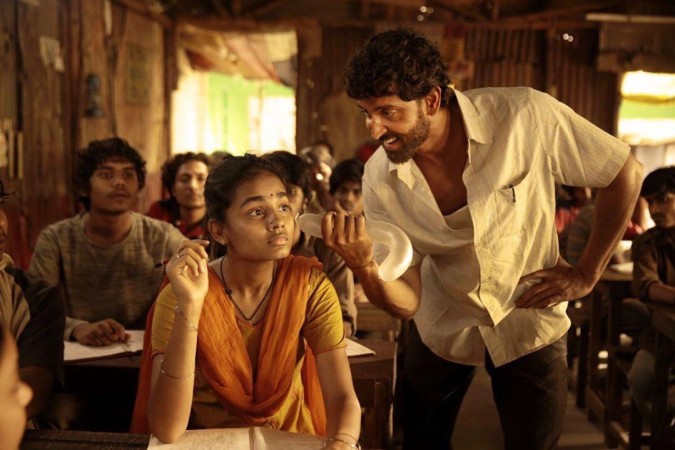 While Bahl's direction is so-so and Sanjeev Dutta's writing is totally haphazard, a lot of the film's responsibility rests on Hrithik Roshan's able shoulders. His Bihari accent and makeup might be slightly inconsistent but the actor gives a favourable account of himself in a film that does zero justice to his potentials. To state the obvious, there are frequent instances where Roshan lifts the film from drowning into an abyss of mediocrity. Sadly enough, post interval, the film nosedives into a trench of unimaginable godawful-ness that no able actor would escape unscathed from. Mrunal Thakur, in a brief role, is sprightly and is a welcome addition to leading ladies who have sparkling screen presence and can actually emote. She barely gets any scope in the character-driven drama that Super 30 is but, before we realize, the actor makes sure to steal a moment or two. Her final appearance, in particular, is a complete hoot. Aditya Srivastava is quite a revelation in his villain act even though the film does him no justice in terms of being original. Pankaj Tripathi as the corrupt education minister does well in a territory that is a cakewalk for him whereas Virendra Saxena and the rest of the cast members are mere gap fillers.
Purely for the fact that it touches upon themes such as 'Right of Education' and poverty with an underdog teacher becoming its anchor, Super 30 does remind us of 2018's sleeper hit Hichki which had its melodrama quotient originating from a far more convincing ground. By choice, it had smaller mountains to conquer and it was especially admirable for giving the child actors (younger ones, at that) authority. Unlike the said film, Super 30 also lacks a strong emotional arc to be closed and final break down by Roshan comes off more as an actor's exasperated cry of relief for having been stuck in the wrong project for eons. Talking about charismatic actors, the film comfortably overlooks its narrator (Varma) after making us sit through a series of gunfire, high voltage hospital melodrama in its unexplainably odd climactic reel. Call it the film's inadequacy or the actor's innate ability to hold the screen, we do wish he had gotten a better closure after the entire hullabaloo. Strangely enough, the film does not cut to present-day India after the flashback portions get over. We do not exactly get to see the new-and-improved Anand Kumar even though there's a gimmicky integration of the real person here – which is the perhaps the easier way out to elicit sympathy and adulation that the film naturally couldn't. That said, the film does earn some points for acknowledging the existence of caste system but all of it remains on the fringes. This makes us believe how the liability to appeal to a larger spectrum of viewers would have been lesser if it were to helmed by a less glamorous actor. Then again, you win some, you lose some.
P.S.: If I were to pick one instance that gave me unadulterated joy in the film's runtime, it would be the few minutes where Ajay-Atul treats us to the gem of a melody called 'Jugrafiya' recorded in Udit Narayan and Shreya Ghoshal's divine voices. If only it had a better juncture to pop up or rather a better film to be a part of.