'Sardar Udham' review – Shoojit Sircar's film sets a golden benchmark for Bollywood historicals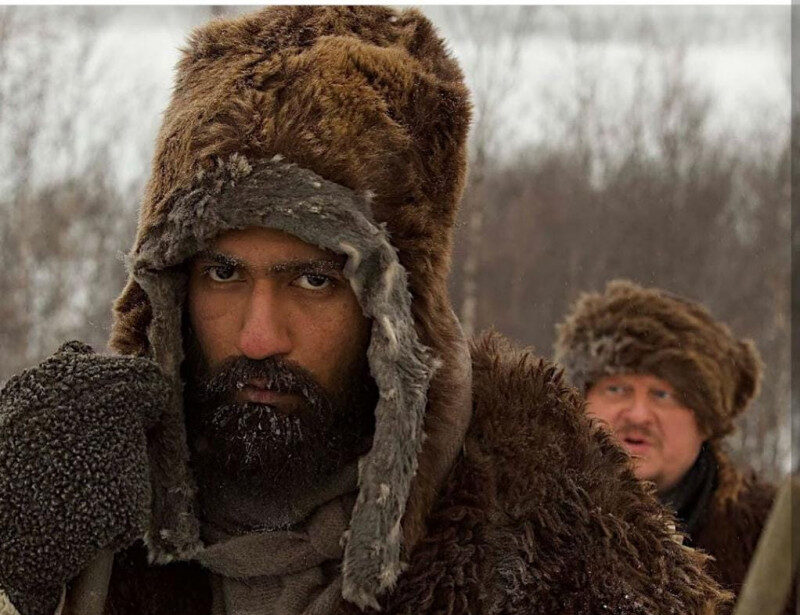 The process of exploring Shoojit Sircar's cinema in several ways is meditative, irrespective of their quality. It feels like watching a flavorful bowl of soup – simmer and boil into perfection – with the minor ingredients immersing into the sumptuous base to turn into a thick, nutritious blend. Sircar's latest outing Sardar Udham belongs to the former cluster. Based on the life and times of martyr Sardar Udham Singh, it transports us into the days of freedom struggle in a manner that very few films in Hindi film history ever managed. 
Vicky Kaushal essays the part of Udham Singh. Based on true events, Sircar's shot-taking style in Sardar Udham does not germinate from the set Hindi film template for revolutionary biopics. For starters, it displays (and demands) unusual amounts of empathy. The British officials often get projected as rank tyrants (and rightfully so), but their ilk never entirely come across as vile or haughty. We see a British detective (Stephen Hogan as Detective Swain) and an activist (Kirsty Averton as Eileen Palmer) as important characters who treat the man with compassion to degrees that their respective social standings allow them to.
The screenplay (Ritesh Shah, Shubhendu Bhattacharya) comes across as well-researched, and to add layers of surprise, they opt for a non-linear narrative structure. Traditionally, one might say how this decision (and the film's length of 162 minutes) would test our patience. Then again, this is how Shoojit Sircar's cinema is supposed to work on you. Even though he does not fully give out an auteur's disposition in his works, patience is a virtue that he demands from his viewers. In Sardar Udham, the wait is worth it as the final act brings to us an unimaginably well-visualized chapter from Indian history – the Jallianwala Bagh Massacre.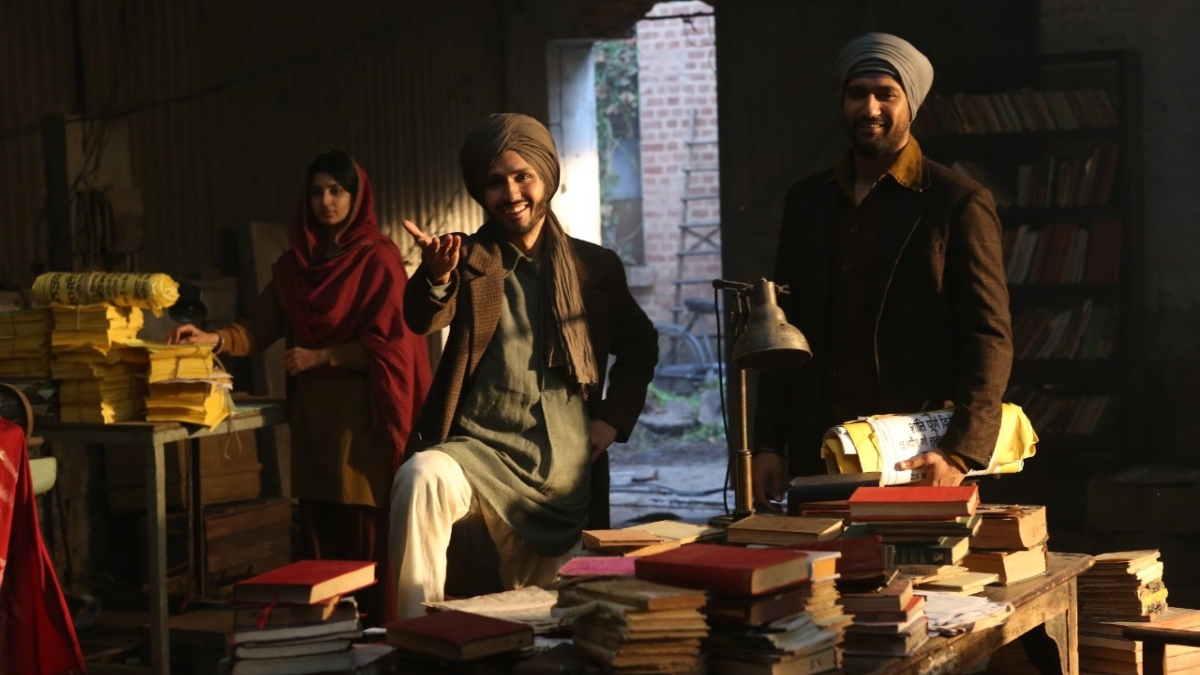 Throughout the film's lengthy runtime, Sircar keeps us intrigued. What could be the massive jolt that might have triggered Udham Singh to set out on his mission? Was it about sharing ideologies with his comrade Bhagat Singh (Amol Parashar)? Or wasn't there anything at all? Would his mute girlfriend Reshma (Banita Sandhu) contribute to the larger picture, or is she merely the mandatory 'love interest'? Sircar makes sure that everything gets answered in detail as the end credits roll.
Now, when I think of it, the film wouldn't have been half as exciting if the narrative format was linear (or any different, for that matter). Strictly from a mainstream Bollywood motion picture perspective, Udham's act of extremity – the assassination of Michael O'Dwyer, the Lieutenant Governor of Punjab who had ordered General Dyer to open fire at Jallianwala Bagh – lacks the amount of emotional wattage that the preceding events contain. Possibly in a lesser Akshay Kumar film, they would multiply the number of shots fired by ten, throw in a series of jarring slow motion and close-up shots along with a loud, emotional Punjabi patriotic number for extra effect. Not in Shoojit Sircar's film. Sardar Udham slowly accustoms us to its protagonist's unusual temperament and hunger to fight for India's freedom – right in the heart of England – to gradually reveal what lies within him.
ALSO READ: 'October' review – a tender portrait of pure, selfless love
Sardar Udham relies heavily on its lines. Despite its patriotic tonality, the dialogues are seldom throaty. They are of the kinds that make us ponder – not only over the diktats of the colonial times but also about their relevance in contemporary times. The film explains terrorism, revolution, extremism, and the likes in a layman fashion. It also does not make the words, or the overall filmmaking schema, come across as a fantasy. While Udham Singh's journey might appear as a trail of revenge, if you skim beneath the surface analyzing Udham's bonding with Bhagat Singh, his mission in London was anything but personal. Here is an angle that Bollywood's historical biopics frequently adopt so that the narrative becomes a conquest of emotional debt. Sardar Udham does not tread that territory of film writing. Instead, it is designed more as a docu-fiction that shines within in its Bollywood grandeur. Mind you, Sardar Udham is not un-entertaining by any standards. The last time I was so glued to the screen watching a Hindi language period film was when Dibakar Banerjee knocked the socks off with Detective Byomkesh Bakshy.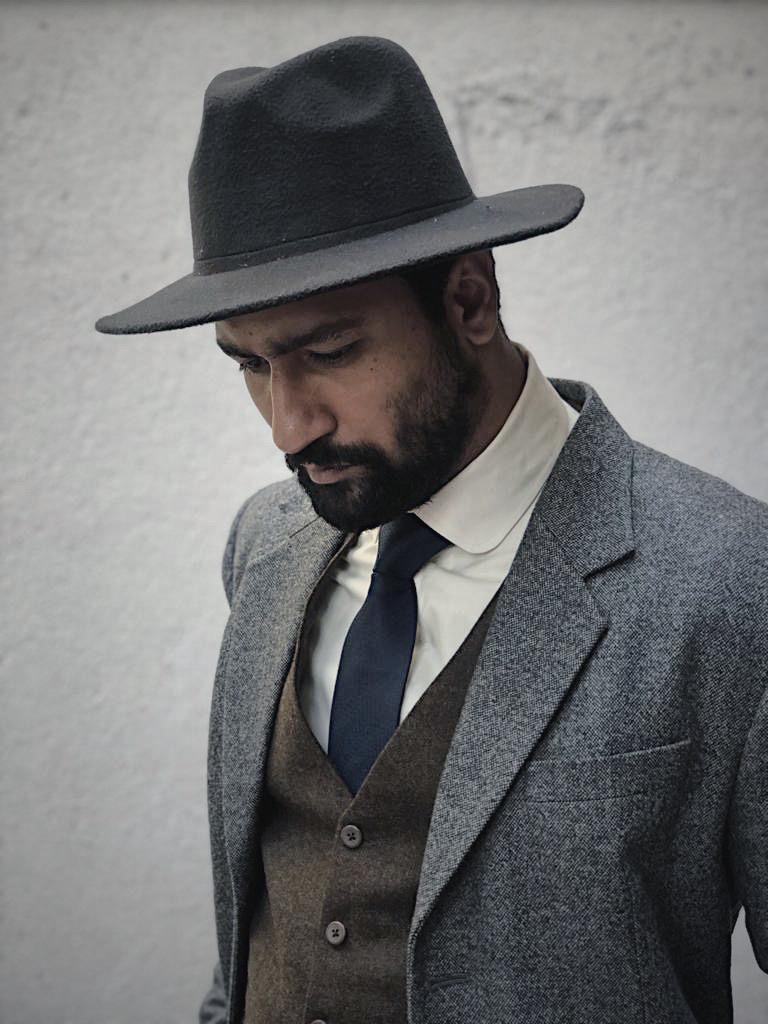 Vicky Kaushal gets an expansive canvas in Sardar Udham to bring a raw, angry and wounded character to life. The actor delivers an award-worthy interpretation of the PTSD-affected Punjabi revolutionary who, incidentally, loved laddoos. The actor's ability to hold the screen with sharp glances and organic agility that we rarely associate with Bollywood actors empowers him to carry the film firmly on his shoulders. The supporting cast is adequate, but I wondered if the real Bhagat Singh spoke such polished English.
To put it differently, Sardar Udham is akin to watching our history textbooks unfold in the cinema format. In the absence of sidetracks or musical numbers that would go on to hinder the weightiness of Udham Singh's story, Shoojit Sircar's film is serious and truthful. The empathetic nature of the screenplay is cemented further in the end credits scroll, where Sardar Udham highlights the need for an apology from England. It only helps that its wholesome technical brilliance (special mention to DOP Avik Mukhopadhyay's frames and lighting) turns the film into an immersive experience that awaits to get garlanded with awards and accolades.
Rating: ★★★★ 1/2
Sardar Udham is now streaming on Amazon Prime Video.