"Judgementall Hai Kya"… A trippy, original experiment that sees Kangana Ranaut in her elements!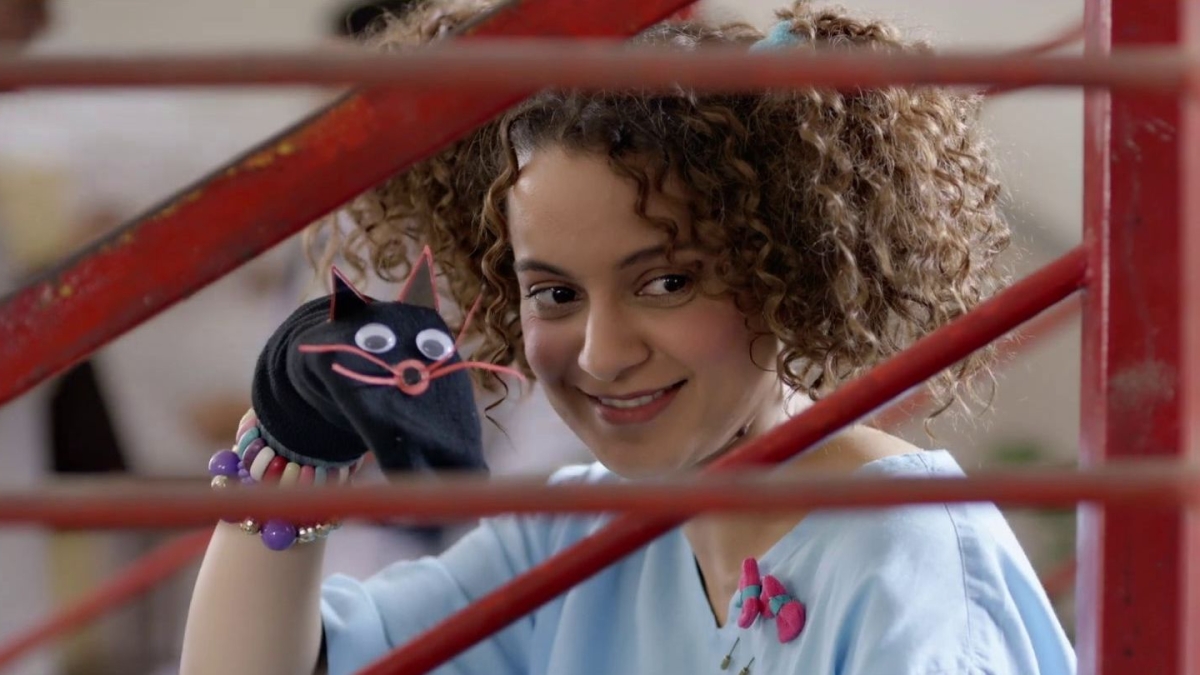 Halfway through director Prakash Kovelamudi's Judgementall Hai Kya, we get to see a contemporary version of Ramayana becoming a key element in the narrative. Titled 'Futuristic Ramayana', the stage play poses a pertinent question, "What if Ravana were to be chased by Sita?" Mind you, neither the play nor the film that it is a part of has a certain Ram in the picture. The battle is between Sita and Ravana.
Played by Kangana Ranaut, Bobby Battliwala Grewal is a Mumbai-based dubbing artist with a troubled past. She has been a witness of chronic domestic violence and also of her parents' accidental death. Bobby has been diagnosed with acute psychosis and is supposed to be on medication. She shares a tricky equation with her manager-cum-boyfriend Varun (Hussain Dalal) and lives by herself in a quaint South Mumbai bungalow in the good company of her cat, Panauti. Her peculiar tendency to transform into the characters that she is dubbing for becomes the film's recurring thread and continues until the last frame.
Cleverly designed by writer Kanika Dhillon, Bobby is a social misfit. Be it with her quirky sartorial sense or her bizarre jokes around death and miseries, Bobby's ways are far from conventional. She makes origami solely out of newspaper clippings chronicling serious criminal offences. Bobby's fright for cockroaches is also one that is well-documented in Judgementall Hai Kya as it adds a layer or two while disentangling the crime thriller that the film turns into in the final acts.
Talking about genres, it is hard to pin down Kovelamudi's film to any in the initial hour. It unfolds as a romantic comedy with tints of a whacky comedy with a severely odd protagonist at the helm. Her mental illness does not stand fully observed whereas but her intuitions are used to take the mystery forward. That way, Judgementall Hai Kya is predominantly Bobby's journey – an attempt to analyze human behaviour through her inherent oddities which are also symptoms of her clinically diagnosed mental illness.
Enter Keshav (Rajkummar Rao) and Reema (Amyra Dastur) – the new tenants in her house. In what appears to be a makeshift arrangement for the married couple, Bobby's bizarre ways do amuse them but they aren't the kinds that would take actions to challenge it. Instead, we see them invite her over dinner and also share a vehicle while on a vacation to Lonavala. Bobby observes Keshav closely and some of his unusual ways trouble her. And one fine day, Reema is found dead. Bobby is convinced that it was a murder with Keshav being the culprit whereas the cops are hell-bent to close the case. The rest of Judgementall Hai Kya is spent in unravelling the mystery behind the young woman's death and it pits the unassuming Keshav opposite the bizarre Bobby.
Back to the screenplay, Dhillon's way of integrating several elements in her busy screenplay is far from conventional. Judgementall Hai Kya is that film where a glance away from the screen would make you miss out on the details. Right from the beginning, we see the need in Bobby to perfect the part she is dubbing for on-screen. She looks at herself as a full-fledged performer and often her voice is better than the actress she is lending her voice for. She assaults a molester who touches her inappropriately during one of her dubbing outings and as a choice she spends two months in the asylum whereas a meagre fine could have easily bailed her out. Bobby is also an obvious ode to Ranaut, the actor, who has built a career around playing characters with mental disorders. We get fleeting mentions of Manikarnika and Revolver Rani ­­– the kind of referencing that male stars generally enjoy in Indian cinema. Post the altercations around the aforementioned murder, the narrative shifts to London where the film changes tones to become a thriller with shades of psychedelia thrown in abundance.
It is in the third act that the Ramayana chapter begins to take shape and one begins to draw parallels between it to Bobby's journey. Her individual character stands immaculately designed despite all the clutter around whereas her adversary (Rao) tends to suffer on the very same department. For sure, Judgementall Hai Kya turns exceedingly predictable after a point and the director seems aware of this disposition. Just that the anomaly lies in the fact that Keshav's character comes sans a necessary dash of complexity, making the proceedings unexciting from his point of view. This is Bobby's story, certainly, and one is ready to buy her perspectives but the film's temperament to paint the characters in unidimensional palates is unappealing. The climax is one that we see coming from a distance but the giant revelation is way too broad, compared to the infinite layers that complement Bobby's actions.
The stretch where Judgementall Hai Kya conjures up a filmmaking masterstroke is in the pre-climactic segment where it integrates the protagonist's hallucinations with elements of a solving the mysterious puzzle that the premise offers. It isn't an unseen ploy in world cinema at large but for commercial Hindi cinema, the device is pretty new. The use of graffiti, the song 'Tauba Tauba' (in various tempos) and the Ramayana metaphors – leading up to the climax – are what makes the film amongst the most original to come out of the film industry. Pankaj Kumar's zany cinematography flip-flops between slow motion and extremely pacy shots, while aiding Bobby's flow of thoughts to a T. Not to mention how the frames, sometimes overtly colourful and otherwise feebly lit, add gazillion shades in making the narrative come alive. The original score is slick, be it in the way it chooses to be on the louder side or with the way it tiptoes often into the horror territory with a bunch of (possibly unintended) jump scares. The impact of the music is further alleviated by the stellar sound design. The editing, yet again, breaks conventions with the fourth act experimenting fresh techniques for the art of framing as far as Hindi films are concerned. Ditto for Bobby's dubbing segments that mix fluidly with her edgy photoshoots with an enthusiastic photographer.
Needless to add, Kangana Ranaut is sensational as Bobby from the first frame till the last. There is not a single false note as far as her interpretation of the part is concerned. This might not be the toughest of characters that she has come across, especially considering her expertise in nailing such trippy roles. That said, Ranaut's conviction turns Bobby into an incessantly intriguing being even as we compare her to Woh Lamhe's Sana or Fashion's Shonali. Ranaut also assists Rajkummar Rao who struggles a little due to the lack of depth in his character. Rao, on his part, does a neat job in analyzing Keshav's ambiguousness while also canvassing his chemistry with his co-actors to perfection. Amrita Puri is a delight and her dialogue delivery deserves an extra brownie point. Hussain Dalal is a major hoot as Bobby's dim-witted boyfriend.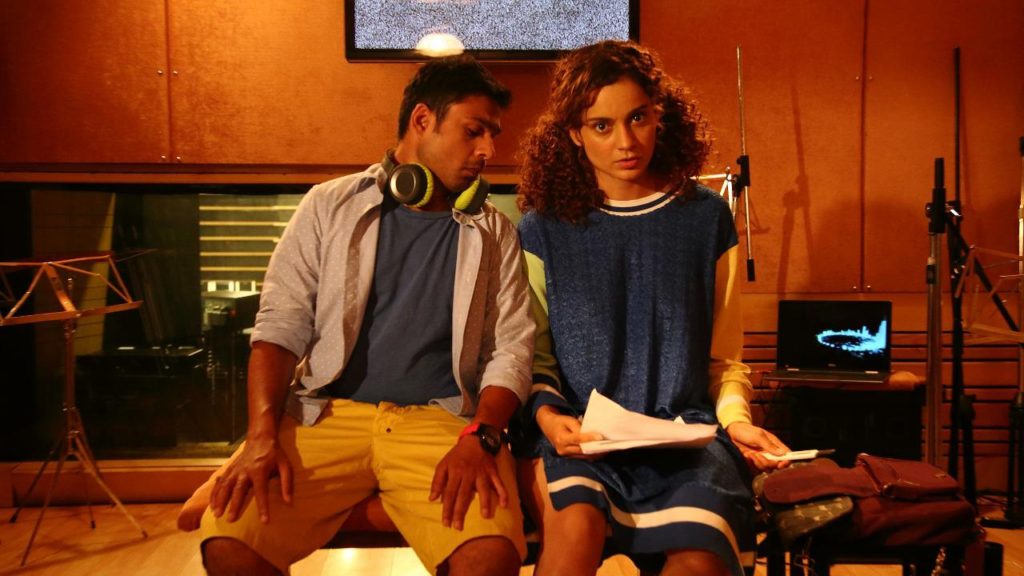 Judgementall Hai Kya which had recently replaced the word 'mental' in its title, owing to objections from mental health professionals, tries to justify the same with reasonable success. Still, the most amusing aspect about the film is in the fact that it pays less heed on how it is going to be perceived by the Bollywood audience which is used to being spoon-fed over picking bits and clues from its heavily knotted plot. In various ways, it reminds us of 2012's gutsy Aiyyaa as well as 2007's No Smoking. Like these films, Judgementall Hai Kya jumbles genres and conjures up a piece that is ceaselessly original while milking the skills of its actors and technicians to the optimum. Even though there are areas in the screenplay that demanded finer textures, it is indeed the Dhillon's writing that renders the film what it is. It leaves a bunch of clues for us to be guessed and rightfully so. Just that with all the build-ups that the film packs in, it is a truly unsettling to see a climax that is so utterly unconvincing. The victory barely feels organic and the brief monologue that follows makes us roll our eyes, especially with the medical conditions of multiple characters that the film subliminally acknowledges. One wonders whether all of it germinated from the liability of becoming a more 'commercially' viable product. Or else Judgementall Hai Kya could have become a gold-standard benchmark for Indian cinema as a whole. That said, the film is a convention-bending effort still and Prakash Kovelamudi's edgy storytelling and Kangana Ranaut's quirky central act are bound to be discussed, years down the line.
Rating: ★★★ 1/2