'Cobalt Blue' review – A colorless romance wrapped in picture-postcard frames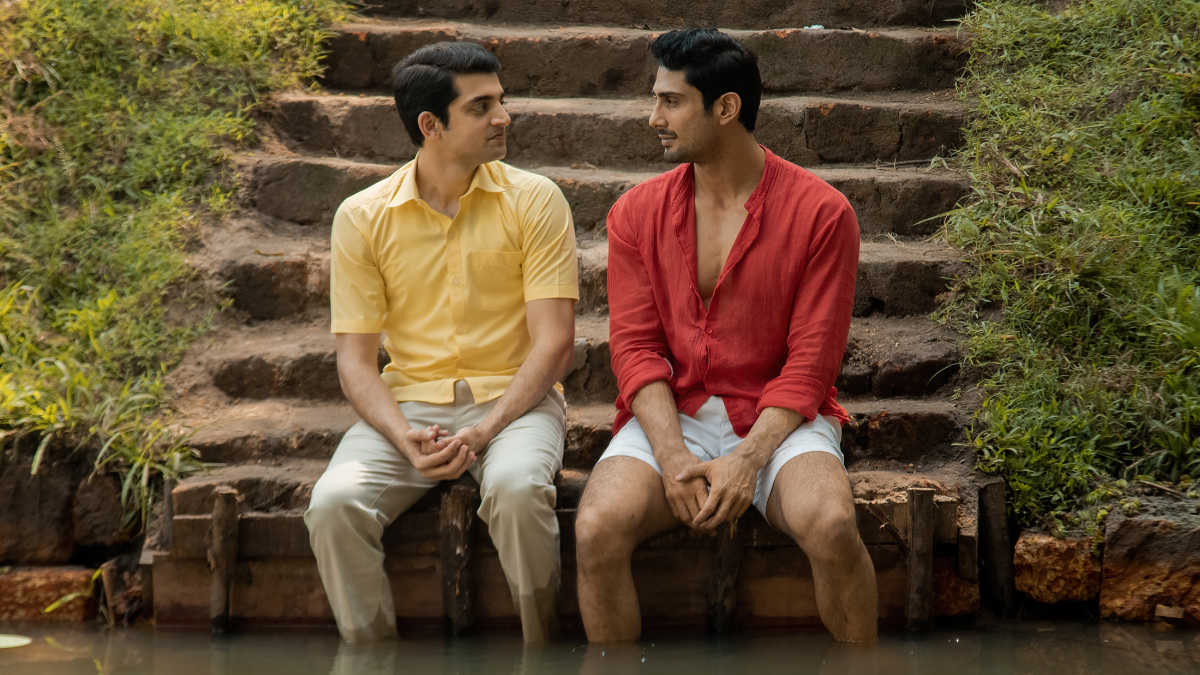 Picture this. A quaint Kerala town. A Marathi family that is far away from their roots. A curious gay man exploring his sexuality. An outdoorsy young woman analyzing her pursuits. Enter a young paying guest – an artist – aloof in demeanor and imposing to the eyes. The man is everything the family is not – liberal, uncommunicative, and attractive. Sachin Kundalkar's Cobalt Blue ­­(based on his Marathi novel by the same name) works around this fascinating premise, but only to minimal impact.
Tanay (Neelay Mehendale), a budding writer, is a soft-natured collegian. Living with his orthodox parents, the youngster's best friend appears to be a tortoise named 'Pablo Neruda' in the water lily pond. We never see the animal. It is somewhere there, we are told, to whom Tanay would echo his fears and desires.
Anuja is Tanay's elder sister. A hockey player with zero culinary skills, she ticks all things quintessential of a lesbian stereotype in Indian films. Of course, she wears her hair short and her underarms are unwaxed. Anuja roams around with her friends – a motorcycle-hopping Fathima and a nameless Christian nun. If the former is visibly feisty, the latter, having sacrificed her dreams for her family, secretly lusts after matinee idol Nagarjuna. Not much is known of Anuja, barring the defiant streak in her, for Cobalt Blue is not her story. It is her brother's.
Tanay is taught literature and cinema by an alluring professor (Neil Bhoopalam alias 'Sir'). They bond over common interests which include E. M. Forster's iconic Maurice and its queer-classic film adaptation. The professor who lives a solitary life in a museum-like house is gay – repressed by society and attracted to his student. Cobalt Blue isn't a love triangle in the conventional sense. Even when it takes complex romantic turns, the professor is a remote catalyst. Kundalkar's film is a story of love rather – one where Tanay loses what he has and ultimately finds an authorial voice.
Immersed in flowery prose mouthed by Tanay in voiceovers, the central romance between him and the unnamed paying guest (Prateik Babbar) lacks the much-needed magnetism. Kundalkar makes the chapter all about luscious frames weaved onto pages of uninspired dialogues. For sure, there are a bunch of quotable quotes ('Love is a habit. The habit ends. You die') which would have lingered in a less wordy film. The halo of mystery that clouds Babbar's character further prevents us from connecting to the passionate moments that ensue between him and Tanay. Cobalt Blue reaches the crescendo of disbelief when the man elopes with Anuja – a strange twist I didn't know I needed.
Kundalkar's main story refuses to take off even after the mysterious man's exit. Tanay's evaluation of what went behind his back is unfeeling right from the moment he realizes it. It does not help that the screenplay is excessively tell-tale with overt exposition with the beautiful frames (DOP: Vincenzo Condorelli) of Kerala refusing to compensate after a point.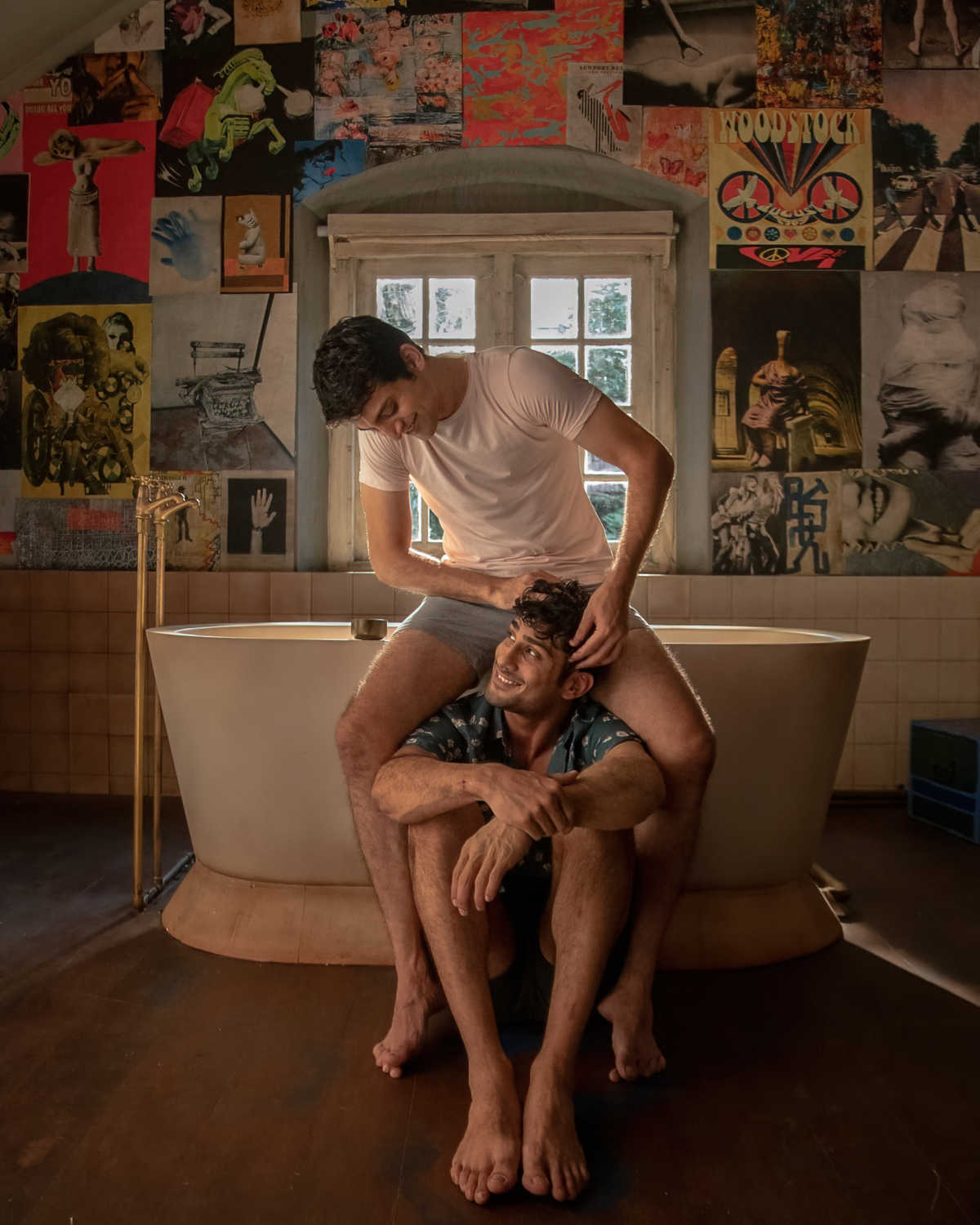 That said, amid the laborious main story, Kundalkar does weave a fine portrait of the life around his characters. While several of those elements would go unnoticed in our quest to make sense of Tanay's feelings, those are the bits that linger in Cobalt Blue. Kundalkar's film addresses migration where a Hindu householder threatens his wife to move to a strange land so that his 'needs' are met. She packs bags with three children and elderly parents overnight. The family keeps their culture alive in Kerala but not without mixing joyously with the locals. While the interspersed Malayalam lines are far from perfect, the atmosphere certainly is.
Cobalt Blue gives us a taste of the Communist political weather in the state. The scenery includes brawny, dhoti-clad men playing football on the local ground. Tanay secretly lusts after them. The caste-proud family has an elder son Aseem (Anant V Joshi) who is a straight male prototype or – let me put it this way – the ideal son. Unlike Tanay, he wears the Janeu (a sacred thread worn by Brahmins) and is eager to move to Mumbai after his impending marriage. Aseem, evidently, never felt a sense of belonging in Fort Kochi.
Anuja's independence is also a minor plot device in the film. If her Muslim friend is projected as an epitome of freedom, Anuja and her Christian friend are victims of suppression – by familial pressure and/or by religion. At one point, observing the posters of Deepa Mehta's Fire, I wished the film were to turn brave by exploring a different side of their companionship. It never does. Kundalkar is more obsessed with the idea of siblings of different biological genders falling for a handsome cis-man. Unfortunately, both the love affairs lack spark and clarity, let alone the fire to ignite our minds with raging chemistry.
As much as the fault is with the haphazard writing, the lead performances are nothing to write home about either. If Prateik Babbar is forgettable in a thanklessly written part, Anjali Sivaraman as Anuja is constantly whiny – which makes it impossible to root for her rebellion (which is not one without a cause). Newcomer Neelay Mehendale has a winsome presence, and his sing-song dialogue delivery is impressive in parts. The supporting cast – led by Geetanjali Kulkarni and Poornima Indrajith – works way better but the film does not have enough to say about them. Shishir Sharma, who plays the family patriarch, gets a wonderful scene after his parents' death wherein he describes what each of his children has inherited through generations.
ALSO READ: "Gulabjaam" is one delicious dessert that satiates your craving for good cinema
I could also sense how Cobalt Blue harped way too much on aesthetics. It would have worked if the screenplay was devoid of dense layers of superficiality. Plus, Kundalkar sexualizes his men with tiny (and tight) shorts, sheer shirts, lots of cleavages, legs, and brawny chests – unnecessary for several of the situations and unrealistic for the locale (it is 1990s Kerala, not 1980s Europe). There is the sporadically effective use of gaze, although not as effective as the filmmaker's own Gandha and Aiyyaa. The dream sequences are ambitious, but they drown in excess verbalization and indulgent execution.
Sachin Kundalkar's film, as observed in the trailer, drives in an instant déjà vu to Call Me By Your Name ­– be it in the cinematography, costumes, production design, or the general progression of the story. For starters, I am not sure how many families in Fort Kochi would have breakfast in their gardens despite the sweltering humid heat. In an iconic scene in the aforementioned film, the leading man Elio weeps by the fireplace – lamenting over loss, rage, and confusion – forcing an average viewer to turn into a teary mess. In Cobalt Blue, Tanay's pining resembles a child who just lost his favorite toy. To call for a lighter comparison, the man appears to be a residual Imtiaz Ali character with no actual depth to brood over. Instead of the famous peach scene in Luca Guadagnino's film, Kundalkar gets an orange and a drink that reminded me of Star Trek's Romulan ale. Strangely, none of it becomes a metaphor for anything. The filmmaker also fits his fascination for the cobalt blue color throughout the narrative. However, the color's presence – be it in the art pieces, books, or on Tanay's neck – is of the same catalytic effect as the sea waves in Shakun Batra's Gehraiyaan. The color exists merely to add a cosmetic wattage to the story. Would the film have been any different if it were absent? No. For a story that ought to have had emotions as its brightest hue, Cobalt Blue's picture-postcard frames filled with aloof people emerge dull and inanimate. 
Rating: ★★ 1/2