"In any case, we have to ascend the routes that we descend," declares Sameera (Mamta Mohandas) in writer-director Venu's Carbon. They are on a long, strenuous trek and our protagonist Siby (Fahadh Faasil) is not one to buy such conventional theories. Going to a mundane office and working his ass off for another person all his life is not quite his life goal.
Siby, right from the beginning, sees opportunities all around – be it a teakwood cupboard in a dilapidated bungalow or the possibilities of a trek to a mysterious hillock. Carbon starts off as a regular small-town drama where a loving Christian family imminently worries about their wayward son. This is the kind of network that's always lived within the rules and seams of defined social concords. Middle class, yet sort of financially sufficient, Siby's father (Spadikam George) is way too everyman to not relate to. Anyhow, the working class family never really schools their young son against pursuing what he desires. It is not as if they didn't worry enough about him but probably they had a glimmer of hope in Siby's extreme self-belief.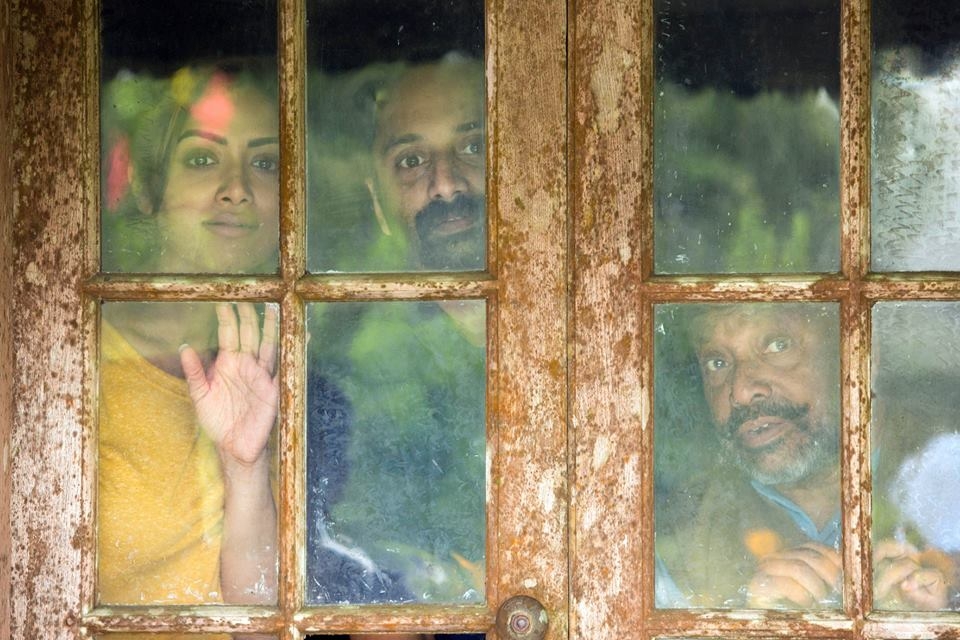 Carbon soon switches genre patterns and we get to see this terrific dream sequence that beautifully connects to the visual preceding it. The mood changes quickly with our man travelling to a distant bungalow somewhere alongside the Kerala-Tamil Nadu border. The journey by itself is a revelation as we, the viewers, discover the place with the same inquisitiveness as Siby's. Even as the main characters (lead by a supremely confident Manikandan) take a daring trip across the jungles, we are always on Siby's side. We almost curse his naivety while worrying endlessly for his safety. It is indeed our mind seeking the hero's journey completing a full circle. Then again, Siby isn't the atypical wronged hero who is on a revenge spree. Greed is what drives him and the template is not even that of a do-gooder anti-hero. Siby is just as selfish and complicated as we all are.
Towards the second half, the leading lady Sameera is introduced. Her part, I must add, is somewhat undercooked and it doesn't help that she dresses up as the most unconvincing 'Jungle Junkie' ever. Plus, with an occupation that is quite mysterious, we are eventually surprised when her status quo with Siby changes overnight. Having said that, the surrealist song featuring her is quite a smart touch (despite bad singing) and  Venu clinches another chance to deviate from set genre contours.
Talking about that, Carbon does not come across as a bona fide thriller throughout its runtime. There is, certainly, a level of intrigue that develops steadfastly but that is too subtle a process for us to jump with curiosity. This is an impressive touch as the narrative paces up enormously in the last reel, with the sound (Jayadevan Chakkadath) and photography departments playing magnificent roles. I couldn't also resist applauding Bina Paul's editing that goes indolently with the film's slowly evolving narrative arc, especially in the first half towards the midpoint and, of course, the climax.
ALSO READ: Varathan Review – a moody film that eventually drowns in a simplistic finale
To cut it short, what I didn't appreciate much in Carbon besides Mamta's strangely written part is the somewhat hurried narrative shift where a debt-stricken Siby is sent off to a distant place. We are also shown that somewhere in his conscience he cared for his family and friends. Not exactly analyzing the rights and wrongs here but I wish that the film had delved into these conflicts rather than just projecting them via shaky visions as he hallucinates towards the end. For the rest, Fahadh's extraordinary acting chops and Venu's studied material make sure to deliver a film that is relatable, involving and spine-chilling – all at once. Giving them perfect company is KU Mohanan's cinematography which, for the records, is true to the grammar that Venu sets for the film. We never feel a sense of fatigue as Carbon takes severe turns leaving less scope for finite closures in many instances. The life-like lighting in the bungalow that is devoid of electricity is yet another win for Mohanan.
It looks like Malayalam cinema has got no stopping in 2018 as the year seems to have kicked off on a superb note. There are a handful of quality films that have come up already and, for sure, it is Carbon that takes the cake for the time being.
Rating: ★★★ 1/2