'Hum Tum': Kunal Kohli's Magical Romance Ages Like Exquisite Wine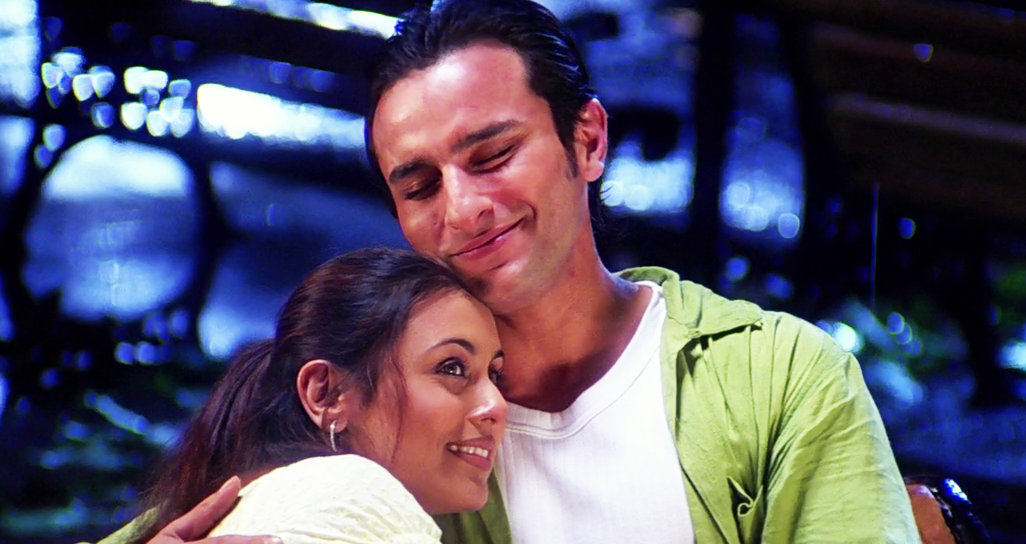 Indian cinema sees no dearth of love stories. Yet it is rare for a film to accurately mirror the mindscape of a large, under-addressed spectrum of viewers. Kunal Kohli did that to the urban yuppie, who, in no way lacked privilege in life but their stories were in the nascent stages of finding a way to the mainstream. Farhan Akhtar's Dil Chahta Hai was a clear-cut beginning. The film delved into the friendship side of things while feebly addressing the characters' brief romantic liaisons. Hum Tum – 'allegedly' inspired by Hollywood rom-com When Harry Met Sally – was the first film to take the baton straightaway to two people and their immediate romantic stratosphere. Family, careers, relationships, traditional values – each of it found a reference in this 2004 romantic film. However, the central core was transfixed to its leads, Rhea and Karan, and their dwindling relationship graph. As this extremely well-made and equally important film turns 15, here are fifteen reasons on what makes this Rani Mukerji – Saif Ali Khan starrer pathbreaking from the word go!
"Modern films are… modern!"
Matrimonial columns often advertise young women and men as those with a modern outlook to life but not without their traditional values. It often translates to certain hollow versions of what the society projects as progressive without delving into the idea of modernity. Kunal Kohli's leads in Hum Tum represent the elite, urban youth who take off to New York for their graduation. They embody men who are smooth-talking and flirtatious, and women who are strong and straight-forward – both of whom are aware of their actions and repercussions. A kiss without consent would comfortably result in a tight slap, we are told. Kohli's characters believe in traditional ceremonies, are moderately religious and they mouth Hindi, Urdu and Punjabi lines with equal finesse as English.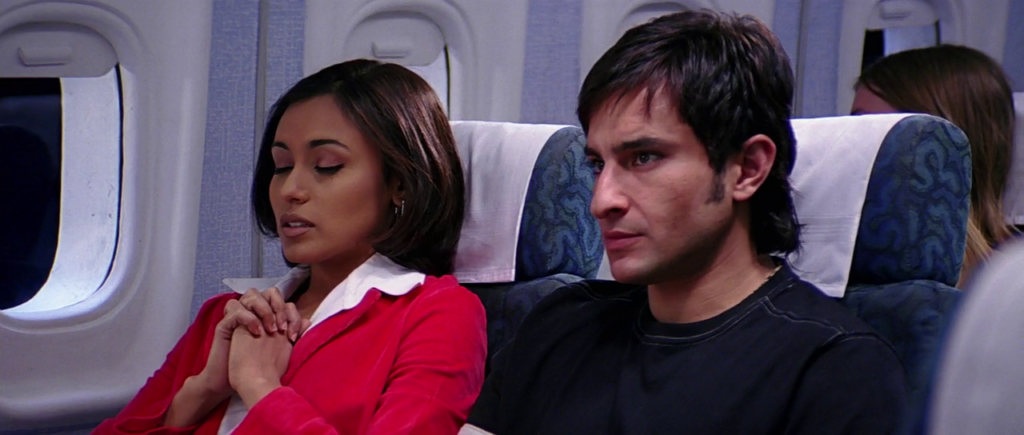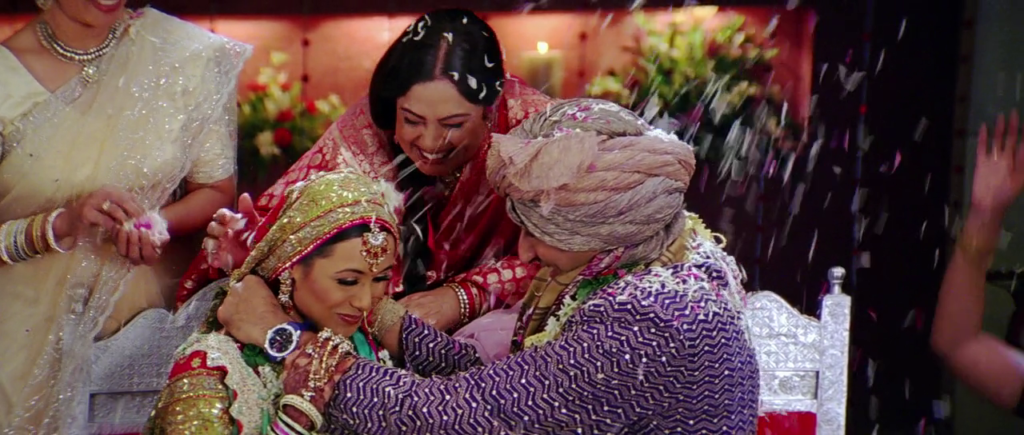 Rhea, not the regular Manic Pixie Dreamgirl
Say hello to a rare breed in Hindi cinema – a leading lady who knows her mind. Rhea, right from the beginning of the film, has her priorities on point. As Karan often chides, Rhea is forever high on usool (principles). Rhea is also the classic manic pixie dream girl in certain ways but, hey, there is a lot more meat in her own story. She transforms Karan's life but not without undergoing a range of emotions within herself – the graph of which is steeper than Karan or any other character's in the film. For Karan, she is 'beautiful and intelligent', for her mother she 'apne sharton pe jeenewali' (one who lives on her own terms). In actuality, Rhea is someone whose essence is perhaps present in every modern, independent woman, making the character one of the most ideal (at times idealistic) archetypes of the upper-class societal band in Indian films ever.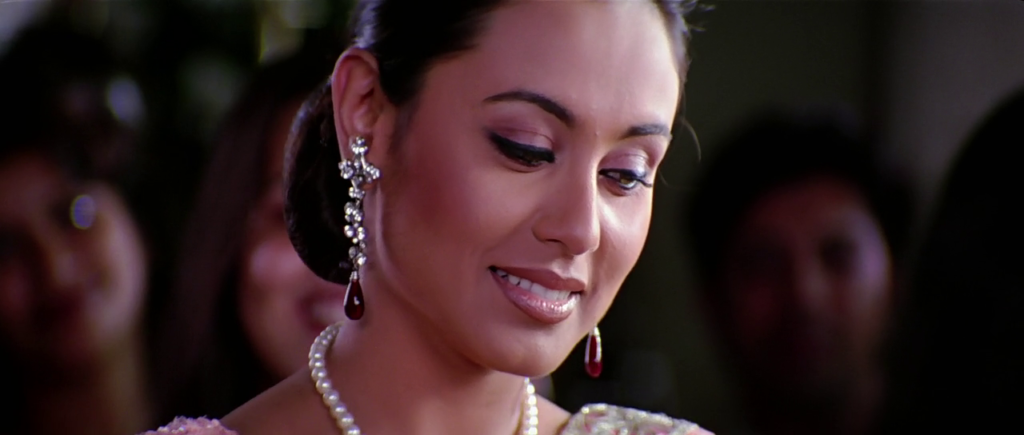 Karan is a playboy and it is perfectly okay to be one!
Remember yesteryear films that often projected their heroes as casanovas who doubled up as stark misogynists? They fooled around with the most attractive women and later slut-shamed them upon meeting a tame, agreeable damsel (who is frequently in distress).
In sharp contrast, Hum Tum seldom judges Karan for his womanizing ways. Even the more traditional characters in the film (say, Kirron Kher's Bobby Aunty) are in agreement that he is a young man who cannot be tied up to the tangles of matrimony. Karan's mother Anju (Rati Agnihotri) is not severely critical when he talks not-so-courteously about women. Karan himself is confident enough to confess how he lies to his friends once he is spotted with a girl.
Of course, Rhea in one of her many fire-spitting modes shows him his place saying, "You are sick. You have no respect for women," Not that it mattered to Karan in any way.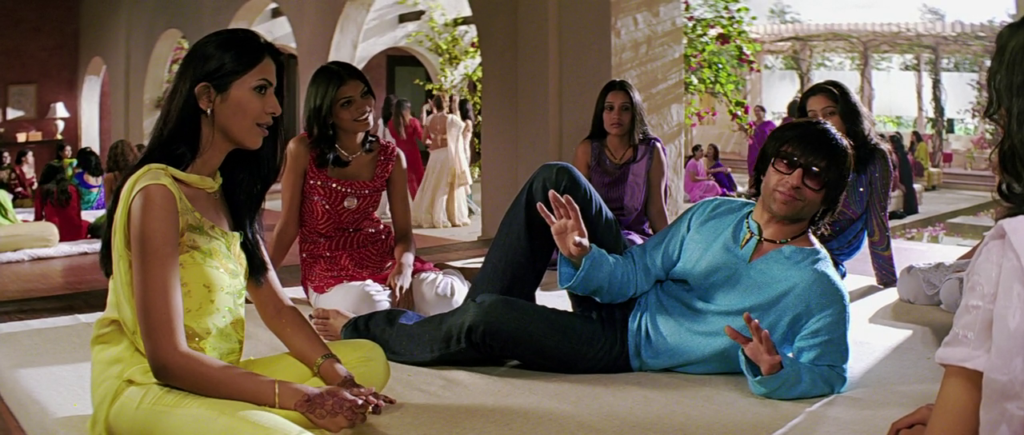 Karan also pulls off some of these cheesiest pickup lines like it's nobody else's business.
"Modern girls are… modern!"
"Pata nahi kyu mujhe lagta hai ki tumhe Priya zyada suit karega. Kya main tumhe Priya bula sakta hoon Pooja?"
Say what?
The American sitcom-like screenplay…
What if Joey and Monica from F.R.I.E.N.D.S. were to fall madly in love after a decade of knowing each other? Okay, let's just assume that Chandler never existed. A little less ditzy and perhaps more creative, Karan could fit well in the Joey mould. Likewise, Rhea could easily pull a desi Monica who is quite a dynamite in her tiny frame.
The bottom line here would be that the film emerged when urban India was slowly warming up to the choicest of American sitcoms, spearheaded by more popular ones like F.R.I.E.N.D.S. Their humour was contemporary and the young protagonists engaged in freewheeling conversations and their pursuits in career, family and relationships seldom saw barriers that were commonly observed in erstwhile Hindi cinema.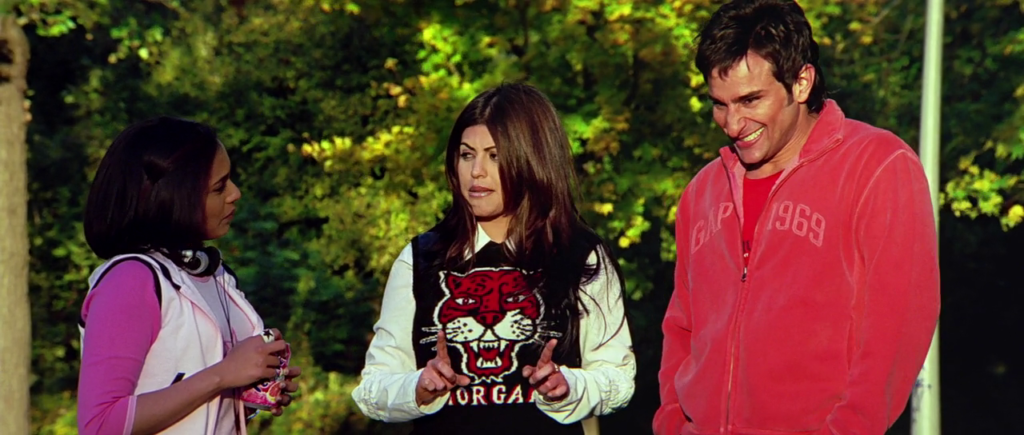 Hum Tum, staying true to the said framework, has a brief scene where Karan's date Diana (Ishaa Koppikar) falls head over heels in love with his best friend Mihir (Jimmy Sheirgill) – all in a single meeting. Whoever said India isn't a place for instant dating!
Fashion forward, without making a big deal about it!
Oh yes, the emergence of Karan Johar in Hindi cinema is said to be the penny drop moment for topline brands to enter the industry. That said, the gradual evolution of filmy fashion took a grinding enough halt at Kunal Kohli's courtyard as he shot Hum Tum – one of the trendiest films of the decade.
Rhea, an accomplished fashion designer, has a boutique in Paris, one of the most fashionable cities in the world. Styled by Manish Malhotra, the colours and cuts that she flaunts often take turns based on her state of mind. In happier times, Rhea is in bright, happy colours and her clothes often sport a good share of bling. She takes her wedding trousseau seriously and has it designed exclusively by eminent designer Malini Ramani. In her days of gloom, Rhea is seen wearing muted shades that – in her mother's words – could help her vanish into the crowd.
Karan's attire was chiefly casual even though he could pull off a pair of boxers with as much aplomb as a three-piece suit. He sported bandanas, sweatshirts, long hair (the 'Tom Cruise' look, as he puts it) and occasional Indian wear to great effect. And, oh, Rani Mukerji's interest in yellow shades is nothing new, by the way!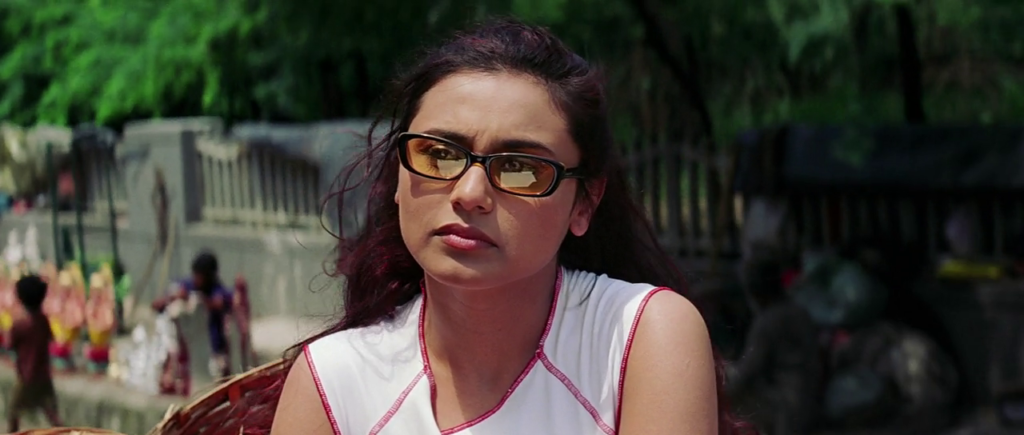 The comic strips that headlined a marketing blitzkrieg
Let's talk about the Hum Tum's innovative marketing campaign that could take a bite off the film's content and deliver cutting-edge content to mainline media. Yes, Hum Tum's iconic cartoon strips made way to pages of Times of India where it continued for a good time period. They were witty, colourful and cute – much like the film and its polar opposite leads.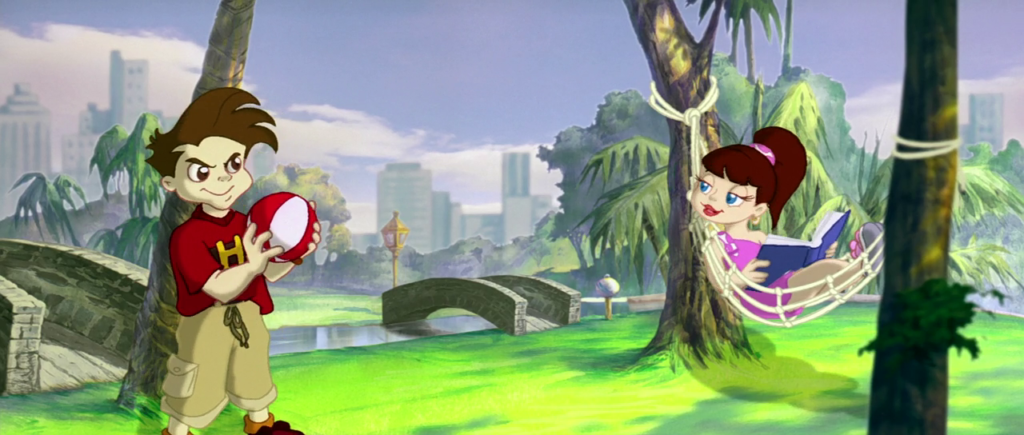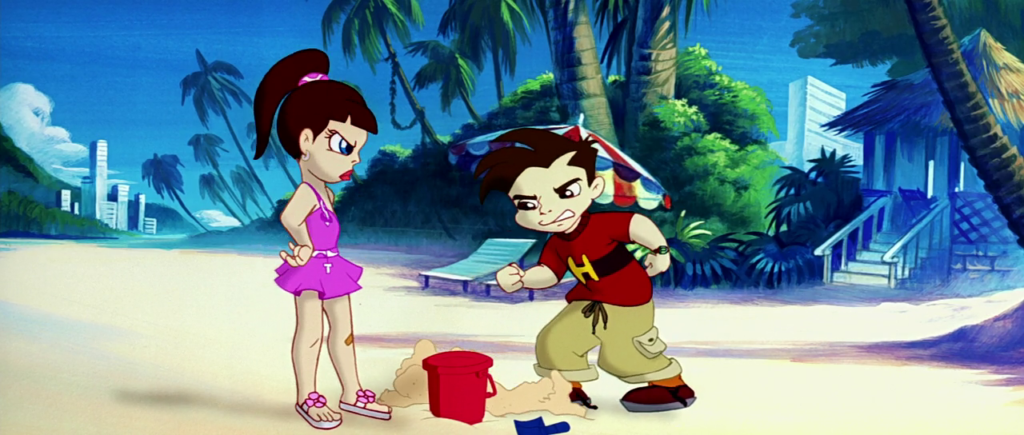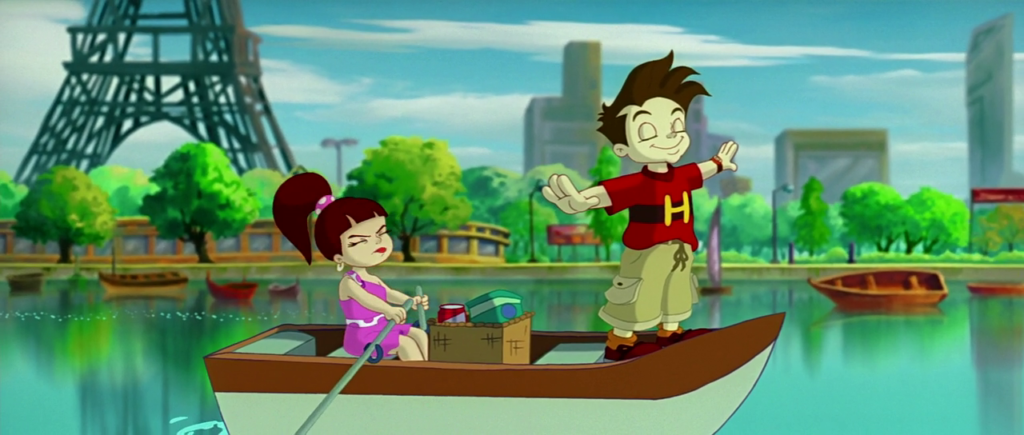 Additionally, Kohli's decision to intersperse the premise with two signature mascots 'Hum' and 'Tum' successfully cut the film off a proportion of its melodramatic heft. Not to mention how these two characters earned Indian 2D animation (by Kathaa Animation) multitudes of respect and adulation from the industry and fans respectively.
The film also had its intersectional frames designed as digital paintings, adding another layer of innovation in using art in a feature film.
Ripping the "cause" tag from widow remarriage
Yes, widow remarriage certainly is a cause worthy of attention but not necessarily in the upper-class social segment that several of our Bollywood stories emerge from. Therefore, it was pretty shocking when Rani Mukerji went on to do a film called Baabul a couple of years after working in the incessantly progressive Hum Tum. The former film saw marriage as a rehabilitation measure for its talented and once enterprising leading lady. Hum Tum, at the same time, directs a set of profound questions from the Rhea towards the society.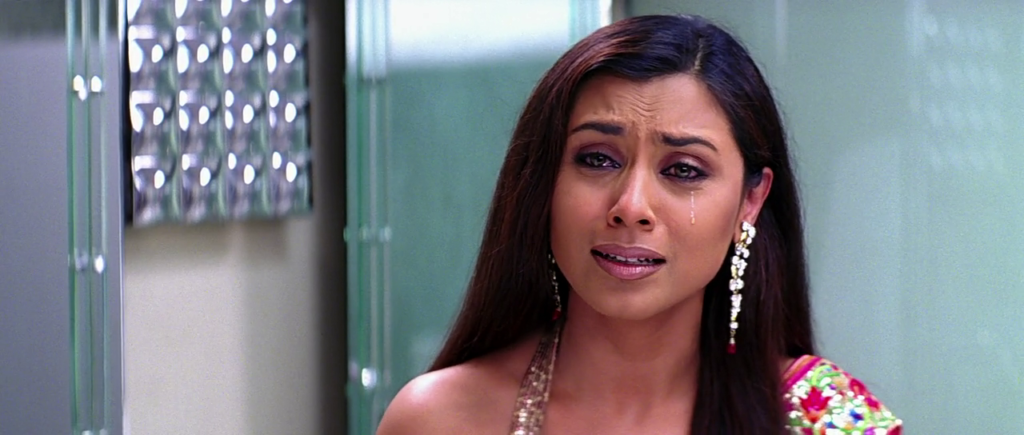 "Jab tak ek ladki ki shaadi nahi hoti, logon ko chain kyun nahi aata?
Kya hamari zindagi ka maqsad sirf shaadi karna hai?"
"Jab take Ek aurat ki zindagi mein aadmi nahi aata, uski zindagi safal nahi ho sakti?"
Well, these are truth bombs that Rhea should drop to her own character Mili from Baabul before she could knock the socks off the well-meaning folks around her.
It's okay to have separated parents…
Thanks to films and their bizarre ways to stereotype individuals, children from broken families often bore problematic character shades. This 'unfortunate' group of people often attained nirvana after meeting a member of the opposite sex who grew up in a happy (and often loud) family.
Karan's parents Arjun (Rishi Kapoor) and Anju (Rati Agnihotri) are separated. The film does not actively campaign to deem his playful ways to the so-called incomplete setup that he grew up in. Instead, Hum Tum simply lets him be. Kunal Kohli, in an attempt to close the arc, makes the parents reveal their emotions for each other, which would eventually help Karan and Rhea forge a stronger bond.
Arjun fondly places his estranged wife's photographs in his drawing room wall. Anju never lets her differences with her husband alienate her son from seeking his father's affection. Their sub-story might have had a convenient ending but I must add that there could not have been a more fulfilling closure to the same.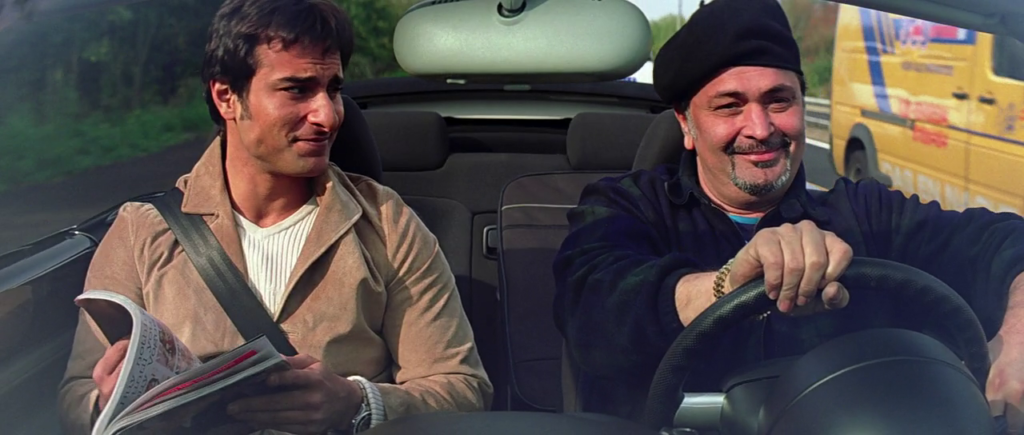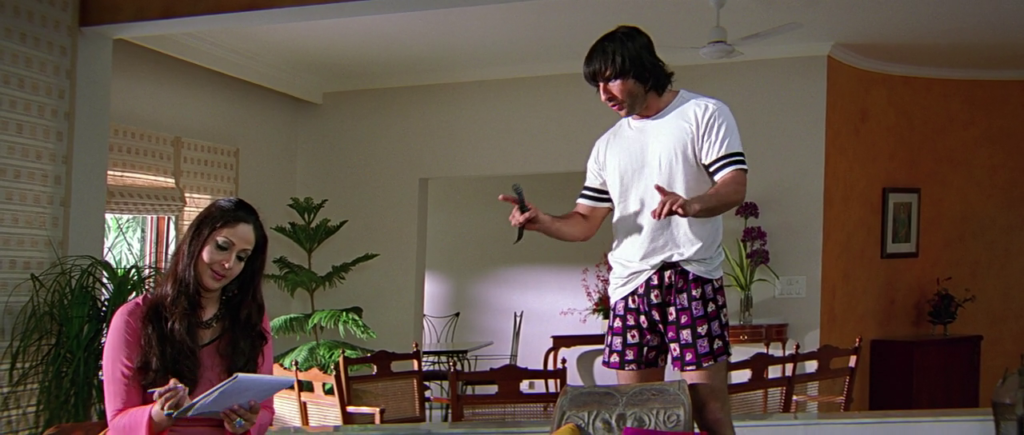 The '70s exotica, repackaged
Talking about the veterans who are absolutely well-cast in Kohli's film, one must not forget how Rishi Kapoor and Rati Agnihotri were nothing short of matinee idols in the '70s and '80s. The film doesn't typecast them to levels of standard parent clichés as Arjun and Anju Kapoor are shown to be stylish and desirable for their age.
In order to throw a delectable nostalgia, Kohli stages Kapoor's introductory scene with a sweeping rendition of Bobby's Main Shayar To Nahi. In the preceding scene, one can notice a fleeting Chandni reference as Karan orders cognac for his dad, played by the evergreen romantic star from yore.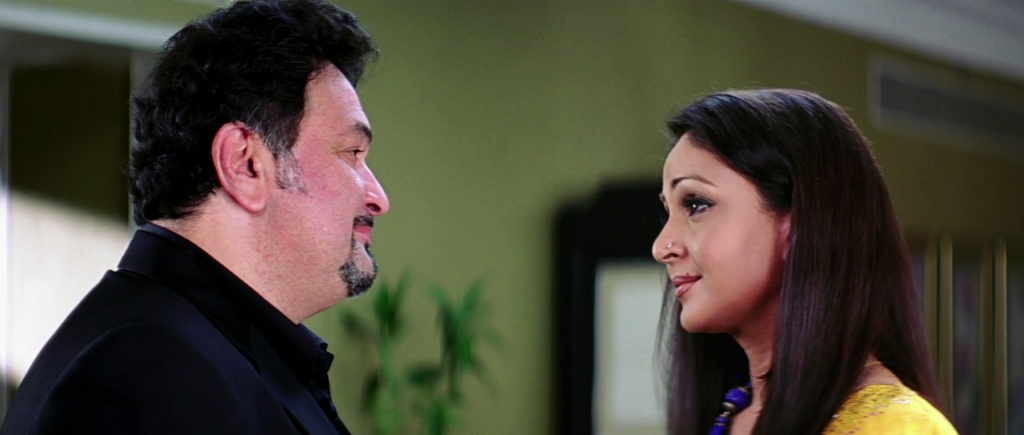 The endearing Bobby Aunty
"Aap bilkul Umrao Jaan ki tarah hai
Main aap ko shuru se notice kar raha hoon
Aap mein jo adayein hai, jo nazakat hai,
Wo aajkal ki ladkiyon mein kahaan?
Ab apni beti ko hi dekhlo"
Karan pays a coquettish compliment and Mrs Parminder Prakash alias Bobby Aunty blushes on.
Eighth standard pass-out from Khalsa Girls High School, Bobby Aunty's knowledge in the English language can give many a desi mother a complex. She fumbles with French but that's okay, I guess.
She loves wishing 'good luck' to pretty much everyone around. 'Puttar' is a default endearment for anyone younger in her vicinity. She is forward, funny and possesses great foresight. And as Rhea would put it, she is someone who wouldn't let you leave home without feeding you until it bloats.
Bollywood mommies, I tell you. Don't we all love them to death? Haanji, puttar!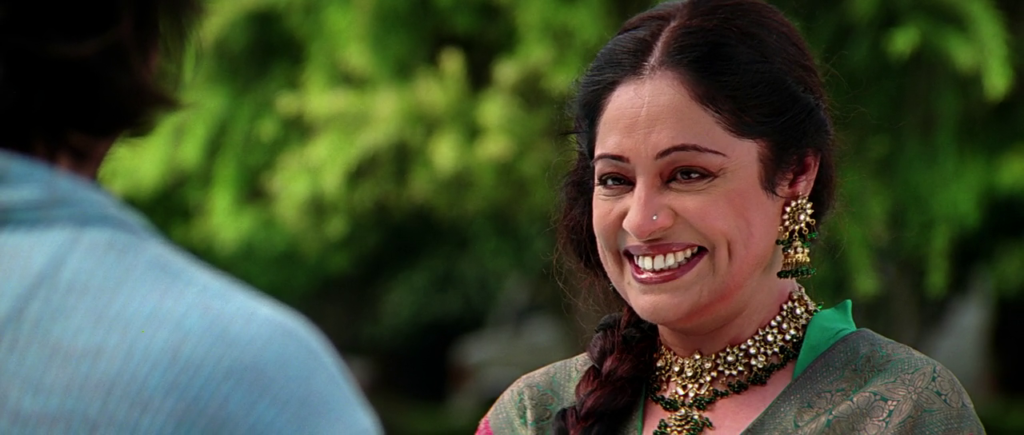 The priceless set of dialogues
One of the most lingering aspects of Hum Tum ought to be its dialogues that find a beautiful balance between its chiefly life-like and occasionally melodramatic tones. Not only do they make sense on papers but their rendition by the actors – despite the presence of some heavy-duty words – is pitch perfect. Sample some of the repeating lines:
"Ek kahaani hai mann mein… Kya pata, shayad hum tum ke beech aakhir pyaar ho jaayen!"
"Kabhi to pehli mulaqat hi kaafi hoti hai,
Aur kabhi… bahut si mulaqatein lag jaati hai…"
"Hum bahut jaldi milenge Rhea. Pata hai kyun?
Kyunki ye zindagi bahut lambi hai…
Aur hamare paas waqt bahut kam hai!"
"January mein baarish nahi hua karti…
Ye to hona hi tha na, Karan?
Kyunki jab bhi hum mile hain,
Kuch na kuch to hota hi hai…"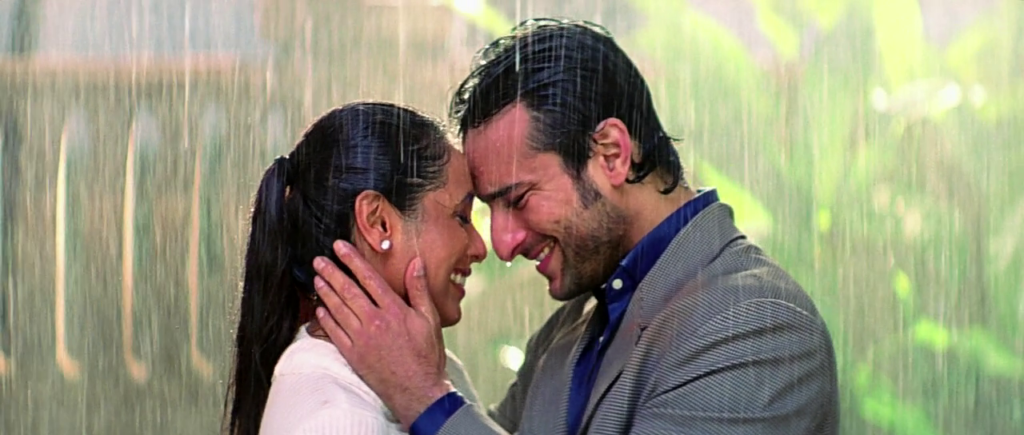 The lilting score and the epic, epic

title track
Salim-Sulaiman's original score brings in a great deal of freshness to Hum Tum and back then it significantly helped the film to become a sensation amongst youngsters of the time. The signature pieces that appear frequently formed a welcome departure from the generally soppy, dramatic tunes that were common in Hindi film scores until then. The use of electronic sounds and rap were also contributory factors in making the film's sound zingy and peppy.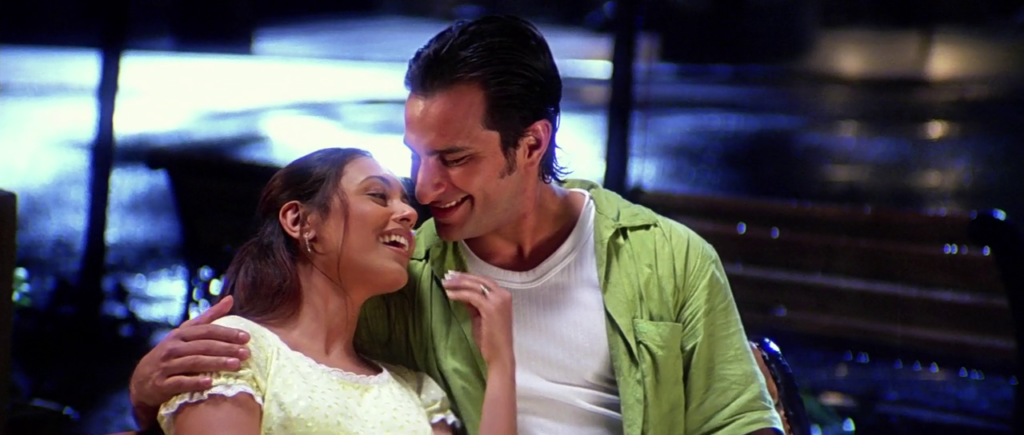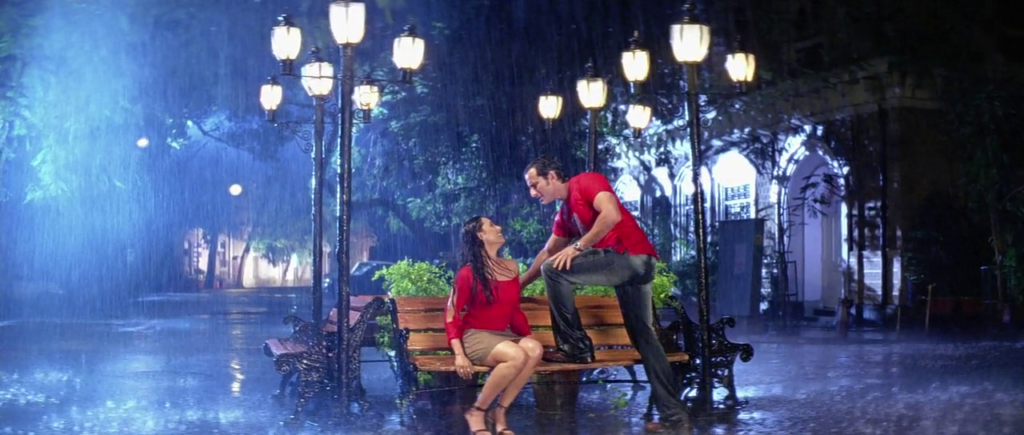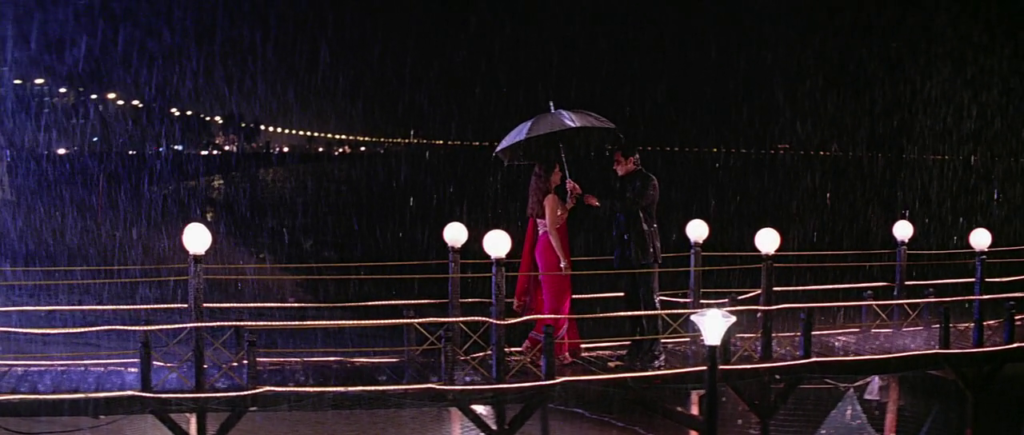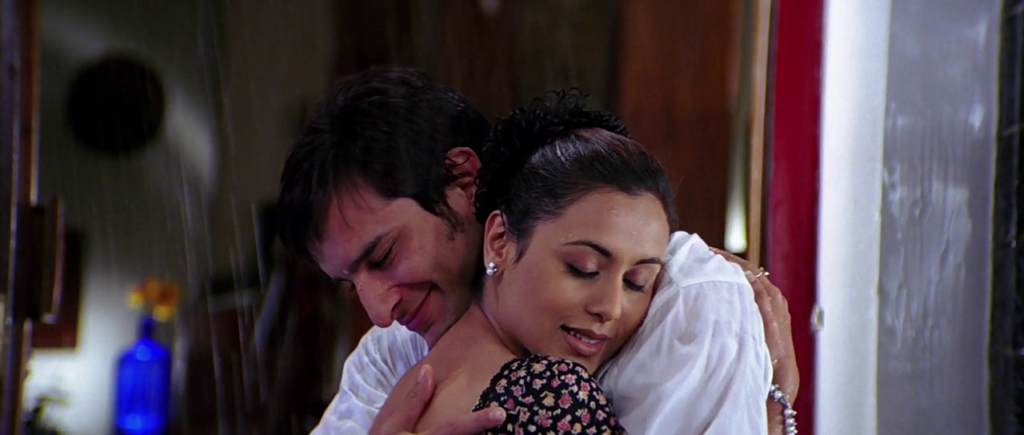 Coming to the songs, Jatin-Lalit's soundtrack is extremely melodious and sports the quintessential Yash Raj stamp with great pride. Of all the songs, it is, however, the lilting title track that sets the temperatures soaring with its sensuous tune, lyrics (Prasoon Joshi) and rendition (Alka Yagnik, Babul Supriyo).
The dramatic goodbyes
"Hamari koi kahaani nahi hai Karan,
sirf THE END hai THE END… aur yeh hai THE END"

Says Rhea and storms off after her unpleasant first meeting with Karan. As if to construct an irony, they bump into each other in the course of a decade, only to have a series of sharply picturized goodbye shots.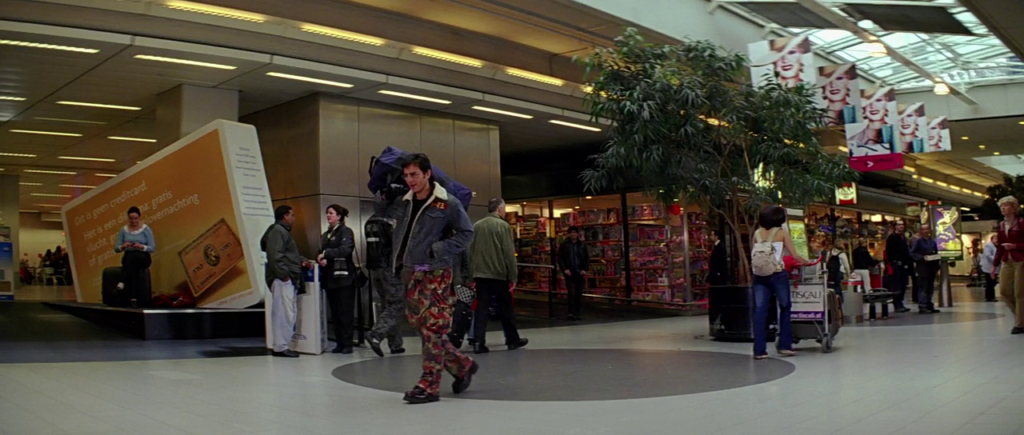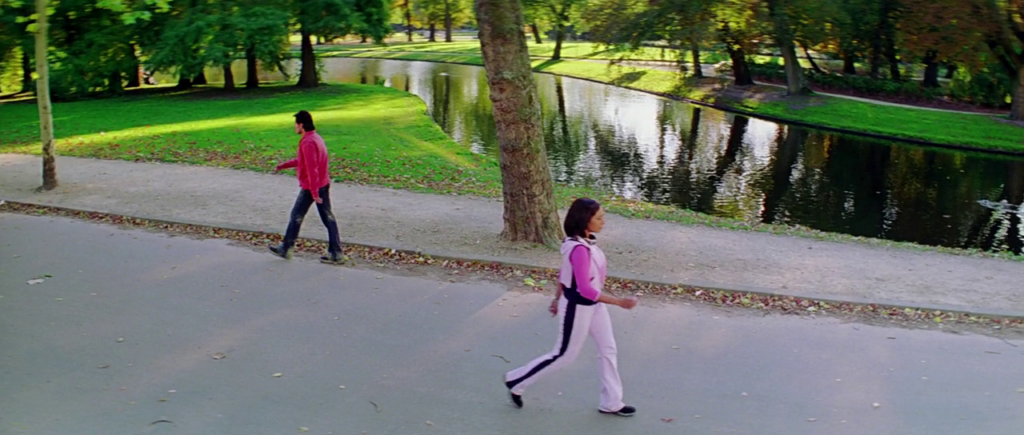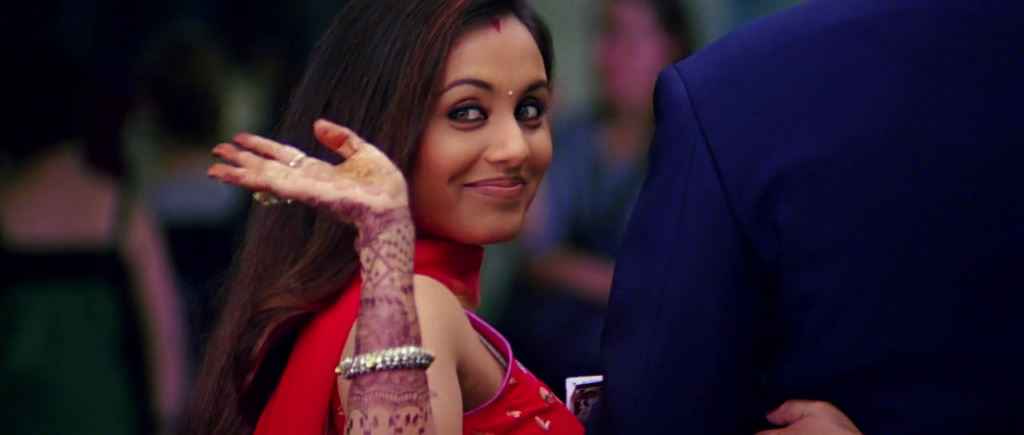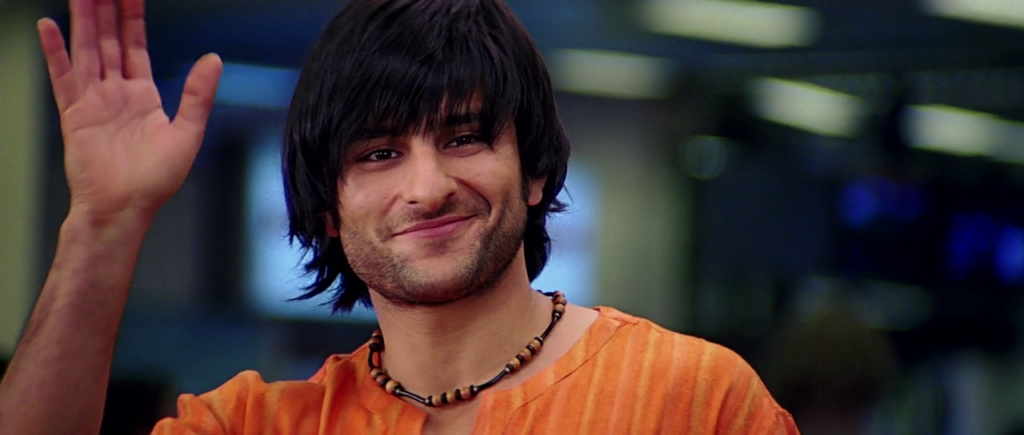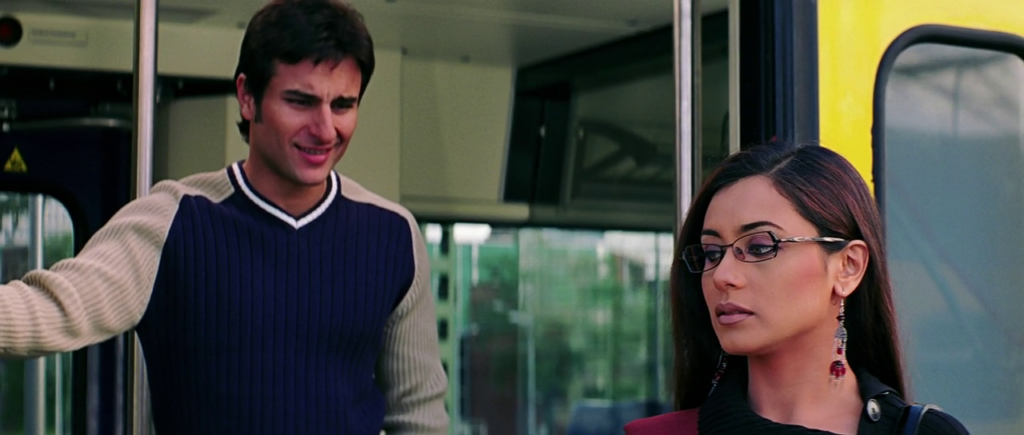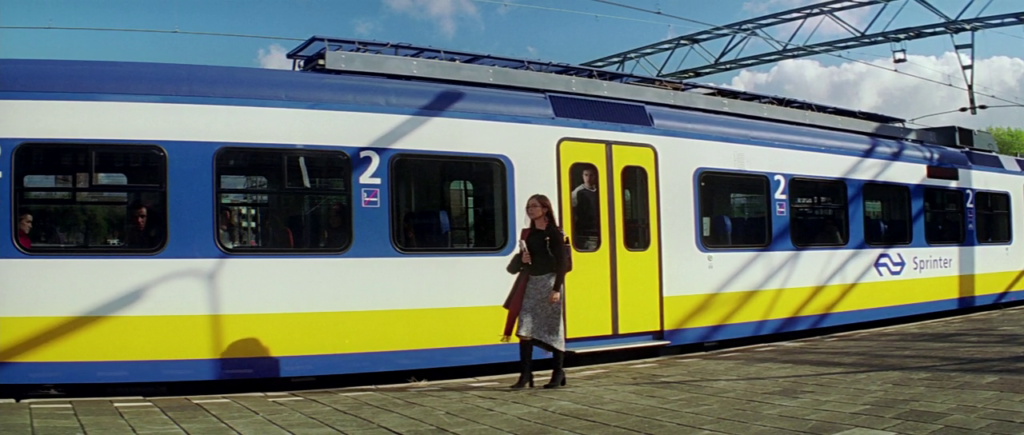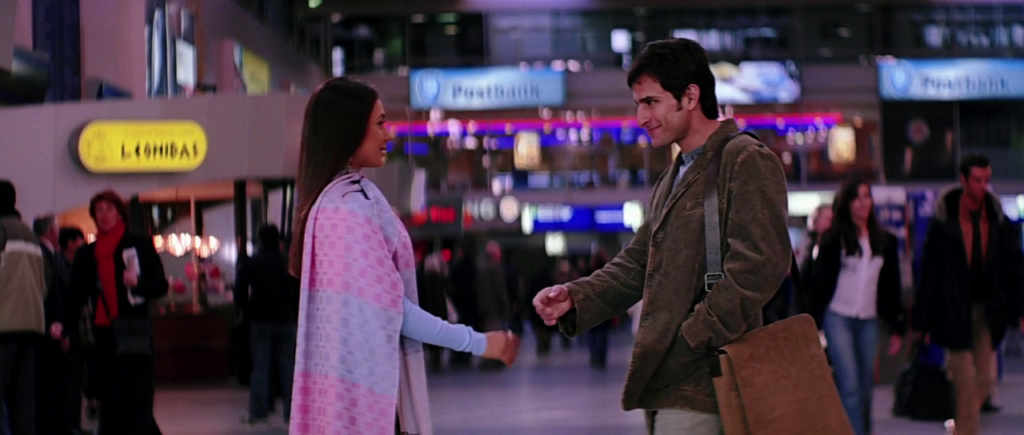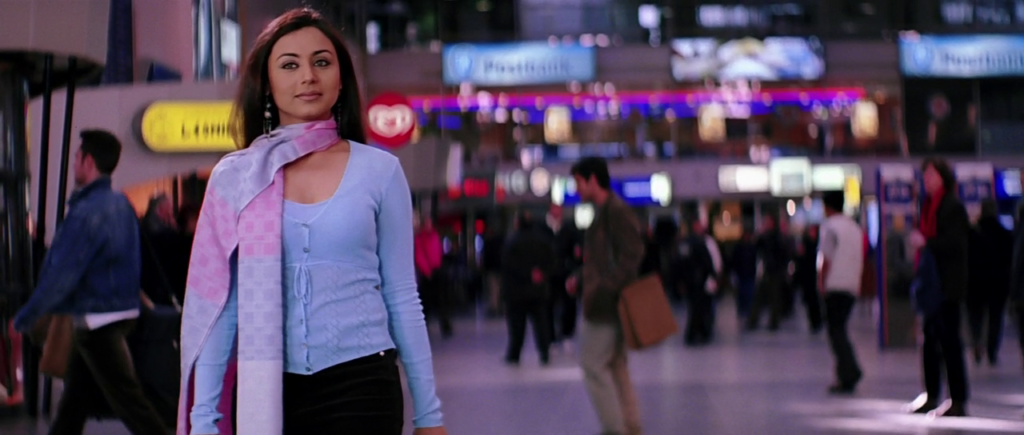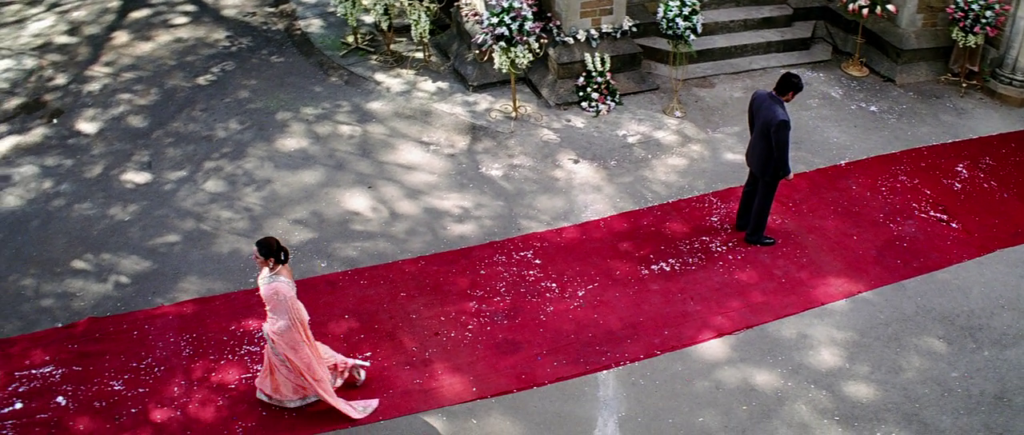 A romantic scene that's worth a million smiles
A routine conversation between two friends who pretend to be suitors set up for an arranged marriage. The idea might not be juicy enough for a steamy romantic scene but this brief tête-à-tête from Hum Tum is sure to make anyone blush for its unabashed mush quotient.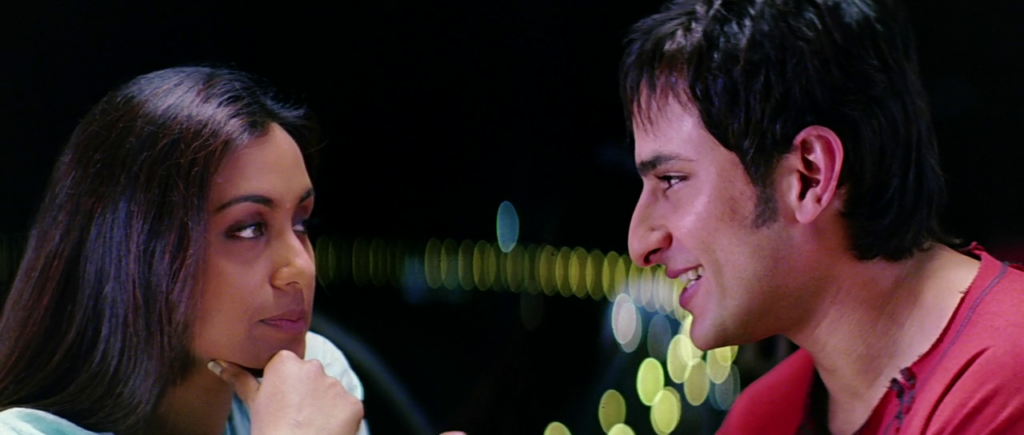 "Agar tumne mera naam bachche aur Tommy ke baad liya na…
To main tumhare chhote chhote chhote chhote tukde karke,
Uski Tommy ko khilaungi…"
Ah, I am sold!
Kunal Kohli's masterful direction
Hum Tum may appear to be a regular romantic comedy if we look at it solely from a genre perspective. Then again, it is remarkable how Kunal Kohli integrates a lot of quirks and subtle social messages into what could have been an ordinary boy-meets-girl saga. The filmmaker is also adept about the camera angles and also the precise duration for a frame to be on screen. With the screenplay packing in a good amount of unconventional elements, a hiccup in terms of timing would have made the scenario awkward.
Kohli also spreads his dialogues in a way that you tend to remember them when they are (often) repeated multiple times in the narrative. Some of Kohli's closures might look simplistic on papers but with the way that he stages them, it is safe to say that we end up buying the film's progressive yet balanced idea on love, marriage, ambitions, family and a lot more.
Today, even after a decade and a half since its initial release, Hum Tum finds great viewership on television. That takes me back to the wintry Christmas Eve when I had watched the film for the first time, totally bowled over by its characters, the premise and the resultant magic it spun around.
Having watched it numerous times over the years, I must reiterate how the twinkle in my eyes remains the same every time Rhea and Karan discover nuances of their friendship. Times indeed have changed but the values that Hum Tum stood for are still intact. A special film for a generation of Hindi cinema lovers, I reckon!
ALSO READ: When 'Salaam Namaste' made our hearts go "mmmm…."