Meet Keshav. Submissive at the age of 36, the man is desperate to get married. With a problematic horoscope and a possibly asexual father to deal with, Keshav has no option but to stalk the women he likes. The woman in question is the feisty Jaya who handles eve-teasers like an adept police constable but is suitably passive about our hero's misdemeanor. In her early 20s, Jaya is a BCA topper who "still" attends her lectures with a copy of Let's C++ (sigh!) and is also someone who reads up on bicycle design history and sanitation scams in free hours. They live in a village where no divorce has taken place in the past 1700 years – a needless fact that inevitably makes us curious about the previous instance of marital separation there. With a milieu as this and a lead pair as unalike as Keshav and Jaya, Toilet – Ek Prem Katha is one Hindi belt drama we would have bartered our hearts with. Alas, the film leaves you exhausted like no other!
Akshay Kumar and nationalism is something we are accustomed to. Even as his on-screen wife strayed in Rustom, the man tilted the lens to patriotism so that his insecurities and criminal behaviour lay safely hidden. Helmed by debutant Shree Narayan Singh, Kumar's latest Toilet – Ek Prem Katha assumes a feminist tone, while cheekily turning a blind eye to several other vices. The film briefly addresses what they call 'sabhyata' in the society but also contradicts itself by quoting Manu Smriti.
For starters, there is an interesting hook to Toilet – Ek Prem Katha's premise. A bride who walks out of a marriage upon finding out that her marital house doesn't have a toilet. The film introduces a whole new concept to urban viewers – the Lota Party. They socialize, giggle on girly jokes although the main agenda is something else – to defecate in the open. Narrated in a very dramatic, nauseating filmy tone, Toilet – Ek Prem Katha also shows the predatory elements around highlighting the deep deprivation of men in the heartlands.
Toilet – Ek Prem Katha's stagey setting is something that puts you off right at the outset. The Lota Party is out for their daily business and on the way they strike a conversation which predominantly involves men in their lives. These  chats, funnily, are neither everyday nor contextual to consider them as real people in real surroundings. The film also gives us a love story, the buildup to which is weakest link in the enterprise. With weird reasons to fall in love and even more bizarre tactics to get married, the film picks up only after the couple enters matrimony. The screenplay latches onto snooze-inducing 'solutions' that Keshav comes up with to resolve the problem without hurting any parties, only to lose steam completely by interval. The latter-half of Toilet – Ek Prem Katha indulges in predictable propaganda where the proceedings play out like a 2.5-hour long Swacch Bharat PSA with Vidya Balan and Amitabh Bachchan rolled into a super-agile Akshay Kumar. The clear political motivations are less of a problem in Toilet – Ek Prem Katha for the fact that even propaganda films can be entertaining and this one isn't. The film sets in sheer boredom – the unseen, unheard variety. There is no coherence, no rationale on the massive upsurge that we see in support of Keshav. People just turn up, all empowered for no reason and there are immediate solutions. It was particularly strange to see a group of women suddenly wake up to their rights and begin protests at their respective homes. What for?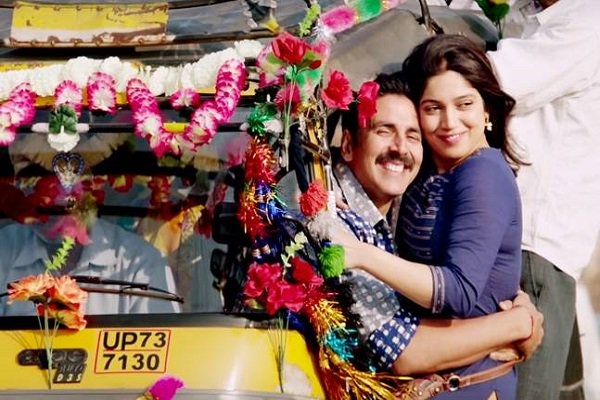 Another interesting observation to be made in Toilet – Ek Prem Katha is that it is an all-Hindu fare. It is as if the village doesn't accommodate the minority classes or, worse, they are deemed irrelevant. The film attempts to break the mould of the upper caste belief that the courtyard where the holy basil grows, can't have a toilet installed. It also throws light on women safety and gender inequality. As much as I appreciate the noble intentions there, what the film shies away from saying is that lack of sanitation is a human problem – one that could cause epidemics and is gender neutral. It is a basic necessity for healthy living and not a device to save marriages and protect women from being leered on. Now that could be the writers' (Siddharth-Garima) ploy to establish the fact that Keshav is a supportive husband to Jaya's progressive ways – which sadly doesn't cut ice. Talking about the material, the writers employ too many cliches to construct a small-town milieu. How many times will you give Keshav fake branded t-shirts (labelled UIMA, NAIK and EVIL'S)? He also performs a ritualistic marriage, the only reason behind which is to elicit a couple of laughs which dry out quickly. Even in the way they construct Keshav's superstitious father, we barely see a reason why the latter even refuses to forge a bond with his daughter-in-law. We also don't get why an otherwise meek Keshav goes all out on a social revolution and continues to stay under the same roof as his temperamental father. Further devastating is to see erstwhile editor Shree Narayan Singh go all indulgent on his baby and this PSA-like concoction is 45-minutes too long. Less said the better about Singh's directorial skills that are amateurish at best.
Nevertheless, if there is anything at all that salvages this snooze fest, it is the film's lead pair. Akshay Kumar is decent as Keshav – a role that offers him limited scope. He shines throughout except for a long-drawn outburst scene that induces nothing but a giant yawn. That's exactly where the brilliant Bhumi Pednekar (as Jaya) scores brownie points. After ages I saw the audience members clap for a heroine in a commercial film for reasons other than midriffs and belly buttons. Rest of the cast get nothing concrete to do other than sleepwalk through the screenplay's extremities.
Mind you, Toilet – Ek Prem Katha is not the usual propaganda film that (at least) presents to you a different point of view that agitates you and, therefore, is worthy of a debate. Even a film as badly conceived as Madhur Bhandarkar's recent Indu Sarkar had you glued to the screen. Toilet – Ek Prem Katha, on the other hand, falters badly at understanding the medium that cinema is. Its characters praise the prime minister and the ruling party in a way that we see in Government of India's middling advertisements – hence making it so very hard to relate to their conflicts. And why is Anupam Kher adamant at diminishing all the love we have for Kuch Kuch Hota Hai's endearing Mr. Malhotra? He shows up frequently as a lewd oldie who only justifies why our sex-starved ministers end up watching pornography in parliament sessions. Thank you director Shree Narayan Singh for making Kher the sole metaphor in this nondescript piece of cinema.
Rating: ★★