Having relished the other-worldly experience of watching a Salman Khan film in a single screen cinema, I observe an obvious trajectory of how our audience's taste has evolved. Clearly, we are done with the nonchalant days of munching popcorn and watching Kabhi Khushi Kabhie Gham's National Anthem scene or Lagaan's finale. Mind you, we had felt the right emotions in every era. Today – in a cinema that screens Abbas Ali Zafar's Tiger Zinda Hai – one ought to analyze how exhibitionism overpowers the film's content. In one of the film's mildly patriotic scene, a section of the crowd roared 'Vande Mataram', five times over. Such is an average viewer's mood and the perceived need for aggression in expressing one's love for the nation – which also happens to be the foundation of Tiger Zinda Hai. We are also told how Tiger (Salman Khan) loves his motherland more than his ladylove. Not to forget that he had let go of his identity – out of all things – to be with her.
The scenario reminds us how the recipe called a 'Khan Film' is done and dusted. Tiger Zinda Hai is no ordinary rescue drama with bhai hogging the screen space, exercising his regular screen luxuries. The charismatic and extremely good-looking Khan's cohort here isn't a foolproof screenplay or able co-actors (not that they ever were) but a rather mind-numbing dose of nationalism, insertion of which is haywire in a film that runs for over 2.5 odd hours.
I remember not particularly liking the prequel, Ek Tha Tiger, ­which was a harmless chick flick with consistently terrible acting, a couple of bearable dance numbers and a handful of thrills. Romance goes out of the window in the sequel as our hero is easily manipulated by his ex-senior – right at the outset – to rescue Indian nurses trapped by ISC (a fictitious body equivalent to ISIS) in Iraq. So, any aware cine-goer in India must be familiar with Mahesh Narayanan's sweeping Malayalam drama Take Off which handled the very same subject. While it is idiotic to expect a similar storytelling in a film produced by Aditya Chopra for Salman Khan, it is interesting to observe bits where both ideas converge. The Malayalam film analyzes the courage shown by the nurses to get out of the situation. For writer-director Ali Abbas Zafar, they are mere catalysts for our hero to strike and accomplish his difficult mission. How about some backstories or a little empathy? These are women who save lives, after all.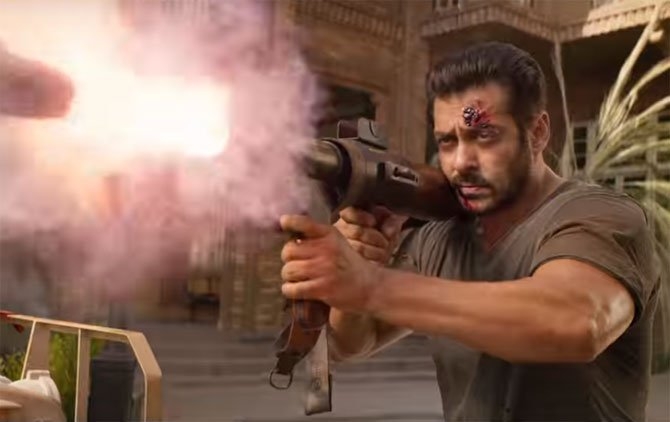 The film begins with the usual action sequel tropes of a group of senior cops shortlisting solutions to disentangle a crime and, yes, Tiger is the only one with abilities, you know. Our hero is lavishly introduced in somewhat of a chase that will see Animal Rights organizations going red in their faces.
Our heroine, Zoya (Katrina Kaif), faces major negligence throughout the film. I assume she owes a lot of it to her Pakistani origins as nationalism is Hindi film industry's latest bread and butter. Or perhaps Kaif happens to be a woman in a Salman Khan film with even lesser abilities to emote. And yes, she too gets an action-packed introduction, which is soon given an explicit 'women power' label – in case you miss it. The film soon moves to the Middle East and the film gets weirder with every passing minute. Told in a tell-tale style with dialogues that would make Gulzar roll his eyes with a cringe, the film – at one point – makes us wonder if it is a commercial Hindi film or a failed absurdist theatre piece. Such is writer Abbas Zafar's skills at sketching characters that the supporting cast in Tiger Zinda Hai is unanimously shoddy. Stealing the golden formula from Neeraj Pandey's series of investigative drama films, the writer attempts at designing quirky characters and some lovable banter with absolutely no results. One of them (Kumud Mishra) is devout and is said to be adept at technology. We see none of the latter and his presence in the enterprise stands compromised despite the actor's earnest efforts. The less said the better about the cardboard villain and the Tiger's allies who are so well-groomed that they do not belong anywhere else but a Sabyasachi fashion show.
Later towards the interval, Zoya appears from nowhere. Not exactly to be with her husband but since the very same jingoistic ideals work in her nation too, perhaps. She is, sometimes, spotted driving (ouch!) Khan around in a Maruti car in what is staged as Iraq. She also finds time to track and slit throats of men who had molested fellow womenfolk, you know. Will we ever get enough of cinema's avenging angels? And to Katrina's credit, the action sequence in question is neatly choreographed and performed, plus a moody music score to amplify things for you. How about a full-fledged action film, Ms Kaif?
Barring the lead pair, the rest of the cast is almost fully wasted (Paresh Rawal, godawful) or belong to a completely different film (Anant Vidhaat, sleepwalks straight from the sets of Sultan). Nevertheless, it is evident that most fun was had by the cinematographer (Marcin Laskawiec) while filming Tiger Zinda Hai. The brief romantic portions and indoor shots are visualized and lit as if it were a grand Disney fantasy feature. Then comes the gritty, volatile action sequences shot across overdone sets and barren Middle Eastern locales. The end result is impressive as he could balance the realism bit in the story along with an essential Yash Raj grandeur that comes with a Hindi film of this scale. No, we aren't spared from the much-abused slow-motion shots either. Editing (Rameshwar S. Bhagat) complements the camera and the best possible angles are explored in a film that's possibly the most 'good-looking' ever in this subgenre.
Besides the so-called experience of watching a bhai movie in a single screen cinema, I couldn't derive much out of Tiger Zinda Hai ­which is constructed on a hollow foundation of clichés and safe narrative ploys. A Muslim RAW agent is having to literally spoon-feed his patriotic fervour here, making us lament over the times that we live in. The Indian High Commission makes a deliberate attempt to not address the presence of Pakistani nurses amongst the hostages. The main villain has a backstory too and – surprise, surprise – there's a 9/11 reference too. There are even Indian and Pakistani agents bonding at the unlikeliest of times over Gadar – Ek Prem Katha, Lata Mangeshkar, Kishore Kumar, Nusrat Fateh Ali Khan besides other cinema and sports icons. These are times when we forget who the hero of the film is. And whether it was bhai or the needless jingoism (almost bordering on xenophobia) that garnered more whistles. It is a little hard to digest because Salman Khan could have spouted the most unapologetic things and still got all the hoots and catcalls in his heydays. Ain't the case anymore!
Rating: ★★ 1/2