'Three Billboards Outside Ebbing, Missouri' review – an angry mother is all it takes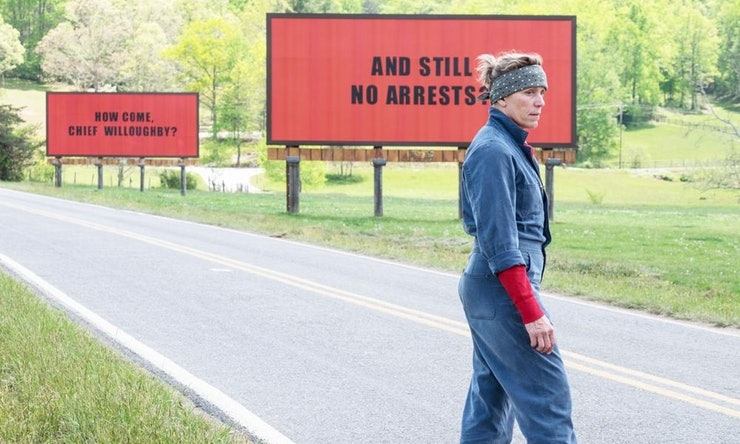 What difference can a billboard make? And three of them? That too along a lonely road leading to the sleepy town of Ebbing in Missouri. Well, it does for Mildred Hayes (Frances McDormand). She has lost her daughter Angela over an instance of rape by an unidentified miscreant. And she lost her a while ago and is yet to hear from the crusaders of law and order. Director Martin McDonagh's Three Billboards Outside Ebbing, Missouri is a sweeping social justice warrior tale that is akin to a kick in your gut.
Yes, the pattern is familiar. If we take the central plot point of the billboards out, then the so-called novelty element will comfortably exit the premise. Then, who says we ought to have that in every film? Billboards or not, it is the embittered Hayes and her iciness that gets to us. Her determination is raw. So much so that she has forgotten to smile. She doesn't mince her words or look twice before assaulting someone who, in an everyman way, deserved it every single time. We root for her whenever she is up to anything, which might even prove hazardous to her own self. McDonagh's narrative construction is such that our only option is to stand by Hayes, come what may. Now, except a handful of chronic misogynists, who doesn't subscribe to an all-out heroine vehicle that celebrates her irrepressible might?
The film chooses its colours wisely, although a little reminiscent of similar films in the sub-genre. The environments/backdrops are limited and are well-defined in the story's pretext. The camera, editing, and production design departments show such symbiosis that we get a good insight on how every location and their adjacent areas are designed – be it the billboards with three provoking messages, the advertising office, or even office Dixon's (Sam Rockwell, terrific) residence.
ALSO READ: 'Mom' review – A pointless revenge saga that is up for no good
One film that abounds in finely painted male characters, it is the volatile Dixon who leaves the biggest impact. You have an inkling for the reasons behind his problematic ways. It is at a very crucial (and perhaps the most arresting) moment in the film that we discover his share of vulnerabilities and a possible ray of goodness that is engendered from his heart. The transformation is organic, as is the finale where two unlikely agents get together for a necessary cause.
Frances McDormand is sheer dynamite as Mildred Hayes and there's no way that she could miss out on the Best Actress trophy at the Academy Awards. As for Three Billboards Outside Ebbing, Missouri, it does feel a little dormant in areas possibly due to the over-familiar setup – like, say, the scene involving the local pastor. Then again, the film also presents an unlikely family setup, a jealous, uncaring father, and countless hues of single parenthood with the emotion of revenge looming large. I would just say that my vote goes to McDonagh –the writer rather than McDonagh – the director.
Rating: ★★★ 1/2
The film is now streaming on YouTube.