It is amusing how director Girish A D chose to title his debut feature as Thanneer Mathan Dinangal. One that translates to 'Days of Watermelon', the title, indeed, is not necessarily a misfit. Then again, the filmmaker deliberately throws in watermelon motifs throughout to legitimize this connection. That makes us think whether this metaphor was necessary at all, in a film that is so relatable, surrounded by an instant sense of belonging. If at all there existed the need to invite a vegetable (or rather a spice) into the picture, it would have been the nutmeg ('Jaathikka' in Malayalam) fruit which forms a delicate part of the story – for a fact it is in a nutmeg orchard that the lovers perch and the friendships bloom.
Title aside, Thanneer Mathan Dinangal is all about secondary school days. The transitional days, to be more explicit. Set in a generic Christian missionary school called St. Sebastian's, the film opens with an offhand Melwin (Naslin K Gafoor) battling with self and his mother regarding the stream he should opt for – it is the mainstream 'Bio-Science' versus the seemingly safe 'Humanities'. Naturally, Melwin seeks the latter and his mother vouches for the former. It takes for a brief meeting with the somewhat weird import from the neighbouring Carmel School, Jaison (Mathew Thomas) that makes his desired shift of classes materialize.  By this moment, we are aware that the film is going to be about Jaison, not Melwin.
Jaison, upon introduction, is in a tremendous 'prahasanam' mode – an act popularized by Mathew himself in his debut film, Kumbalangi Nights. He shows all trappings of a newly joined student in the eleventh grade of a school that he did not grow up studying in. He is peculiarly inclined to studies, sitting right opposite the teacher in the front row. His characteristic 'cool dude' way of greeting annoys his friends to the hilt. The meltdown happens soon after a surprise class test. Faring poorly, Jaison's confidence level dips while his distance from fellow classmates shrinks for good. What follows is Jaison's journey to proposing love to the attractive Keerthi (Anaswara) and tackling the biggest threat around – the newly appointed Malayalam teacher, Ravi Padmanabhan (Vineeth Sreenivasan), whose popularity skyrockets with each passing day.
I was relieved upon finding how Thanneer Mathan Dinangal did not take the oft-beaten track of pitching the good student against a bad one. The primary battle is versus the student and his annoyingly hostile teacher. Agree or not, you have all come across a teacher who wasn't particularly enthusiastic about you or rather tolerates you for reasons best known to him/her. For Jaison, Ravi Sir is that teacher. The school idolizes the man in unison. Jaison feels nothing but disgust for him. Now this is a fair battleground and the film being Jaison's canvas, the story trajectory is not too adventurous either. Owing to this temperament, the student-teacher combat is among the less exciting chapters in Thanneer Mathan Dinangal. We are, for sure, aware that the victory is going to be Jaison's. Moreover, there are more crucial and intriguing aspects in his own life that are spontaneously more fascinating – one being his love life.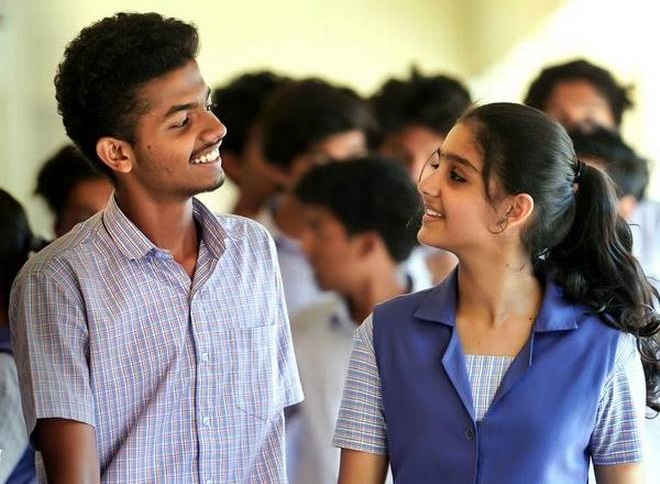 Times have changed, for sure, but the ploy of striking conversations with one's crush under the pretext of study material is one for the ages. Jaison's first attempt with Keerthi misfires as she snubs him in a matter of a few seconds. His second attempt is somewhat successful but Jaison takes no time to realize how he preferred Keerthi's bluntness over Steffi's monosyllabic nods. Thanneer Mathan Dinangal is also about how he treads through this 'difficult' phase – the closure to which comes during the annual class tour – initially a queasy, puke-filled affair for Jaison.
Running for close to 135 minutes, the area that prevents Thanneer Mathan Dinangal from becoming an era-defining outing is its indulgence. The film contains a spate of moments and characters that refuse to knit seamlessly to the larger picture. They exist – to call it out – because the writers and director do not want to snip them out of papers. For instance, the majority of the extended scenes within Jaison's home radiate this air of being force-fit. A lot of them are seemingly integrated so that Joyson (Dinoy Paulson) could make a witty repartee or two, or three. Not that they aren't enjoyable; they are. Just that the impact would have been the same even if they were to come in a different film. I did not even get the point of having Jaison's second brother (Shabareesh Varma) becoming a part of the immediate plot. Ditto for the physical fight that ensues between two teachers in the school. If the makers intended to draw parallels between the brawls that happen between students, it certainly does not make the cut. If it is to merely picture events that happen in a secondary school, this one isn't exactly a common sight. A mainstay in the film, the dialogues, too, appear a generation behind in a handful of instances. "Chaadi pidikkan njanaaru Dinkano?" (Am I Dinkan to fly and catch it?") exclaimed Melwin, making me wonder how many of his peers might have grown up on this iconic Malayalam comic book superhero series if we were to reject the inroads made by its animated equivalent (if any).
That said, several of the light touches given by the writers and the editor do invoke smiles – and uproarious laughs – aplenty. One of the striking moments features a lazy Jaison resting on the floor, clad in his father's boxers while flirting with his girlfriend over the phone. Shot from the ceiling, the staging, the flow of the conversation and his banter with his obstructing brother – all of it adds up to making the brief moment the most notable in the film. The montages that cover the daily activities of Jaison and his friends – be it in tackling their everyday obstacles or simple things such as munching on puffs while sipping their favourite watermelon juice, the editor (Shameer Muhammed) identifies his frames with good care. Still, I wish how he and the DOP (Jomon T. John) were a little more liberal towards the snacks as opposed to the bright red melons which anyway hogged the film's title. Talking about editing, there is this faintly alarming transition from a statement that an exasperated Jaison makes – "Keerthy. She is becoming more beautiful by the day" ­– to one in the chemistry lab. Even though the latter scene does not really make a difference to the larger flow of events, one feels anxiety in this very subsequence. Be it with the tour portions or the stern silk saree-clad physical education teacher, Thanneer Mathan Dinangal reflects familiar sights with a tinge of humour. Then there is this cutesy sidetrack of the female teacher infatuated with Ravi Sir – which is a done-to-death trope that the film explores once again with fresh context and good acting.
ALSO READ: When Alphonse Puthren's 'Premam' Made History in Malayalam Cinema
Writing (Girish, Paulson), as stated before, is flavourful and it milks several organic possibilities in the busy lives of 16-year-olds. Interestingly enough, the film refuses to oversell nostalgia, which could have been an easy outline to build things on. Moreover, Girish's direction rarely loses grip even in the slightly idle or blatantly forced moments. His ability to invoke tiny stories within individual sequences is one that proves his mettle as a strong storyteller. He balances a uniform visual language with other elements such as the music, one-liners and a bunch of mandatory crowd-pleasing elements with great gusto. His chemistry with the DOP is also evident in the way he canvasses romance (the haunting slow-motion 'Jaathikka' song) and friendship (there is this swift steady-cam shot where the camera quickly shifts from one friend's face to another's). The finale, yet again, is not in the most realistic of zones. It is the wit in the writing and a bunch of actors with marvellous timing coupled with Girish's ability to blend them all without losing out on the tension and urgency that make the cut.
Needless to add, the leading cast largely comprising of lesser-known or first-time actors are raw but extremely well-cast. Mathew Thomas who made our hearts sink in the year's Spring blockbuster Kumbalangi Nights delivers another knockout act here. In the days of manufactured debutants, Mathew's abandoned wide grin and notable ease in front of the camera are for keeps. Vineeth Sreenivasan plays a derivative of his own teacher turn in Om Shanthi Oshana and also probably a throwback to his father's iconic character in Mukundetta Sumitra Vilukkunnu. To give him credit, the actor does not waste the opportunity as he spells menace within his amiable, goody two shoes skin.
Dinoy Poulson is a real scene-stealer whose nails every line, every moment in his own unique, innate style. In a story that centres solely on Jaison's escapades, the actor bags the best lines in Thanneer Mathan Dinangal – a lot of which resulting in deafening applause. The unsaid link that the writers throw in to connect him and Jaison's Physics teacher is clever and one for the attentive viewers. Naslen K Gafoor, who plays Melwin, is a fantastic discovery. His comic timing – with which he tackles some of the trickiest lines and gestures – makes him the standout performer out of the gang of friends, each of whom is flexible and supremely confident. Anaswara Rajan, who sparkled in Udaharanam Sujatha, is uninhibited yet again and is a terrific actor in the making.
As the film concluded, Thanneer Mathan Dinangal left me with a yummy aftertaste of having relished a familiar journey; balanced beautifully with its own quirks and intricacies. This familiarity is akin to the tender, sweet and cooling sensation of a glass of watermelon juice on a bright sunny day. Something that the trendy full jar soda or the flamboyance of Oru Adaar Love would not bring forth. For such narratives, the idea seldom is to live a fantasy but to endure the chaos. That way, Thanneer Mathan Dinangal is cinema that makes us wind back, inducing an immediate sense of belonging. Isn't that precious feeling by itself? I reckon, it is.
Rating: ★★★★