"Shubh Mangal Saavdhan" – A hysterical attempt to redefine the masculine hero in cinema!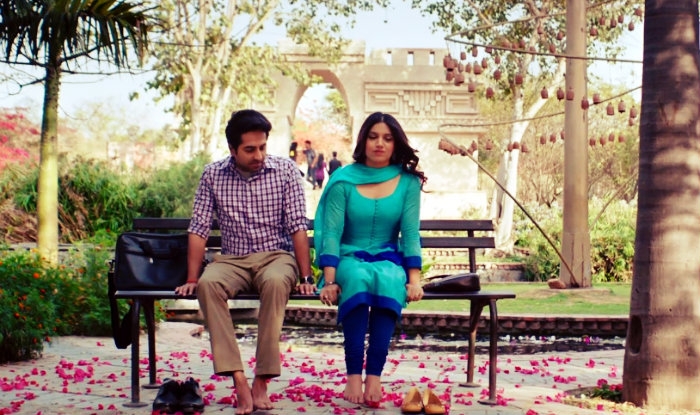 Director RS Prasanna's Shubh Mangal Savdhaan is about the lead hero's erectile dysfunction. The film doesn't explicitly state it – evidently out of fear of a possible CBFC backlash. Facing a physical disability that doesn't evoke empathy, no man would want to be in Mudit's (Ayushmann Khurrana) place. A cowardly alternative to this situation is denial, which a lot of men in real life resort to. Given the tricky nature of the infirmity, writers (RS Prasanna, Hitesh Kewalya) of Shubh Mangal Savdhaan take a fun route in this dramedy set in Delhi-NCR.
First things first: Bollywood and the comedy genre never had an equation worth mentioning. Or let's just say that the standards have always been so low that even a middling fare would get a 'laugh riot' tag. The industry either overplayed to the Kader Khan – Johnny Lever extremes or went juvenile and super-pedestrian as Sajid Khan's cinema. Shubh Mangal Savdhaan is easily the funniest Hindi film to come out in 2017 and that is despite it not being a full-blown comedy. The film mirrors real life situations and lived-in milieus with characters that we see around us. Dialogues dipped in everyday humour evoke a great sense of belonging and are, therefore, uproariously funny. Note the scene where Sugandha (Bhumi Pednekar) asks her father if he is glued on her Whatsapp. He remarks how he is on Facebook as well but is confused whether the password is 'sherawalikijai' or 'jaihosherawaliki'. The writers also take a timely dig at the government that goes, "Aur banao Digital India," Then again, humour doesn't stop at a dialogue level here. The metaphors are super-creative – the bear, the limping biscuit, Alibaba and the gufa among several others. The running gag on the need to take elders' blessings, superstitious rituals being fulfilled, women sans dupattas or even the elderly brothers sharing a hilarious love-hate relationship, Shubh Mangal Savdhaan gets the local tonality bang on. My favourite was the subtle blow on the prevalent cow worship in India as one of the characters go, "Makeup laga isko, eyebrows theek karo," Humour extends to the dysfunction part as well. We hear an exasperated Mudit comment, "Shaadi ke card pe special mention bhi laga do…"
Humorous notes aside, Shubh Mangal Savdhaan works mostly in those subtle, brief interludes. There's an uncomfortable scene where Sugandha attempts to seduce Mudit. Stemming out of her insecurity, the scene concludes with Sughandha stating how they will happily live a sexless life – with lots of travel and other activities. In a later scene, she confesses how she was never loved by another man and Mudit is one who fought several odds (including a bear) to be with her. Her words gleam of gratitude, frustration and clarity of thought, making Sugandha all the more endearing. Mudit is equally complex with Khurrana lending heart to this embarrassing part. Notable is the scene at a coffee shop where he requests Sugandha to call off the wedding. Carefully penned and directed, this volatile scene moves you to bits.
With the writing being consistently engaging, it is RS Prasanna's execution that makes Shubh Mangal Savdhaan what it is. Be it the organic Delhi-ness or the assortment of characters deeply rooted in their belief systems, the director establishes bitter realities of our social syntax. His frames stem from of a believable Basu Chatterji mould. If at all there are loose ends, it's in the latter half – mostly towards the finale. We see Mudit and Sugandha's continuous conflicts which tend to get a little repetitive. Ditto for the half-baked angle around Mudit's flirtatious ex-girlfriend. The climax, too, feels extremely laboured as compared to the rest of the story. Then again, we buy all of it thanks to Ayushmann and Bhumi's terrific presence.
The heart and soul of Shubh Mangal Savdhaan, Ayushmann Khuranna is as secure as a mainstream Hindi film actor can ever get. Infusing wit and plenty of emotional textures to an already lovable Mudit, one must also note the way he aces the Delhi accent. There's a hilarious scene where he justifies to Sugandha on why the bear jumped on him out of all people. "Kuch to achcha dikha hoga," says Mudit and we bet there can't be a more adorable hero working in Hindi films today. Bhumi Pednekar is an absolute delight as Sugandha. Her evolution as one of the most dependable young female actors is astounding and we hope to see her in a wide variety of roles. Her chemistry with Khurrana is so spontaneous that their instant connection is more organic than Khurrana's "Gents Problem" even. The perfectly picked ensemble cast members add their individual charms to the film. Special mention to Seema Pahwa who is slowly carving a niche for comediennes in Hindi cinema – which is extinct as of now.
In certain portions of Shubh Mangal Savdhaan, you observe the writers trying to oversell their wit. We feel as if there's more humour than what a situation demands. Although not a major concern, this over-insertion of one-liners and that bleak stunt in the climax are the only anomalies in this seriously infectious and practical feature film. Welcome to Bollywood, RS Prasanna.
Rating: ★★★ 1/2