'Shankhachil' review – conscience knows no borders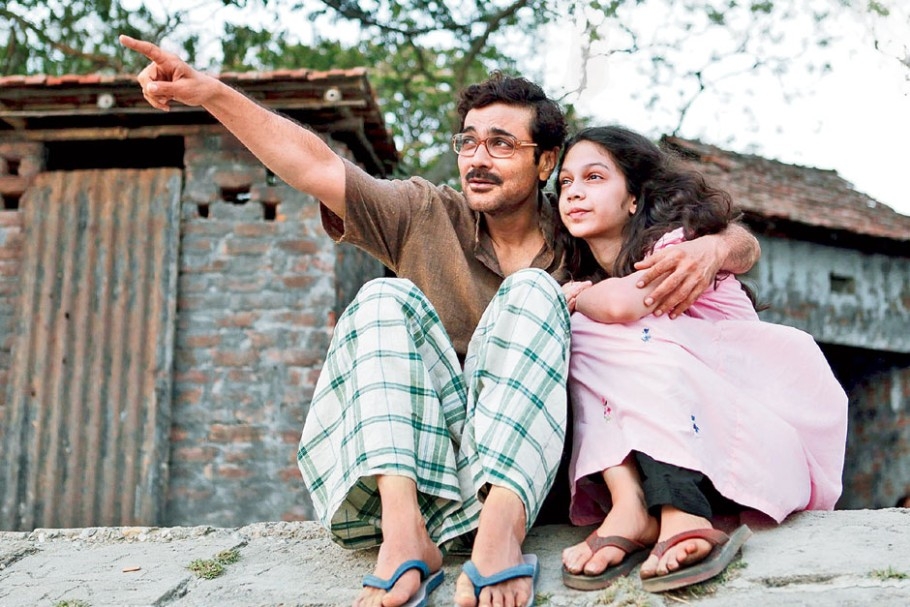 "Panchi nadiyaan… pawan ke jhonken…
Yunhi sarhad na… inhe roke…"
Javed Akhtar's National Award-winning lines from Refugee will be recalled as veteran Goutam Ghose's latest Shankhachil concludes. A moving family drama underlined with layers of Indo-Bangladesh ties, religious and national identity, the film has a lot to say. Screened at 47th International Film Festival of India (IFFI), Goa's 'Indian Panorama', the film hit all the right notes.
Centred on the kind, nurturing Rupsha Chaudhary and family in Bangladesh, Shankhachil doesn't suffocate us with the child's innate cuteness. Ghose prefers to address larger turmoils and captures each frame with a characteristic grandiose. These frames look carefully 'crafted' as are the lines (and song lyrics). Even as the migratory birds fly or when the riverboat paddles, you see a reason to their presence, pace et al. The protagonists rush through livid life events and the frames stand poised, radiating personality and warmth. The one-off moment where Laila wipes off her sindoor creates double the visual impact one would expect from it. Kudos to the director of photography, Ishan Ghose.
ALSO READ: 'A Death in the Gunj' review – when empathy is not on the family menu
Shankhachil does take its time to settle. It wouldn't be wrong to state that the film slightly tests your patience in the first 30 minutes. Among others, Rupsha's bond with the BSF personnel remains under-cooked. Thus, the context-setting is slow and once the story reaches a significant point, there's no looking back.
The film's pivot is the innocent Rupsha who derives great joy from life and its little things. Only if life lets her relish those moments fully. Saddled with a heart ailment, it is Rupsha's suffering that makes her family migrate to India. No, this isn't another film on immigrants and their plights. Migration isn't a choice, but a necessity. Beneath their new identities lay hope – of bringing their beloved daughter back to health. Destiny, anyhow, had different plans for them!
One notices how the majestic Brahminy Kite always amuses Rupsha. As the film ends, we see the subtle personification. The kite makes it freewheeling trips across borders. Rupsha does so too. Society, religion, politics, borders – none of it could stop her from returning to her origins. The thought towards the end – on how barriers cripple ideologies and human values – is immensely reflective.
Performances are top-notch if one must add. Prosenjit Chatterjee is quite an example for popular film actors in India when it comes to diversifying one's skillset by experimenting with films of remarkable quality. He is fantastic all-through and his outburst towards the end is bound to melt all hearts. Kusum Sikder as Laila looks vulnerable and is highly effective. Shajbati as Rupsha performs with a great understanding of her part.
Written by Goutam Ghose and Sayantani Putatunda, Shankhachil does turn overemotional, after a point. A couple of scenes do not work, thanks to their manipulative approach. Case in point being the pawn shop sequence. However, none of it takes away anything from the film's innate appeal. You walk away from the auditorium with a heavy heart and immense respect for the filmmaker who tackles a sensitive subject with great research and empathy.
Rating: ★★★★
Shankhachil is now streaming on Disney+ Hotstar.